'Smart Cushion that breathes with you, making meditation simple + engaging
* Mental well-being meets the engaging world of connected fitness* Evidence-based immersive experience created for aspiring meditators* Gently pulsing cushion that guides breathing + focus w/ app subscription* Secured paid product pilots valued at >$25K by PwC, Hearst, and more* 4x retention (>1M mins meditated) compared to existing mainstream apps* Funded for product dev by one of the largest global sportswear brands* $14.9B annual market opportunity; massive whitespace in $121B market== Problem ===== Meditation and breathwork apps have never been more popular, but they don't deliver results ===Millennials and Gen Z consumers demand results from their mindfulness tools. Mainstream apps aren't cutting it. Over 80% of people stop using meditation apps within just days.Why meditation apps alone don't work:Disposable: Apps are easy to download and forget aboutSingular Voice: People can't relate without teacher diversityMacro Communities: Large groups aren't engaging or personal enough== Solution ===== An immersive meditation experience that's more than screen-deep ===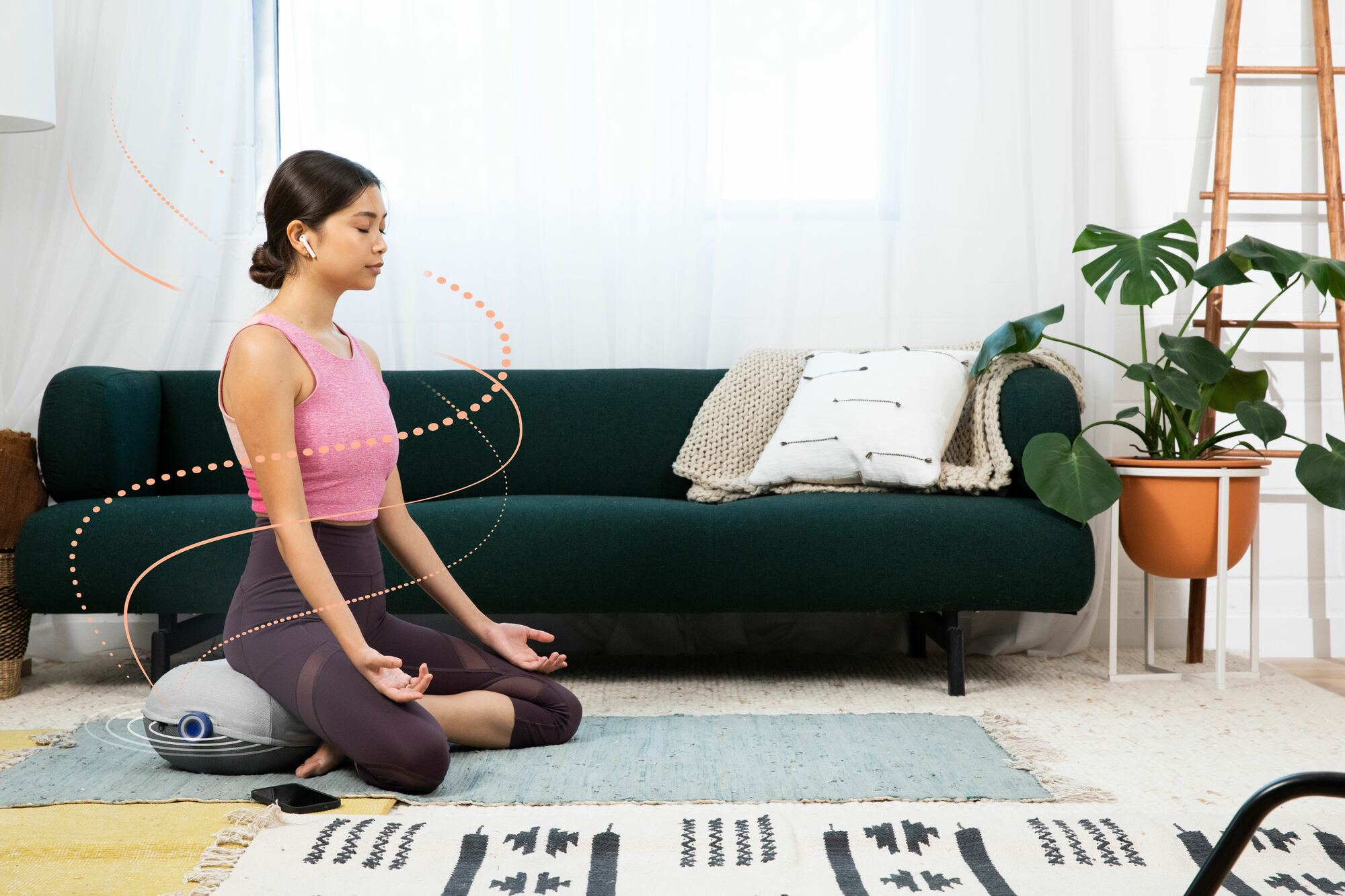 Using proven methodologies from the connected fitness space, Aduri makes meditation simple and enjoyable, so students come back day after day. Consistency is the key to unlocking all the proven benefits of meditation.=== Immersive Experience ===

=== Tangible Product ===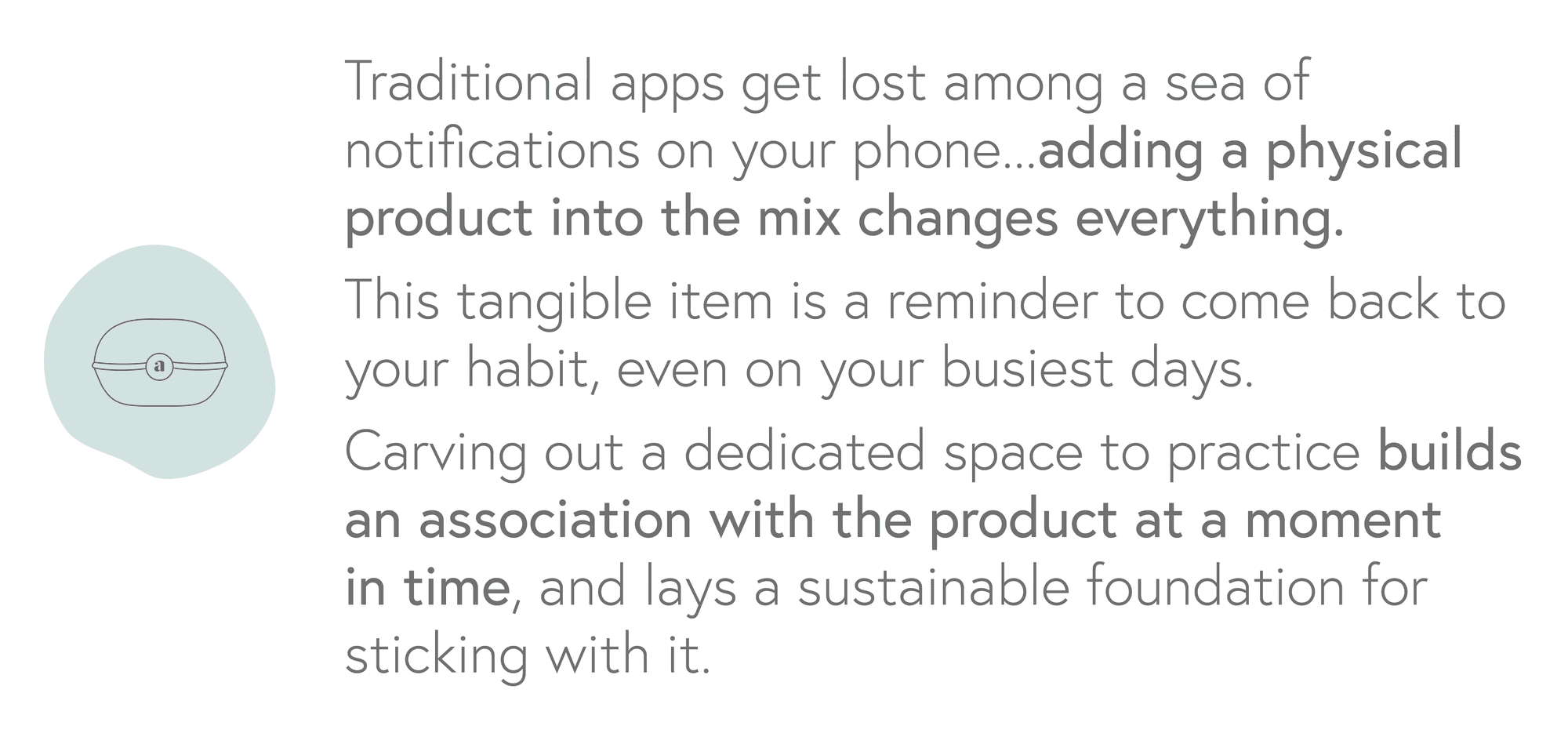 === Sound Science ===
=== Small Group Accountability ===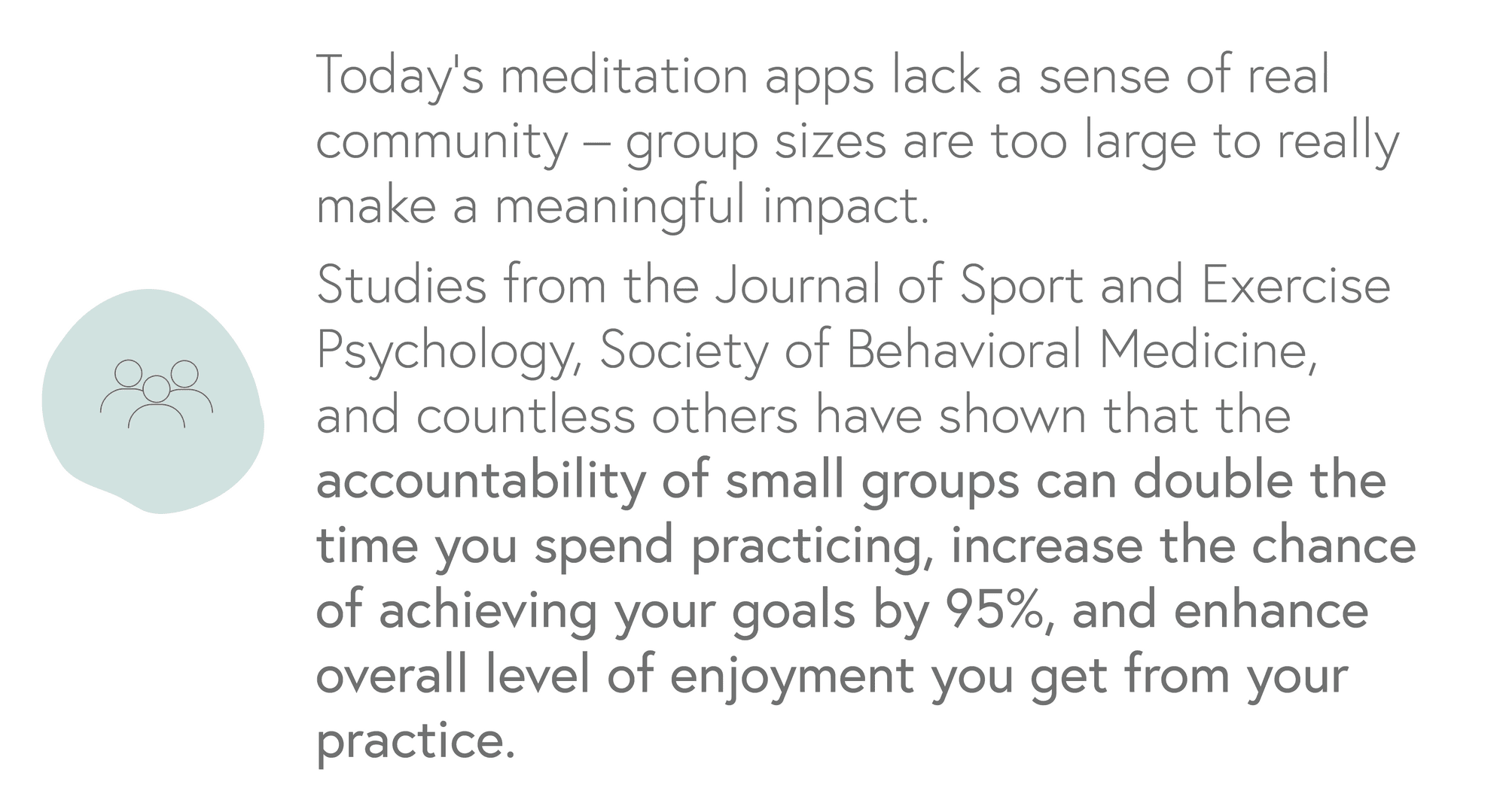 == Product ===== An evidence-based, immersive meditation training system that keeps people practicing ===The Aduri Cushion is an award-winning, multi-sensory meditation system that combines the immersion of gentle pulses with music-based content rooted in neuroscience to make meditation easier, more engaging, and enjoyable. Students can practice solo or sync cushions virtually to meditate together in real-time for a shared, collective experience.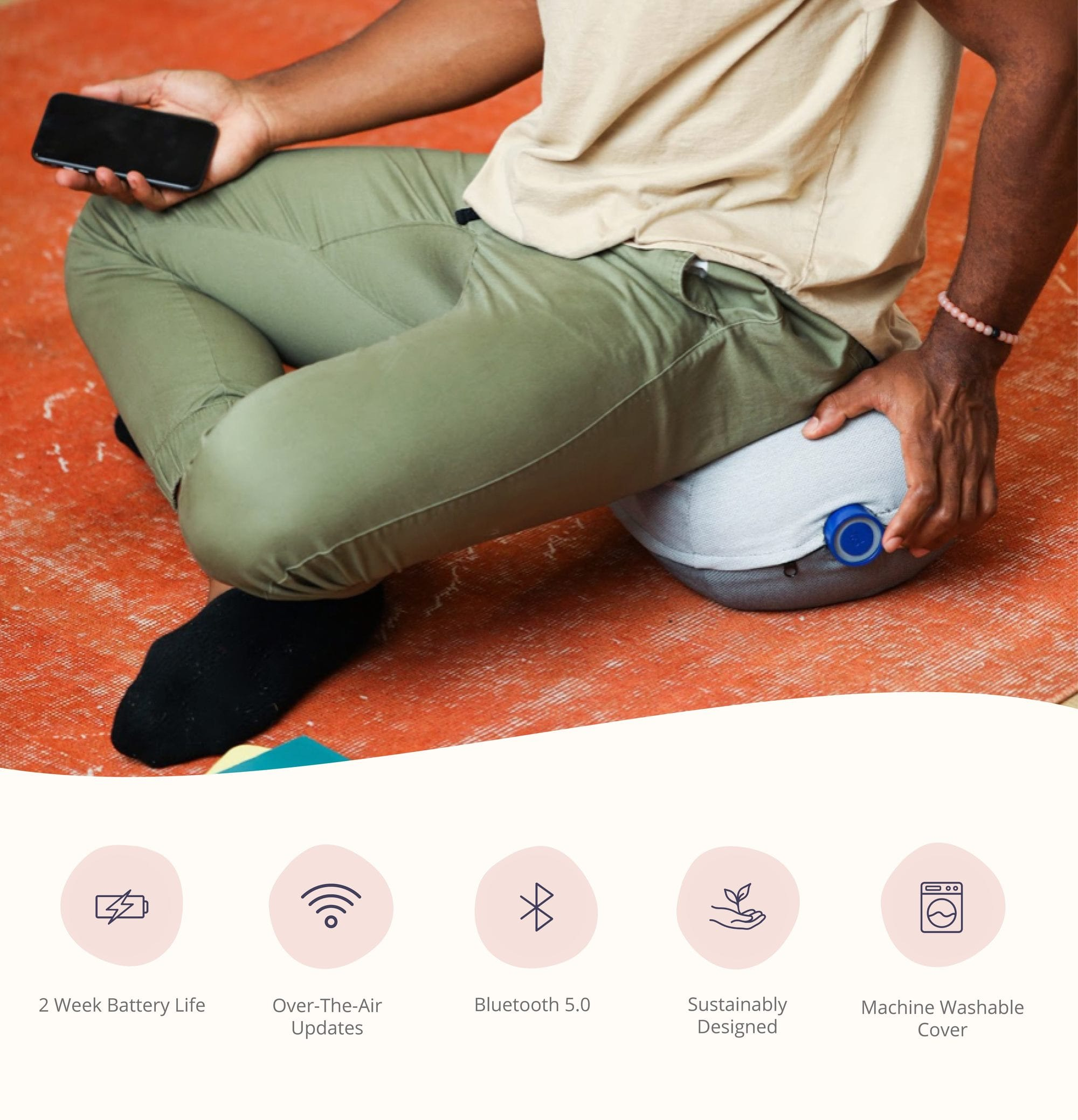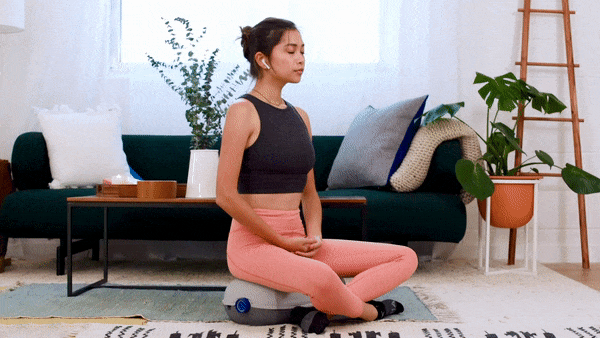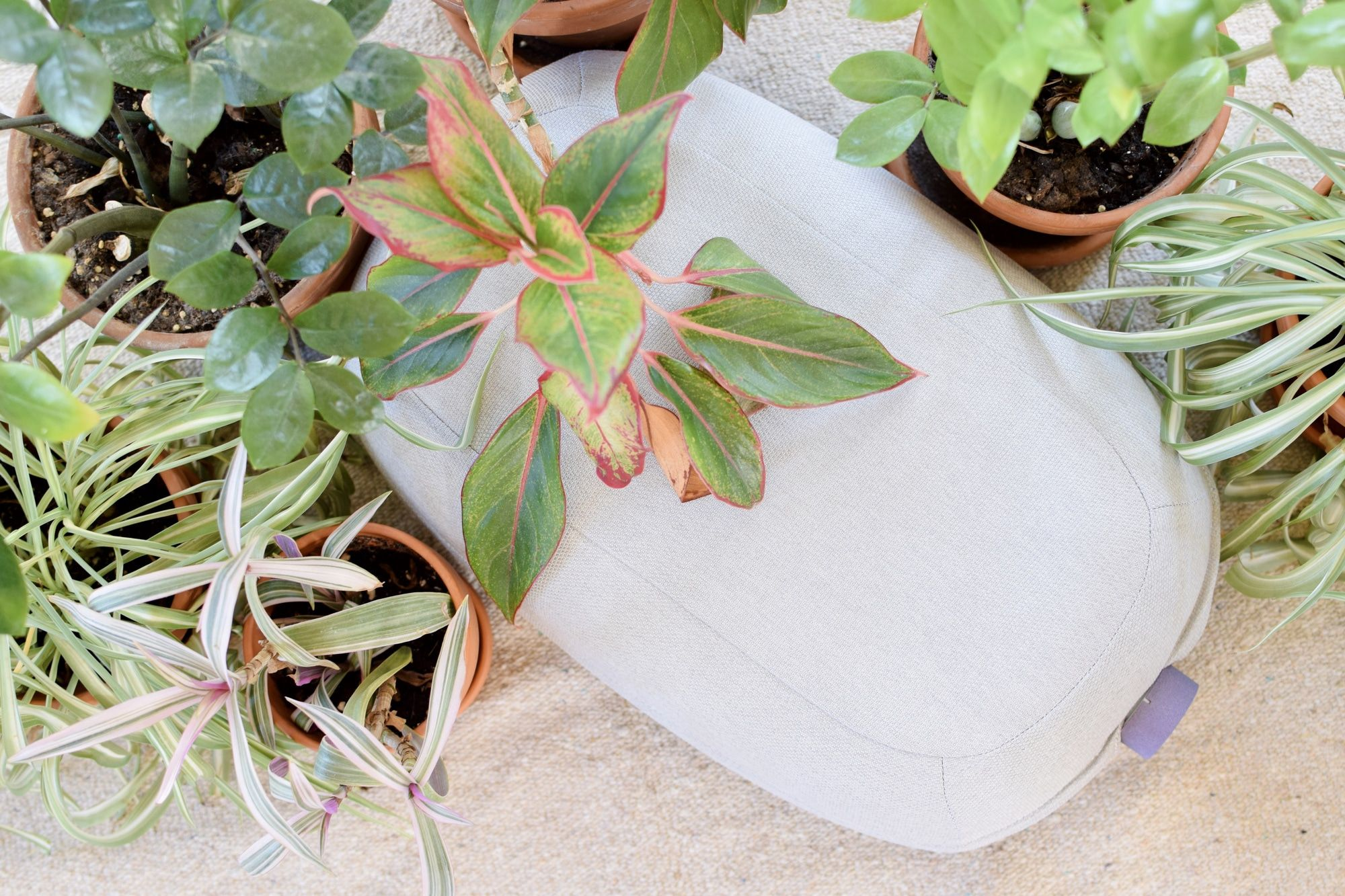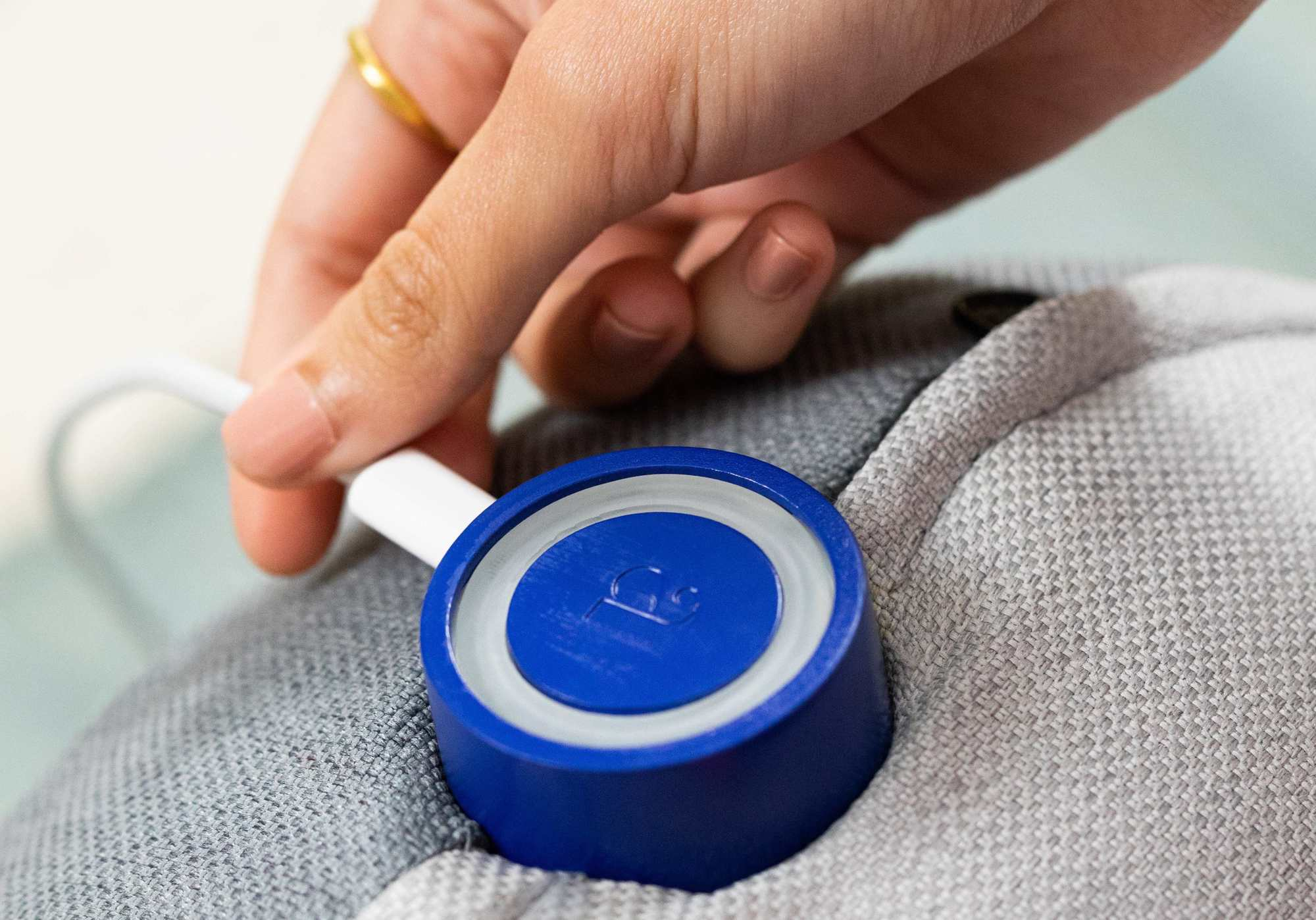 === Meet Hannah, the talented designer behind Cushion: ===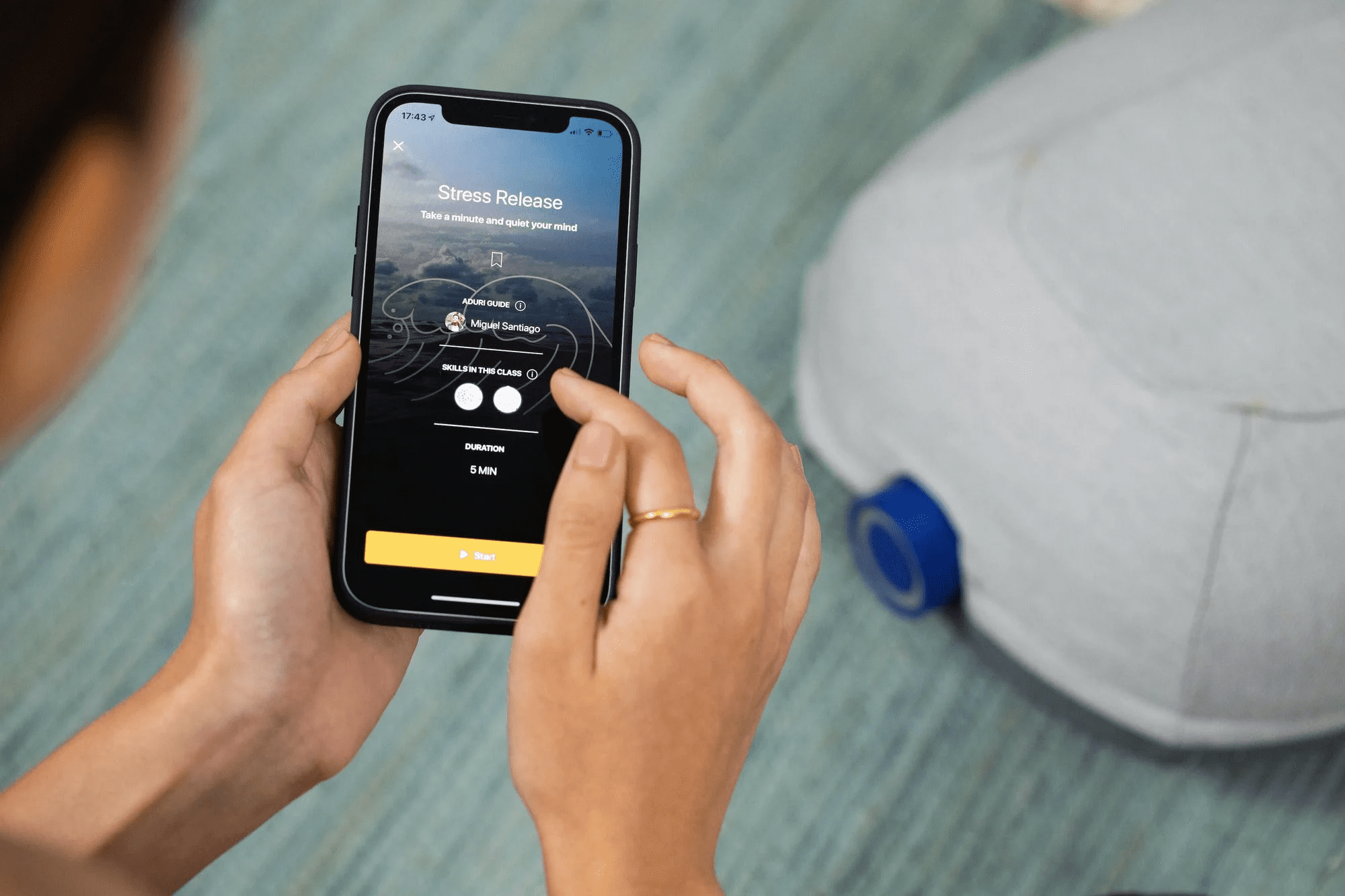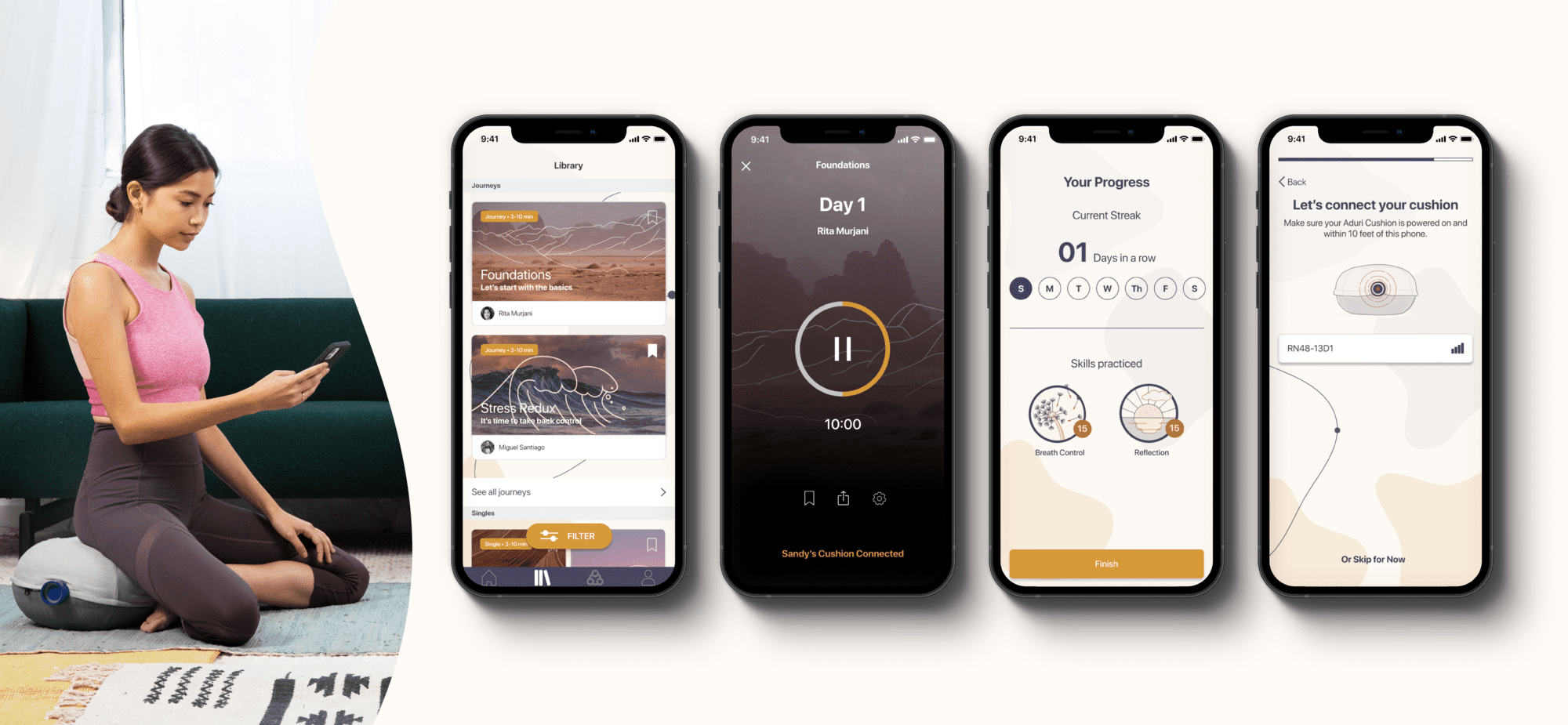 === Meet Rita, Aduri's Head of Mindfulness + Strategy: ===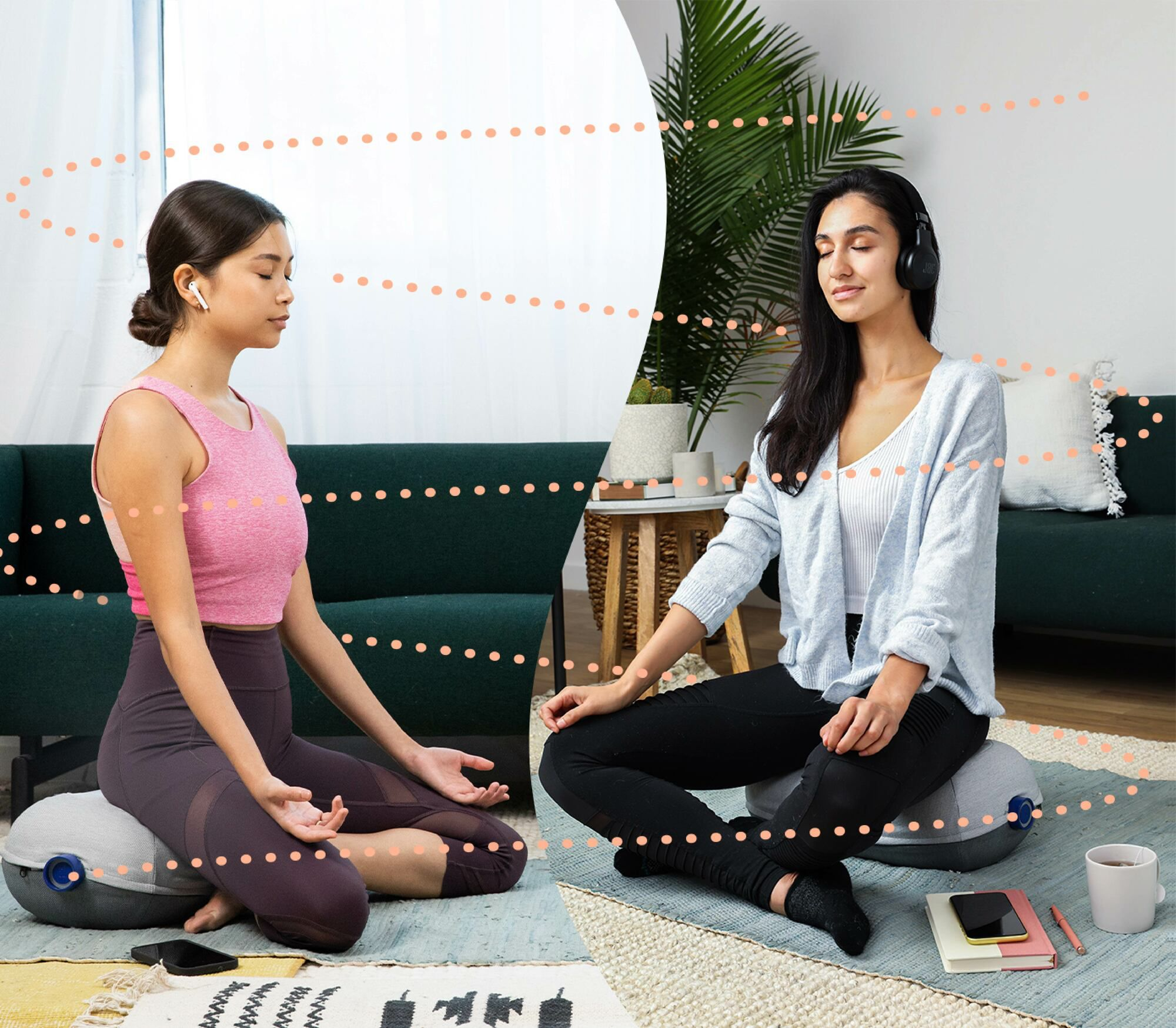 == Traction ===== Demand has blown away expectations ===* We exceeded our launch goal — initial pre-order product run sold out (2.5x beyond initial limit)* Paid product pilots valued north of $25K placed by global companies like PwC and Hearst* Our closed beta, tested on 1000+ prospective users, showed 4x user retention (>55%) compared to mainstream apps (<15%)* Funded for product development by one of the largest global sportswear brands * Thousands of prospective customers waiting to be notified when we re-open waitlist deposits

=== We've been featured in global media outlets: ===

And were awarded as an Honoree in the 2021 NYCxDesign Awards in health + wellness.

== Customers ===== There are more aspiring meditators now than ever before   ===The benefits of a consistent mindfulness practice are clear – our customers want to meditate. Aduri helps them achieve their goals by building consistency to improve their mental fitness and unleash their potential. We know from our growing community that wellness-optimizers and high-performers alike are willing to pay a premium for goods and services that help them live better.Here's what our customers are already saying about Aduri: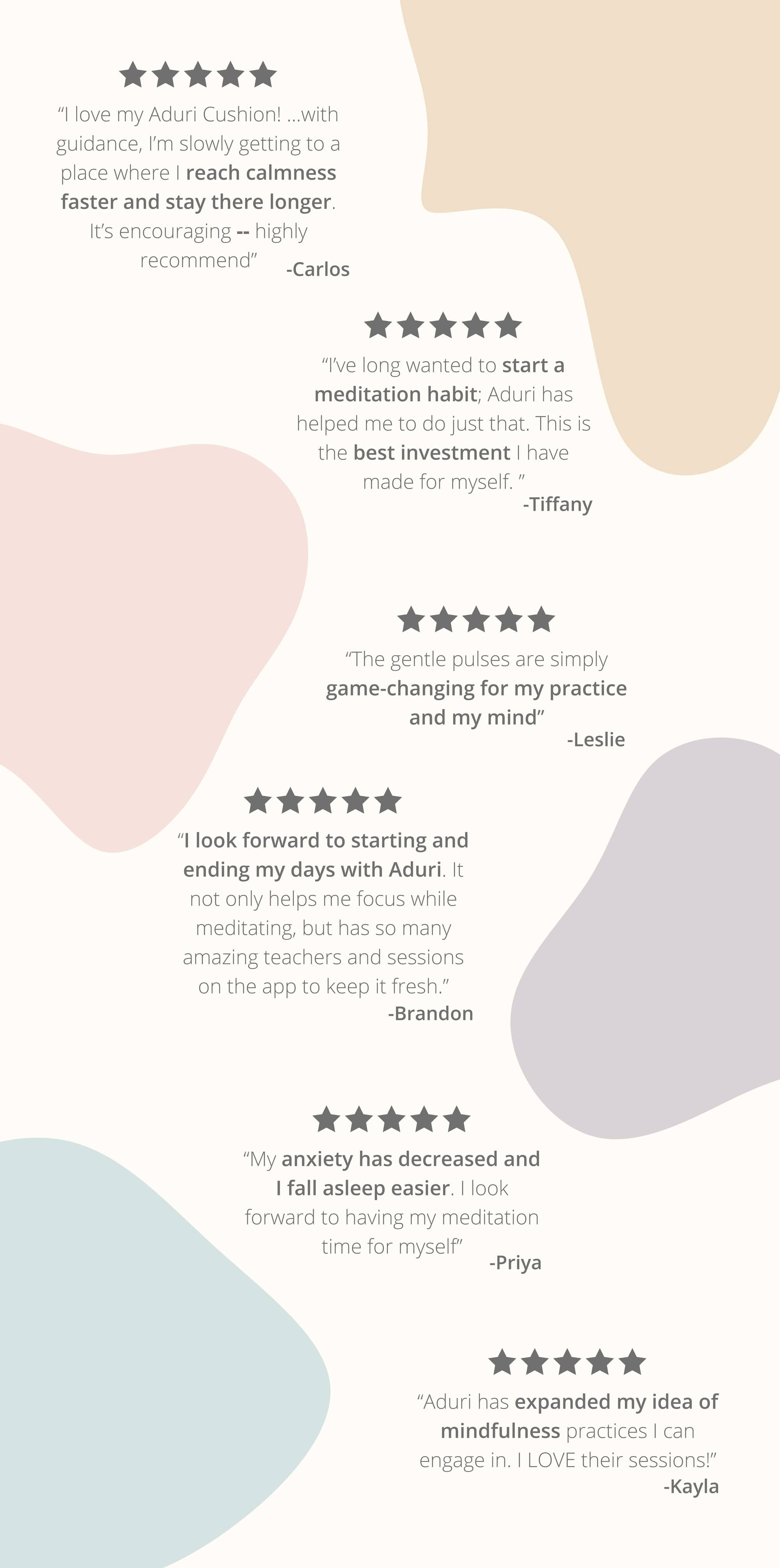 == Business model ===== Hardware + software model unlocks quick scale and immediate payback ===Our business model is simple: we sell the Aduri Cushion alongside our premium app subscription.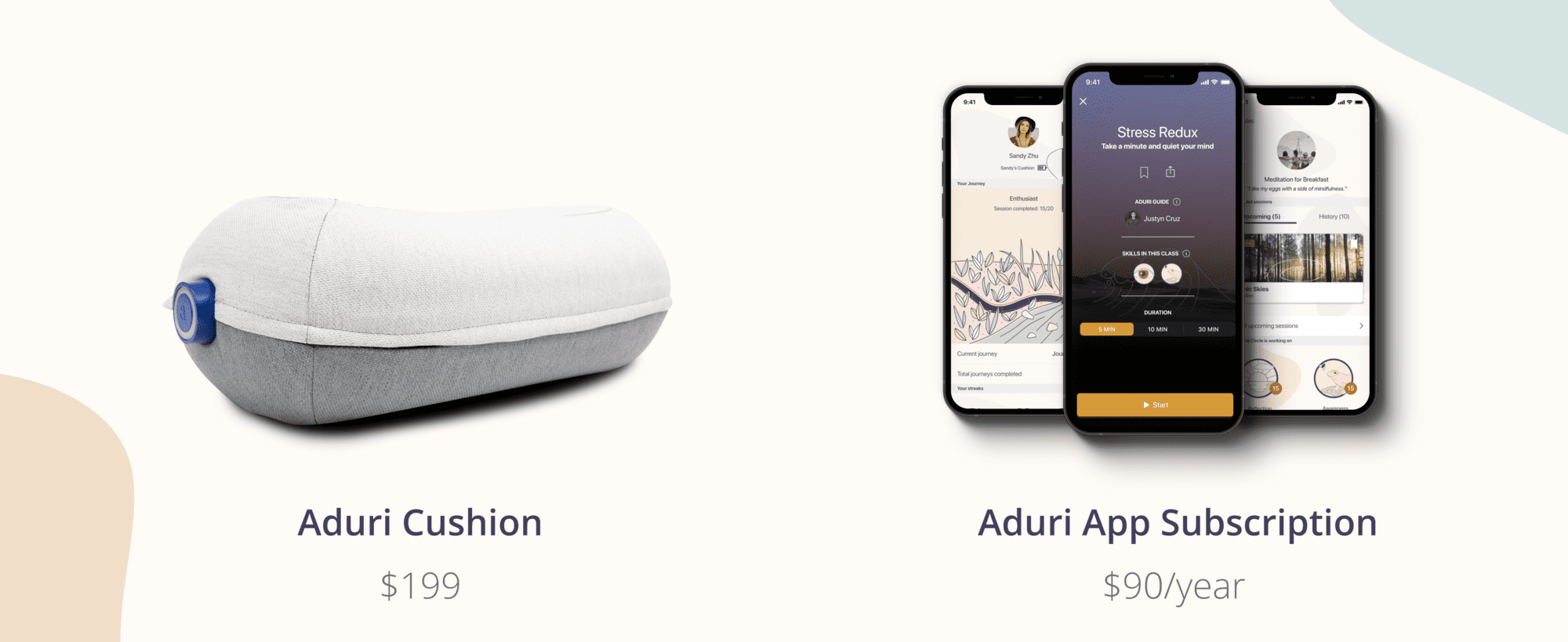 We sell Cushion at a 50%+ margin, which will increase significantly as we scale production, and earn recurring revenues via our premium app subscription.=== Super "sticky" customer referral loops ===Circles, our small group feature, creates super sticky customer referral loops — people are more willing to join and stay engaged if their friends are on the same platforms too.  Our business model results in immediate hardware payback as well as an efficient way to organically scale user growth. Cushion margin as of July 2021== Market ===== A surging $121B+ mental wellness market ===Our initial target market is the nearly $3B meditation and mindfulness segment of the broader, almost $121B mental wellness industry. While Cushion only targets this smaller market niche, Aduri is well-positioned to expand our market reach within the larger mental wellness space via new products, digital content, and partnerships.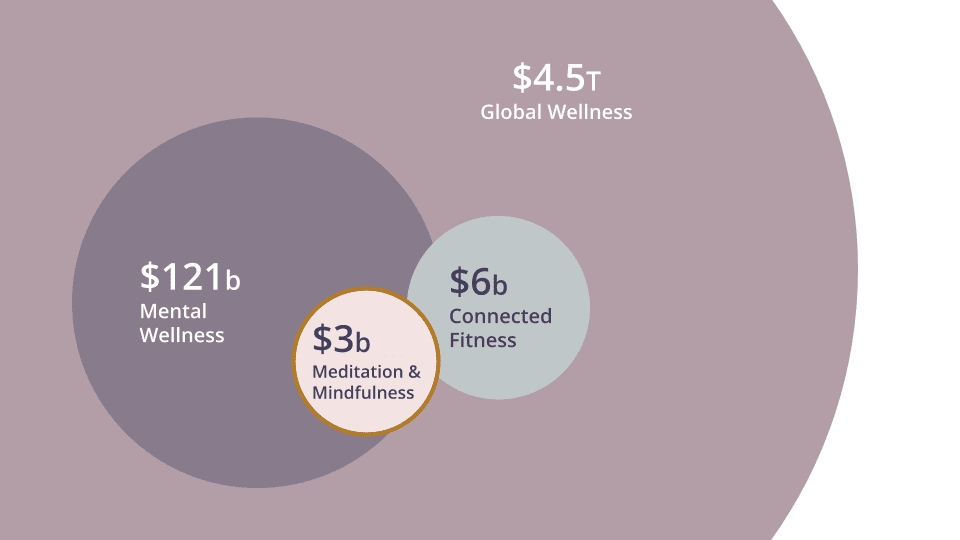 Mental fitness is the new physical fitness – Meditation is following in the same footsteps as the $88B global yoga industry:
=== The following trends are no secret: ===* Mental Fitness Is Now a Priority for Millions — Stress levels are up globally and consumers are tapping into mindful practices to reduce their stress and anxiety* Designated Spaces for Connected Fitness — People have carved out space in their homes and invested significant portions of their disposable income into connected fitness products* Rare Opportunity to Form New Holistic Habits  — Flexibility, mental fitness, and balance will be core drivers as individuals take advantage of this rare opportunity to consciously form new habits as the world shifts into the new normal*Market sizes rounded to the nearest whole number. As of 2019: $120.8B global mental wellness market; $2.9B meditation & mindfulness. Projected $5.96B connected fitness market by 2025.== Competition ===== Connected fitness meets mindfulness for an engaging, sustainable practice ===Aduri brings all the best aspects of connected fitness systems to the practice of mindfulness at an accessible price.Aduri stops the hopping between meditation apps and delivers outcomes through the combination of a beautiful cushion, engaging experience, high-quality content, and group-based sessions.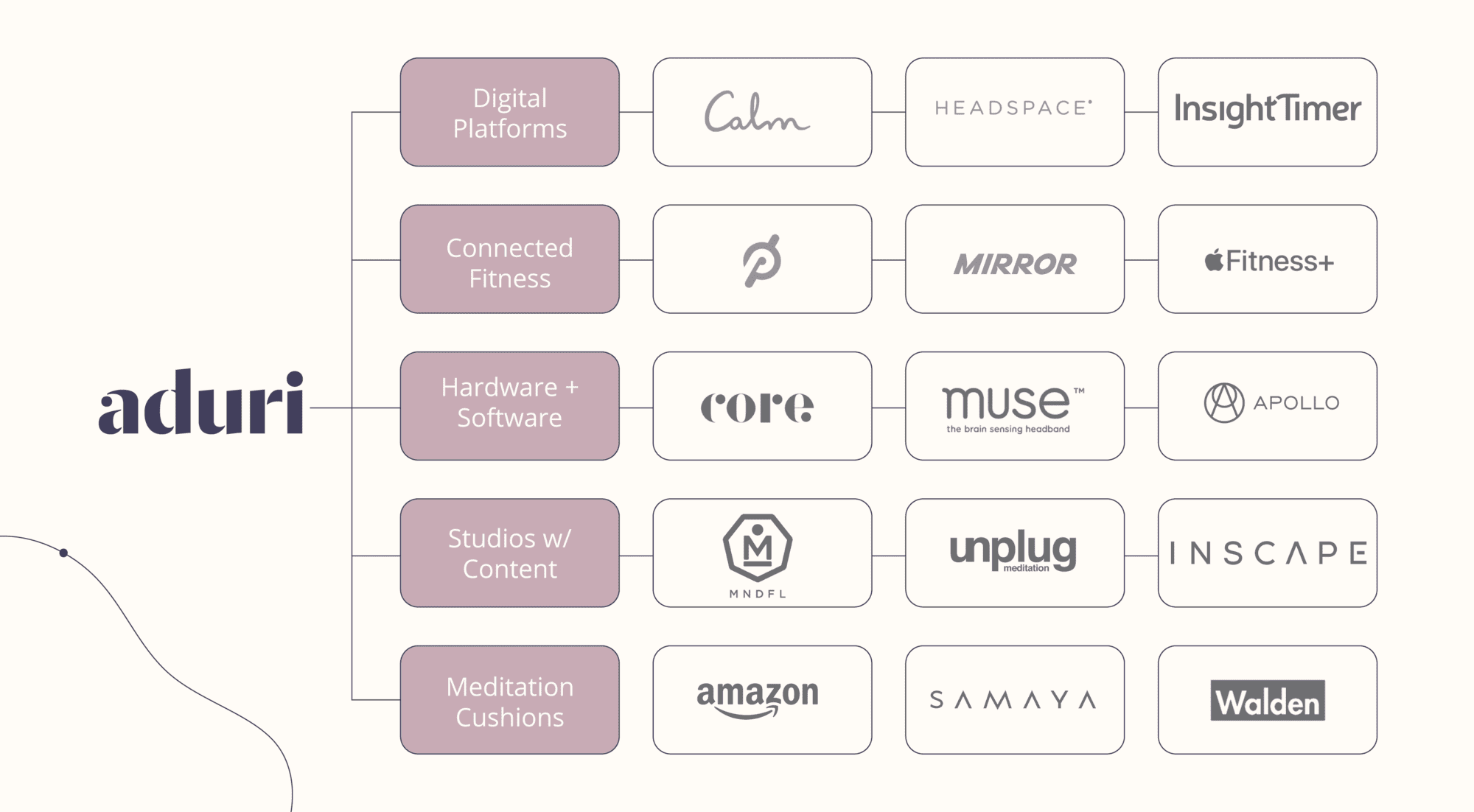 == Vision and strategy ===== Aduri will become THE mindful living company ===We will own the mindful living category and make mental fitness a core pillar of daily life.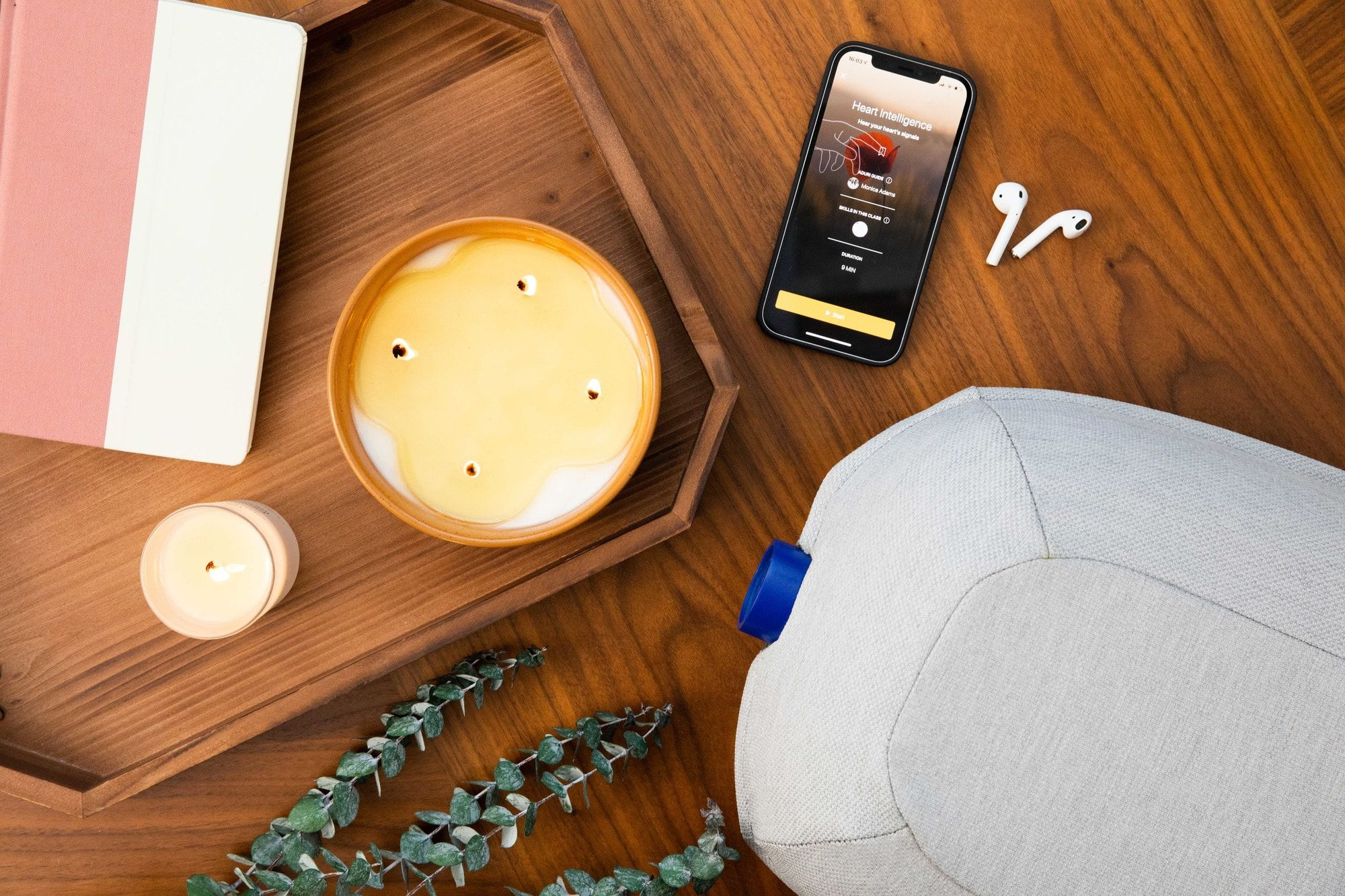 It's our fundamental belief that people are constantly exploring and optimizing personal transformation to improve their lives, bring people closer together, and make the world a better place.Aduri will continue our mission to change the trajectory of society's mental wellbeing.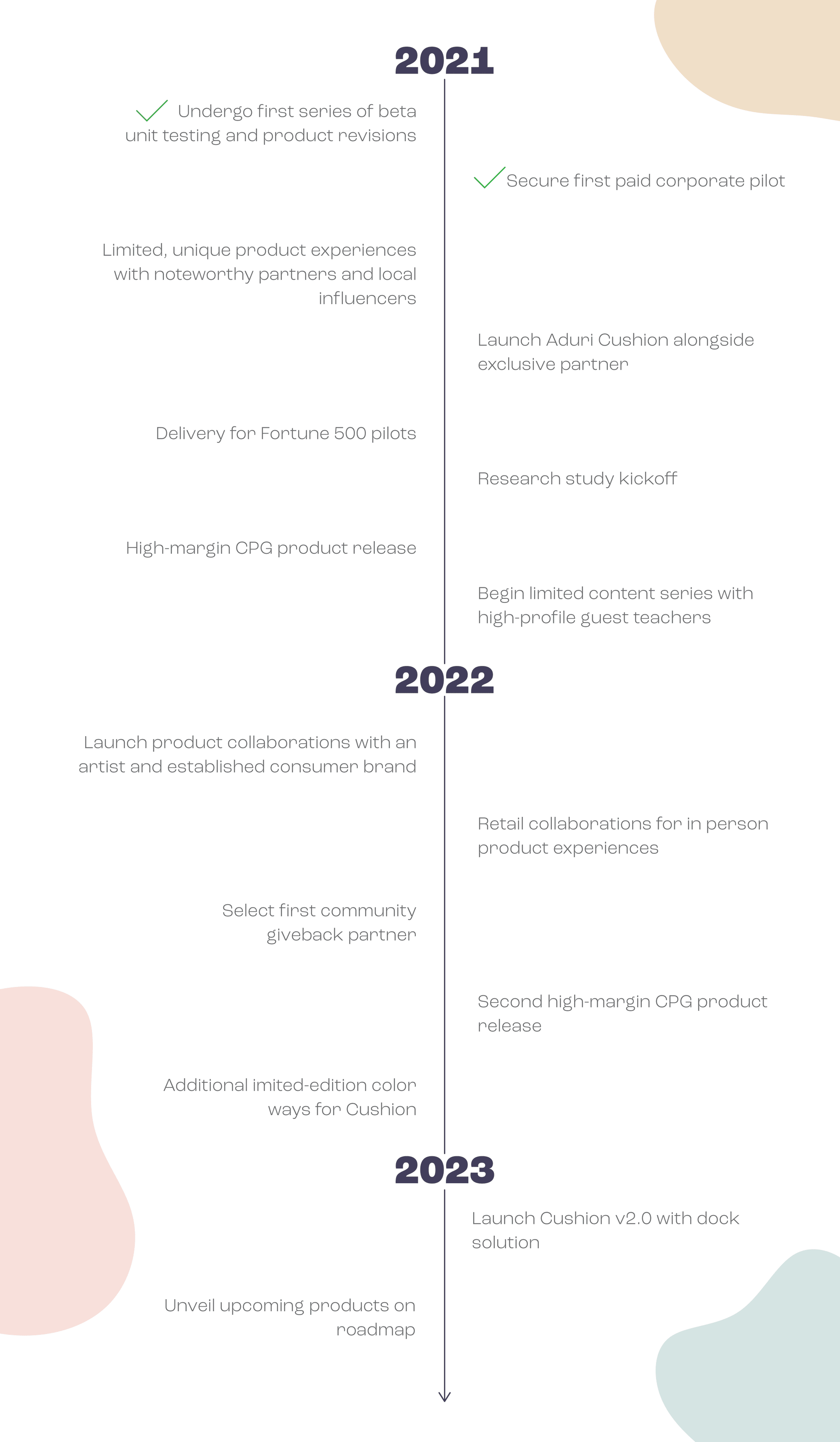 Aduri is committed to achieving long-term growth and becoming a leader in the mental wellness industry.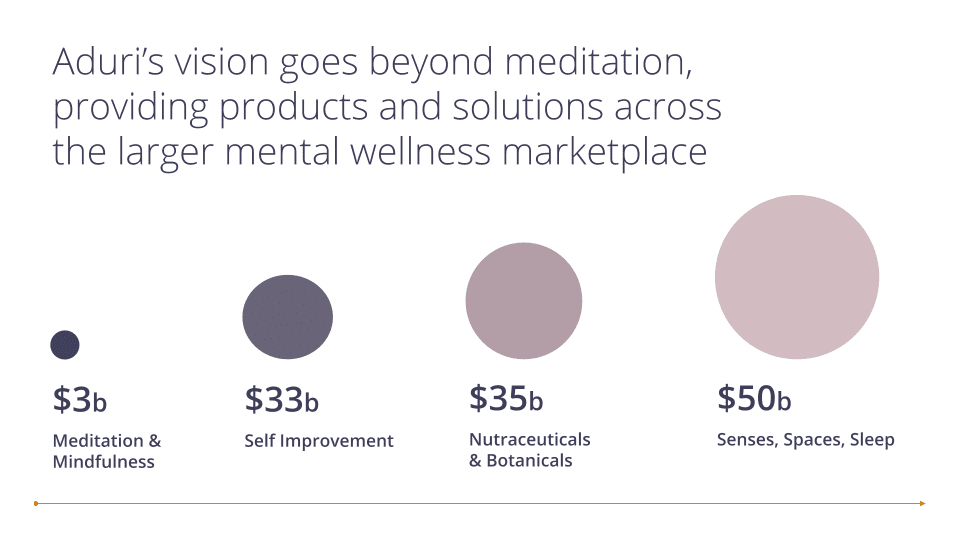 * By expanding into B2B and B2B2C, we can transform the ways we support mental fitness at scale, especially with healthcare systems* Growing product lines will allow us to enter new market categories with high-margin goods, services, and content offerings* The ubiquity of smart home tech, AI, and biofeedback are providing exciting future growth opportunities for Aduri and mindful ways of living* Aduri will reshape access to mental fitness tools for under-served communities through company-led initiatives and partnerships  *Market sizes rounded. As of 2019: $49.5B senses, spaces, & sleep, $34.8B nutraceuticals & botanicals; $33.6B self-improvement; $2.9B meditation & mindfulness.== Impact ===== One small step for wellness, one giant leap for wellbeing ===Aduri (adj., Sanskrit आदुरि): mindfulWe believe through mindfulness we can build a better, kinder world together, because to us, it's about more than just your mind, it's a movement.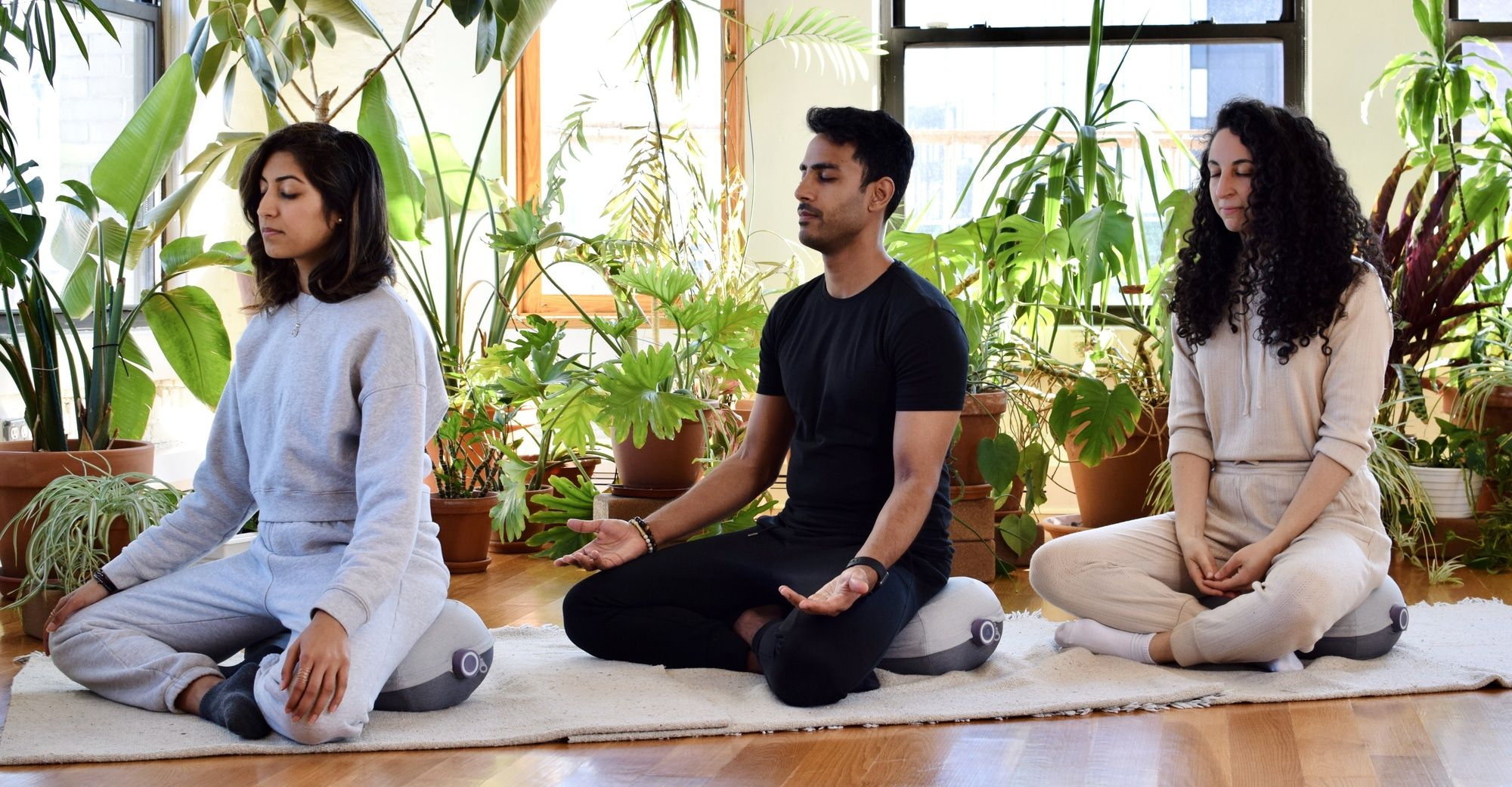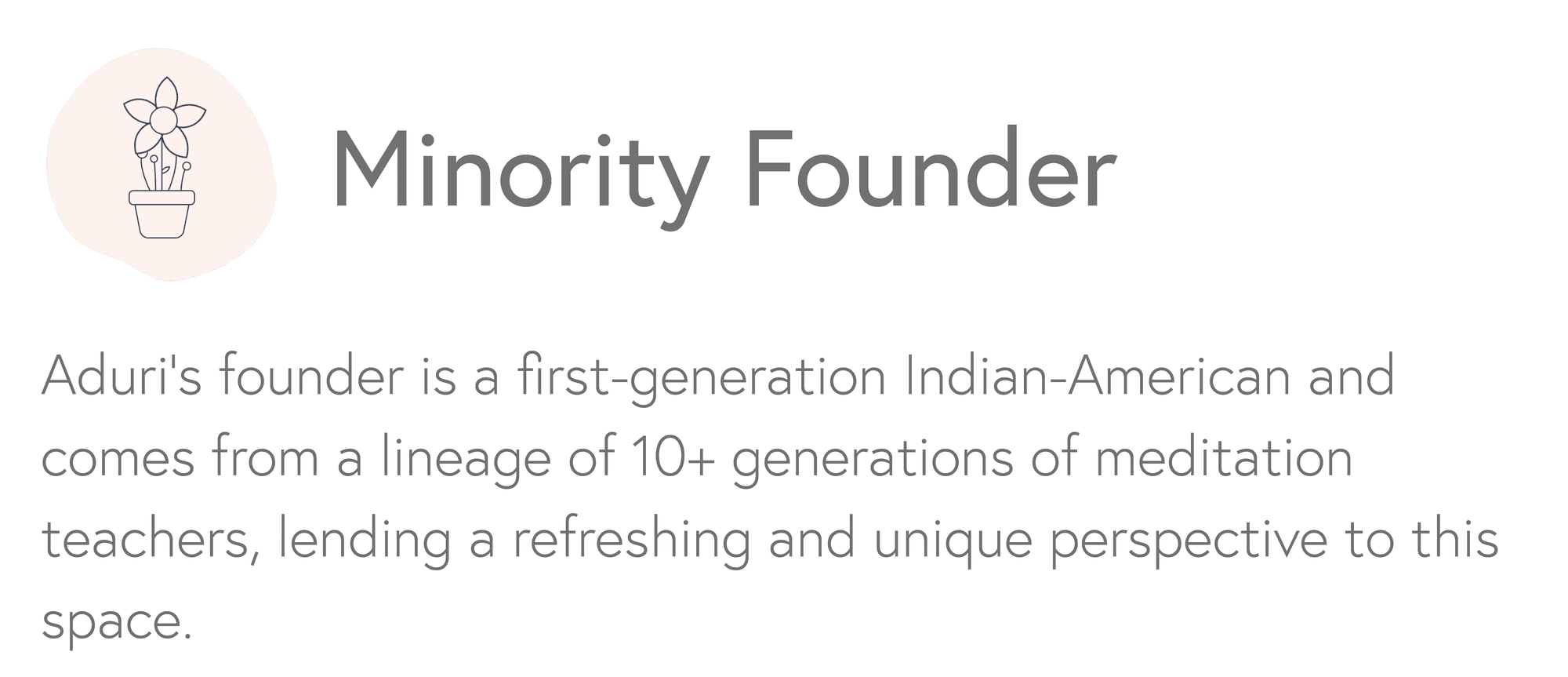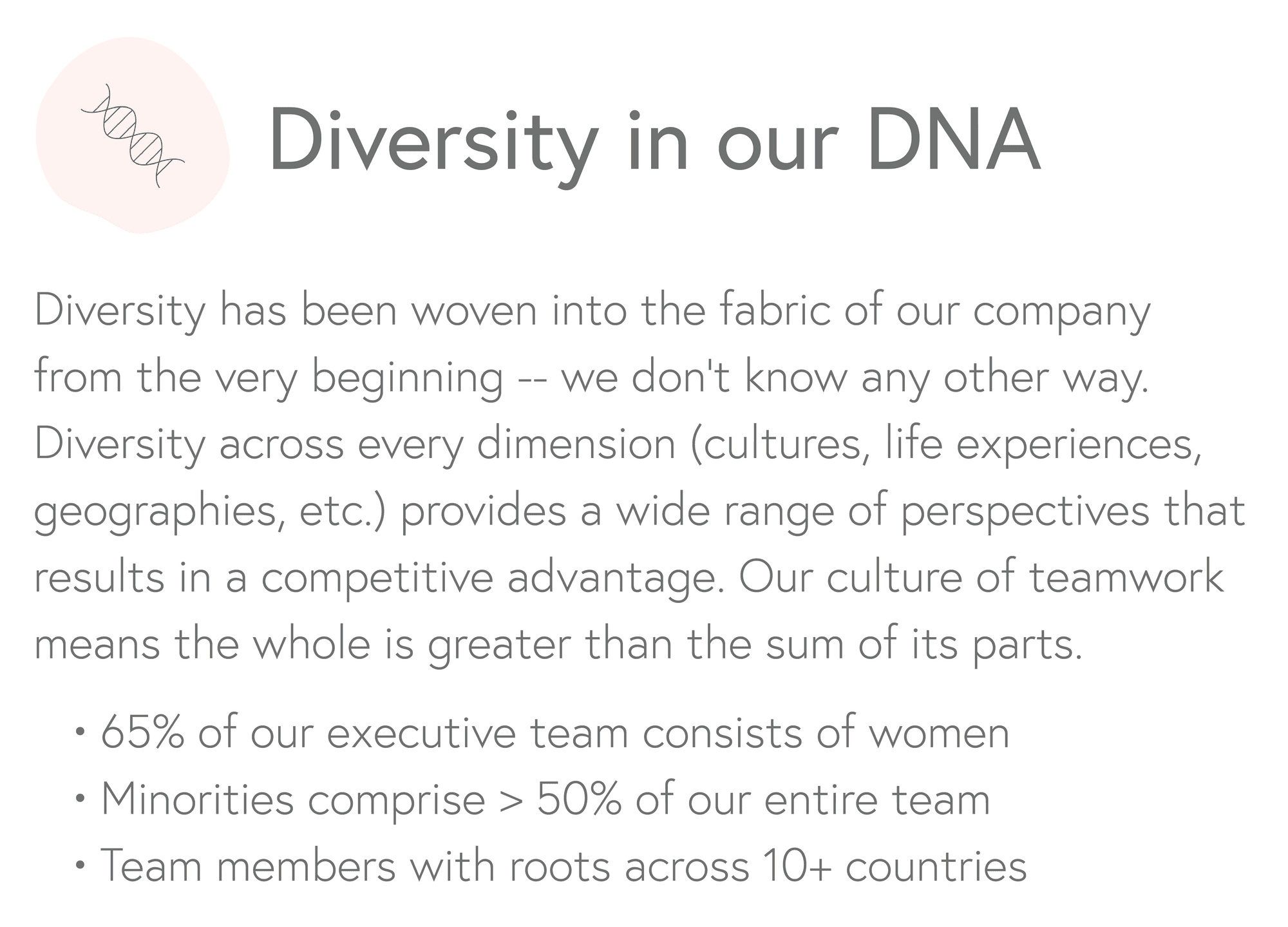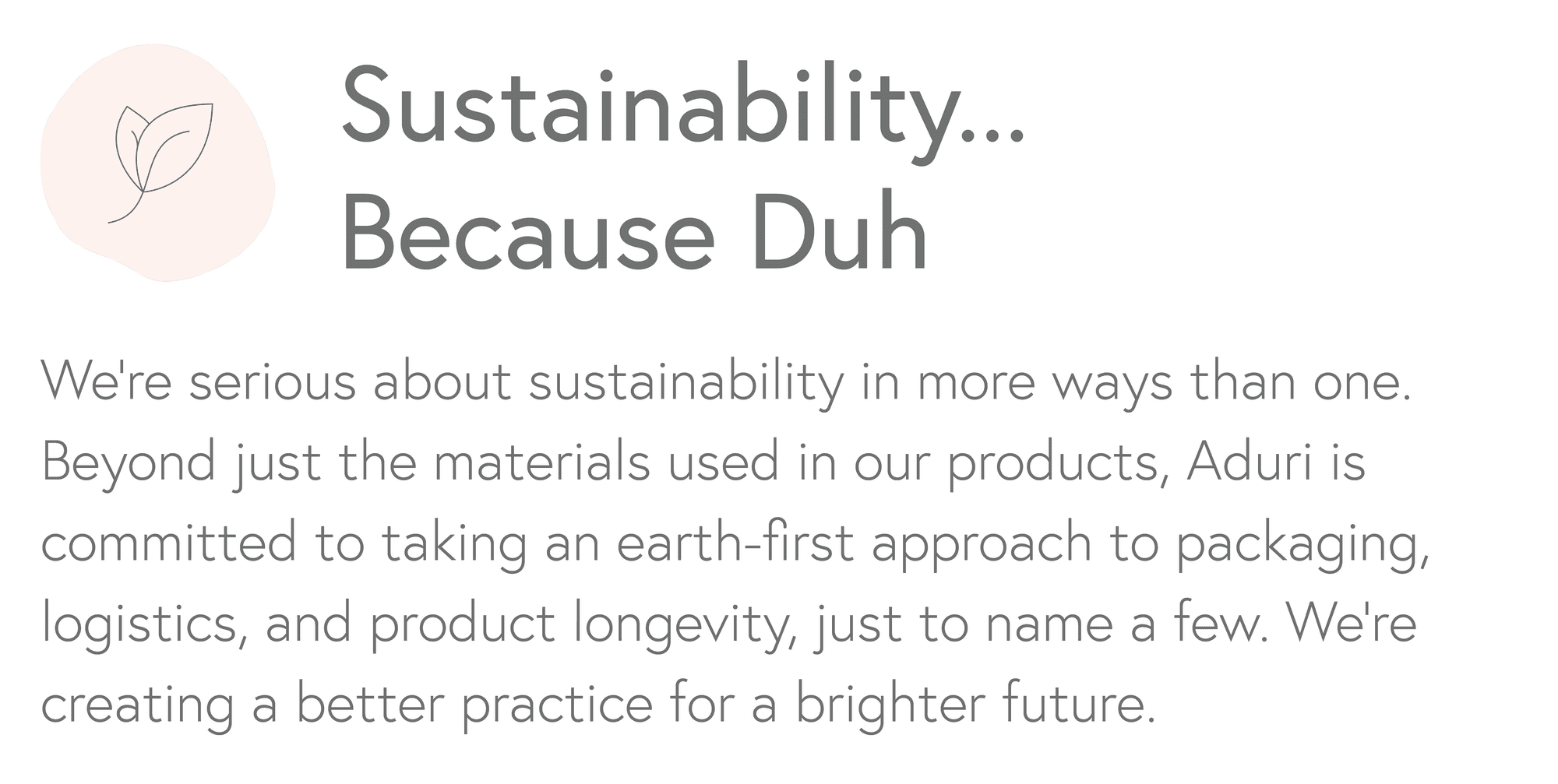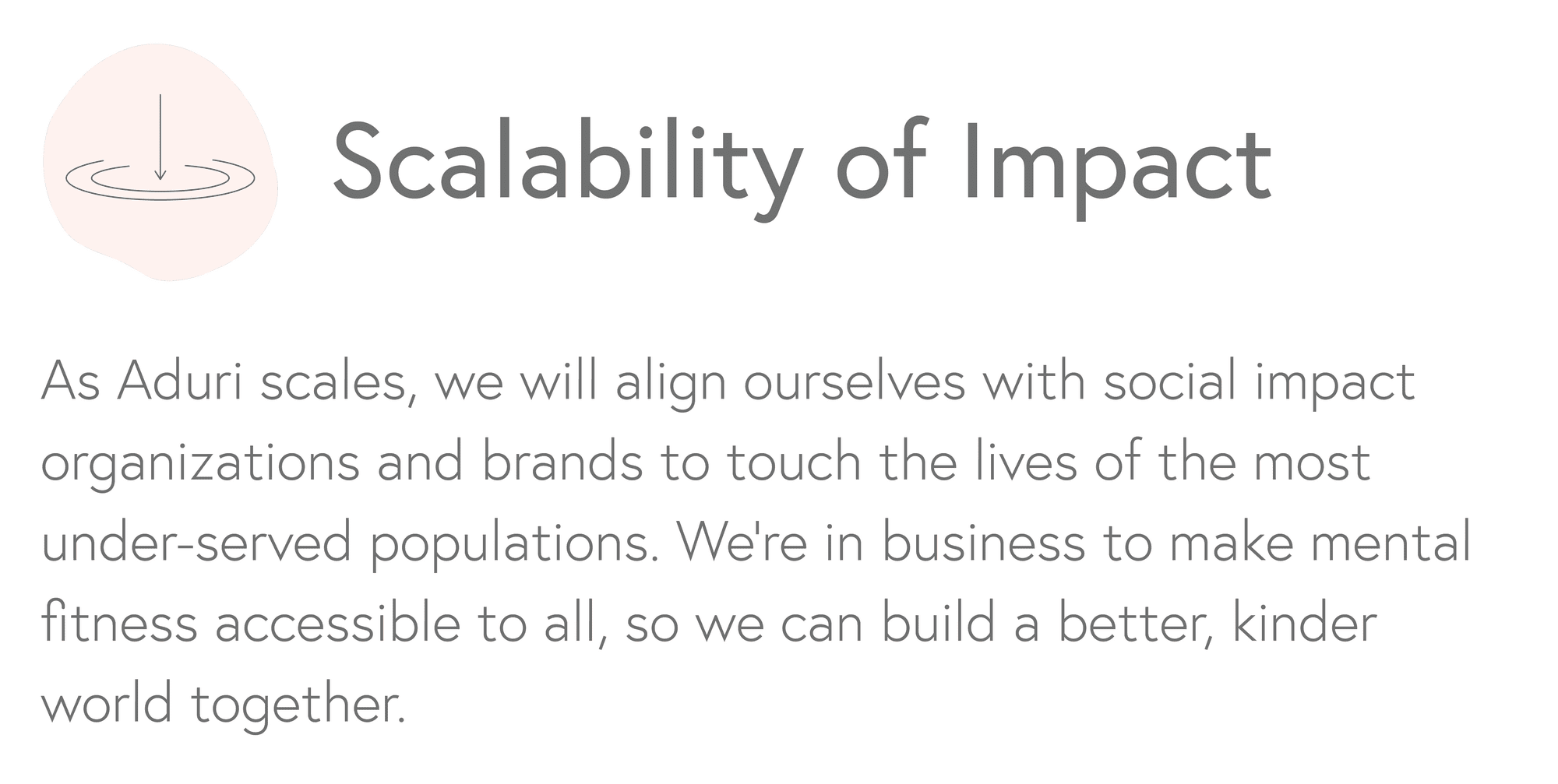 == Funding ==Investors include General Catalyst's RDV, XRC Labs, NY Economic Development Corp and more                          === Current fundraise capital allocation: ===* Accelerate our time to market + inventory* Marketing and customer acquisition* 4x meditation content library size* Jumpstart further product research studies + user analysis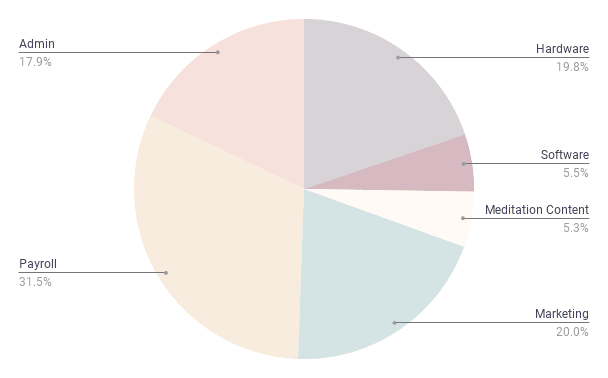 === Prior to our Republic campaign, Aduri has raised over $450K: ===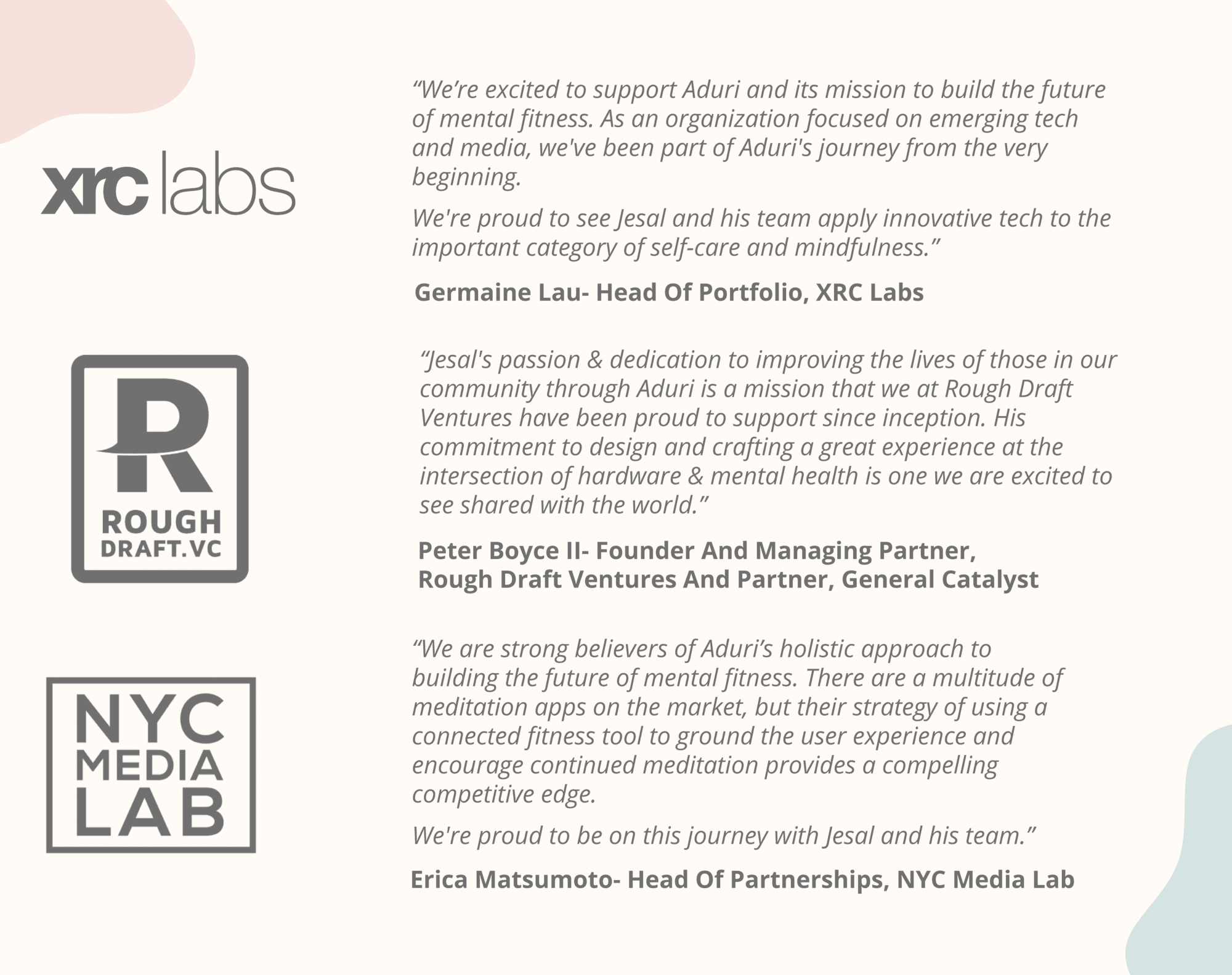 === Other noteworthy leaders backing Aduri: ===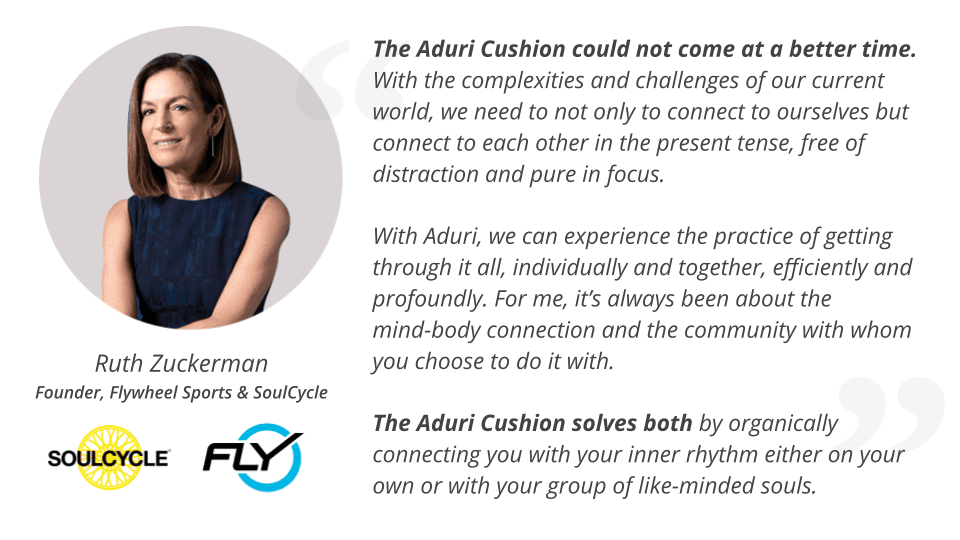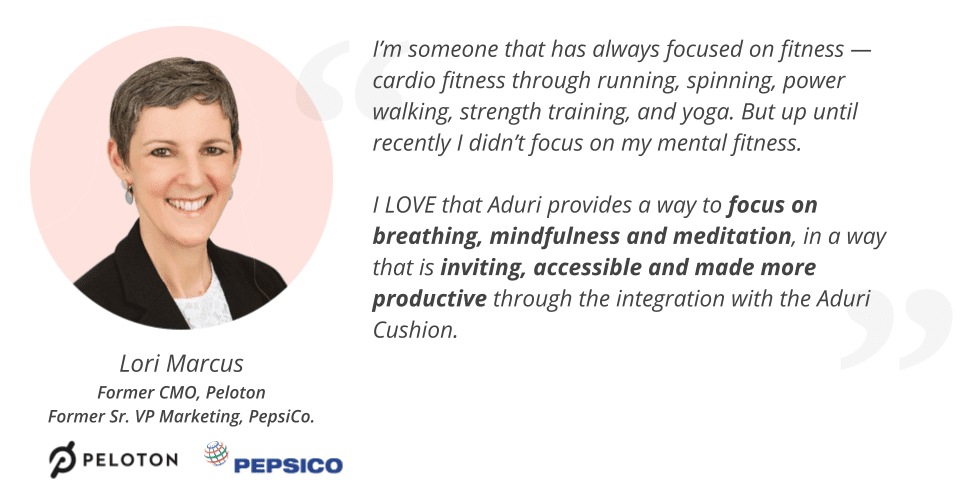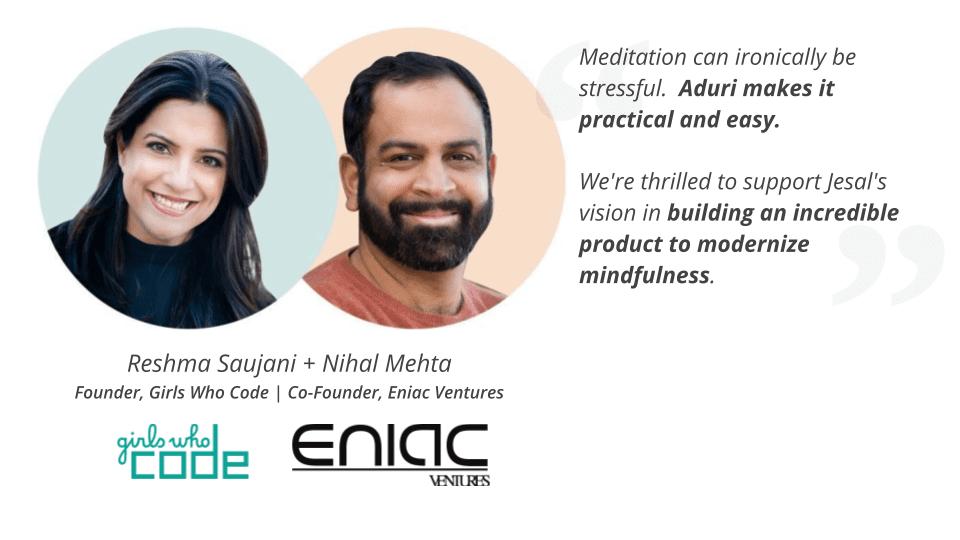 == Founders ==Rockstar team with decades of experience'75+ years combined experience across technology, content, and mass-market product design.
Jesal Trivedi - CEO and FounderJesal TrivediCEO + FounderWith over a decade of experience across tech, media, and product innovation, Jesal's a seasoned professional in the industry. Jesal led and grew the Mobile Product team at Blue Label Labs, was tapped and funded by Microsoft to pioneer UX/UI principles for the Hololens AR headset ad Co-Founded multimedia companies such as Tech808 and The Phat Startup which was featured in TechCrunch, Re/Code, and Fast Company.Now, Jesal's passion is within Aduri where blends his roots of Indian heritage and coming from 10+ generations of meditation teachers in hopes of uplifting the world's mental fitness.
Rita Murjani - Head of Mindfulness + StrategyRita Murjani Mindfulness + StrategyRita has nearly a decade of experience across finance, strategy, as well as teaching yoga + meditation. She started her career at Citi where she structured more than $5B worth of debt for renewable energy and infrastructure projects and also developed a trillion dollar regulatory capital instrument to save the firm over $500mm worth of tax attributes.Rita's yoga and meditation practices were the things that kept her going, and she began moonlighting as a teacher at some NYC's most prestigious studios  like SkyTing Yoga and Equinox. She ultimately left banking to dive deeper and started her own business teaching meditation at large institutions and start-ups alike.Now as part of the founding team, Aduri is where her skills and interests come together — she sits at the intersection of meditation and spreadsheets.
Hannah Berkin-Harper - Industrial Design LeadHannah Berkin-Harper Industrial DesignHannah is an industrial design expert with experience across furniture, tableware, consumer goods, and a variety of products made for public spaces. After receiving her master's in industrial design, Hannah spent nearly a decade in Karim Rashid's studio working with hand-made artisanal producers as well as multinational brands like Unilever, Nambe, and Umbra. Hannah's longtime yoga and meditation practice, focus on environmental sustainability, and interest in ergonomics have influenced her design work for Aduri. She also teaches at Pratt Institute and at the NYU Tandon School of Engineering.
Samantha Mellone - Head of MarketingSam MelloneMarketingSamantha is a strategic marketer + yogi dedicated to helping minority-owned businesses engage with their communities through powerful content. Over the last decade, she has developed marketing strategies on local, national, and international scales, to build publications, brands, and platforms. She began her career working for a variety of independent and prestige publications, including titles under Conde Nast and Meredith. Sam transitioned to the consumer product goods industry working for a variety of brands - both in house and as a consultant. Past projects include: STORY, DevaCurl, Color Wow, Organic Valley, and BlueFly.Aduri Team Mascots - Leo + Mallow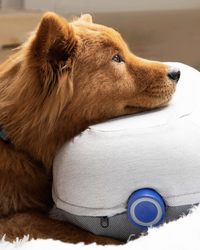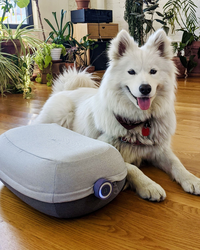 == Aduri Team ==Jesal TrivediCEO and Founder13+ years across tech, media, and mobile product development; Featured in TechCrunch, Fast Company & CheddarRita MurjaniHead of Mindfulness + Strategy8+ years of experience across finance, strategy, as well as teaching yoga + meditation; Equinox, SkyTing, ex-CitgroupSamantha MelloneHead of Marketing10+ years of experience across storytelling, content, partnerships, and strategic activations for 20+ brandsHannah Berkin-HarperLead Industrial Designer15+ years of experience in industrial design + teaching at NYU, Pratt; ex-Karim Rashid, ex-West ElmJustyn CruzHead of Sound Design15+ years of sound design, audio branding, and music production experienceSam HollandHead of Manufacturing14+ years experience designing and manufacturing hardware across multiple industries; Ex-Makerbot, ex-VimeoRuth ZuckermanAdvisorFounder, Flywheel Sports & SoulCycleLori MarcusAdvisorFormer CMO, Peloton; Former VP Marketing, PepsiCoAdinor PuplampuLead Firmware DeveloperChirag PatelLead Software DeveloperSandy ZhuUX/UI Design LeadAlisha DhirGraphic DesignerSarah LiddellIllustratorMiguel SantiagoMeditation GuideJulie SacksMeditation GuideHeidi LuoJunior Growth Analyst