Alex's Awesome Sourdough Pizza
The gut-friendly pizza that tastes awesome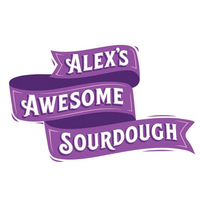 2nd fastest-growing premium frozen pizza in the US (Source: SPINS)
Founded by 2-star Michelin-trained chef
"The #1 Best Frozen Pizza to Buy," according to "Eat This, Not That!"
14K+ Instagram followers
Sourdough crust delivers nutrition, digestion and taste advantages
Launching gluten free line with nutrition, ingredient and taste advantages
Most pizzas use ingredients that are not gut-friendly and compromise taste
Edit
The combination of wheat flour and yeast that is used to proof pizza dough can be rough on your stomach. It's particularly bad for celiacs, but many people have different degrees of gluten intolerance.
Many premium pizzas use industrial fillers—such as xanthan gum, soy oil, and canola oil—to hold their crusts together.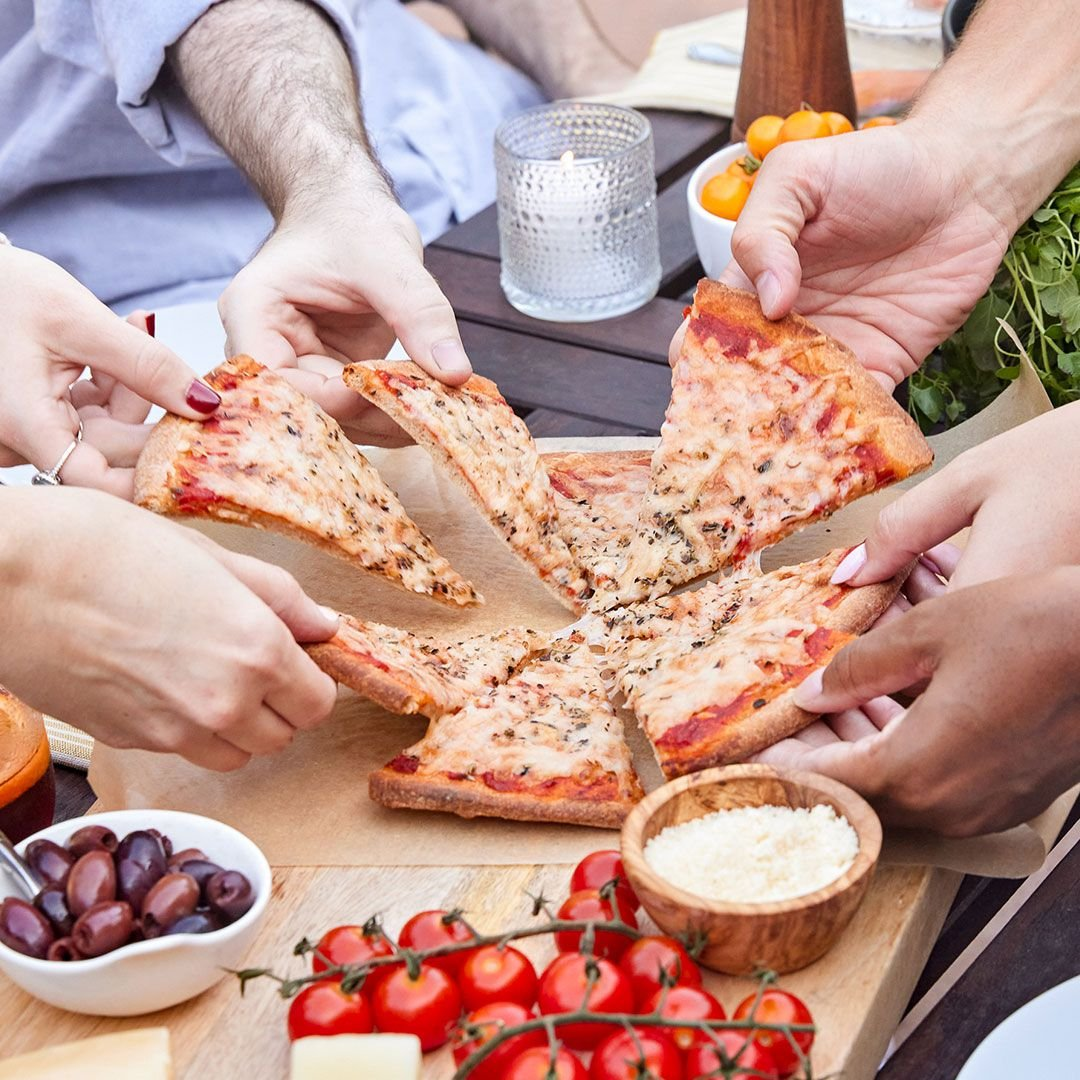 We naturally ferment our dough, and use only natural ingredients
Edit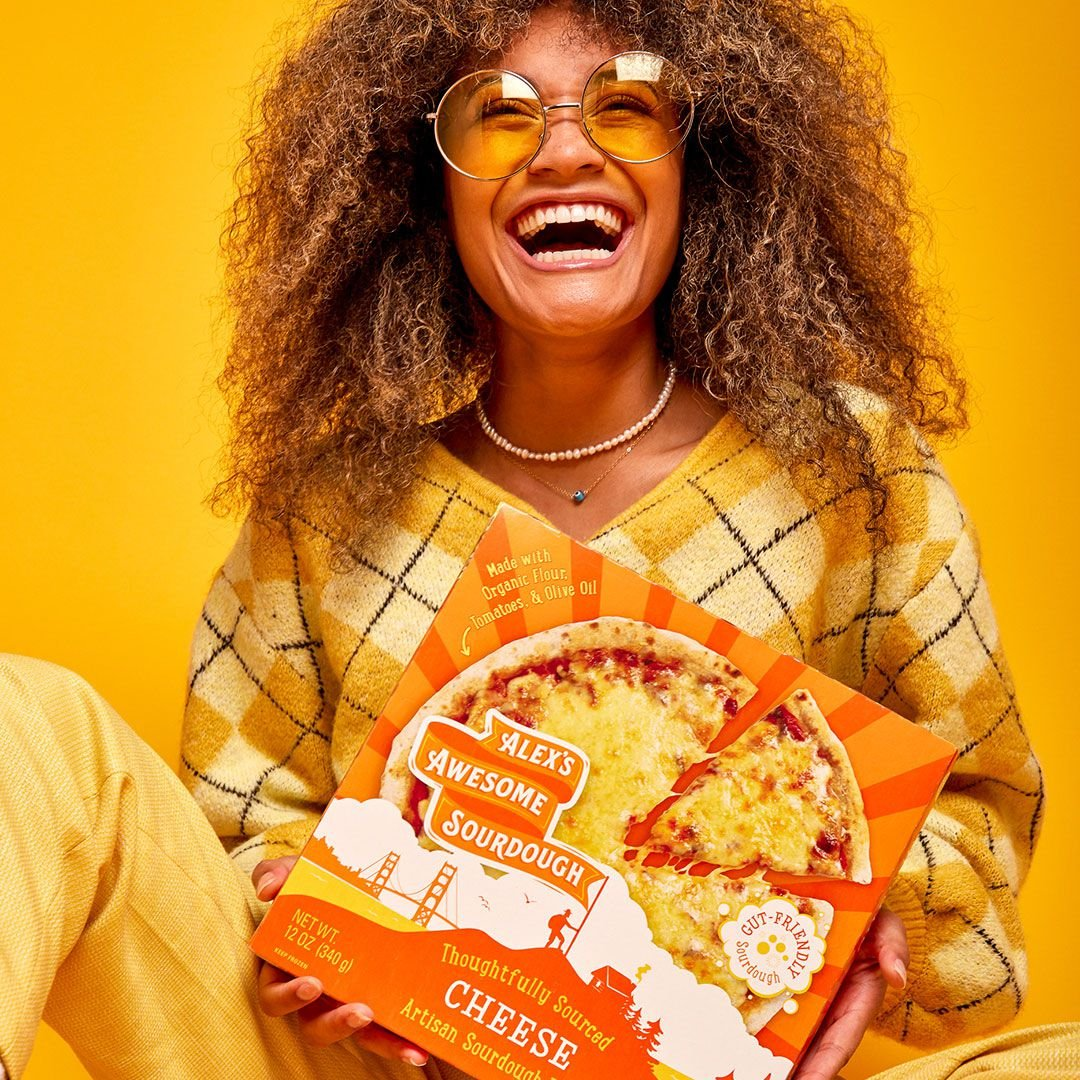 Easier to digest—Sourdough's natural fermentation process has shown to increase fiber solubility and produce prebiotic compounds that can aid digestion.
More nutrients—The natural sourdough fermentation process means more bioavailable nutrients. During fermentation, phytic acid is broken down which otherwise would inhibit the absorption of zinc, magnesium, and many other important vitamins and minerals.
Lower glycemic response—Sourdough fermentation is shown to retard starch digestibility leading to a lower glycemic response.
Awesomely delicious—Our thin crusts are made with artisanal care, providing the right chew with a distinctive sourdough taste.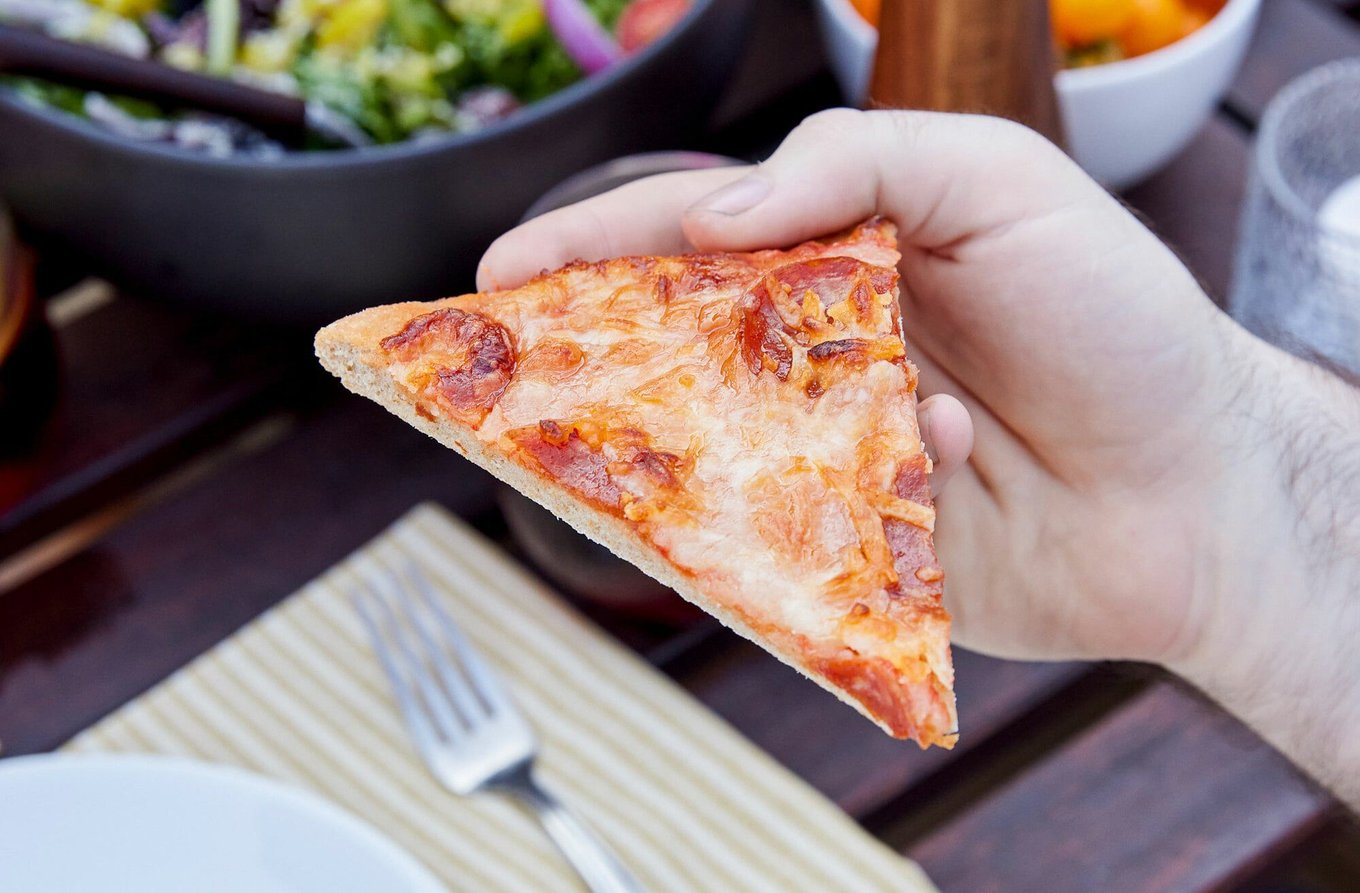 Our pizzas are made with gut-friendly sourdough and topped with organic ingredients
Edit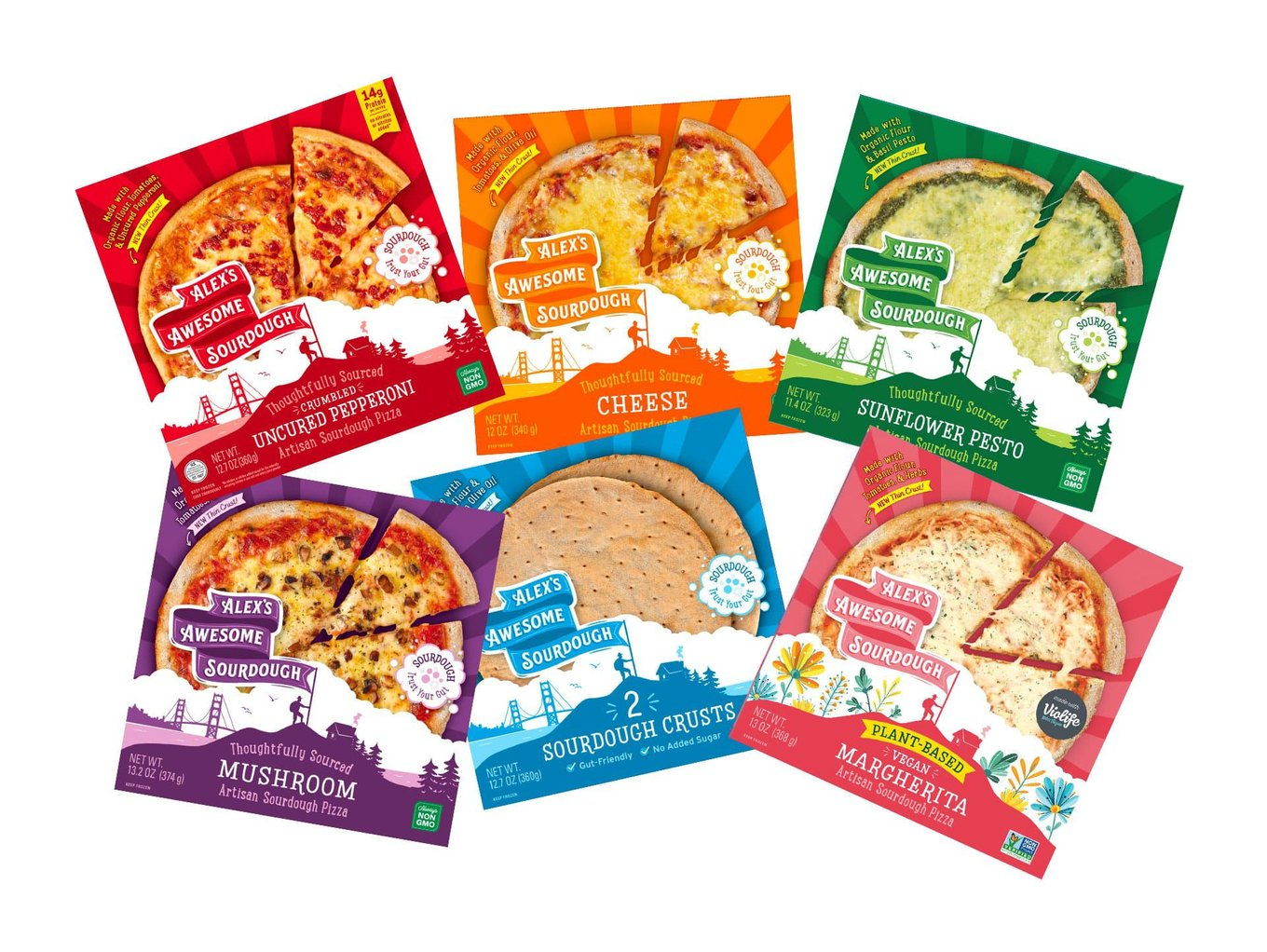 Feel-good ingredients
Edit

And now we have a gluten-free pizza offering ingredient and nutrition advantages while delivering Alex's Awesome taste
Edit
Our Gluten-Free pizza offers nutritional advantages over the leading Gluten-Free brands: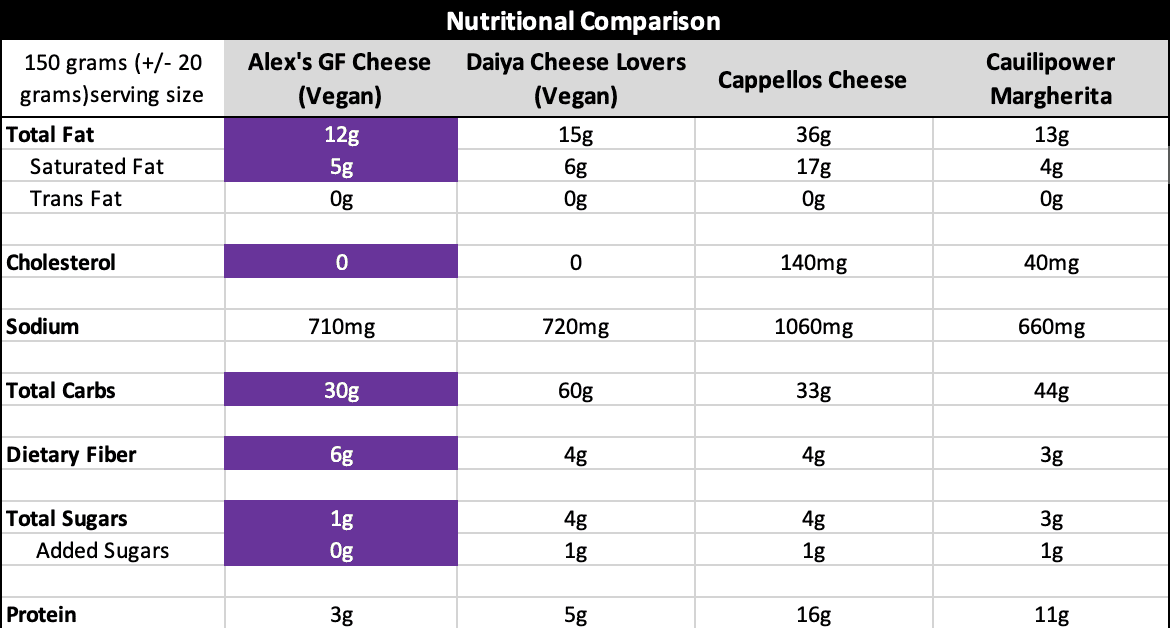 Our Gluten-Free offering uses cleaner and 50% less ingredients than Daiya, the leading Gluten-Free brand:
Edit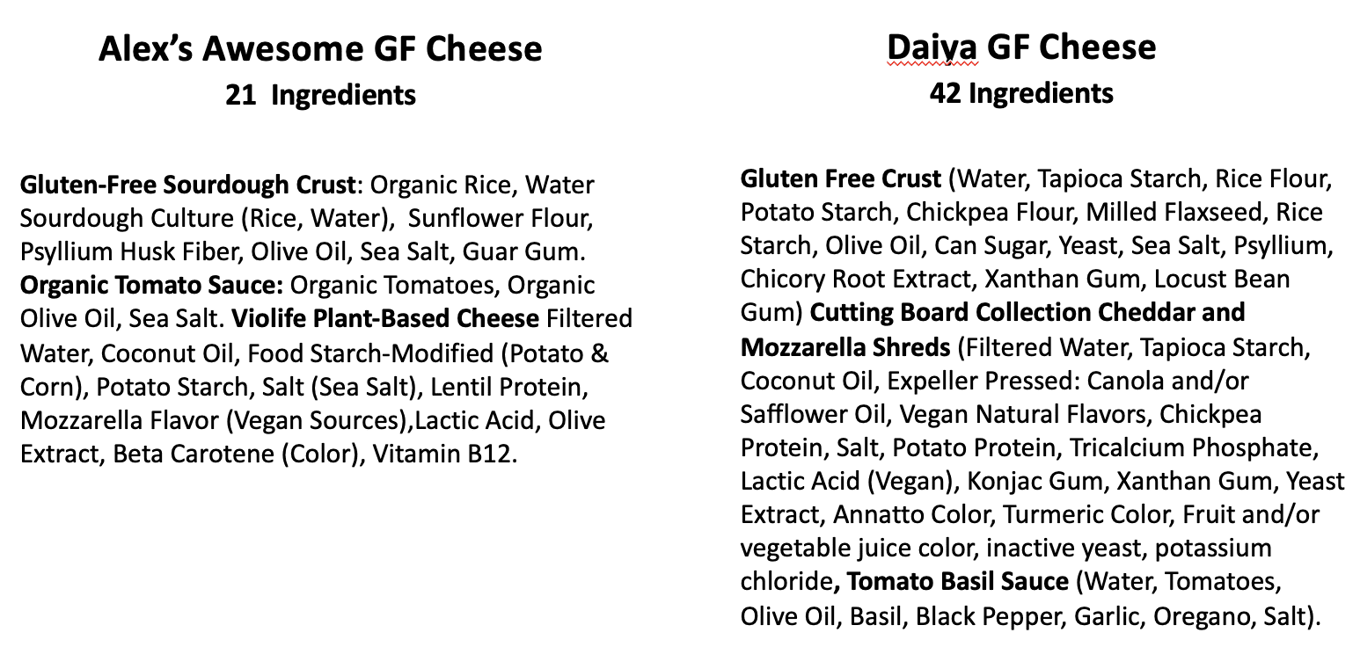 Our Gluten-Free packaging leverages our brand heritage and is high-impact:
Edit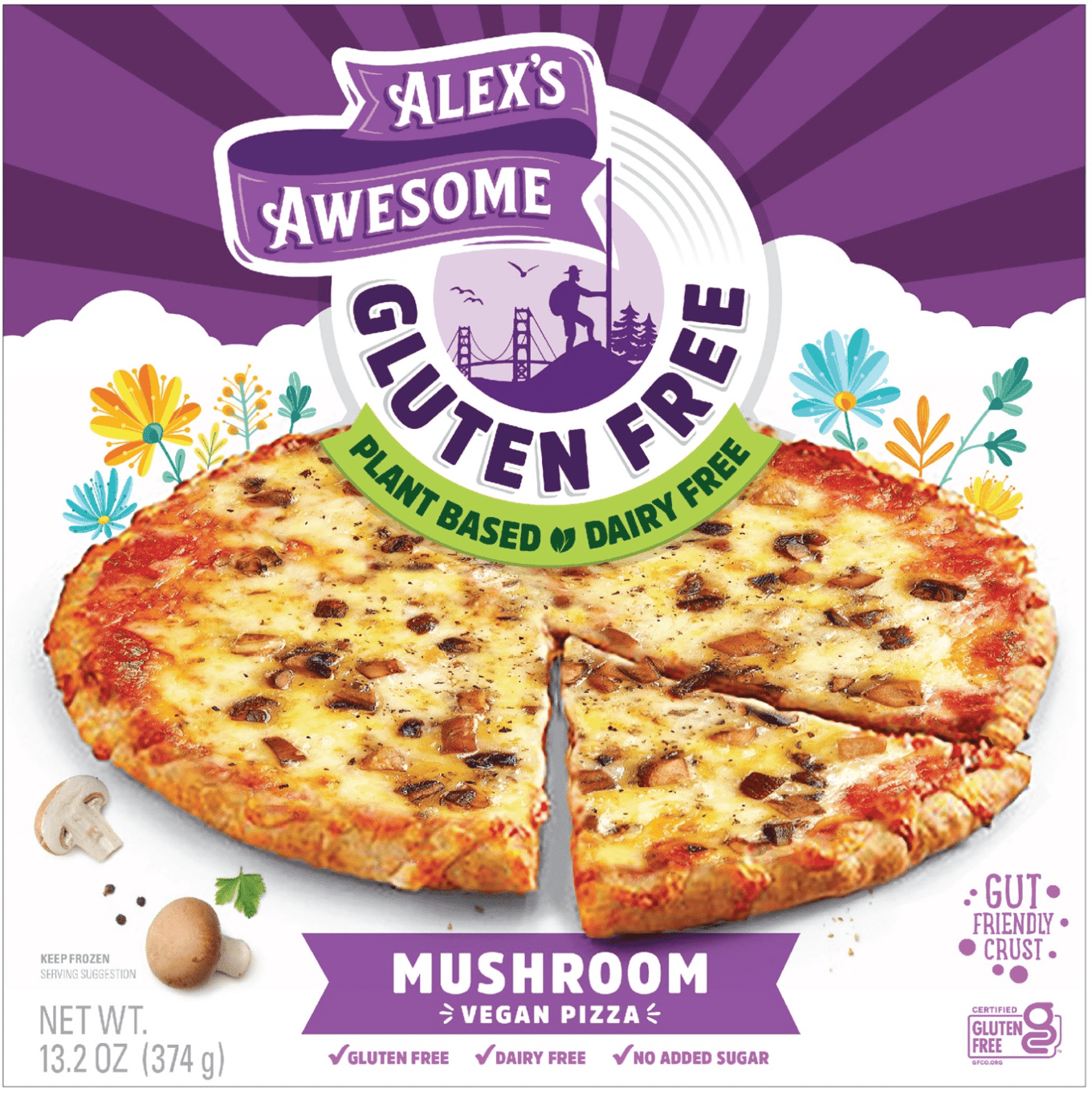 While communicating our compelling nutritional advantages:
Edit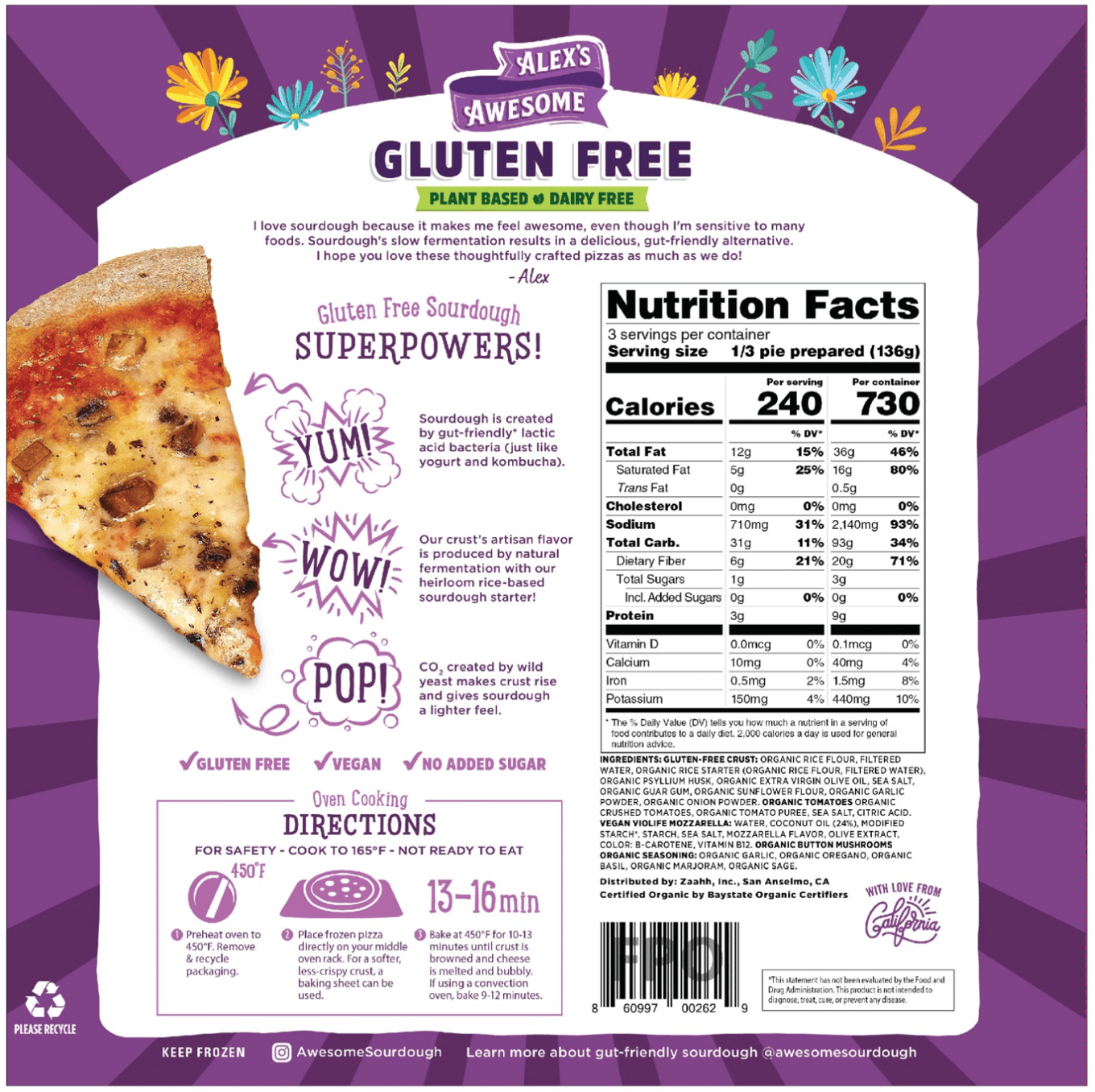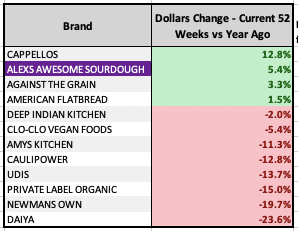 Source: SPINS May 15, 2022
We have almost 2,000 Natural-focused customers
Edit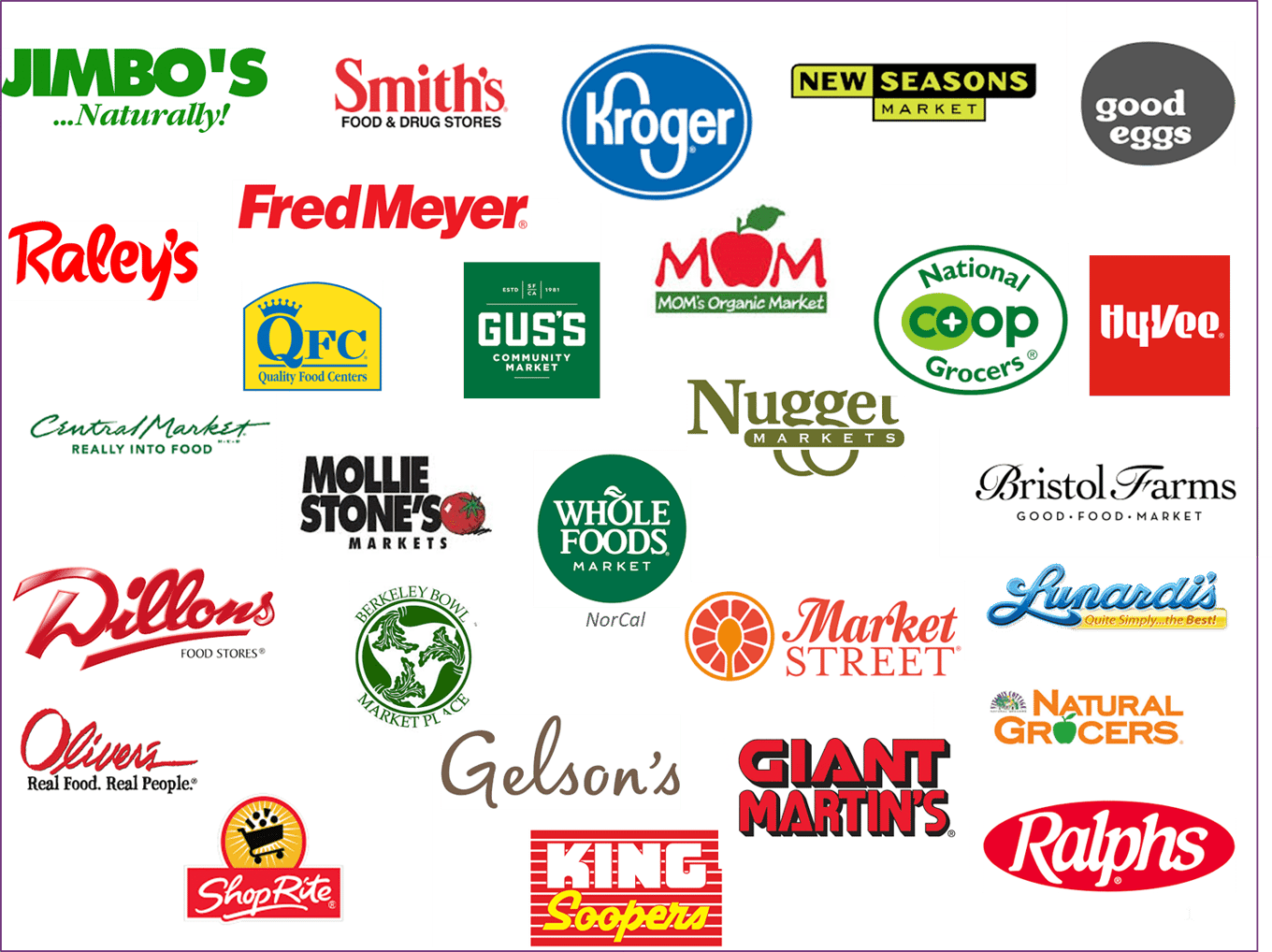 Our 2022 plan is to expand our gluten-free offering to current and new accounts
Edit
Our 12 month goal is to secure distribution with our new Gluten-Free line in at least 1,000 of our 2,000 current accounts.
We hope to expand to new accounts and anticipate meetings with new accounts that represent over 3,000 stores over the next 12 months.
We will continue to expand distribution of our traditional line into new accounts as well.
Customers
Edit
Consumers and the press love our pizza
Edit
The Konnect Agency is managing our social and press activities: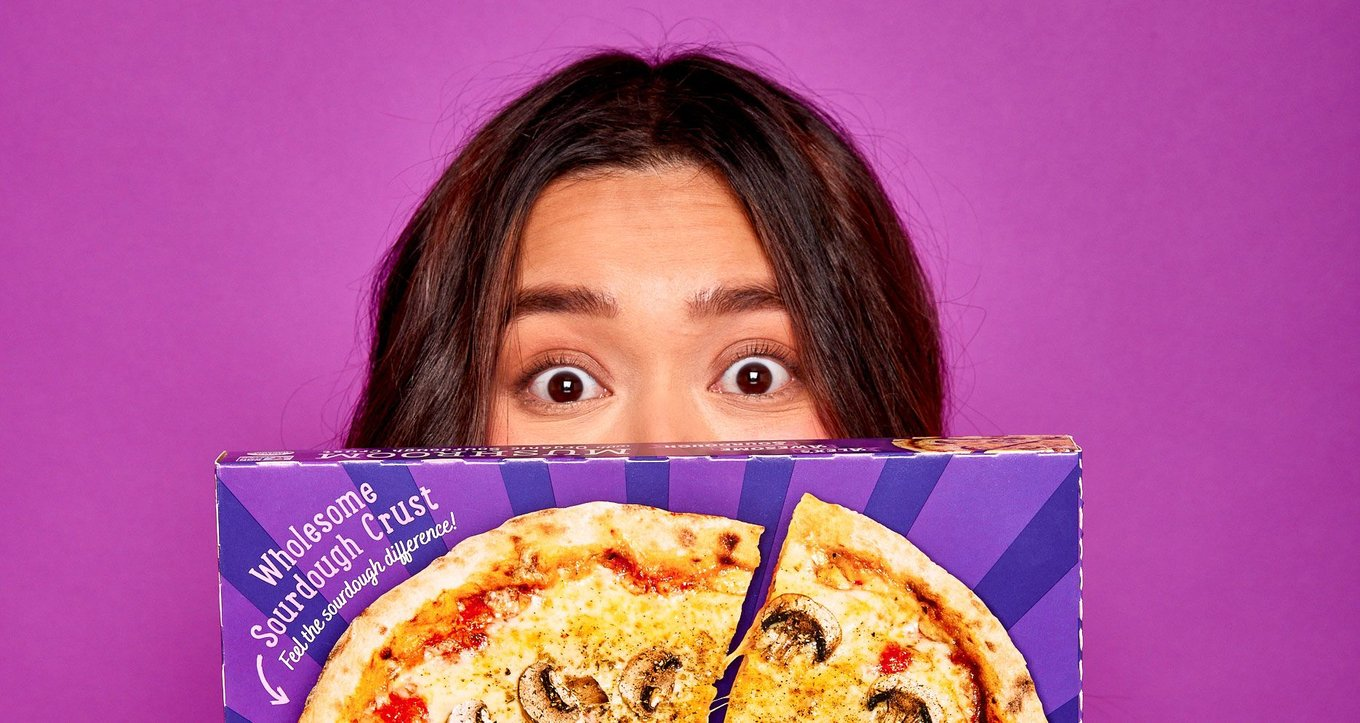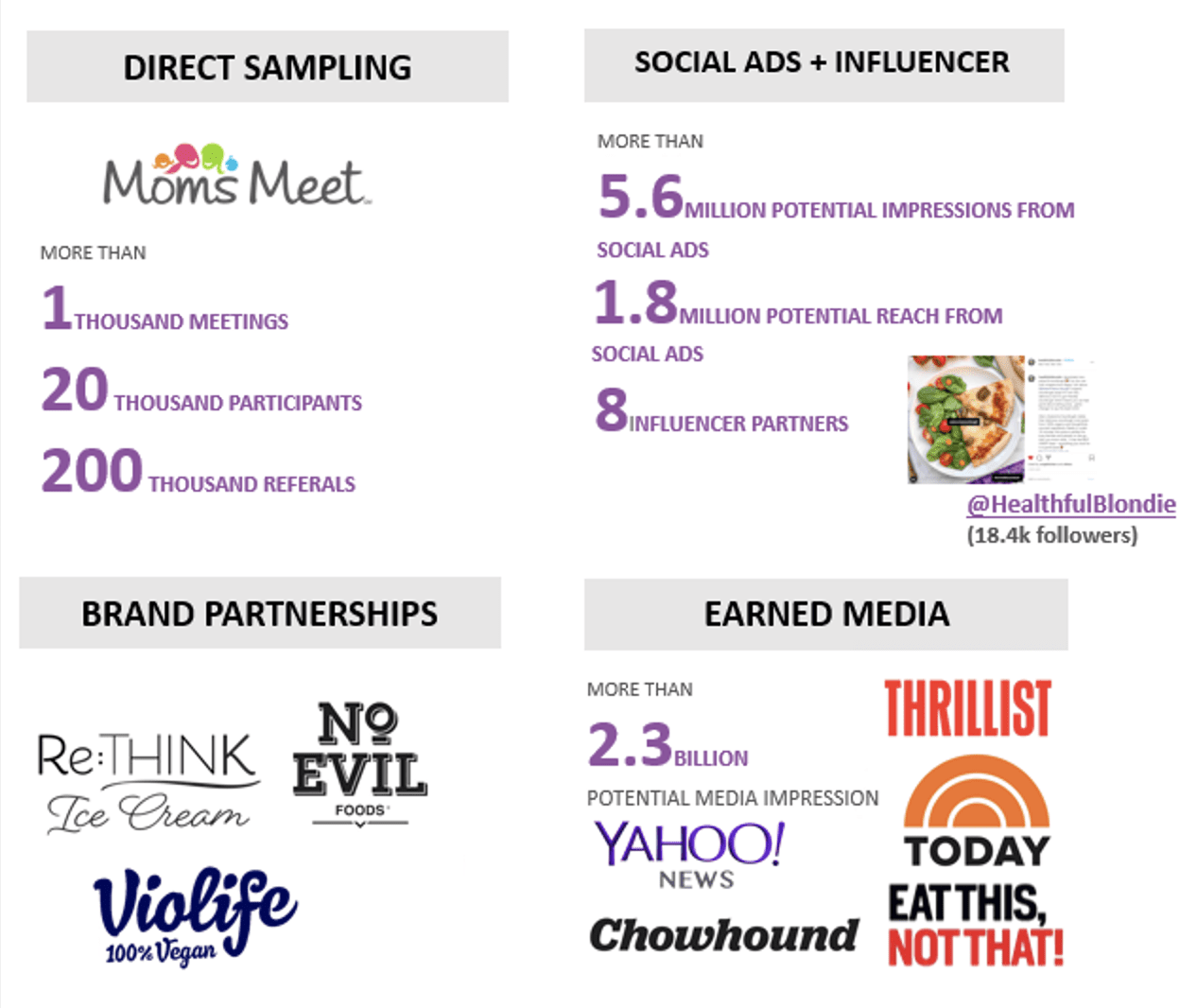 Social Media 2021 Organic Metrics:
Edit
Followers: 14,197
Net Followers Gained in 2021: 10,359
Impressions: 1,898,927
Engagements: 8,466
Food editors applaud our ingredients and love the taste of our pizzas
Edit


"With this California-based brand, we finally have frozen organic and non-GMO pizza we can all feel good about indulging in. The crust is baked with naturally-fermented sourdough—which results in a crispy texture and subtle tang—while the nut-free pesto and grass-fed mozzarella lends richness without weighing down even the most sensitive stomachs."


"There's a strong chance you got into sourdough this year, and one place where sourdough really shines is pizza crust.  Alex's Awesome Sourdough pizzas are yeasty and tangy on the bottom and light, yet flavorful on the top!"


"Sourdough became a pandemic darling earlier this year, so it rightfully deserves a place in a frozen pizza lineup. "Naturally fermented" rather than relying on commercial yeast, the increase in bioavailable nutrients in the crust itself allows this pizza to declare itself gut healthy. (Even the cauliflower crusts can't be that bold.)"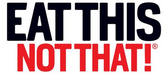 "Alex's Awesome Sourdough is the first company  to put a frozen sourdough pizza crust on the market!...this Alex's Awesome Sourdough Mushroom Pizza caught our eye.  Its great for your gut health and provides you with 20 grams of protein and a whopping 11 grams of fiber for  ½ a pizza!"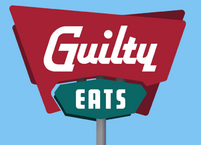 "Guys, the mozzarella pizza will blow you away. I'm not even joking. This is the best cheese pizza I have ever had. Coming out of the oven, it doesn't even taste or look like it was frozen, which I can't say about any other frozen pizza brand."
Business model
Edit
Making a profitable pizza
Edit
A strategic imperative is delivering manufacturing margins of over 40% and Net Margins (after cost of goods, retailer promotions and cash discounts freight and storage) of 30%.  
This was a long process that started in Alex's kitchen. Now, our pizzas are made in one of the best facilities in the United States that provides outstanding quality, can meet our capacity needs for the next 5 years while delivering our margin targets:
Manufacturing Margins are 42% with upside
Net Gross Margins are 27% with upside
With these margins, we need to reach 3,500 stores to reach breakeven. With current accounts commitments, we are 60% there.
Frozen Pizza generated revenue of  $6.1 billion in grocery stores, mass outlets such as Target and Walmart and club stores in 2021. According to SPINS, the premium segment, where Alex's Awesome competes, generated revenue of $428 million.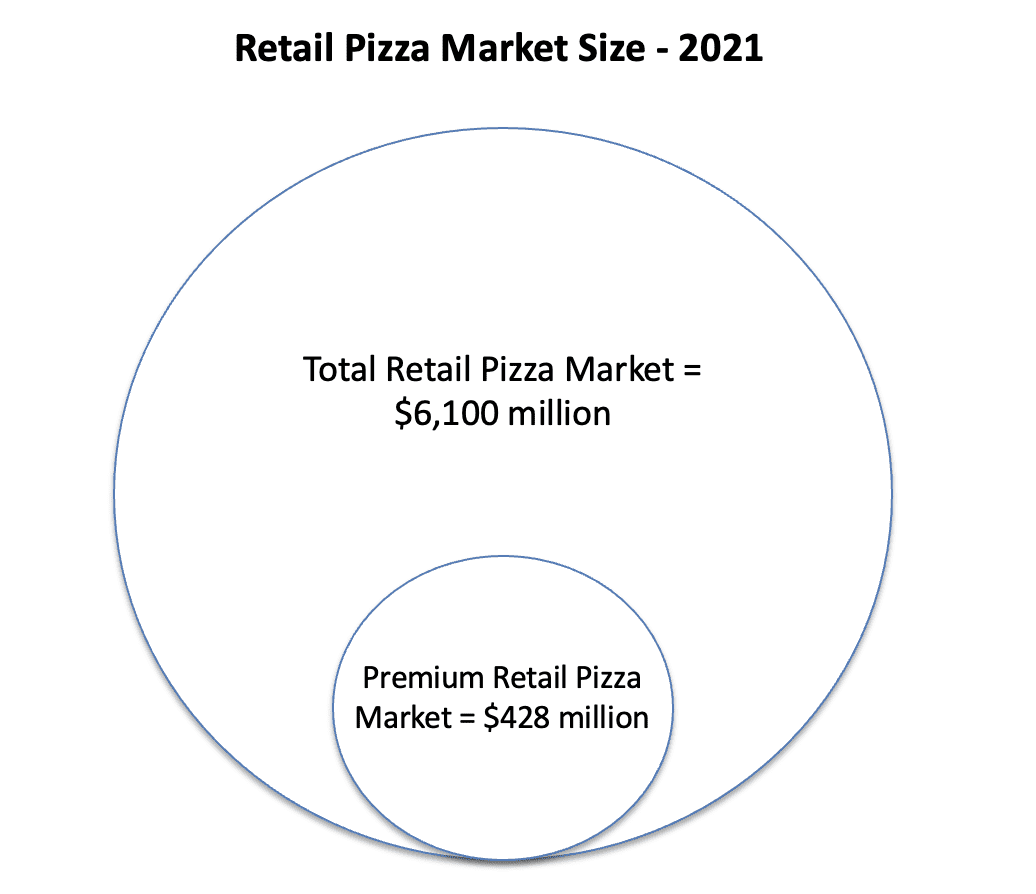 Source: Spins
Gluten-Free Pizza generates more sales than Traditional Pizza in the Premium Segment:
Edit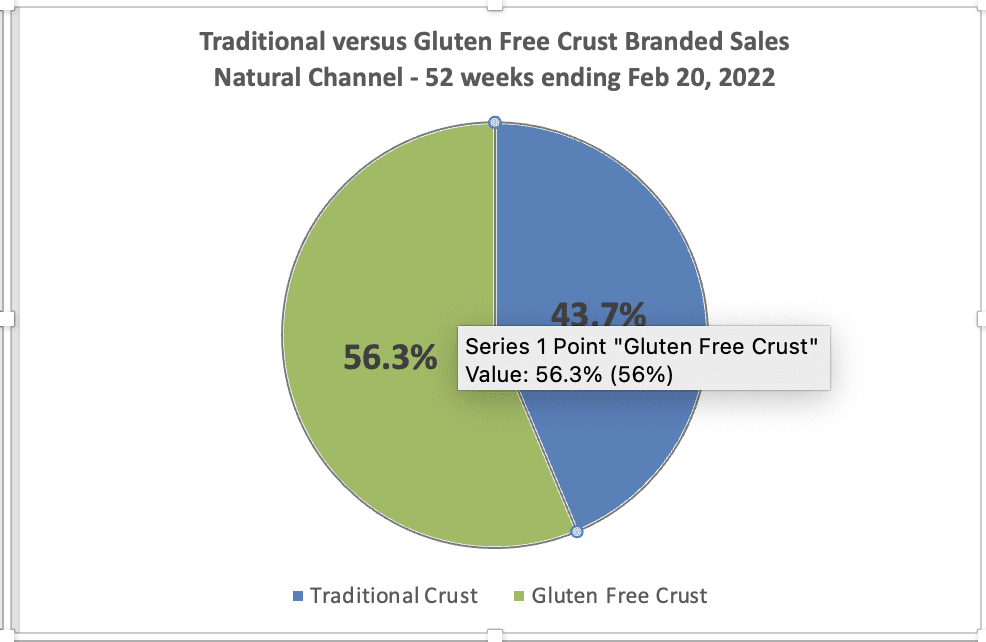 Competition
Edit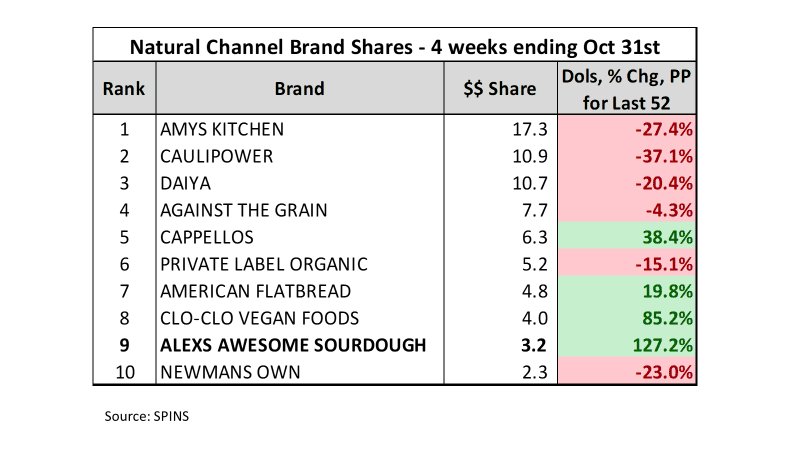 And now we are introducing a gluten-free pizza that provides an offering for 56% of the market that purchases gluten free pizza.
Our distinct differences from the competition will continue to fuel our growth
Edit
The only top brand with a naturally fermented sourdough crust
Breakthrough gluten free offering
12 hour versus 1 hour for proofing
No industrial yeast
Organic ingredients
No added sugar, fillers, soy or canola oil
Vision and strategy
Edit
Our goal is to reach revenue of $21 million and EBITDA of $2.6 million in 2026*
Edit
Alex's Awesome is a brand platform based upon the distinct nutritional and taste benefits of sourdough.
There are many other product categories which provide potential entry points—chips and crackers are two examples.
However, the financial plan below is just for pizza.
The proceeds of this raise will be used to help us expand our retail distribution and fund new product development.
Our investors are industry insiders
Edit
Presence Marketing, the premier broker in the natural foods space; the Presence Executive team are also investors

Scott Killips, our Chairman, has several significant exits including Wild Planet Foods
Several high profile family offices and industry insiders round out the investor base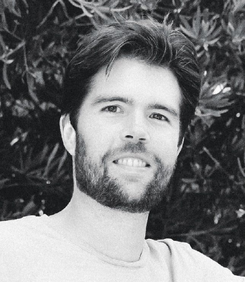 Alex Corsini
Founder and CEO
Former Tech Sales @ Twilio & Whil
2 Star Michelin Trained Chef
Obsessed with everything sourdough
Loves riding his mountain bike on Mt Tam (that's why its in our logo)
BA, University of Southern California
A little background on Alex's journey
2016: Alex develops autoimmune symptoms and learns that modern bread, which is high in gluten and industrial ingredients, aggravates his symptoms.
2017: Alex discovers that he feels great eating naturally fermented sourdough. He begins baking sourdough.  
2018: Alex quits his tech job, moves to Copenhagen to works at Michelin star restaurants and sourdough bakeries to perfect his craft. Alex launches his concept for better-for-you product, sourdough pizza, at Drivers Market (Sausalito) in September and sells out the first day.
2019: Alex raises seed capital and achieves distribution in 70 Bay Area stores. Presence Marketing joins the team in the Fall and begins aggressive distribution expansion.
2020: The business reaches 1,200+ stores and $3.0 million ARR despite Covid-19 sales and distribution challenges imposed on a new brand.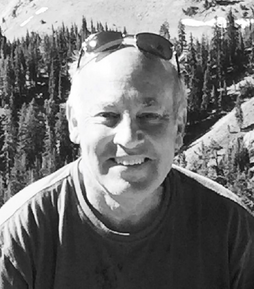 Scott Killips
Chairman & CFO
Successful angel investor and operator
Co-Founder Accenture Technology Ventures
Former partner Booz-Allen & Hamilton
Loves going fast whether on the race track or in the mountains
BS, University of Denver; MBA, Cornell University

Michel Venghiattis
VP Sales
Founder and Former CEO of Horizon Specialties Food Brokerage
The "go to sales guy" everyone dream about but never has
Loves food, wine and explaining to people how to pronounce his name