On a mission to end mindless snacking with superfood + adaptogen boosted snacks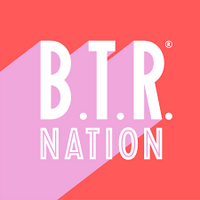 On a mission to end mindless snacking 1 purpose-driven ingredient at a time
On track to hit $1M in year 2 with operating profit in Q1; $25M+ by 2025
350k+ functional superfood bars sold in first 15 months, 100% bootstrapped
700+ 5-star reviews across all platforms in less than a year
In 100+ notable retailers, like Central Market, Foxtrot & GoPuff nationwide
Winner of The Enthuse Foundation $20k Pitch Competition
Disrupting the $78B snacking industry, protein bars are just the beginning
130M+ Americans are diagnosed with chronic health conditions every year
They're searching for clean, convenient, functional snacks.
Health conscious consumers are not only searching for better-for-you options, they want GOOD-FOR-YOU. When Founder, Ashley Nickelsen, lost her parents to rare forms of stage 5 cancer, she made it her mission to create nourishing on-the-go snacks that taste good & feel good for the mind & body.
Over 72% of consumers read ingredient labels.
Edit
Consumers are demanding clean label, low sugar, functional benefit & bold taste.
Meet the B.T.R. NATION customer:
Edit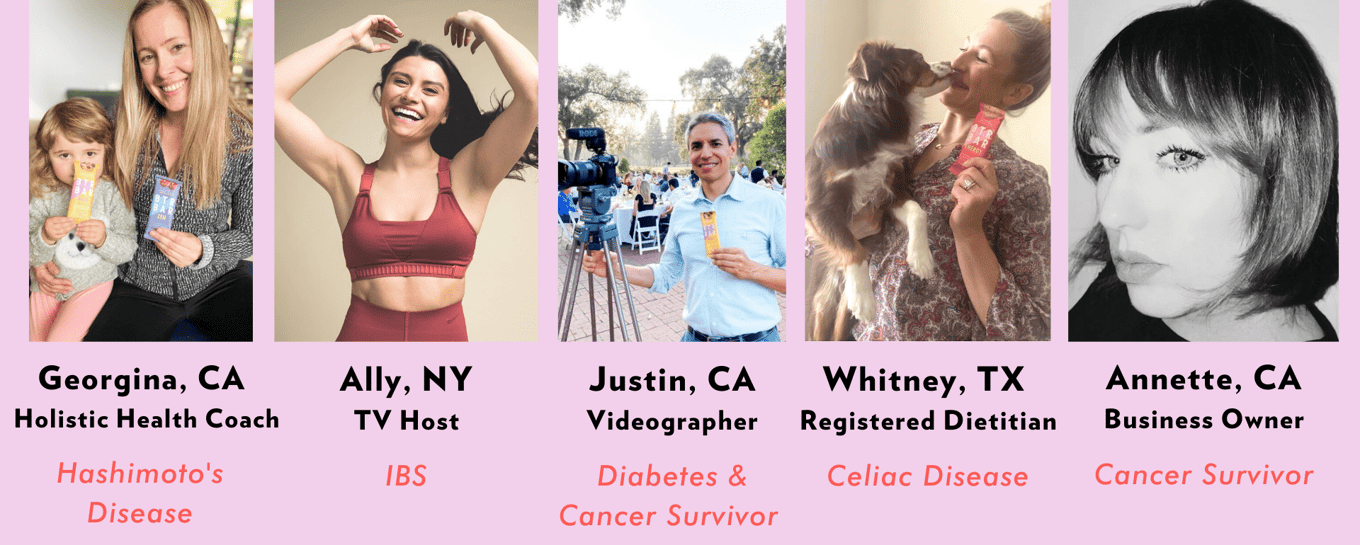 But the $78B on-the-go snacking industry is still a "sea of sameness:"
Edit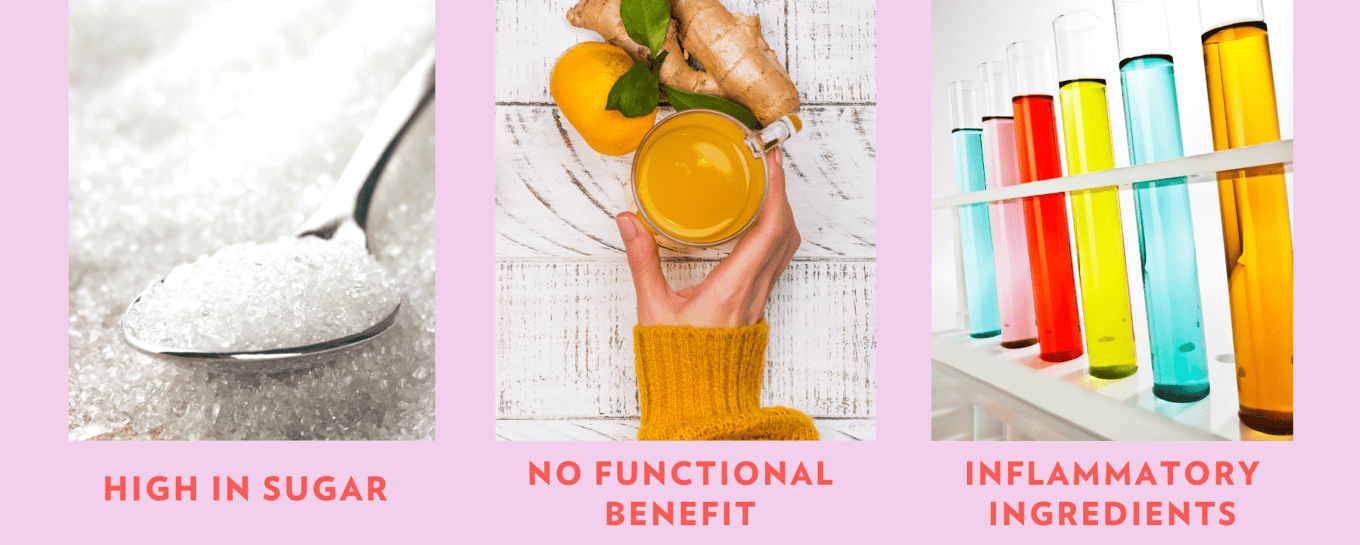 The average American consumes 77g of added sugar every day, more than 3x the recommended amount.
Excess sugar is linked to inflammation, gut imbalances, brain fog & obesity. By offering low sugar options with clean ingredients and functional benefit, we can directly remove sugar from the American diet to make a positive impact on people's health.
The future of snacking is functional. And we've cracked the code.
We're replacing sugar with ingredients that help you thrive.Edit
At B.T.R. NATION, we combine function and flavor to make superfood & adaptogen based snacks with unparalleled taste all without the sugar. Starting with our first product line: Protein Bars with a Purpose. With 90% less sugar, seriously clean ingredients, and 100% powered by complete plant-based protein that will keep you full for hours, B.T.R. NATION is the solution.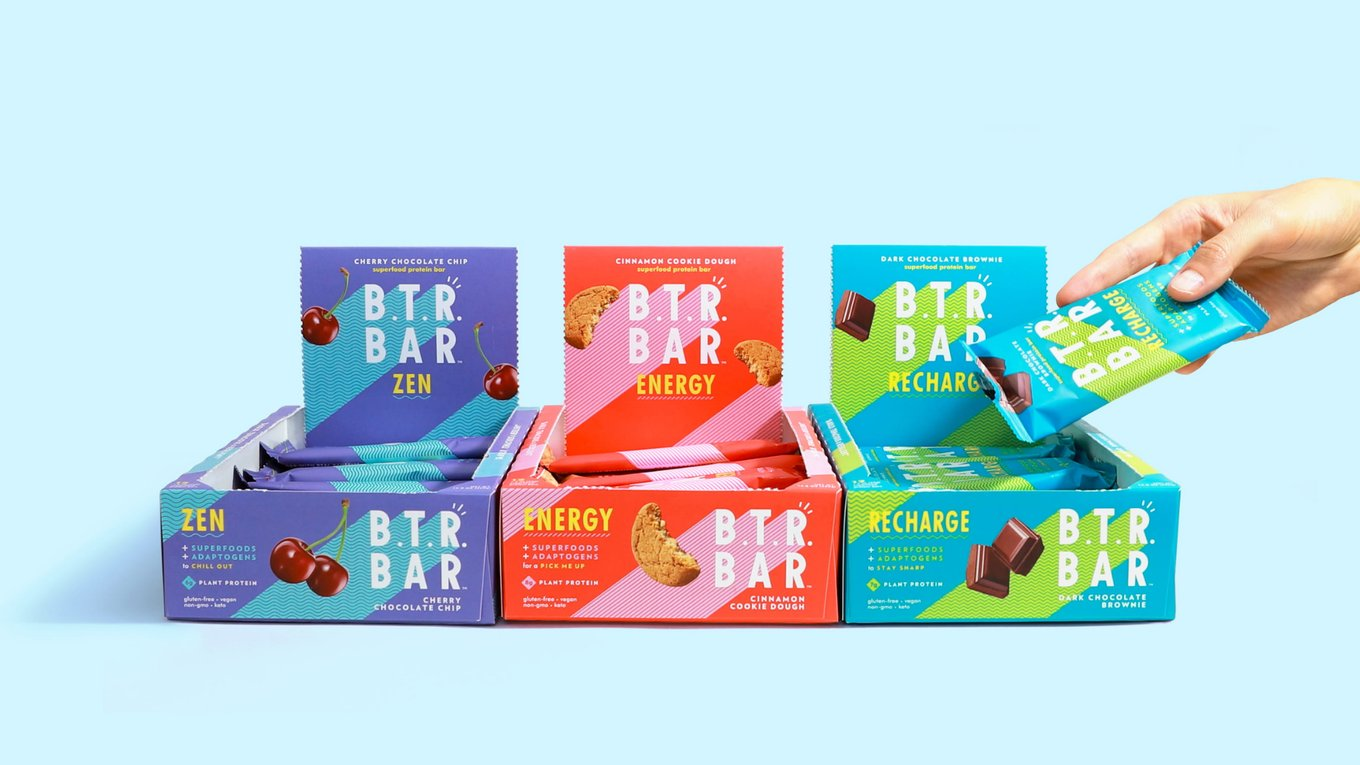 Our 700+ 5-star reviews speak for themselves. We are the bar for people who hate traditional protein bars. We are the bar for people who have been searching their whole lives for a snack that makes them actually feel good, not like junk.
Not your average protein bar
Edit
B.T.R. NATION checks all the right boxes. No added sugar, 100% plant-powered, seriously clean ingredients (aka no gluten, soy, "natural flavors", or inflammatory additives), and purpose-driven functionality.
Our bold, vibrant packaging grabs your attention and clearly communicates our values on both the digital and physical shelves.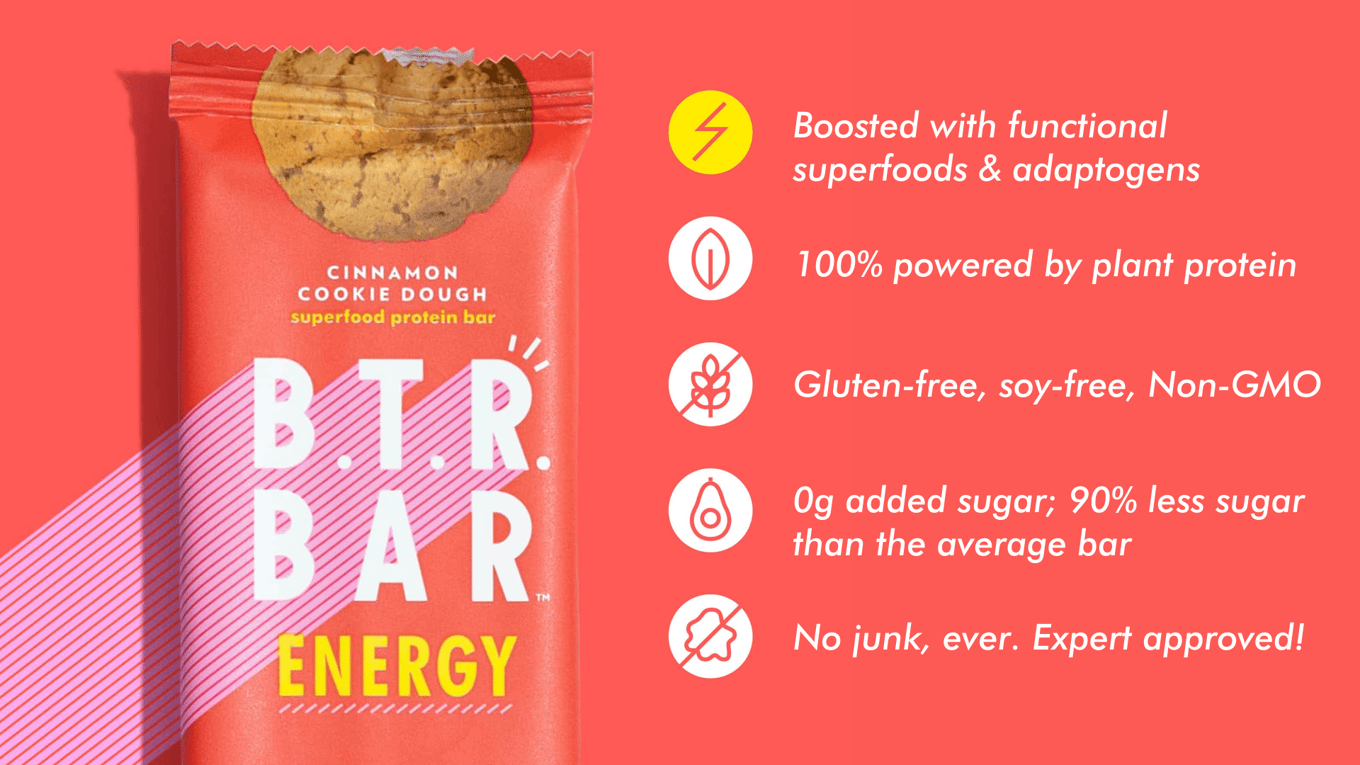 We have 4 mouthwatering SKUs in market and a new flavor launching in May in collaboration with world-renowned Registered Herbalist, Rachelle Robinett.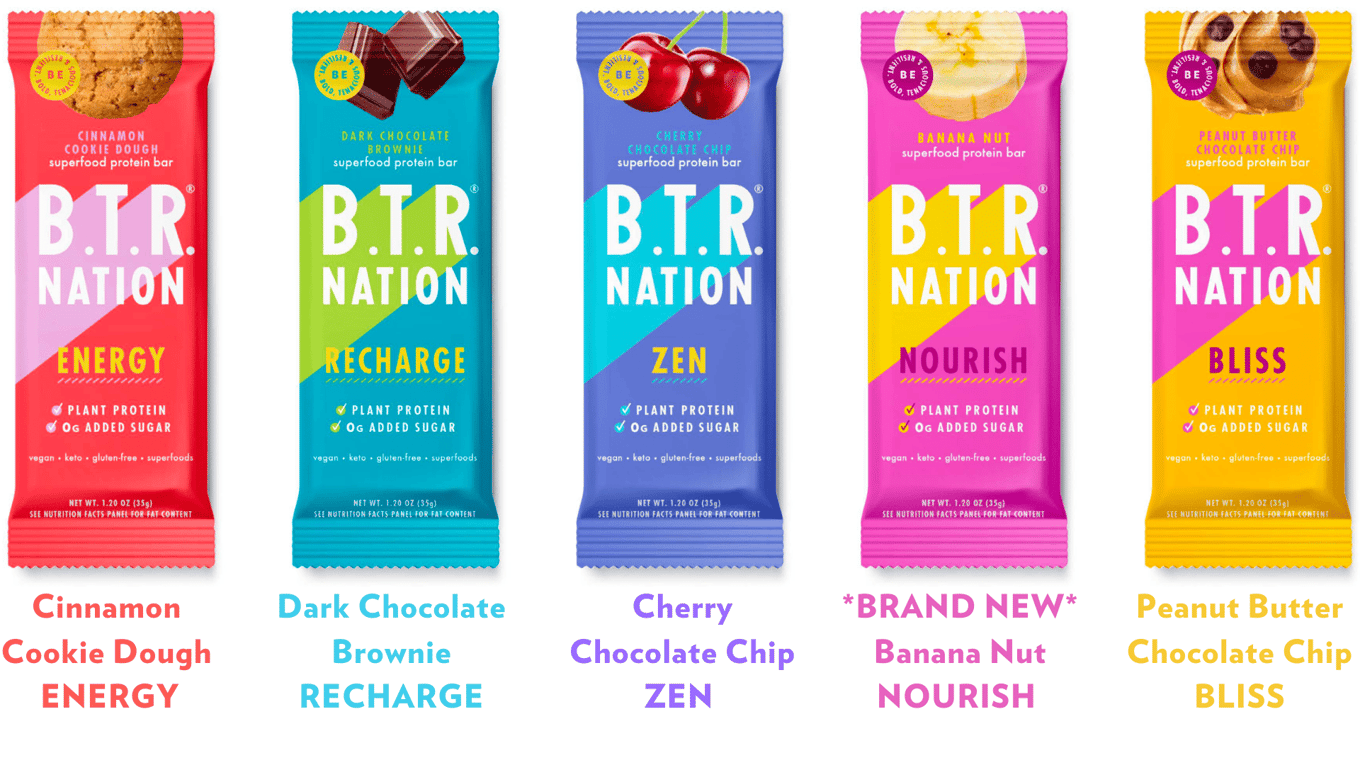 The best part? B.T.R. NATION Bars taste like cookie dough thanks to our special blend of nut butters and functional ingredients, like cinnamon, cacao & vanilla.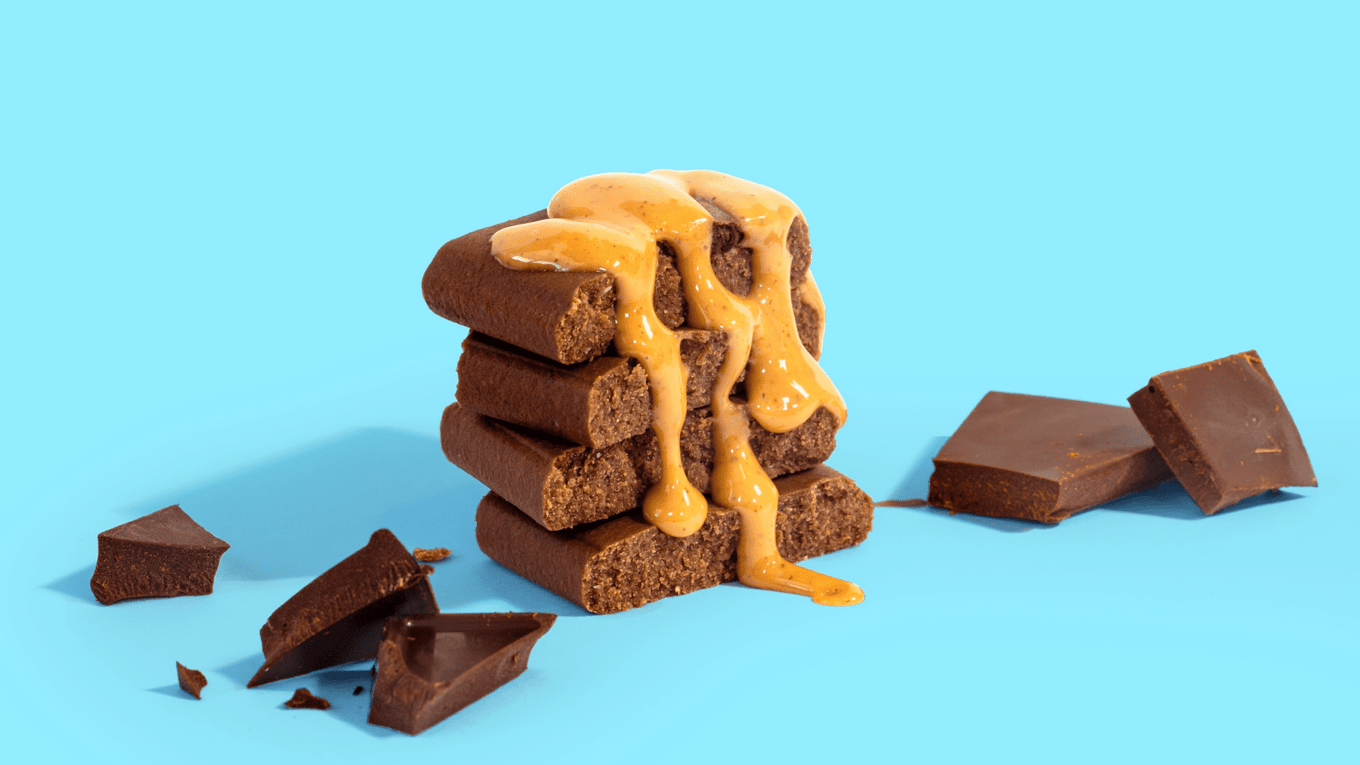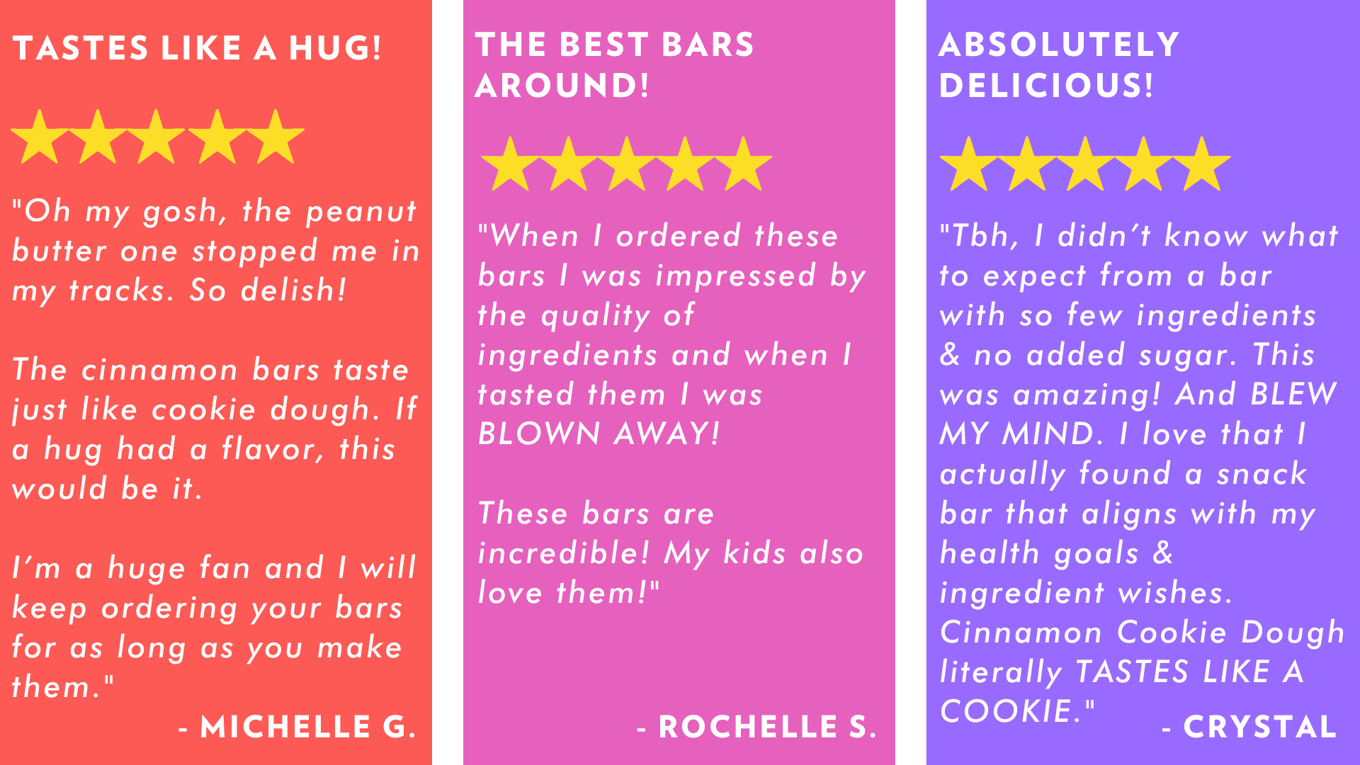 Reimagining on-the-go cult classics
Edit
An exciting new innovation launching in September 2022
Whenever we develop new products, we first & foremost listen to our strong & loyal community of customers. They've been begging us for indulgent, low sugar, and clean snacking options.
We can't give away the secret sauce on this game-changing new product line, but all I can say is: expect your tastebuds to be wowed and your mind to be blown.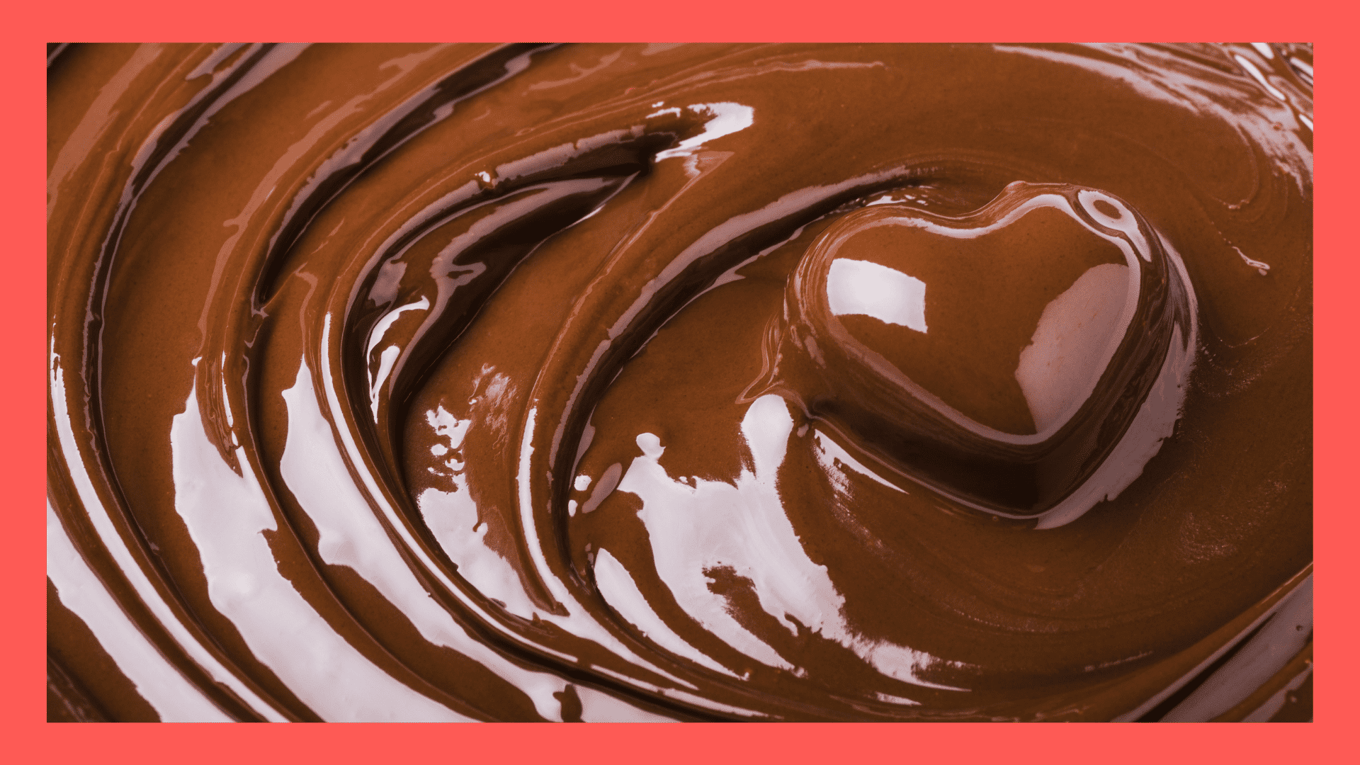 We're launching 3 new SKUs within this product line in September 2022 and we're working with a best-in-class chocolatier (hint, hint) to make it happen.
Want a taste? Let us know, and we'll send you the goods.
The hype is real. 350,000+ bars sold in the first 15 months.
Edit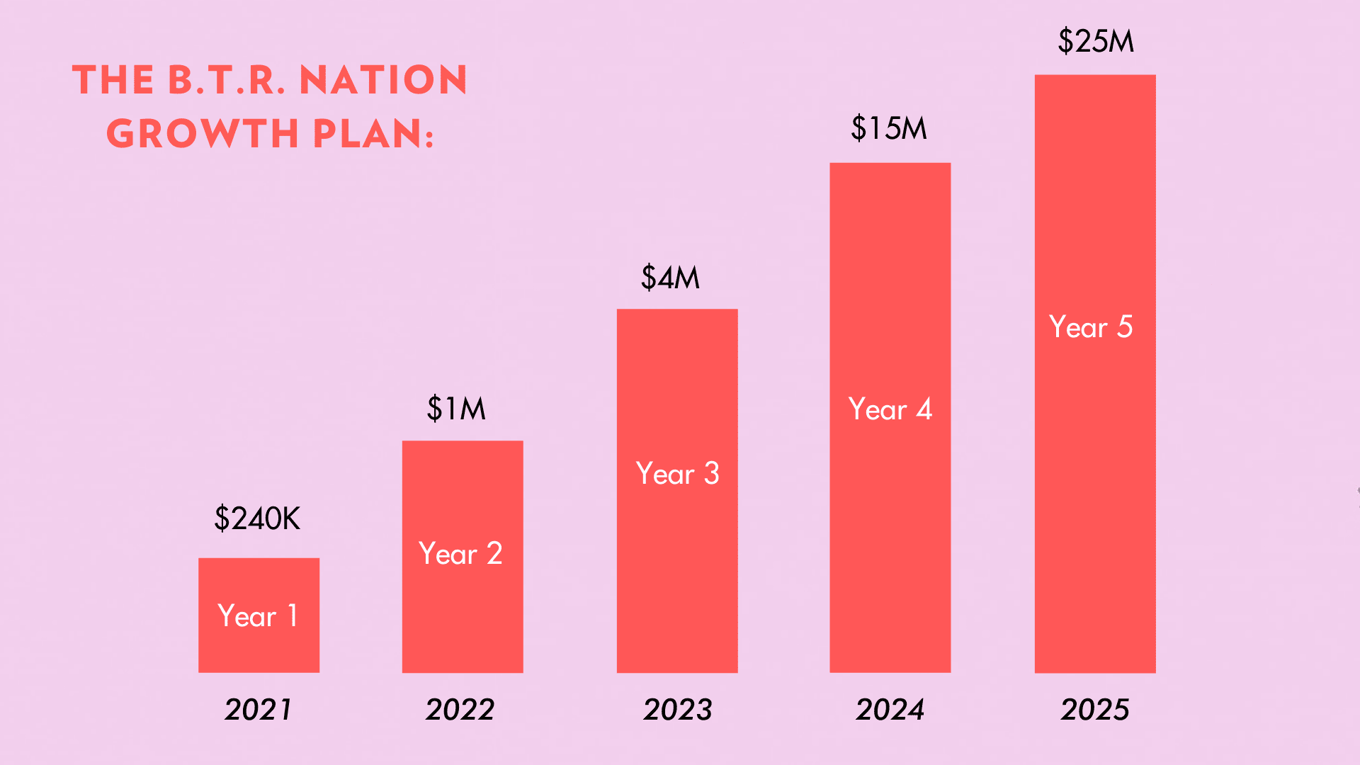 Click here for important information regarding Financial Projections which are not guaranteed.
In Q1 2022, we've already tripled our revenue and are on track to generate $1M+ in revenue in our 2nd year of business.
It's not easy to break through in the snack industry and prove product market fit, but we're doing it. Our customer retention rate is nearly 45% (~45% higher than industry average)
Our ecommerce conversion rate is over 8%! The industry average is only between 2-3%. This speaks to the efficiency and effectiveness of our DTC channel strategy.
We have strong gross margins (between 55-60% depending on SKU) which will only improve as we scale.
This is just the beginning. We're well on our way to $25M by 2025 as a result of our strategic omni-channel business plan.
Due to our strong online presence, our customers are demanding B.T.R. NATION in store. In our first year alone, we launched into over 100 doors, including notable retailers, Central Market, Foxtrot, Misfits Market, and GoPuff nationwide.
We are poised to launch into 300+ more doors this year along with additional delivery service providers as a result of our strategic distribution partners.
In Misfits Market alone, we're moving 2x as many bars as the average protein bar on-site.
Opening doors nationwide:
Edit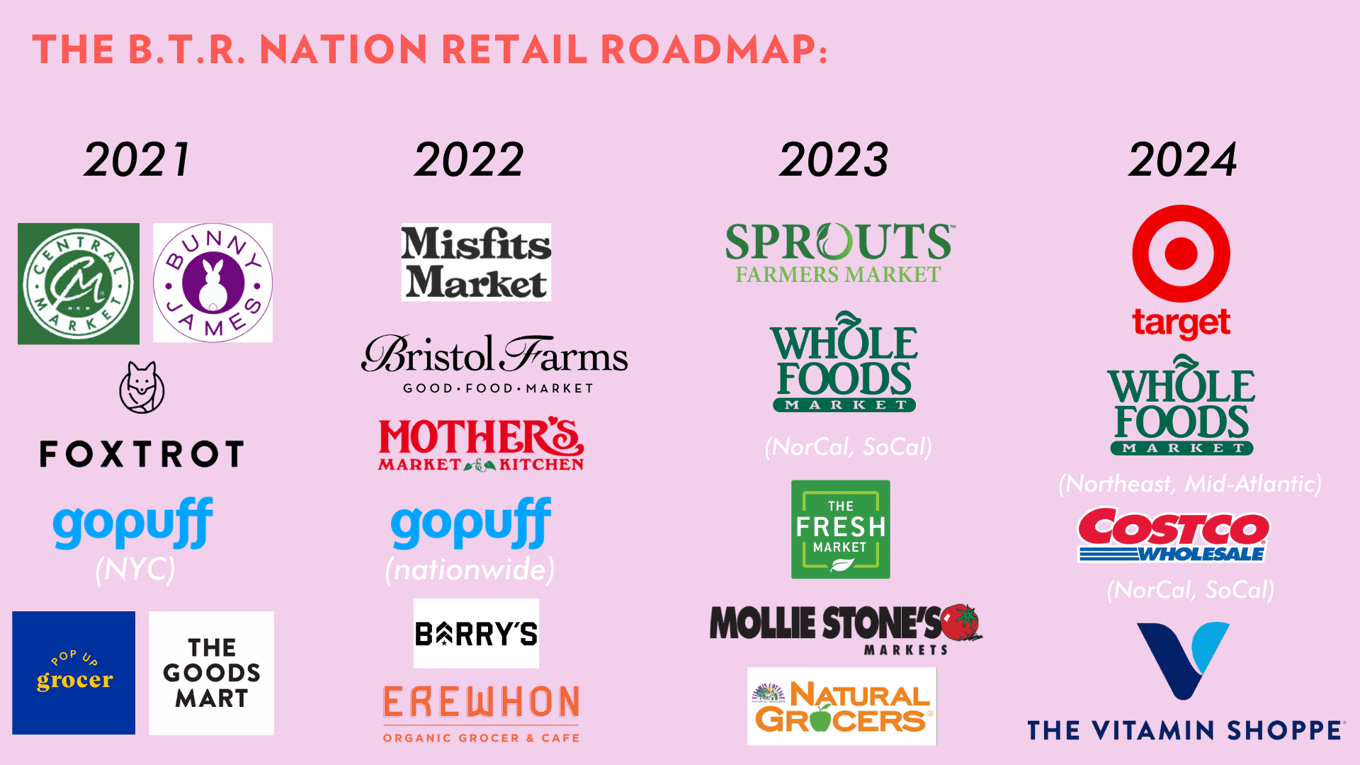 Customers
Edit
Tens of thousands are obsessed
Edit
"I seriously can't live without my B.T.R. Bars. They're the only bar that tastes fantastic, fills me up, and is 100% healthy." - Sharon M. (happy repeat customer)
Customers love their experience with B.T.R. NATION. But most importantly, we are filling a literal need in their daily routine.
The B.T.R. NATION customer is the label reader: the health conscious individual who cares about their health and/or may be living with a chronic health condition.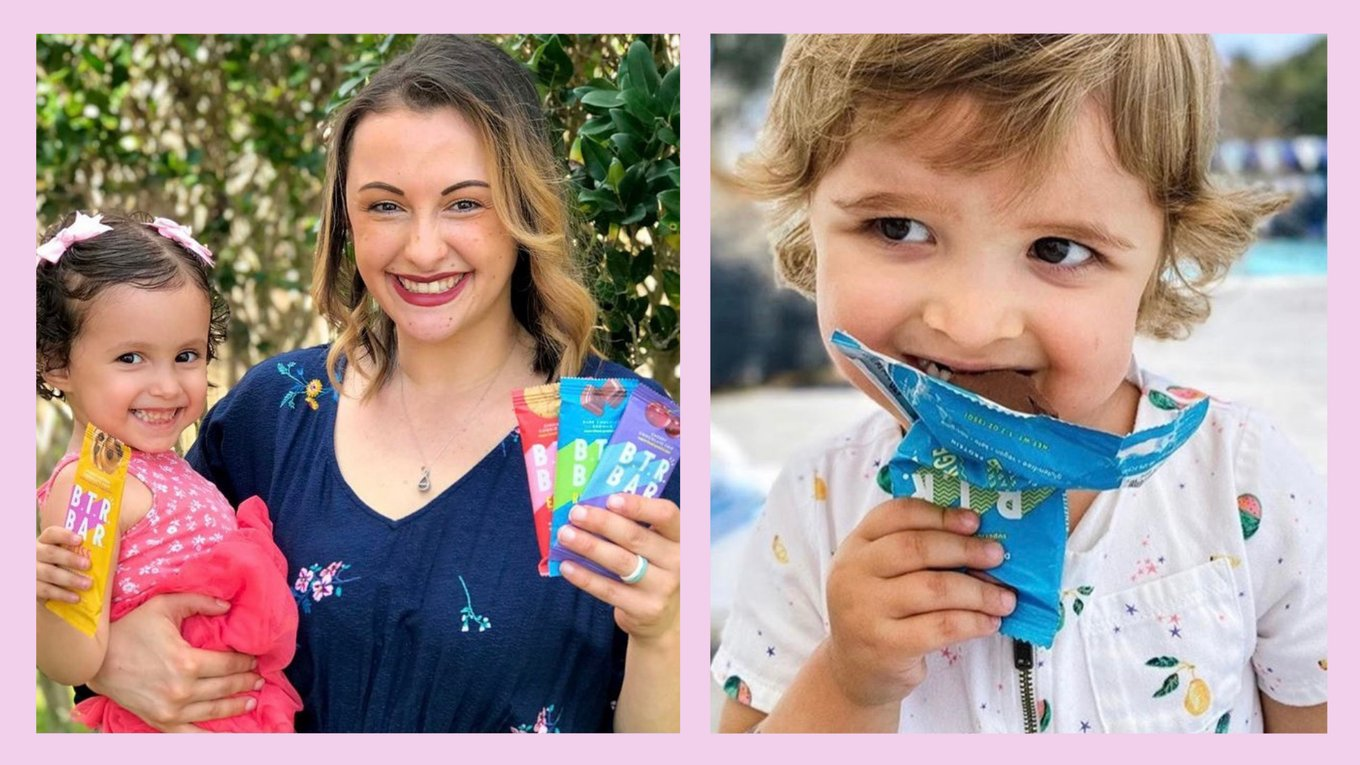 The organic content we create on Instagram & TikTok helps us get discovered and generate sticky consumer connections. Our customers become loyal superfans who tell all their friends.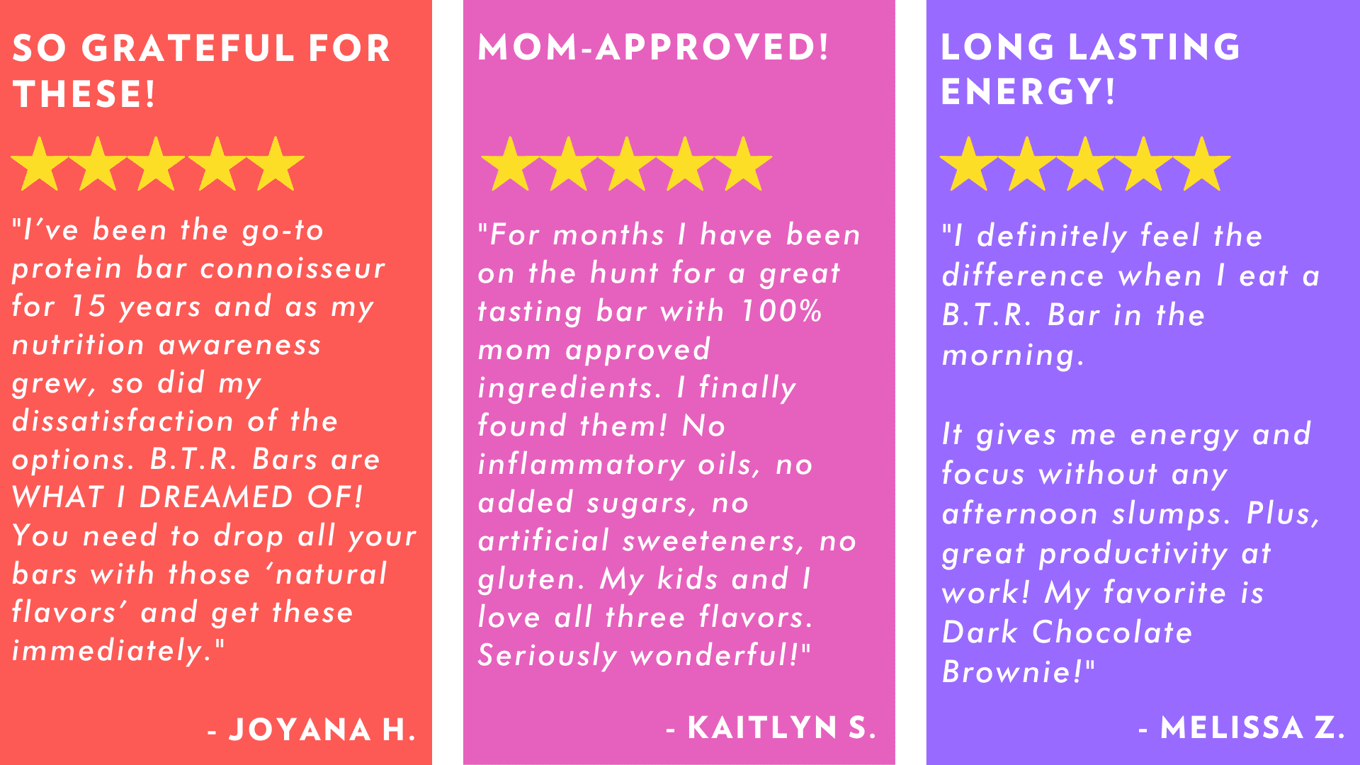 We're proud to partner with 50+ Registered Dietitians, Herbalists & Naturopathic Doctors who believe in our mission & help us create and test new recipes. Our strong & loyal community is our foundation.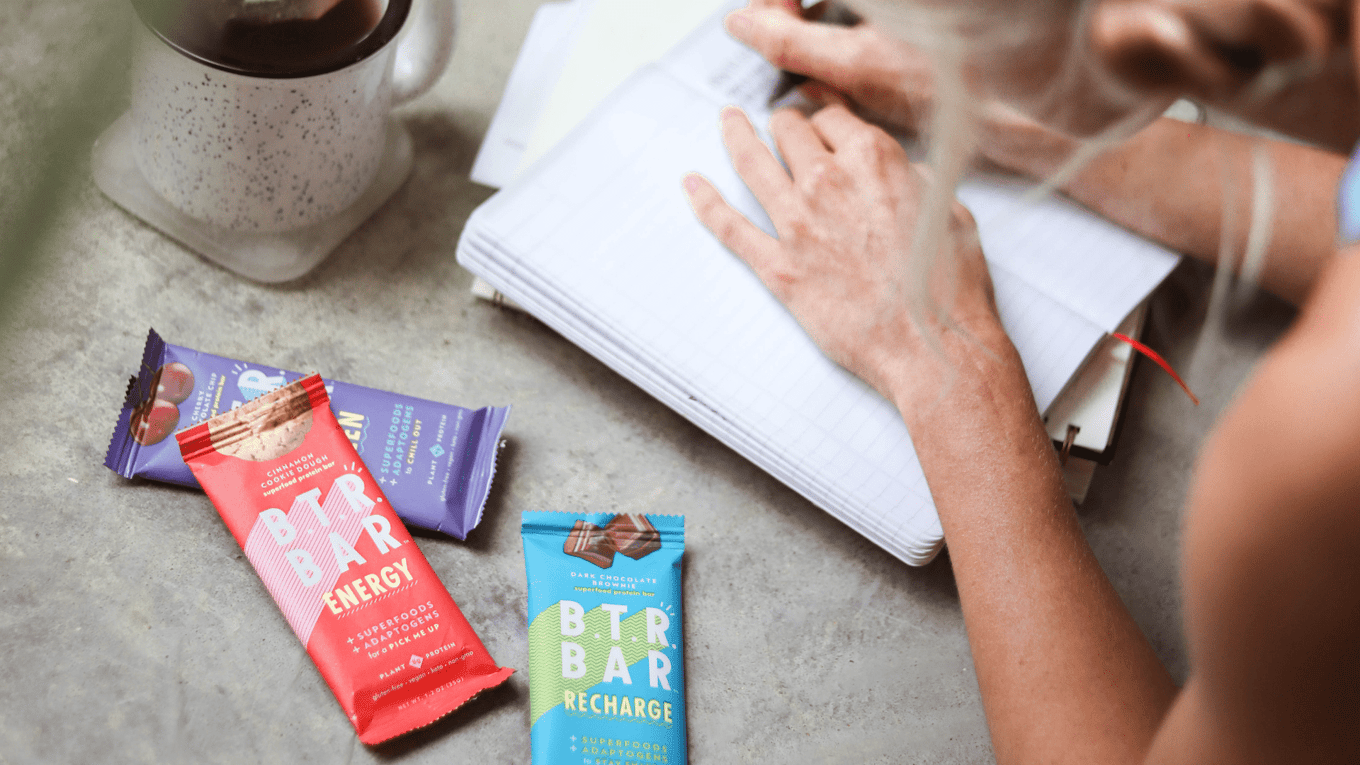 Our customer base spans from 18-54 and skews female. Our community includes a ton of moms who have finally found the perfect on-the-go snack they can trust for themselves & their families.
Business model
Edit
An omni-channel strategy powered by storytelling
Edit
DTC is our rocket ship and most profitable channel
B.T.R. NATION has seen incredible traction in the bar category in our 1st year in business. Our DTC/ecommerce business is booming (70% of sales), experiencing double digit growth QoQ, and our most profitable channel.
As a result of how we're building the business brick by brick, and partnership by partnership, B.T.R. NATION is positioned to be fully profitable by 2023, and we've even demonstrated an operating profit in Q1 2022.
We're excited to grow our DTC channel 4-5x this year thanks to our incredibly loyal customer base, mission-driven organic content, and key influencer partnerships.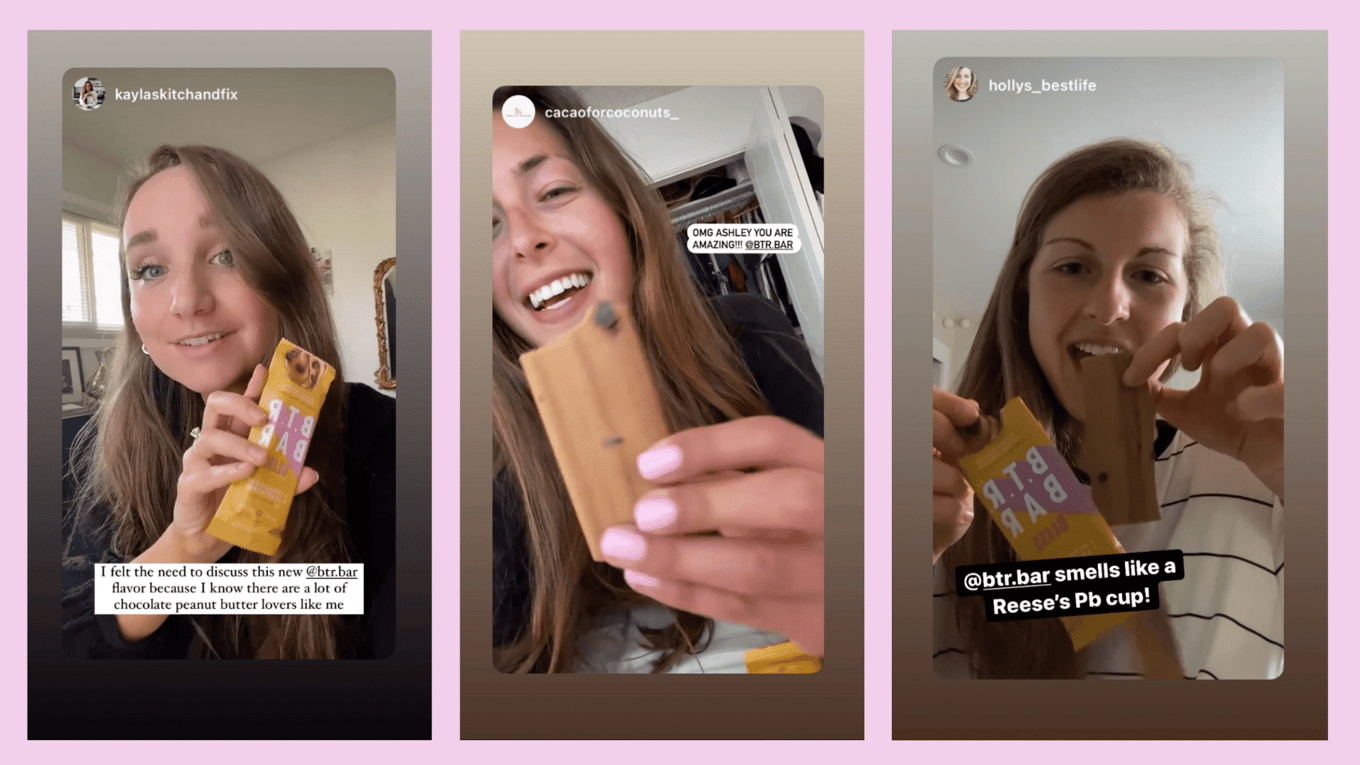 Winning in retail
Edit
With our successful launch into retailers like Central Market & Foxtrot, we've built a playbook to replicate that success with new key retailers. Velocity is the most important metric, so we're hyper focused on growth and supporting our existing partners.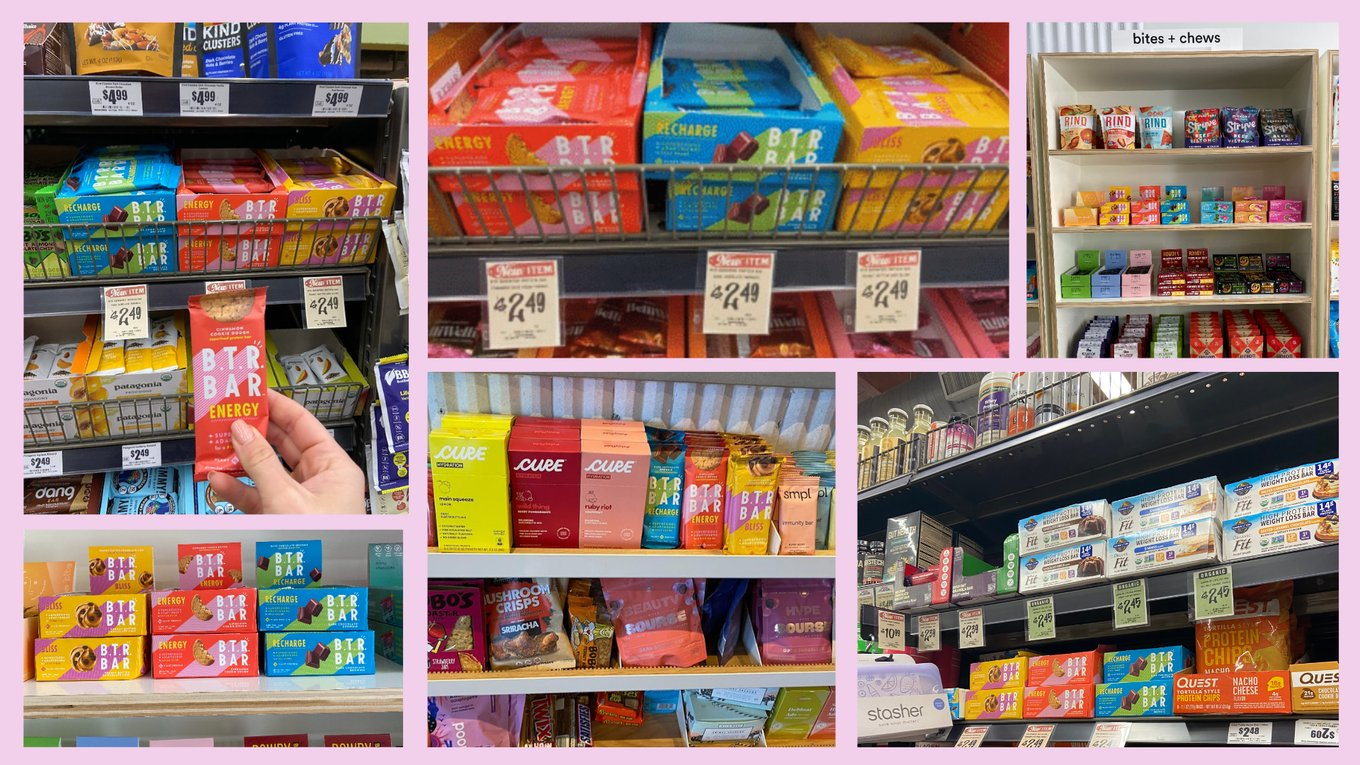 Strategic retail expansion
Edit
With every new chain & region, we're prepared to support with boots on the ground and innovative promotions to ensure excellent velocities. By focusing on key anchor accounts and regional rollouts, we have been able to demonstrate capital efficiency in a traditionally expensive channel. We've partnered with 2 national distributors, UNFI & Pod Foods to fuel our expansion strategically.
With our focused strategy, B.T.R. NATION is projected to scale to $25M and 5000+ retail doors by 2025.
Cross-category market opportunity
Edit
B.T.R. NATION is tackling a massive market opportunity with a vision to reimagine on-the-go cult classics.
We're addressing three key markets: the $78B healthy snacking category, the $29B plant-based foods category, and the $8.5B adaptogens category. By offering healthy plant-based snacks with 90% less sugar and a tastier way to consume your daily superfoods & adaptogens, we're positioning ourselves for a strategic acquisition.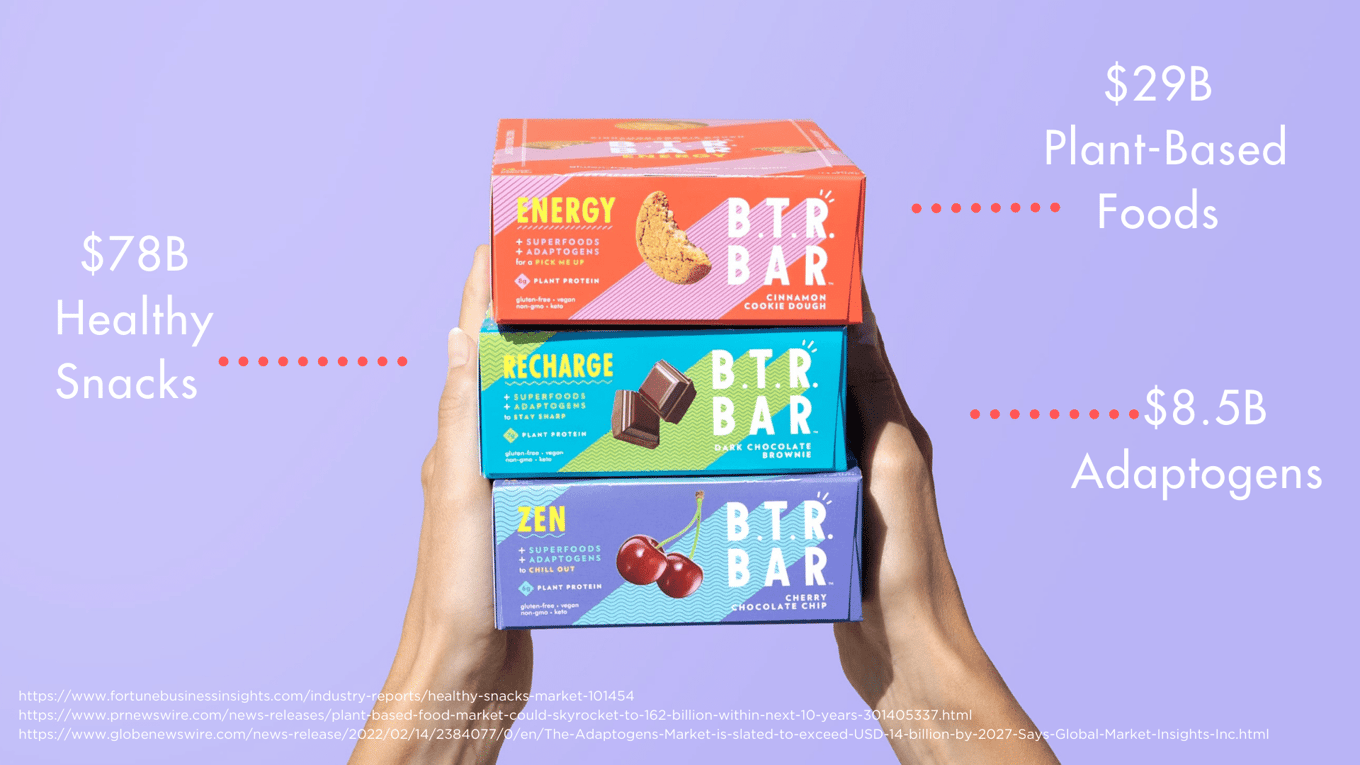 The growing healthy snacks market is booming (projected to reach $108B by 2027) due to the increased demand for functional foods among consumers who want to reduce the risk of certain lifestyle-related chronic health conditions. We're at the forefront of the healthy snacking revolution.
Competition
Edit
We check all the right boxes
Edit
We're no stranger to the fact that the snacking industry, particularly the bar category, is crowded. But here's how we're breaking through.
We check all the right boxes for consumers with our one-of-a-kind, highly differentiated product line:
Edit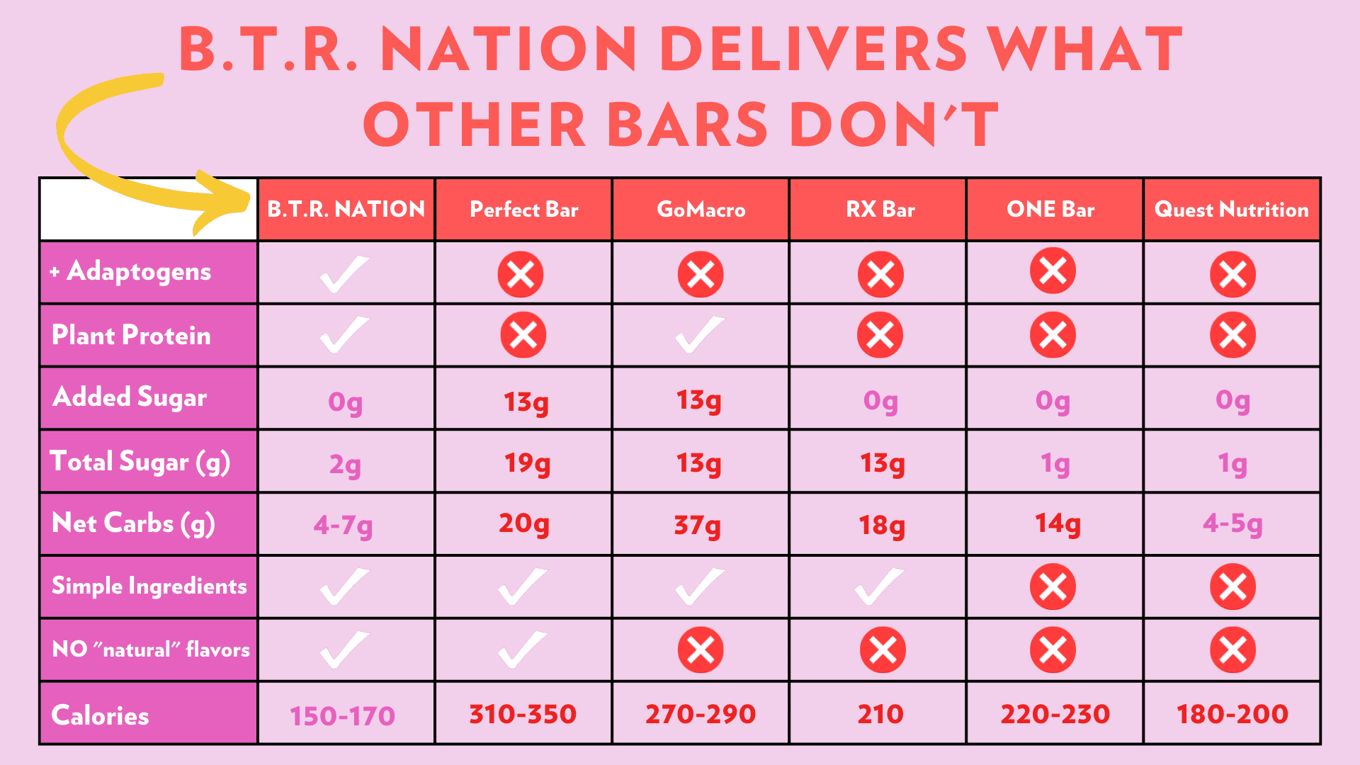 Within the protein bar set, there are two main subcategories:
Edit
1. Bars high in sugar with a relatively clean ingredient profile, and
2. Bars low in sugar with inflammatory highly processed ingredients.
We're the best of both worlds! We're removing sugar and replacing it with powerful superfoods & adaptogens that help you thrive. So we've really got it all:
Edit
Plus, B.T.R. NATION is WAY bigger than a bar. We're building a platform, growing a brand, and providing a personalized experience for our customers.
By launching DTC as a digitally native brand, we have the power to speak to our customers one-on-one and get to know their needs and wants. We make customers a part of our brand, so B.T.R. NATION is a community and lifestyle, not just a product.
Our competitive advantage is our ability to educate and offer value in a creative, inspirational, and authentic way. Our customers deeply resonate with our brand mantra to "be BOLD, TENACIOUS & RESILIENT," and we receive messages daily about how our snacks empower them to do that. It's how B.T.R. NATION has been able to grow exponentially.
Vision and strategy
Edit
Reimagining the modern vending machine
Edit
Your one stop shop for on-the-go functional snacks
B.T.R. NATION is building a platform brand that provides people with low-sugar, clean, and functional snacks in a variety of convenient formats.  
Consumers are always looking for more convenient options but there's simply not enough innovation in the category so they traditionally settle for whatever's available. We're changing that.
We plan to expand to 2500+ doors in the next 24 months and are projecting significant growth YoY on our way to $25M in 2025, based on our current velocities, product pipeline, and secured distribution.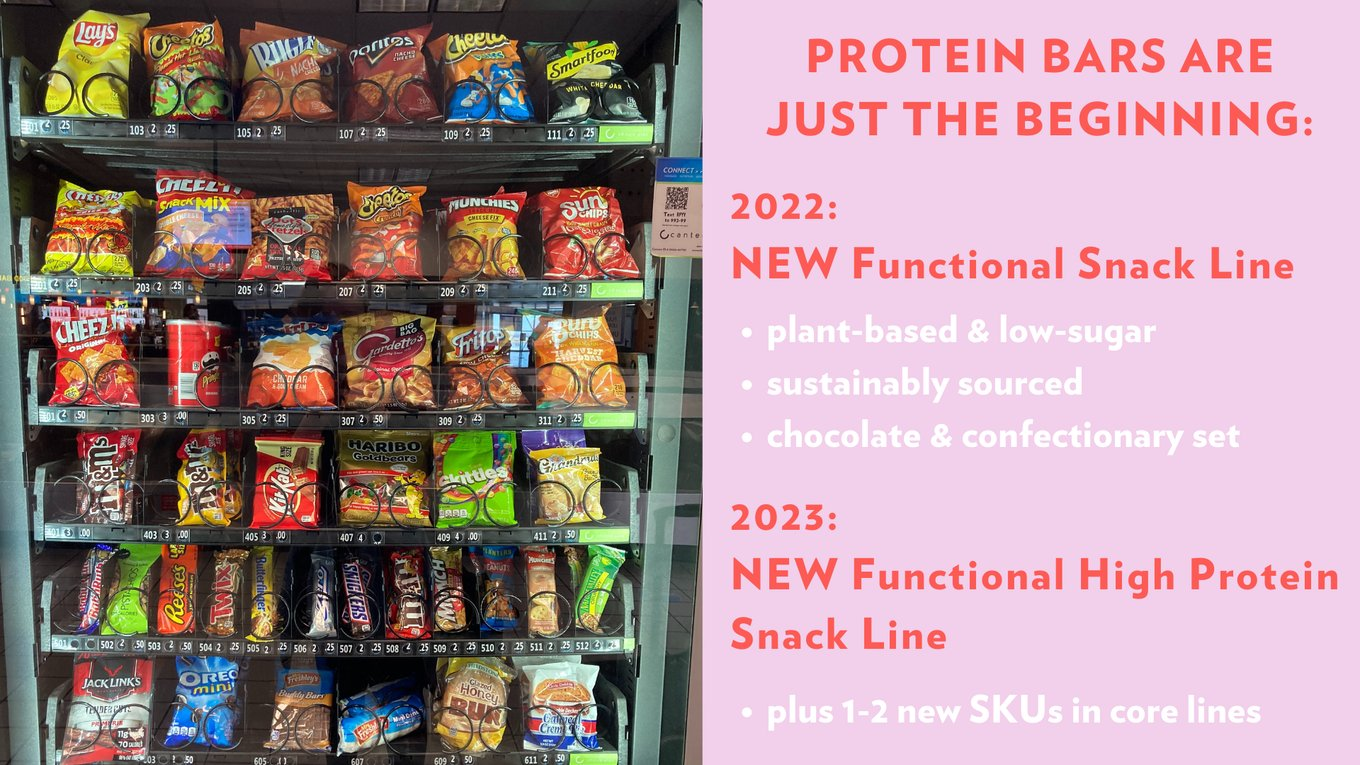 B.T.R. NATION is pursuing a  cross-category strategy and building our brand around our core values, similarly to what major players, like Hu Kitchen and RX Bar, have done.
We're establishing product market fit for each product line first utilizing our incredibly loyal and supportive DTC consumer base. Once we test & iterate, we can launch in retail successfully.
An industry ripe for strategic acquisitions & exits
Edit
B.T.R. NATION has the key elements to be the next big platform snacking brand on the path towards a successful exit. With our authentic founder story & mission, exceptional product attributes, and the unique ability to tap into our loyal superfans, we are poised for success.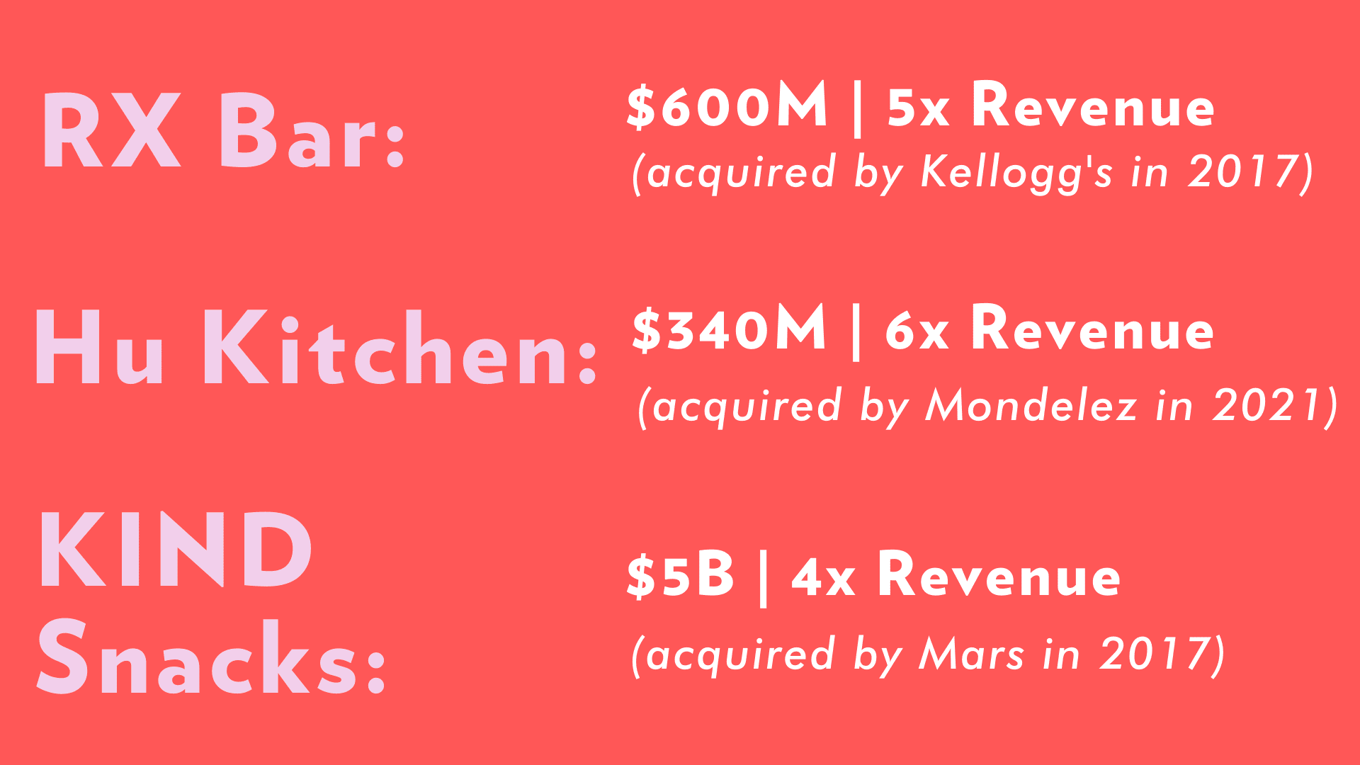 Bootstrapped, self-funded, no debt & an opportunity to scale with profitability
Raised $150k from key strategic angel investors
Edit
We're so proud to have bootstrapped B.T.R. NATION with over $300,000 in revenue in the past 12 months.
We've now brought on key strategic angel investors who are not only brand ambassadors for B.T.R. NATION, but customers. Our angel investors have a wide range of entrepreneurial backgrounds from M&A to marketing. They've invested in other notable companies in the better-for-you space, like poppi & Magic Spoon.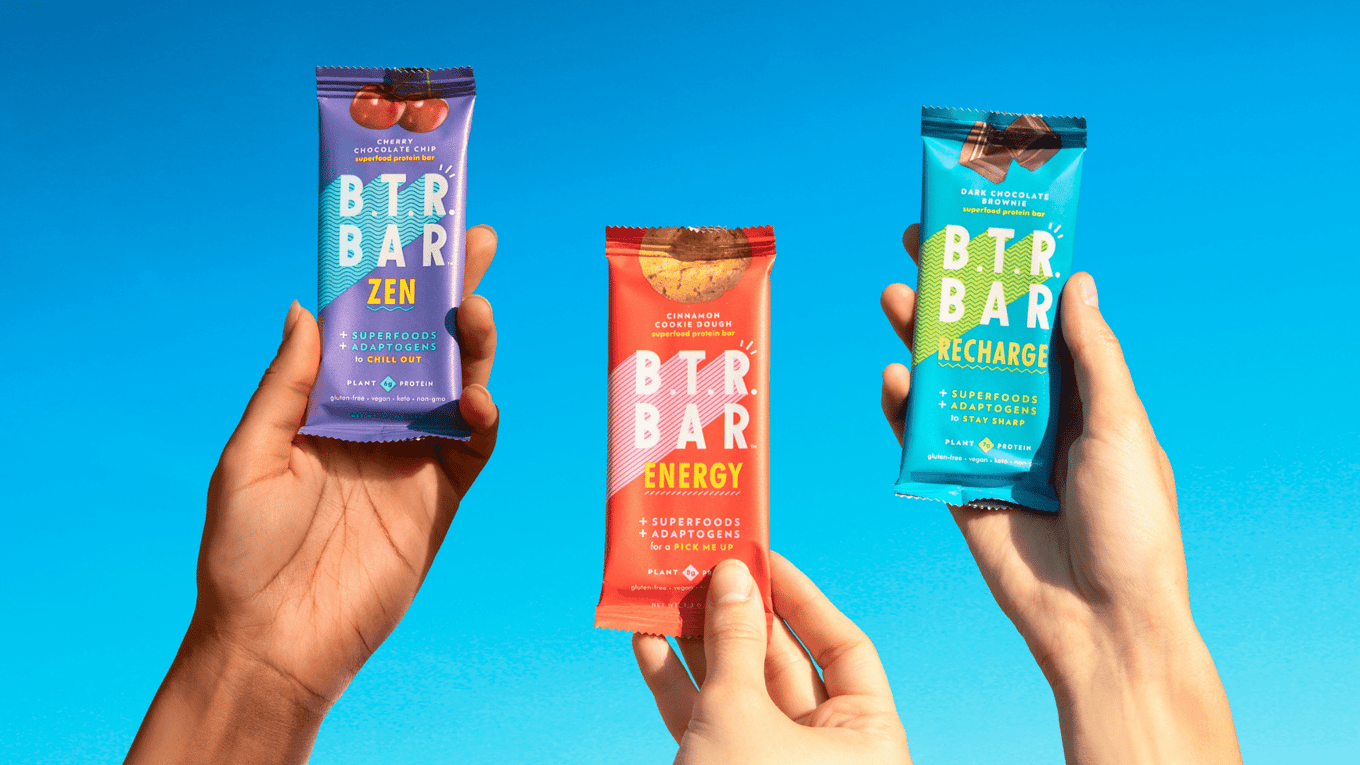 We've demonstrated strong product market fit and are seeking growth capital to scale. We will use the funds to:
Innovate to meet our customers' needs, grow our portfolio, and increase average order value (AOV) in the process.
Grow our team strategically and cost efficiently
Expand distribution and open more doors with strategic trade spend & digital marketing.
We hope you join us on this journey to end mindless snacking and reimagine the modern vending machine.
Empowering you to be BOLD, TENACIOUS & RESILIENT
Edit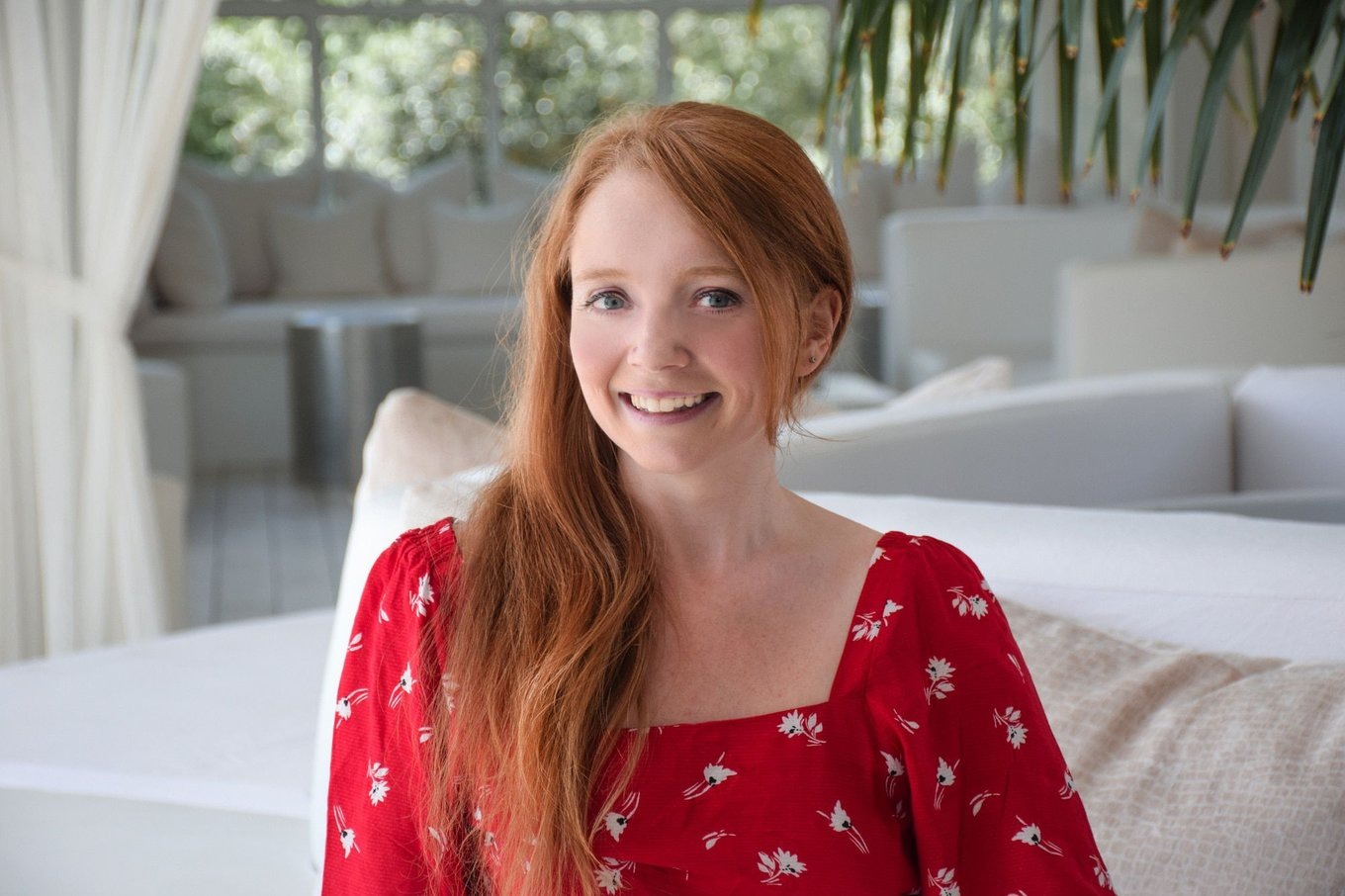 Ashley's inspiration for B.T.R. NATION came at an unlikely time in an unlikely place: standing in front of a hospital vending machine.
Both her parents had been diagnosed with rare forms of stage 5 cancer, and she became their primary caretaker. Between chemo appointments and radiation, Ashley and her family were eating absolute junk from hospital vending machines. With a background in biochemistry and food studies from NYU, she took to the kitchen to create something better: plant-based, low in sugar, superfoods & adaptogens. Everyone loved her creations—the doctors, nurses, other caretakers, and especially her parents who were having a hard time eating anything. She knew she had something here.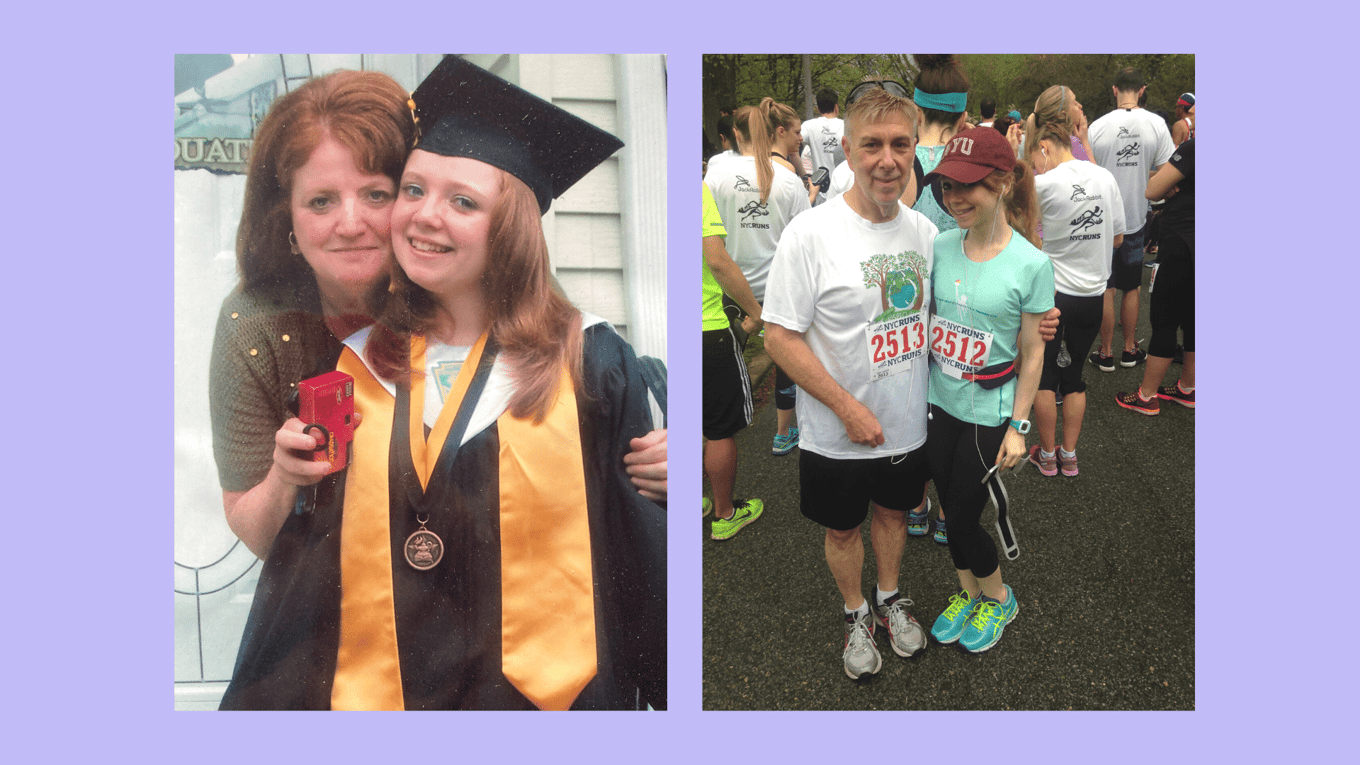 When Ashley's parents passed away, she tabled the idea and put away her recipes. But she always knew deep down that she would find a way back to them.
Ashley had been working in higher education & college student affairs for most of her professional life building teams and fostering community amongst tens of thousands of college students. In the middle of her father's cancer battle, she made a career transition and joined the wellness brand, Further Food, as the first full-time hire. As the Head of Sales & Marketing, she went on to grow that company from $0-$9M. But when the pandemic hit, her strong passion to honor her parents' legacy came back tenfold.
And what better way to be bold, tenacious & resilient, than to make big bold changes within the stale and boring $80B snacking industry. And that's how B.T.R. NATION was born.
Ashley soft-launched B.T.R. NATION direct to consumer at the end of 2020 and immediately sold out. She officially launched in February 2021 with an additional SKU after receiving feedback from her first couple hundred customers to launch a clean, low sugar peanut butter bar. And B.T.R. NATION has been on a rocket ship ever since.
B.T.R. NATION Team
Edit
Ashley Nickelsen
Founder, CEO & Chief Snack Officer
Alice Zhang
Strategic Advisor: Finance
Rafael Dodo
Strategic Advisor: Operations
Ally Case
Strategic Advisor: PR
Maya Degnemark
Marketing Intern
Adam Riff
Fulfillment & Logistics Manager