Venture backed borderless banking with 3x founder
== Investment summary ==BayaniPay is the pioneering neobank with innovative financial services tailored for global professionals. It is starting with the Filipino American community, the third-largest Asian American group in the United States, with an opportunity to expand to the broader Asian American segment. With AAPI consumers first in mind, the Company is offering products and services that are tailored to address culturally sensitive needs that are not addressed by traditional banking institutions. Among its very first products, BayaniPay has facilitated over $2M in remittances between California and the Philippines for its 2,800 registered users, proving its product market fit and positioning the Company for future growth to capture an even greater share of the increasingly global commerce market.This is a Special Purpose Vehicle (SPV) to invest in BayaniPay's Seed round.Investment highlights since its launch in November 2021 (all figures provided as of April 2022):* Invested in by East West Bank, the largest publicly traded bank in SoCal* Processed $2M in remittances between California and the Philippines* Target growing AAPI consumers segment, with 2,800 users to date* Designed to first reach Filipino-Americans (estimated $146B market)* Projecting 100k users by 2023 and $35M ARR by end of 2024* 3x Founder with experienced team from Intel, World Economic Forum"With BayaniPay, we are delivering accessible, affordable, and secure financial services to global professionals, starting with more convenient and fairer-priced remittances. We will initially serve the Filipino-American community in the U.S., and we look forward to extending our borderless banking services to the broader Asian American community," said Winston Damarillo, as CEO of BayaniPay.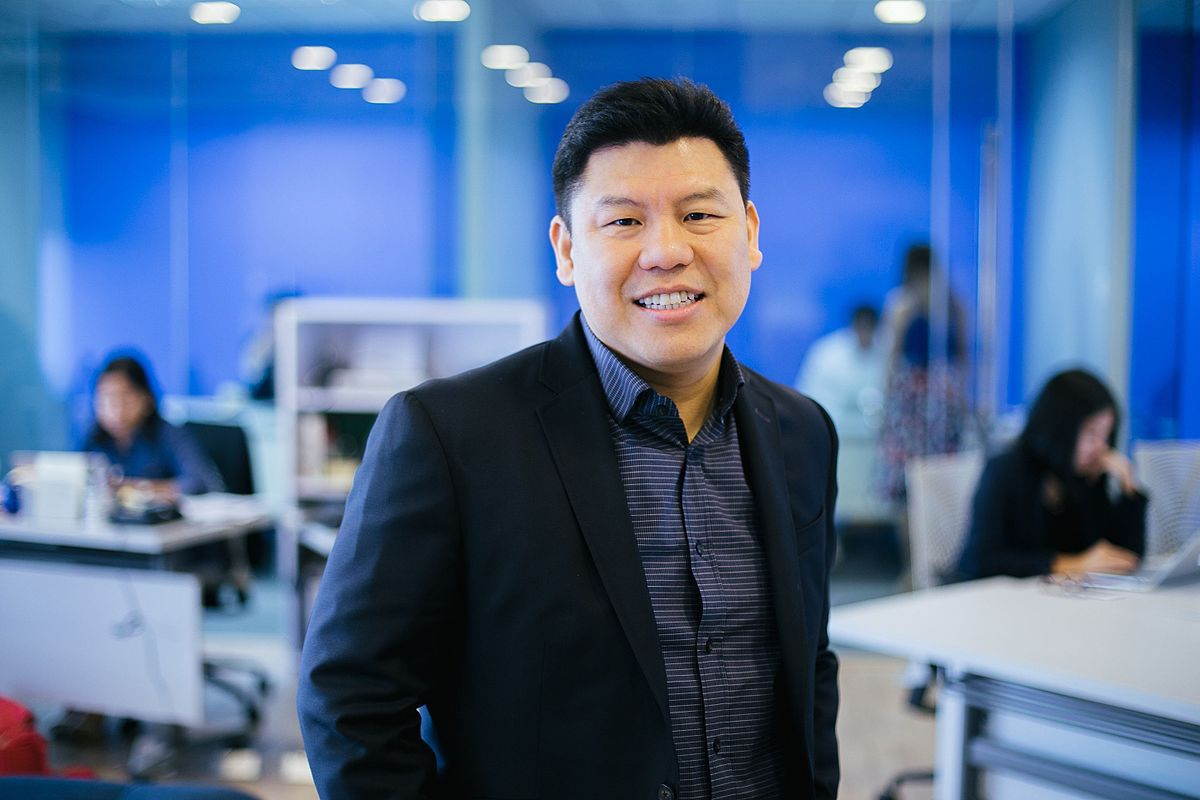 == Meet the founder ==Winston Damarillo (Wikipedia) is an experienced entrepreneur and venture capitalist who was born in Bohol, in the Philippines. Winston moved to the US in 1992 and took on various engineering and sales positions at Intel. Afterwards, he moved over to the venture capital side through Intel Capital, which invested in software companies.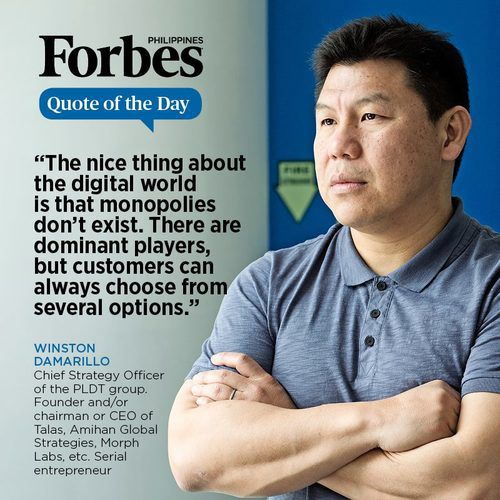 Winston founded and sold several companies such as: Gluecode Software, an open source software company, which was acquired by IBM in 2005, Logicblaze, acquired by Iona Technologies in 2007, and Webtide, acquired by Intalio in 2009. Winston became the chief strategy officer of the PLDT group in May 2015. At the time, he was also executive chairman of Amihan Global Strategies.== Problem ==Having immigrated from the Philippines at 19, Winston moved to the United States with big dreams, but also big responsibilities. He still had financial ties back home but was also starting to build his life in the U.S. too. The two separate financial systems in these countries made it difficult to do both, and the financial products at the time were expensive and slow.  Nearly 40 years later of going back and forth between the U.S. and the Philippines, he realized that not much has changed for immigrants. BayaniPay was designed to meet the specific requirements of Asian American global professionals, who make up over 25% of the foreign-born labor force in the United States. Most of these global professionals currently rely on brick-and-mortar remittance centers to send money to their loved ones. This laborious and time-consuming approach is accompanied by high transaction fees, complicated processes, and limited access to other crucial financial services such as loans, savings, and investments.  == Product ==BayaniPay is the pioneering neobank with innovative financial services tailored for global professionals. Named after the Filipino word for 'hero,' BayaniPay initially serves the Filipino American community, the third-largest Asian American group in the United States.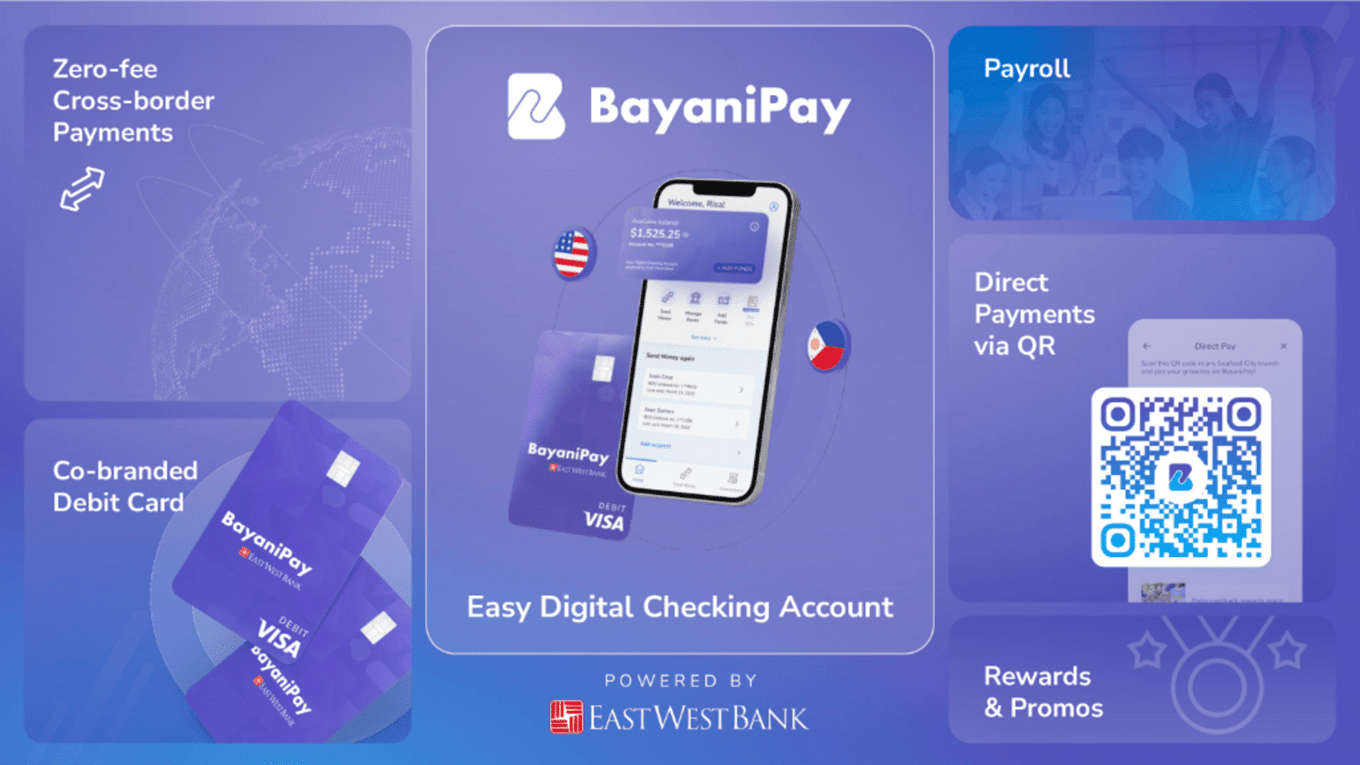 BayaniPay offers an Easy Digital Checking Account powered by East West Bank, which has no minimum deposit or monthly maintaining balance. Users can order a co-branded Visa debit card and receive rewards and promos.‍BayaniPay simplifies the remittance process by enabling its users to send money to their friends and families at any time through an easy-to-use app, which can be accessed at www.bayanipay.com. Transfers can be done by linking the subscriber's U.S. bank account to BayaniPay, with the recipient receiving the money in as little as one day. True to its goal of providing accessible and affordable remittance, BayaniPay offers zero fees per transfer and competitive foreign exchange rates. == Market ==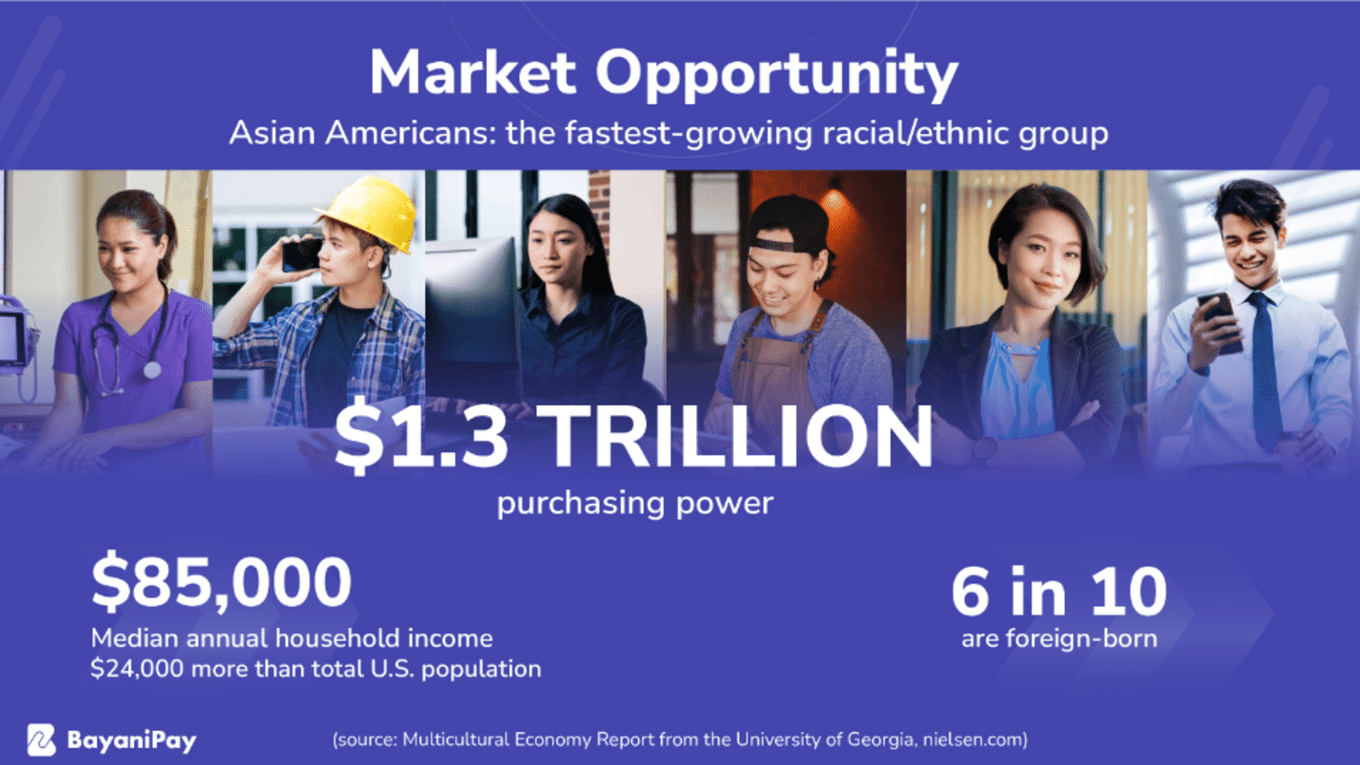 BayaniPay estimates there is $1.3T in Asian American purchasing power. Among this group, median annual household income is estimated to be approximately 30% higher than the the average for US population, showing tremendous spending potential. In addition, 6 in 10 of the population are foreign born, showing needs for a different kind of financial services that cater specifically to the needs of the population, culturally, linguistically, and accommodating transactions across borders.With backing from financial institutions in the Philippines and relying on the lived experience of the team and the Founder, BayaniPay starts with catering to the large Filipino American market, which takes up 14.4% of the Asian American market to total $145B in purchasing power.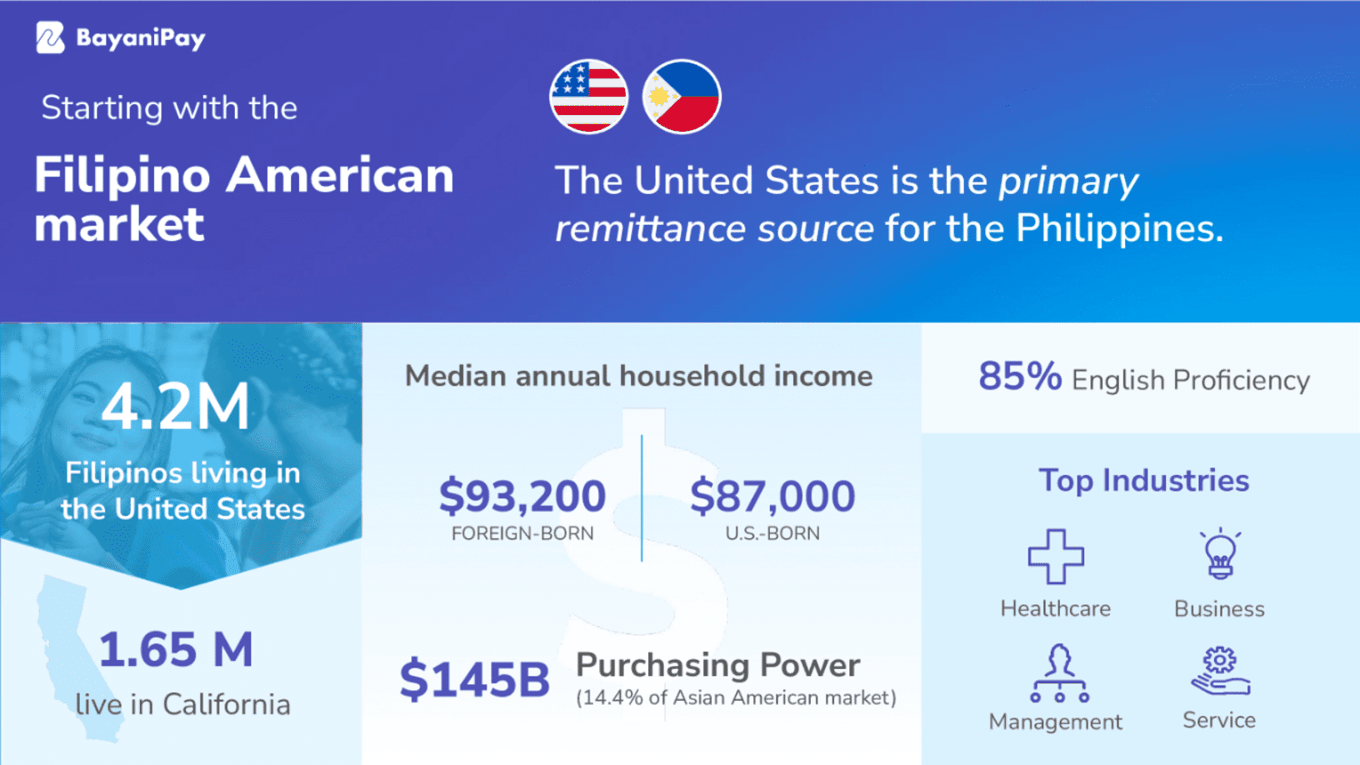 Noting that United States is the primary source of remittance for the Philippines, BayaniPay's first products help facilitate the seamless sending of remittance between the US and the Philippines, quickly gaining a base of loyal customers, to whom the Company plans to introduce additional financial services in the future, along with launching additional products to a wider market.
== Traction ==In the five months since its launch in November 2021, BayaniPay has already managed to move over $2M in remittances between California & the Philippines, proving its product market fit and positioning the Company to roll out additional product lines to even a wider group of customers beyond the Filipino community and the California region.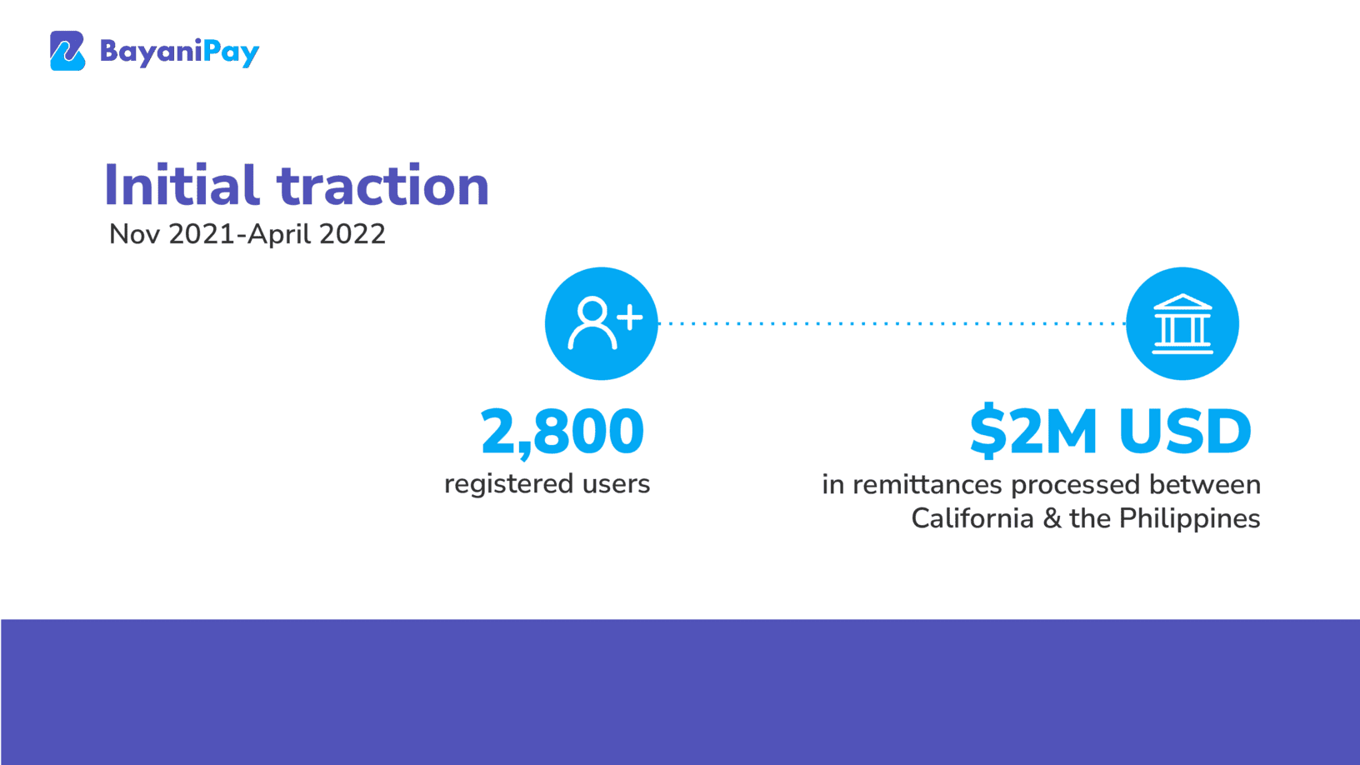 == Customers ==BayaniPay is currently available to residents of California sending money to the Philippines. The company plans to roll out its service to several other states, as well as partner with leading financial establishments serving other Asian countries, in order to extend its service to as many global professionals as possible.
Leveraging economies of scale, BayaniPay will continue improving its product and adding new product lines, while expanding outside of California to target other regions that have large populations of Filipino Americans. BayaniPay's customer acquisition plan is tailored to fit the community it is serving, using a mixed-method approach that includes both digital and grass-root strategies.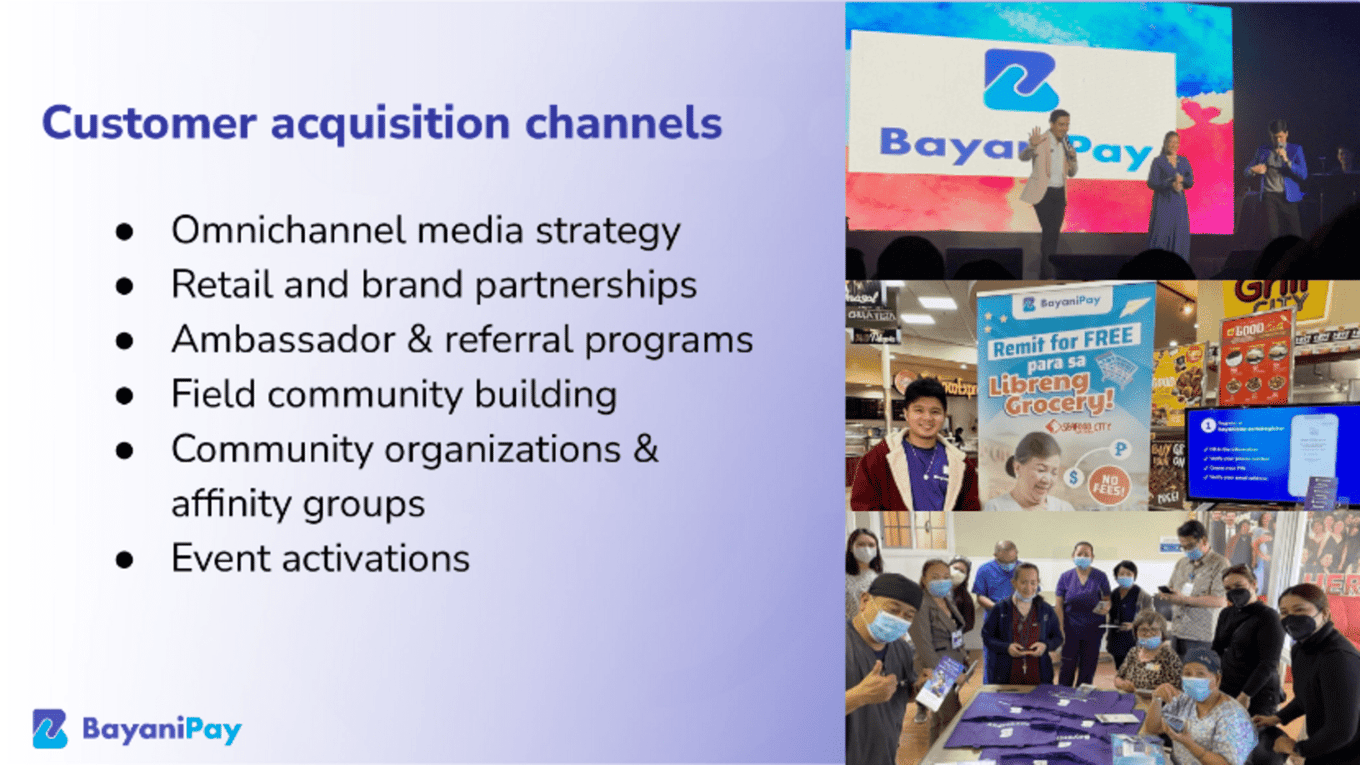 == Business model ==On top of its initial traction, the Company plans to introduce new services to its customer base that includes the expected long-term annual recurring revenue per customer. Beyond remittances, customers will soon be able to benefit from emergency credit lines, online bill payments, and cross-border e-commerce services.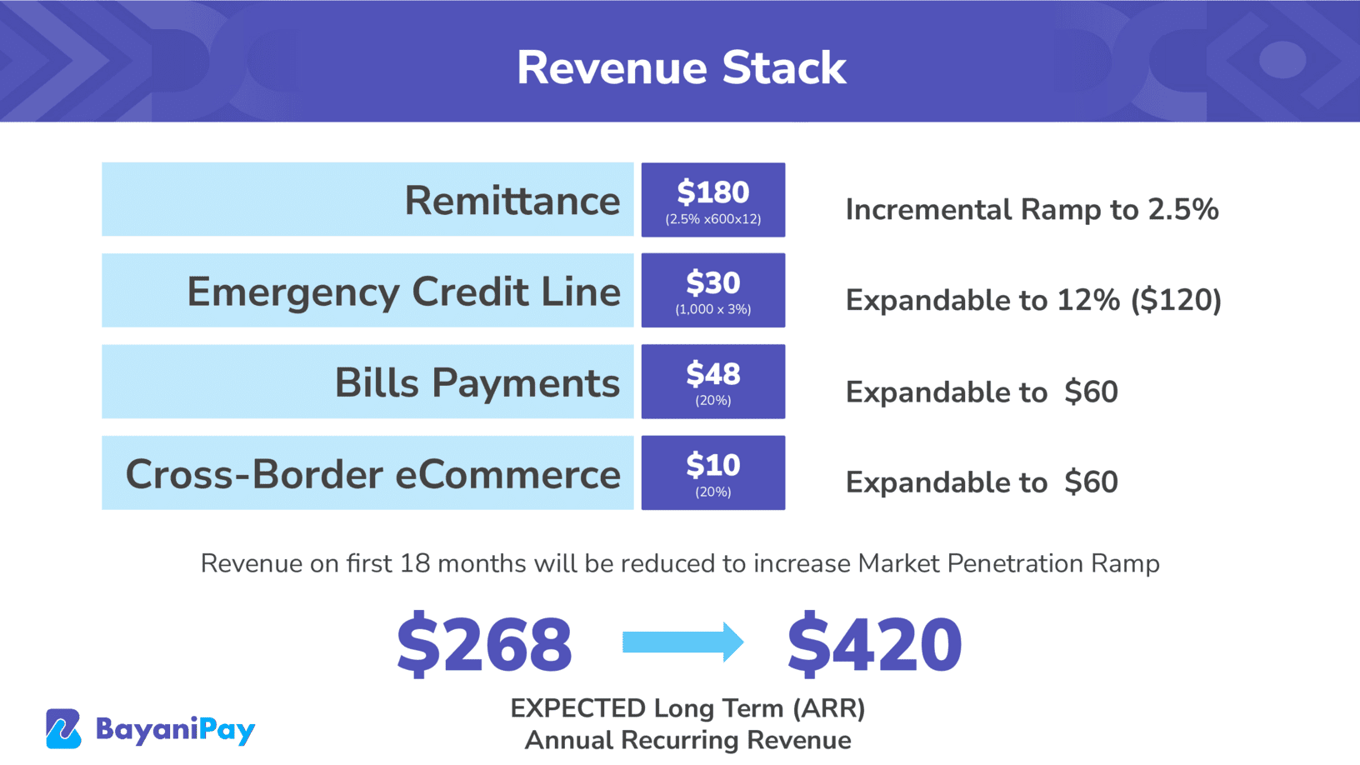 Below is BayaniPay's projections/plans for customer acquisition, which also includes its 3-year financial projection and preliminary strategy for exits.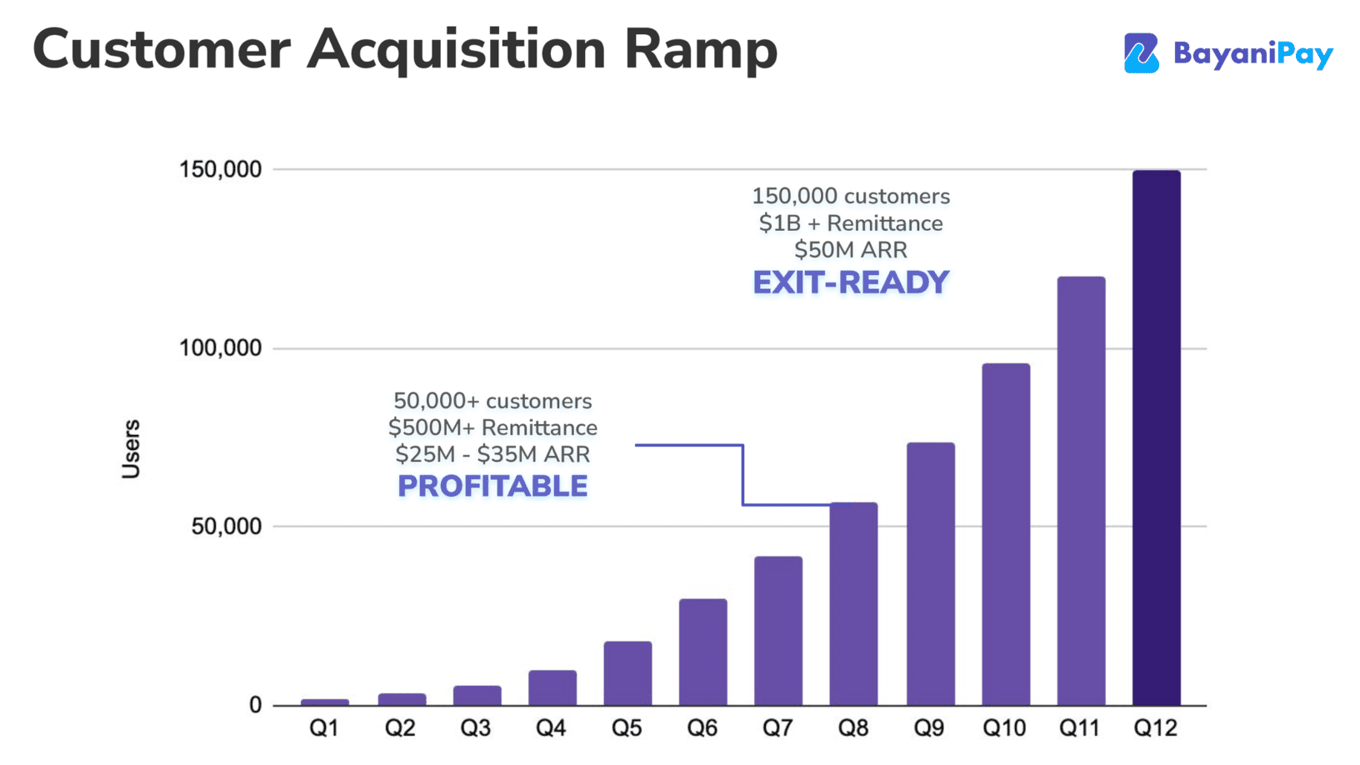 == Competition ==
BayaniPay entered the market disrupting other digital remittance players. By offering market leading exchange rates and zero fees, the Company is enabling more global professionals to take control of their financial needs abroad. == Vision and strategy ==The Company plans to provide a one-stop solution to global banking, especially for the Filipino and Asian American populations and those with the needs to make transaction across borders between the US and Asia. Some of its demo products are shown below, including:=== The BayaniPay Wallet ===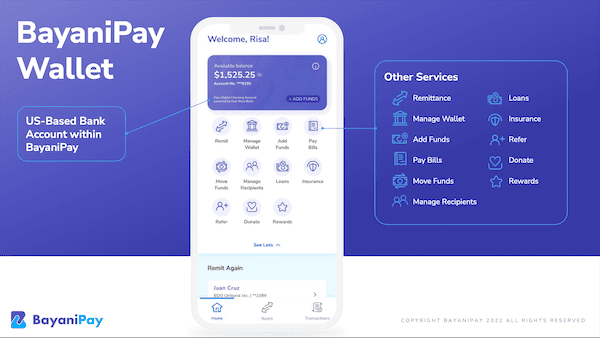 === Payment solutions ===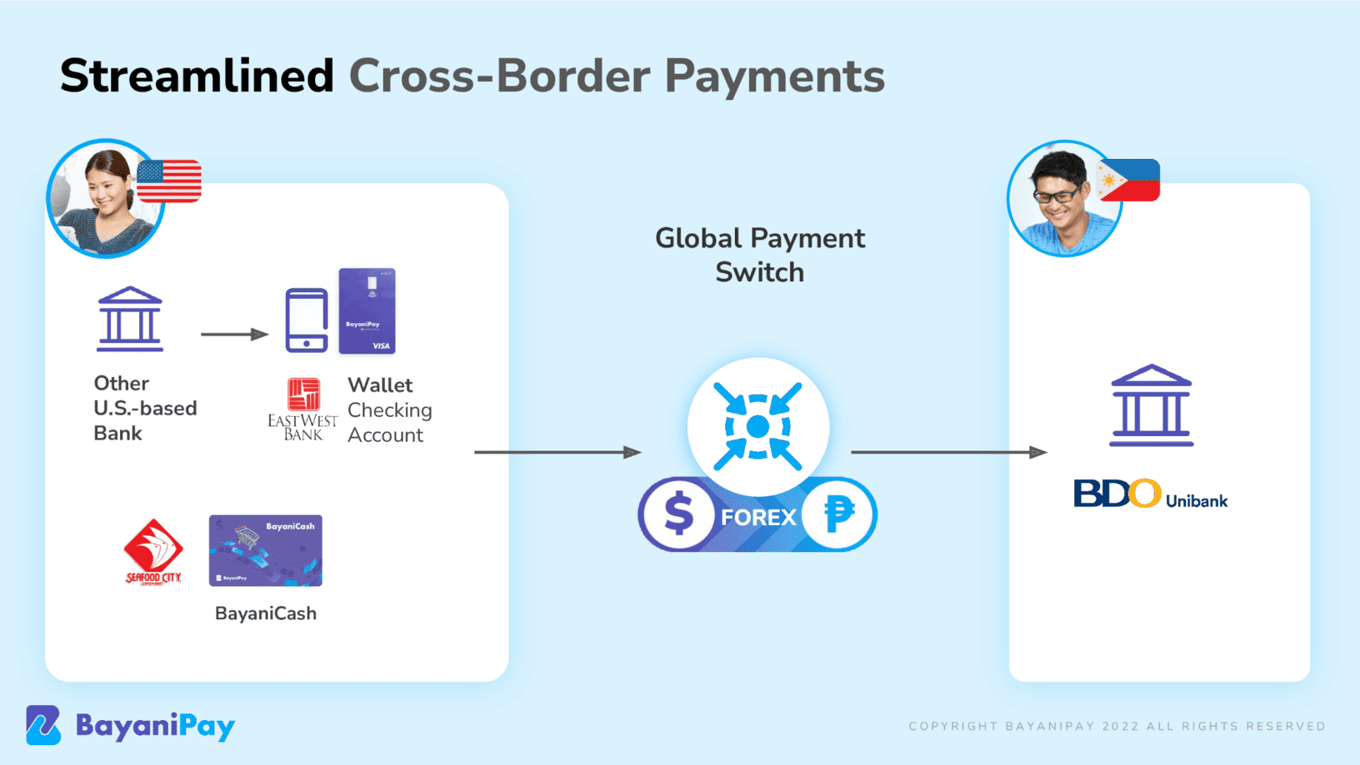 == Investors and backers ==Born out of a partnership between inclusive fintech venture studio Talino Venture Labs and leading Asian American multimedia publisher The Asian Journal, BayaniPay received funding from Wavemaker Partners, a cross-border venture capital firm investing in early-stage startups in the United States and Southeast Asia.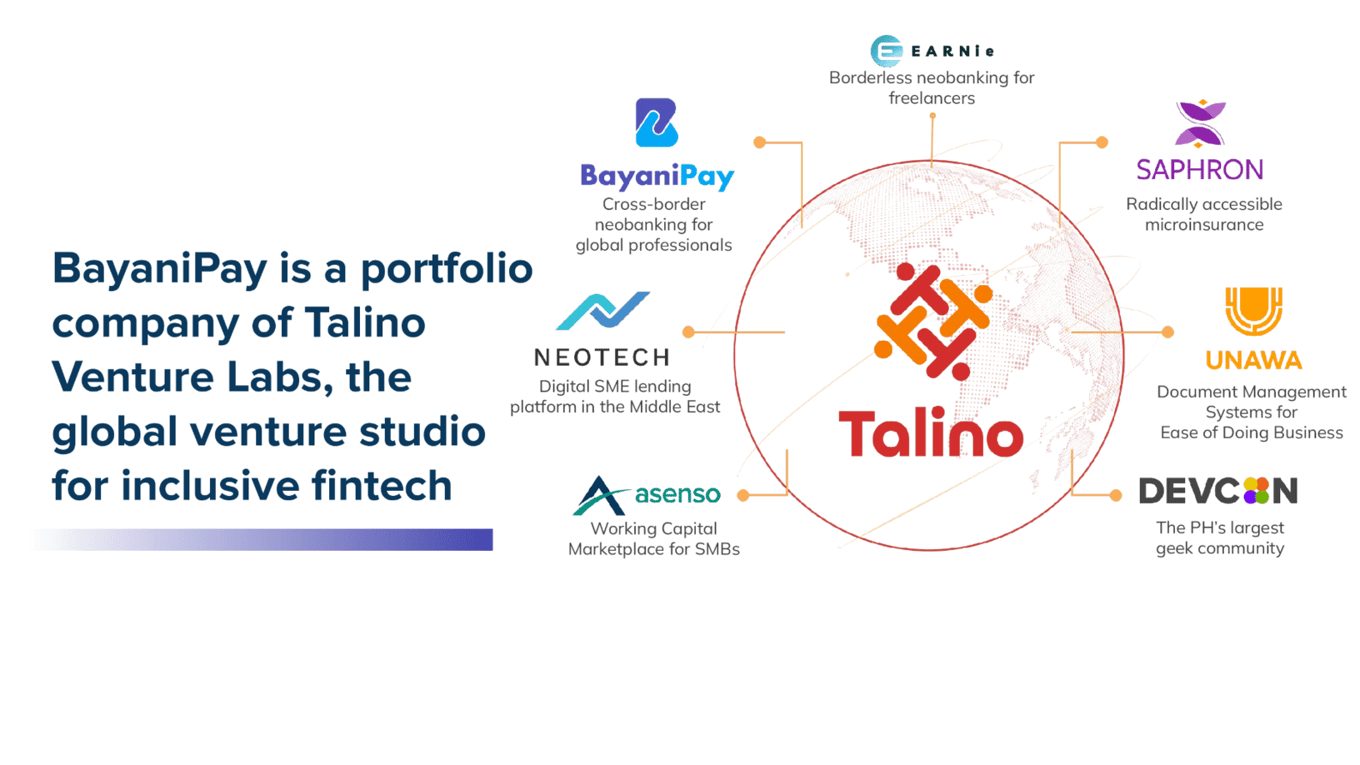 In addition to its capital backing, BayaniPay is powered by leaders in the financial services industry that lead the way for its lines of products.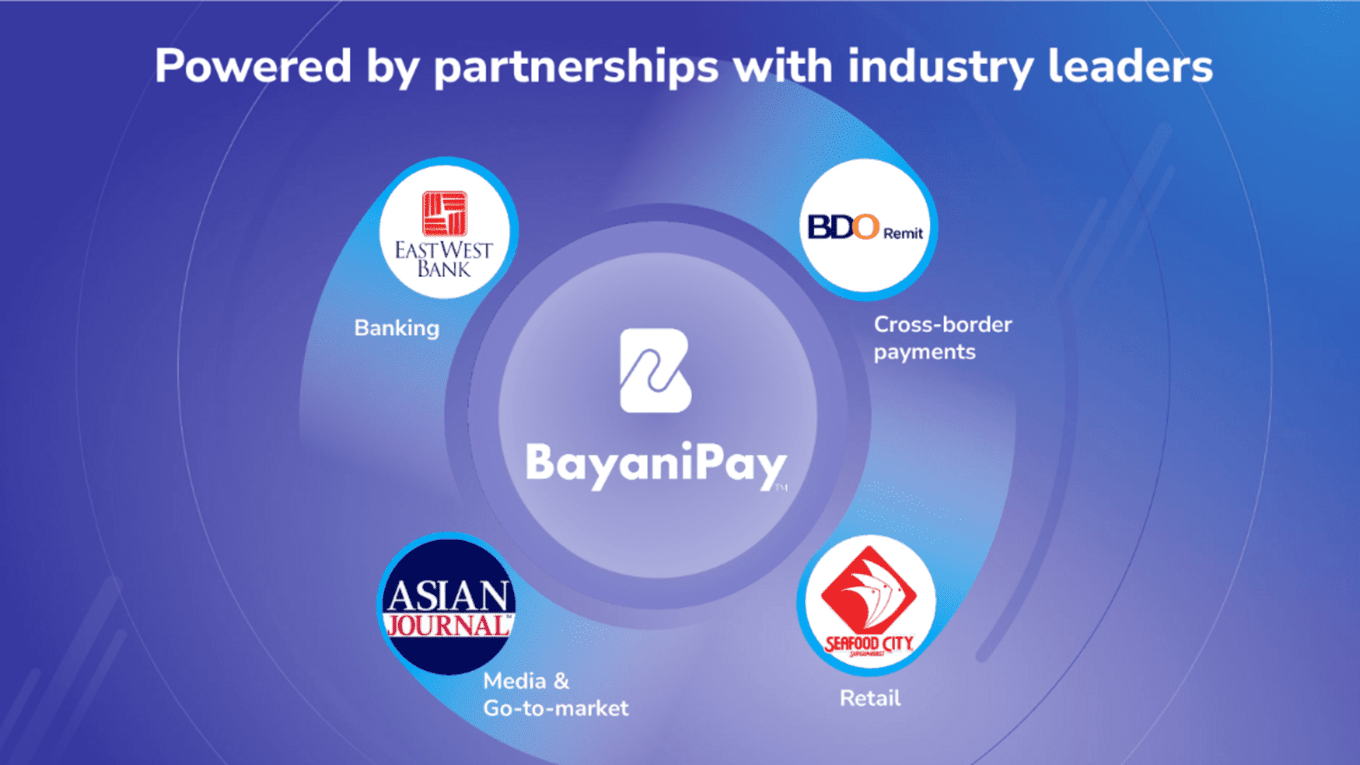 == Founders ==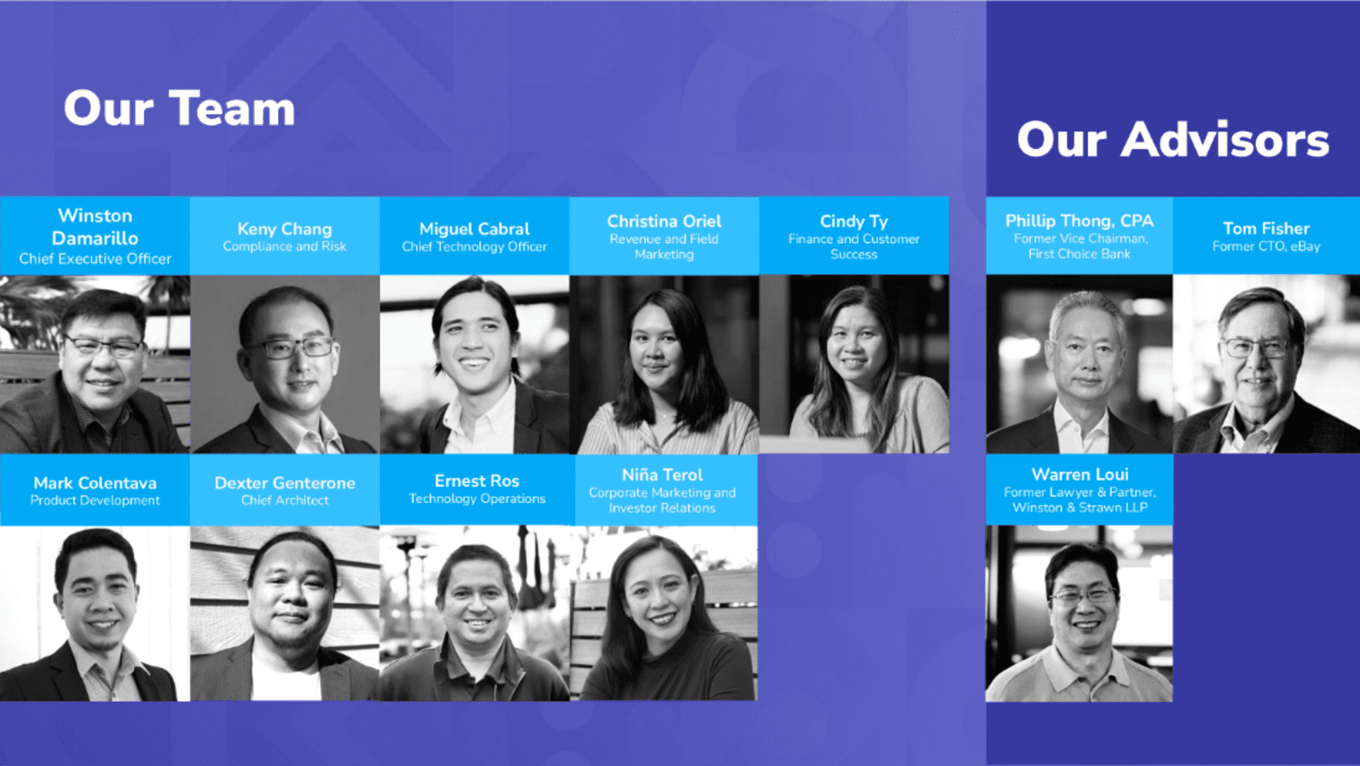 == BayaniPay Team ==Winston DamarilloFounder & CEOKeny ChangChief Compliance OfficerCindy TyChief Financial OfficerChristina OrielChief Revenue OfficerMiguel CabralChief Technology OfficerNiña TerolChief Marketing OfficerMark ColentavaProduct Development