Sculpt + tone your best body with a Personalized Fat Loss Home Gym System
Purpose-driven women's fitness brand to create results in 1M women by 2025
Personalized fitness and unique women's home gym equipment
$5.5M revenue in 2020 (1539% increase from 2019)
18 total SKUS, over 70,000 customers, and 350,000 followers
The Online Fitness Market has a 30% CAGR from 2020 to 2026
13 new subscription based products on the horizon for 2022-2023
We are the original and trademarked Booty Bands®
80% of women gain the weight back within 12 months
Edit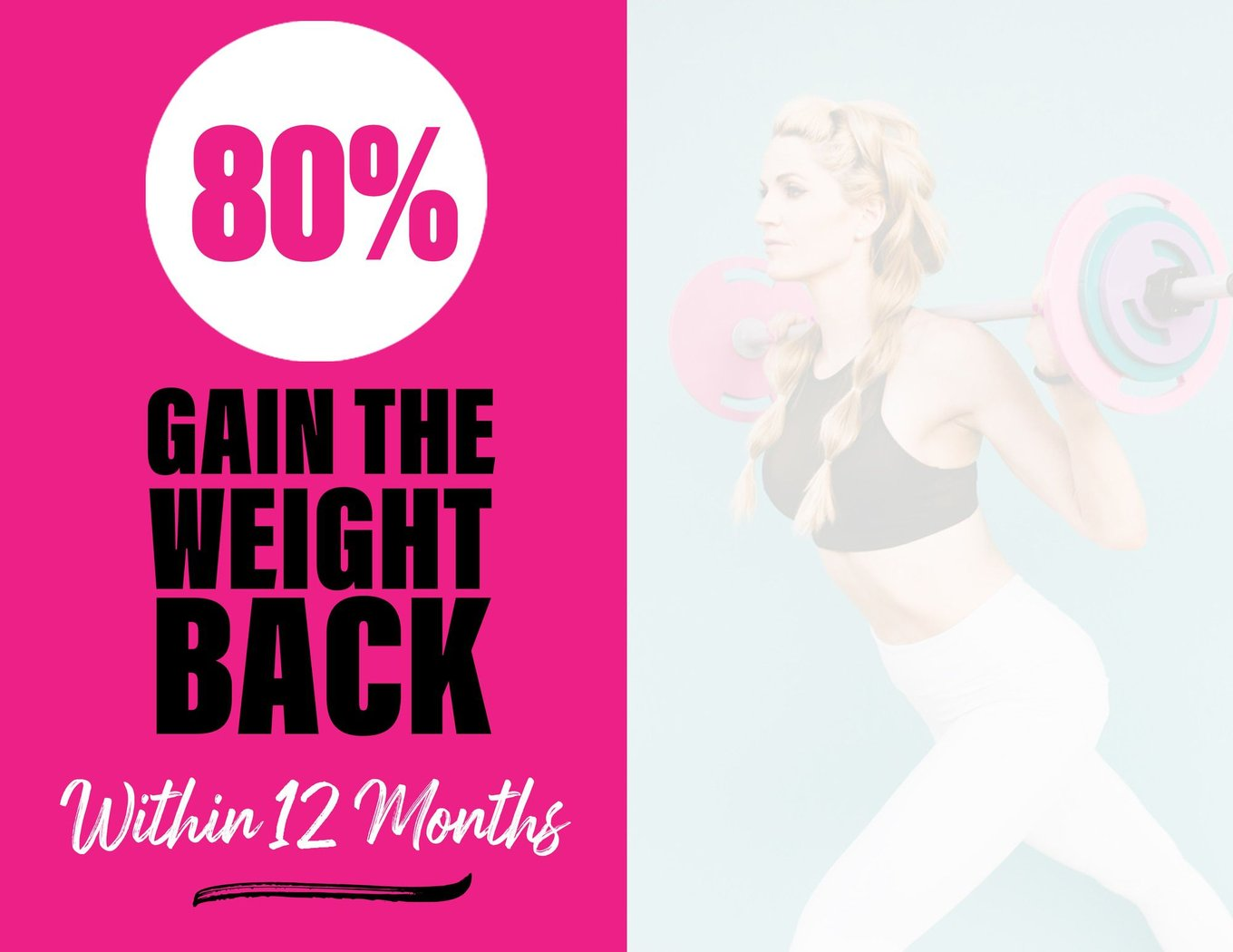 This happens because the weight loss industry often heavily focuses on the number of pounds to lose on a scale. Anytime you say "I need to lose 5, 10, or 20 lbs," this very often leads to unsustainable 'solutions' like: restrictive dieting, obsessive carb cutting, skipping meals, excessive cardio, and more. These leave you exhausted and not encouraged to create a consistent routine.
When you focus on a number of pounds to lose, what you are often losing is; water, fat, and lean muscle. Losing your lean muscle, that's like losing your metabolism. Lean muscle is your fat-burning machine. Fat loss, not weight loss, is what the industry should be focused on.
So why does the weight loss industry focus so hard to sell 'losing pounds on a scale'? Quick answer: it's captivating and there is a large audience to sell to. However, it is not always sustainable for long-term results. What it has also led to is a one-size-fits-all approach to weight loss, rather than something that is personalized for you.
We've spoken directly to thousands of our customers. Before they joined, they experienced the same issues: starting and stopping, focusing on a number on a scale, yo-yo dieting, skipping meals, lack proper knowledge, not seeing progress, and feeling hopeless with weight loss.
Personalization and focusing on fat loss are not at the forefront of these weight loss programs.
We discovered how to create lasting transformations in women.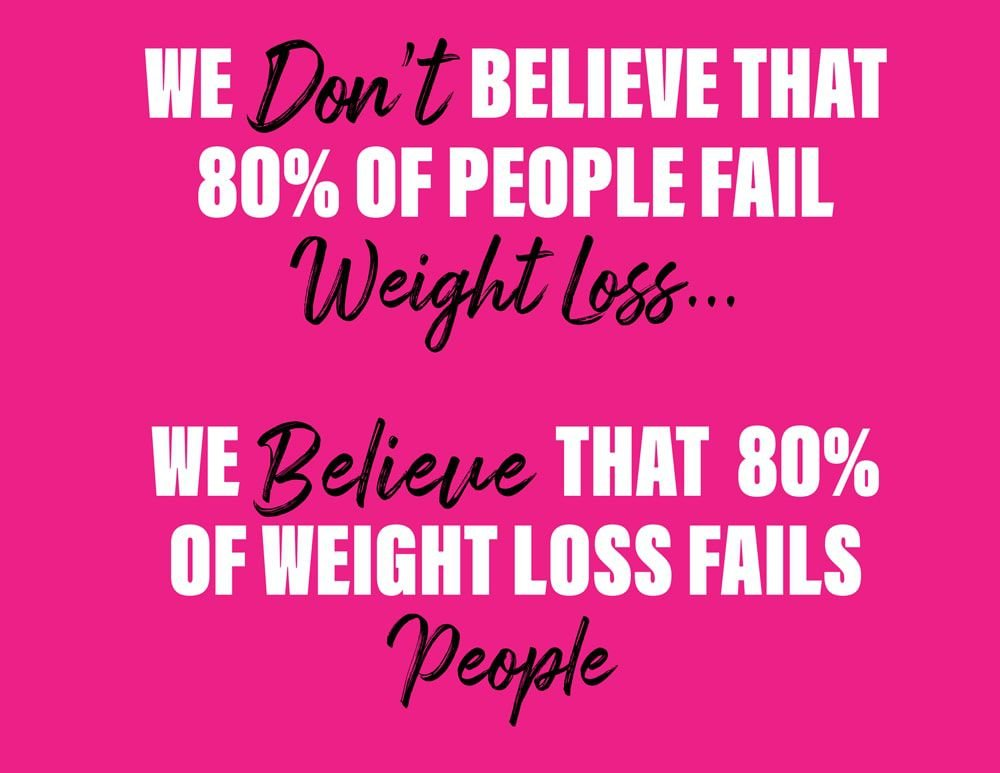 350,000+ women using our Personalized Fat Loss Home Gym System to sculpt & tone their best body.
Edit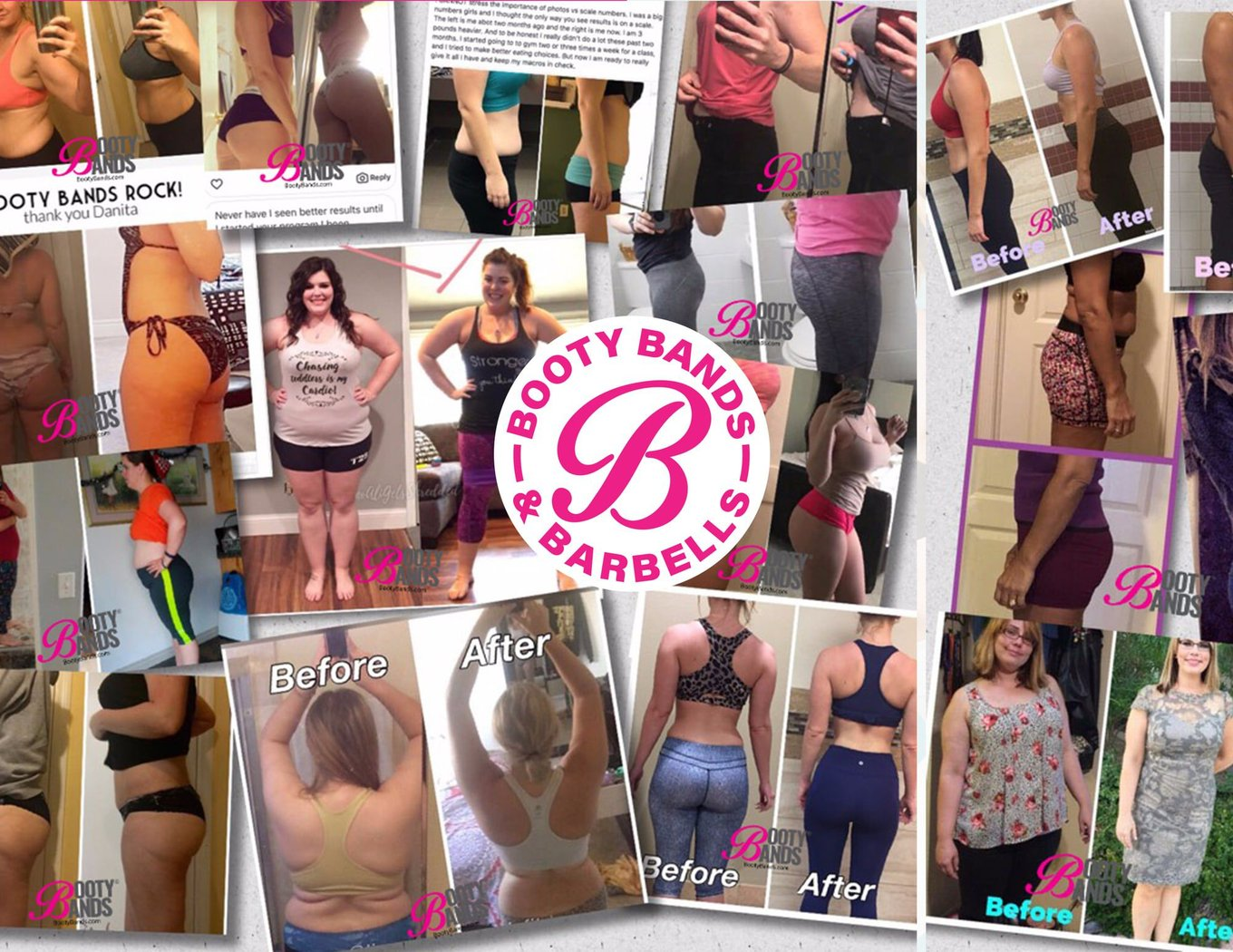 No more starting and stopping and losing hope in fitness! We discovered the solution to sculpting and toning your best body and creating results that last: Personalization.
Booty Bands & Barbells created a Personalized Fat Loss Home Gym System to achieve lasting transformations. You get a home gym and a coach who creates a personalized workout and nutrition plan for you.
Personalization: With every purchase, you get to meet with an expert certified coach to go over your specific goals. On this call, your coach will provide you with the personalized workout and nutrition routine that is specific to you and your goals. Personalization helps create routines that our customers can stick with, and builds consistency to create lasting results. You get to communicate with your own coach 3 times in 30 days. Our certified coaches are passionate and dedicated to creating amazing transformation in our customers.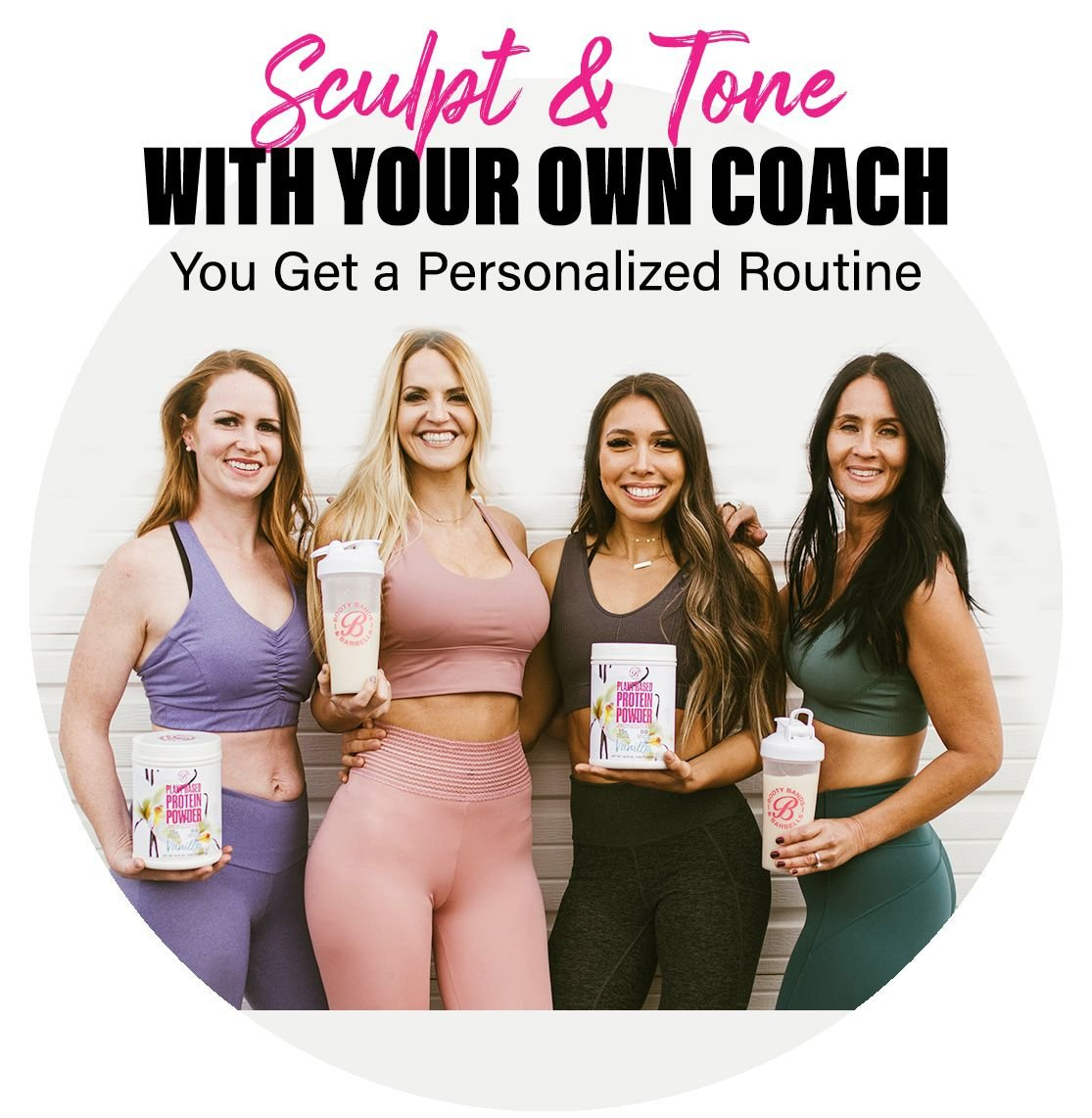 Fat Loss System: We focus on fat loss, not weight loss. This is a HUGE difference. With our Personalized Fat Loss Home Gym System, our coaches and content help educate our customers and show them the benefits of focusing on fat loss vs weight loss. Fat loss helps build lean muscle and that lean muscle creates a more sculpted and toned body.
Home Gym: We are the original and trademarked Booty Bands®. We created the 1st women's Complete Home Gym System! The home gym was created with biomechanical and physiological benefits for women to isolate targeted muscle groups that are great for compound or isolation exercises. This is great for beginners or advanced members. These are the tools you need to build your lean muscle and achieve faster fat loss!
We have seen so many transformations in customers with these solutions. We are so confident that if you don't see results from your personalized fat loss system in 30 days, you can request a full refund for your money back.
Join us and be a part of this community, with over 350,000+ like minded women getting results together. It's time to personalize your fitness journey and create lasting results.
18 unique products & services for women to create lasting results
Edit
At Booty Bands & Barbells® we are committed to creating high quality products to sculpt and tone your best body and create results that last!

Meet the best women's home gym
Edit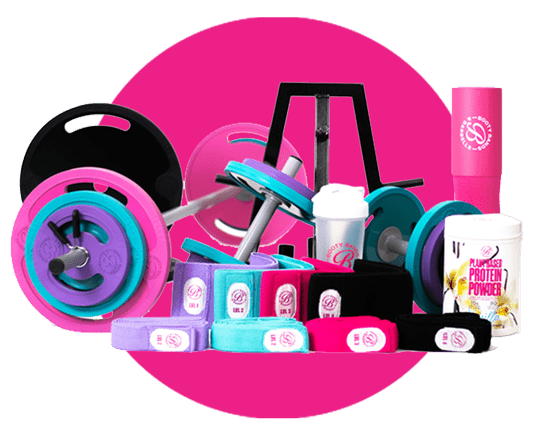 Designed by women, for women! We created a high quality, cute, and effective home gym. Your home gym comes with: a 4 foot barbell, 70 lbs of weights, a set of dumbbells, 4 Booty Bands, 4 long body bands, our best-tasting plant-based protein, a protein shaker, the highest quality nutrition, and a weight stand to organize your home gym.
Meet your coach & personalized routine
Edit
With every purchase you get an Expert Certified Coach who will create a personalized routine just for you! Your personalized routine is focused on fat loss and sculpting and toning your body. Step into your best self with guidance to create results that last.    
Meet the highest-quality nutrition line
Edit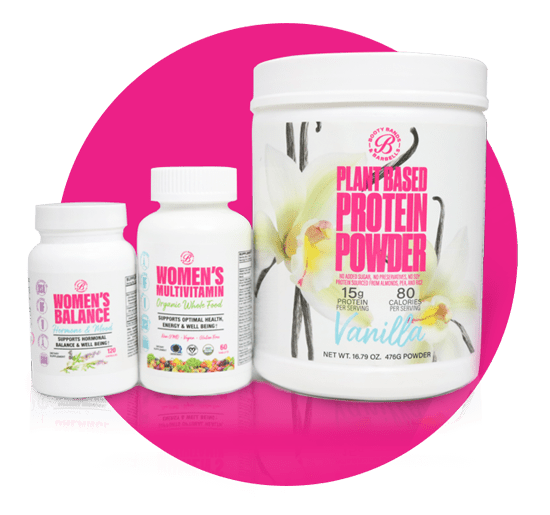 Nutrition is an important part to fueling your body and achieving and maintaining your results! We spent years perfecting our nutrition to be the highest-sourced, whole food / plant based, and best absorption that. Our custom formulated protein powder is sourced with almonds and is rated best-tasting or your money back!
Meet your community
Edit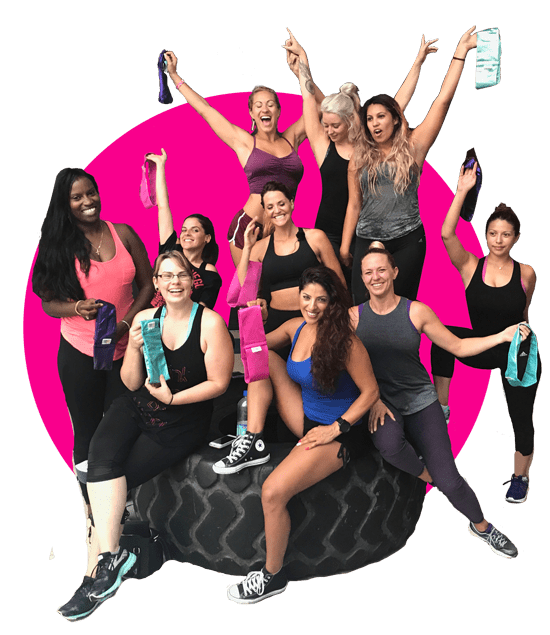 Rated the #1 most inspiring and uplifting group of women to be a part of. Our positive community is all about supporting you through your journey! 24/7 support is readily available with our Moderators, Motivators and Team members! You are our priority!
1539% increase in revenue
22% increase in AOV
109% increase in returning customer rate
5% MOM app subscriber growth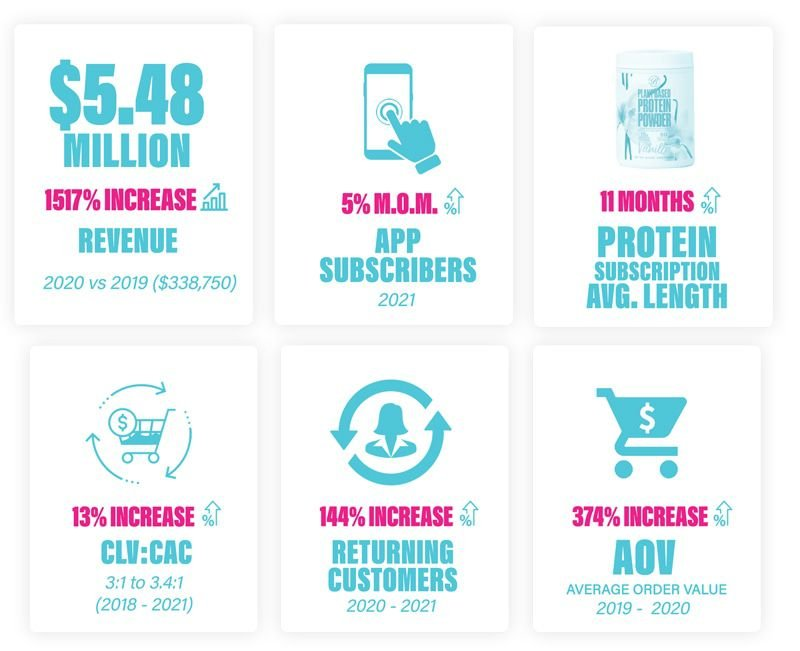 We are experts at direct-to-consumer online marketing and community building. We have a proven marketing system to attract high quality customers at a low cost every day. This system is not only massively scalable for the business, but it's also a great system that provides high value to customers through online content and quality engagement for their needs and goals.
1539% increase in revenue (2019–2021)
$228 AOV (22% increase)
24% returning customer rate (109% increase)
6.5 months avg. time subscribed to our protein
App subscribers 5% growth M.O.M.
Over 350,000 social media followers across all channels in 2021
13% increase in CLV:CAC (from 3:1 to 3.4:1, 2018–2021)
We went from $308,664 revenue per employee to $439,483 with fewer employees from last year, which indicates our ability to deliver more growth with less resources.
Customers
Edit
A community of women stepping into their most powerful selves
Edit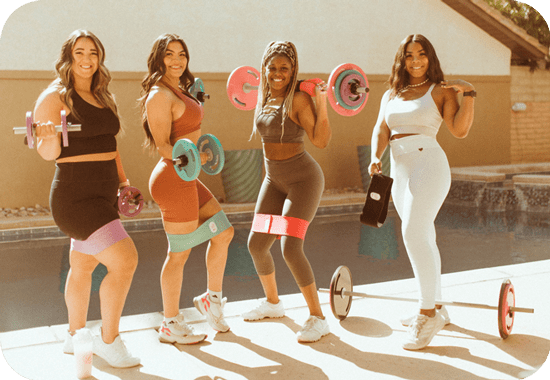 Our customers are our purpose.
Edit
We have been on a relentless pursuit to serve our customers at the highest level. Why? Because we have been in their pain / struggles and we know the exact solution to overcome that pain. If we can change 1 woman, we are devoted to changing every woman!
We have direct conversations with every customer that buys from us and joins our community. We do this to understand our customers and what products and services to help create real solutions for them. We have created a system that can fulfill a direct conversation with every customer that comes in.
Our target market is women who are looking to sculpt and tone their best body, in a shorter amount of time, with the right amount of guidance, and results that last. Approximately 85% of our customers do not or have not gone to the gym. Their goals are not to get 6 pack abs, but to look and feel their best. 60% of our customers are in the ages of 25–34. 30% are from 35–45. The remaining are before or after these age groups.
Our Repeat buyer rates are 25% and growing—because we have introduced great products and content to bring customers back to our brand to help create more solutions in their lives. In 2022, we have plans to increase that repeat rate by creating more consumable products that are subscription based. This will increase customer lifetime value as well as repeat buyer rates. We see that our customer base are consumers of the types of products that we will introduce in a subscription model format.
Booty Bands & Barbells has a thriving social media presence with 350K+ followers, and net subscriber growth month-over-month across all our social media channels.
Our products are sold to customers in countries all over the world, but are mostly sold in the US at the moment. We have a strategy to introduce more products and expand into Canada and Mexico in 2022.
Business model
Edit
Multi-channel, direct-to-consumer revenue driver
Edit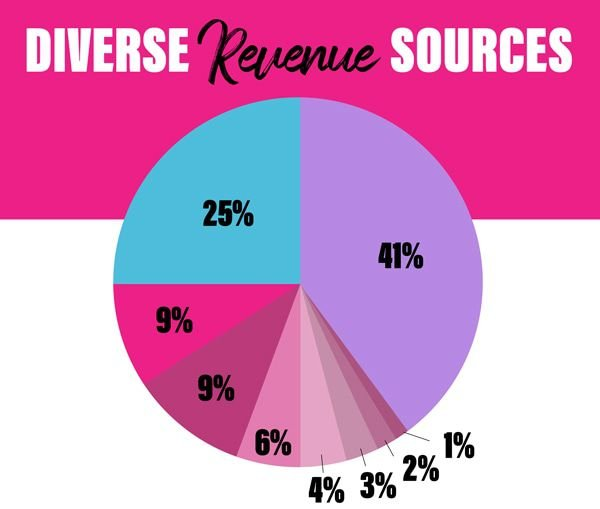 We sell 99% online direct to consumers through our website using paid advertising, organic traffic, influencer marketing, and expert digital performance marketing strategies.
We have a diverse source of traffic sources:
Paid advertising traffic - 41%
Email - 25%
SMS - 9%
Direct social media marketing - 9%
Organic growth - 6%
Amazon - 2%
Walmart - 1%
Influencers - 4%
Customer ambassadors - 3%
We have created a repeatable and clearly-tracked customer journey that we are focused on in order to optimize for increasing Lifetime Value. We not only built a logical customer journey for the customer, but also for our business model—that allows us to know our LTV by funnel, traffic source, and by product over 30, 60, 90 day periods. Tracking and measuring this LTV allows us to know what funnels and products to scale over time, rather than just focusing on the first initial purchase.
When customers buy our products, they have an opportunity to book a call with their coach and go over their goals to provide a personalized workout and nutrition routine for them. This model has proven to add an extra $66 in LTV from the customer in just 30 days after the initial purchase. This also has proven to create more motivation and results in customers—a Win-Win model. It provides a great rewarding business model to have an opportunity to nurture trust with our customers; and as a result, customers buy more during and after these coaching calls.
We have introduced high-ticket coaching services in our back end system. As customers come through our funnel, there are customers that are perfect for our group coaching or 1-on-1 coaching at a higher ticket price.
In 2022, we have plans to grow even more organically by launching our Certified Instructor Program. This is a great solution to create another revenue stream and growth channel to the business. These Certified Instructors will teach our 3-step program to their clients to create lasting transformations, as well as selling our products for a commission. This will create a great organic ground swell growth that has a direct sales model associated with it.
Multi-billion dollar industry with 30% CAGR...and no signs of slowing
Edit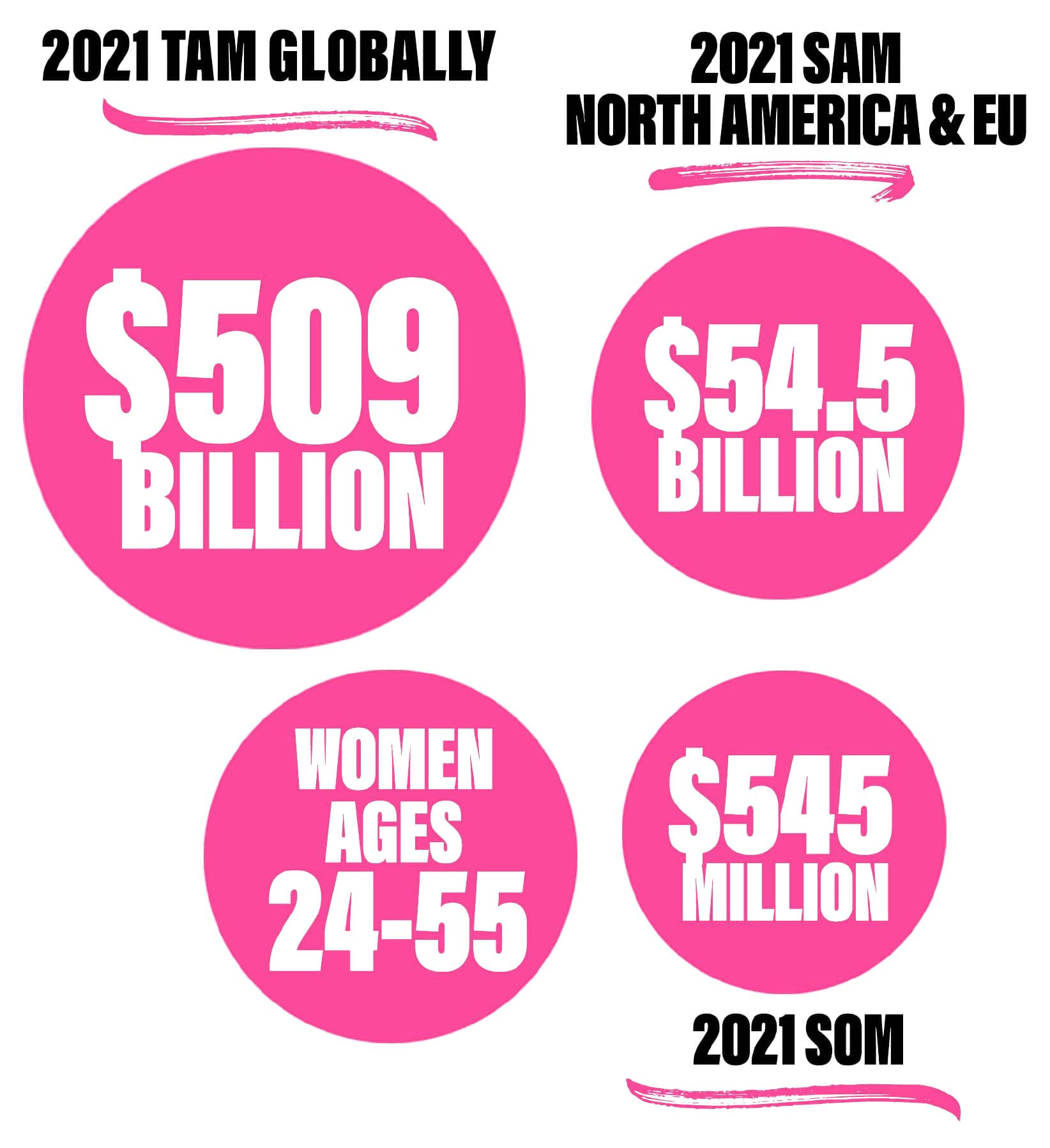 There is an amazing opportunity for high-valued companies that sell great products in the at-home fitness and weight loss market.
It is important to reiterate again that approximately 85% of our customers do not prefer, or have not gone to, the gym. They prefer an online at-home solution—but have not completely found something that is suited for them and their lifestyles. Now they have, with Booty Bands & Barbells.
The Online Fitness Market went from 5 billion in 2019 to $10.71 billion dollars in 2021. It is projected to grow at a CAGR of over 30% from 2020 to 2026.
Consumer stats in the market:
Edit
72% of active adults in the US are working out just as much or more using online fitness videos compared to pre-pandemic levels.
72% of consumers prefer the flexibility of online fitness from normal "gym memberships" and gym's busiest times.
Pre-recorded on-demand video usage grew 311% (from 17% pre-covid to 70% post-covid).
Live-streaming video usage grew 971% (from 7% pre-covid to 75% post-covid).
Although 75% plan to return to some form of pre-pandemic workout routine (including the gym), 30% of consumers expect to continue spending more on online fitness solutions than they did before the pandemic [2021] and more than 85% of our customers will continue to workout online from home.
The online fitness market is projected to continue its growth even after COVID.
It is important to note that we are also targeting the weight loss market in our advertising, and when considering where our customers have bought from in the past. So here are some stats for the 'weight loss' market:
The weight loss market Total Available Market (TAM) globally is $509 billion that was registered in 2021.
The Serviceable Available Market (SAM) for North America & the EU was registered at $54.5 billion.
The Serviceable Obtainable Market (SOM) $545 million.
Competition
Edit
Innovation on a different level
Edit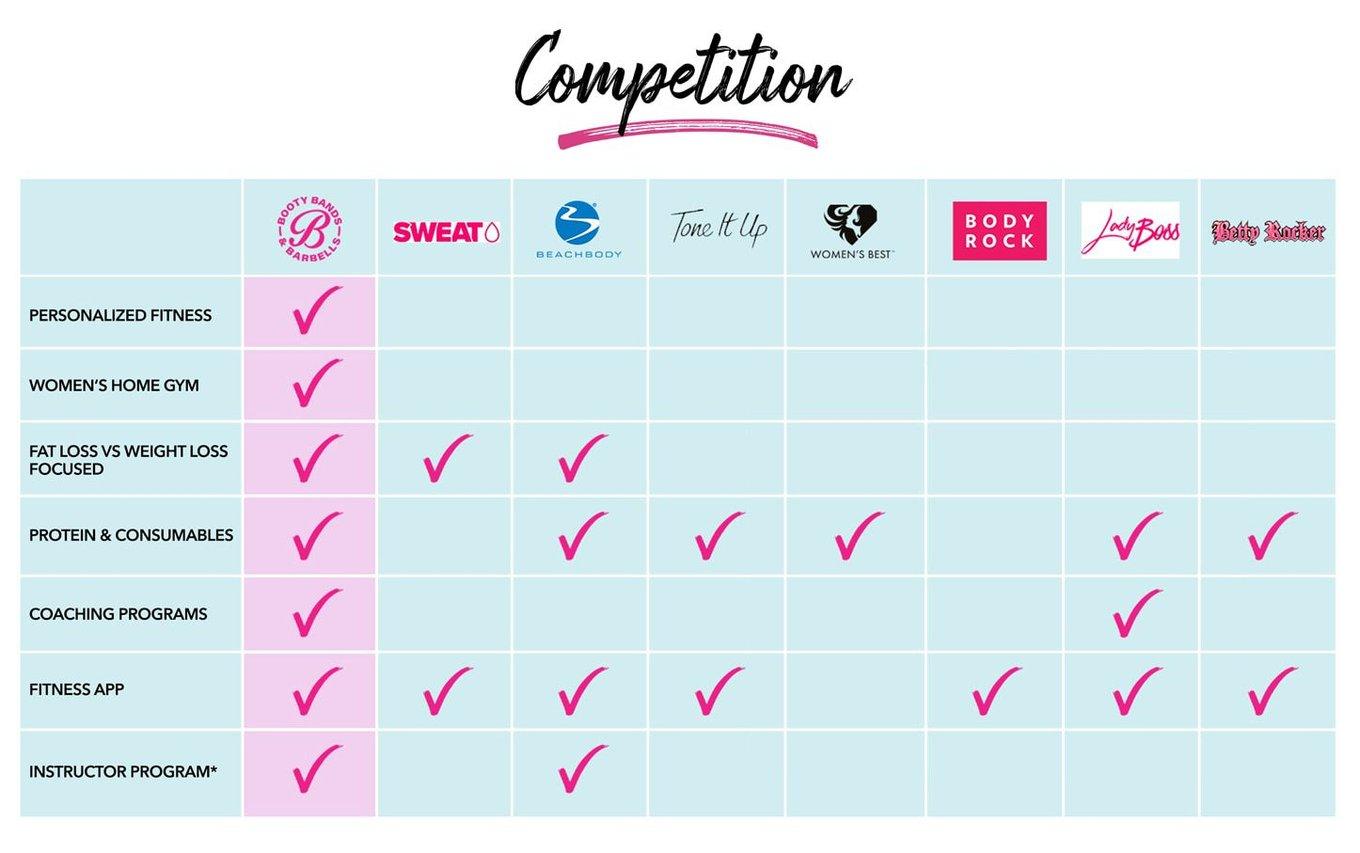 We teach our customers to not compare yourself to your former self or others. Comparison is the killer of progress. As a company this is one of our core values in business as well. We do know that this is still important to present.
Overall there is no other female fitness company that offers personalized fitness with every customer, has a female-designed home gym, and features the other core value propositions that we offer.
If you are our competitor reading this, we love ya. We're in this together to improve the lives of others.
Vision and strategy
Edit
Sustainable high-level growth
Edit
We are dedicated to growing this brand and company to be the best female fitness company in North America by 2025. Our hard working talented team is dedicated to creating a $100M company by 2025.  
We see our company as a lower-cost home gym alternative to Peloton and Mirror. At the same time, we see our company as having a longer vision of usage with our products.  Our vision is to be a household name by 2025.
How will we do this? Our vision is to grow this company through our current products, services, and marketing strategies—and even lower costs—to acquire customers and lower our cost of goods.
Improved marketing strategies come from our focus on conversion rates and LTV. We are very focused on improving our LTV data by improving a repeatable and clearly-tracked customer journey even more than it is now. We are also increasing LTV by introducing more consumable products, such as: new protein powder flavors, protein bites, protein bars, fat burners, and pre-workouts.
We'll make it worth your trust in us
Edit
We are experts at building trust with our customers, and we have the same value-based framework for our investors as well.
From a investor value proposition standpoint, we are unique in a few areas:
1 - Our content-based website/app increases loyalty and customer stickiness; similar companies such as Lululemon/Peloton have a median of 6-9x EV/Revenue.
2 - Our fitness app brings in more recurring revenue, which helps increase EV. Estimated to have ~18% of revenue generated outside of physical e-commerce products by the end of year 5 after fundraising, 3% comes from App recurring income.
3 - We are the first female-designed complete home gym system. No other company created a complete home gym designed just for women.
4 - The home gym and digital fitness market has a CAGR of over 30%. It is a great market to be in while providing a lower cost home gym alternative to companies, such as Peloton and Mirror.
5 - We see our company, products, and branding as having a longer vision of usage than products like Peloton and Mirror. Those companies are great and we admire what they have done. We see that our products can be used more often and have a longer lifespan because of their functionality, compact design, and even aesthetics.
6 - There are not many, if any, fitness companies (male or female) offering personalized 1-on-1 coaching with their purchase. We have direct 2-way conversations with our customers. This creates a unique value prop for customers. We know our customers very well and there aren't many companies at all that do this. This help create more lifetime value to the customer and creates a raving community that will be with us for a long time
7 - With fundraising, we can increase our EBITDA to $1M and gross margins on top selling products from 57% to 77% almost within the first year post funding . We will achieve this just from purchasing bulk inventory that will lower our COGS on the products that drive 83% of our revenue. This helps provide another factors for a low-risk investment decision.
8 - Predictable income. We are heavily focused on expanding into more subscription-based CPG products in 2022 and beyond. When looking at our vision, forecasting models, and KPIs, we can demonstrate how our team can deliver this financial milestone. We will continue our growth in important KPIs—such as our 314% increase in EBITDA, 3.4:1 CLV:CAC (13% increase), app subscribers 5% growth M.O.M, our 24% returning customer rate (109% increase), and more.
9 - Having diversified online traffic channels and sales channels such as direct social media marketing, paid traffic, organic growth, Amazon and Wal-Mart channels in an e-commerce business mitigates risk and increases business stability and helps make the business more valuable.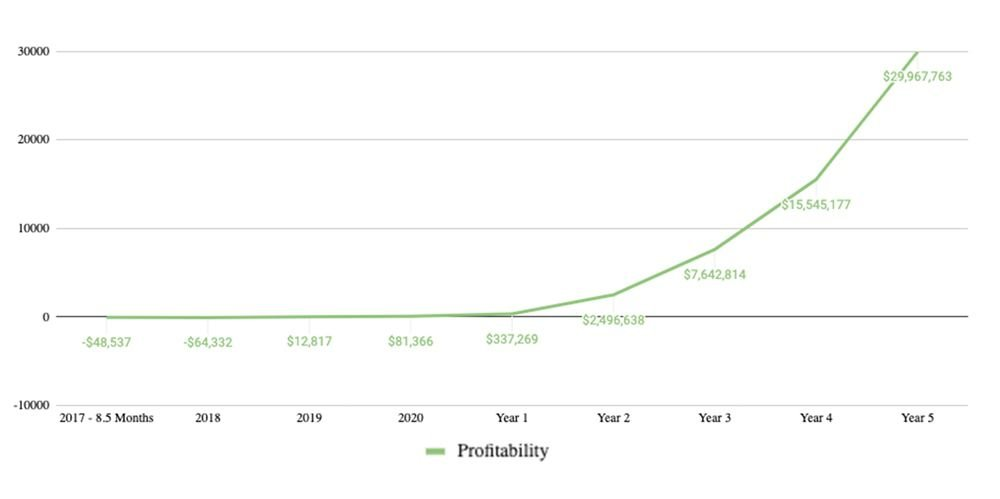 We are really excited to find the right investors who also see our vision, growth, and mission. Thank you for your time!
Meet the woman behind the brand
Edit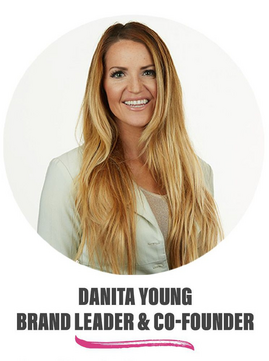 Meet the woman behind the brand and magic—Danita Young (Brand Leader / head of Product Development / Owner) who started her fitness career in 2010.
Danita became a certified personal trainer to be more directly involved in the lives of women, in order to discover why so many women were not creating lasting transformations. She spent 2 years unraveling the minds and bodies of women to help them reach their goals for good.
After perfecting a personalized fat-loss-focused model that created lasting results, her passion then fueled her to start an online fitness company in order to help as many women as she can. That's where the creation of Booty Bands & Barbells started.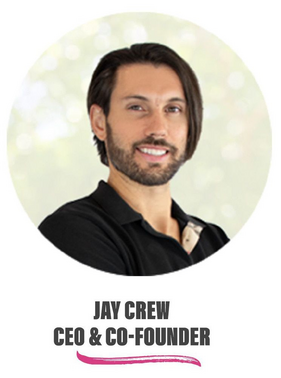 Booty Bands & Barbells is also led by Jay Crew (CEO & CRO / Owner) who is an entrepreneur, digital marketer, and fitness enthusiast.
Jay started in the online marketing industry in 2012 building businesses online. In 2017, he dedicated his career to building the best female fitness brand.  
Danita Young and Jay Crew met through their passion for fitness, and—more importantly—their dedication to creating lasting transformations in women. Back in 2017, they met over coffee to talk about business ventures and the personal training goals of Danita's clients. With Jay's ability to grow businesses online and Danita's passion and authenticity, they decided to create an amazing company together with the goal of impacting millions of lives.