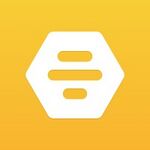 Swiping Left On Bumble: The Stock Is 63% Overvalued, according to Michele Sanguanini
The market expects Bumble to ride the online dating trend and overtake Tinder as the most-used dating app.
It's currently enjoying a small competitive advantage, but its target segment is too broad and there are no barriers to entry into the market.
Bumble's fair value is $20.49, 63% below its current price.
According to the Monte Carlo simulation, Bumble has only a 7.4% probability of being fairly priced currently.
According to Michele Sanguanini's analysis, Bumble (NASDAQ:BMBL) is highly overvalued. To justify the current valuation, the company will need to grow with a compounded annual growth rate of over 35% and reach a 30% operating margin.
These expectations are too high, considering that the company only has a minimal competitive advantage and that the market doesn't have any barriers to entry. Michele Sanguanini expects Bumble's fair value to be around $20.50, 63% lower than the actual price.
The story behind the numbers
Edit
According to Match Group's (NASDAQ:MTCH) most recent 10-K:
As more internet-connected singles utilize online dating products and the stigma around dating continues to erode, there is a huge potential for accelerating growth in the use of dating products globally.
Michele Sanguanini believes that Bumble is well set to ride the online dating trend, but he doesn't expect it to substantially increase its market share after the fifth year.
Bumble competitive advantage
Edit
Bumble is a dating app very similar to Tinder and the rest of the dating apps. The app shows you a series of profile, and you swipe right if you like the person or left if you don't. If you like each other, then it's a match and you can start talking. But with Bumble, there is a catch: Only women can start the conversation.
With this simple rule, the company is trying to create its own competitive advantage by pursuing a differentiation-focus strategy: building a women-centered dating app. In its most recent 10-K, Bumble wrote:
Our users connect deeply with our brand, making it a powerful marketing tool which generates word of mouth virality and strong, efficient user acquisition.
While Michele Sanguanini believes that enhance the brand through marketing campaigns centered around women is an excellent idea, he doesn't think it will be enough to succeed in the dating industry. The addressable market is too broad and could easily be targeted by more specific dating apps aimed at, for example, older age groups (Lumen and SilverSingle for over 50) or specific religion (Muzmatch.com for Muslims or JDate for Jewish persons).
In addition, the concept of "swiping" is getting old, and it's being replaced by more meaningful ways of matching already offered by the new apps such as Hinge or Once.
Bumble's competitors
Edit
When you open the app store, you may see a long list of dating apps, but most of them are owned by the same company, Match Group. The group owns a huge portfolio of brands, including Tinder, Match, OkCupid and Hinge. This makes Match the biggest direct competitor of Bumble.
Even if pursuing a differentiation focus strategy is a great idea, what makes a difference in a dating app is the number of active users (network effect). Match is clearly winning in both the number of users and paying subscribers. Last year Bumble only added 500,000 new paying subscribers (+25%), while Match increased its paying users by 1,147,000 (+12%). In addition, the company has never succeeded in being a disruptive force, and its growth has been lagging behind that of other, less famous apps.
Source: Match Group business overview March 2021
Discounted Cash Flow Valuation
Edit
Michele Sanguanini expects a revenue growth rate of 20% for the next five years to reflect the overall online dating market's growth and increase in market share. The growth rate will progressively slow down toward the risk-free rate in year 10.
Michele Sanguanini believes the EBIT margin will reach 23%, the 8th percentile of the interactive media and services industry, in year 5. It's lower than its direct competitor, Match Group, but since Bumble has, and will have, a lower user base, the acquisition costs will be higher.
To keep growing without losing market share to other dating apps, Bumble will need to keep investing in R&D and brand awareness. Michele Sanguanini expects it to reinvest with a marginal sales to invested capital ratio of 1.
Michele Sanguanini estimated a cost of Capital of 7.29% for years 1 to 5, slowly adjusting to 7.36% on year 10. The increase is driven by the rise in the risk-free rate to 2% to reflect higher inflation.
Bumble Free Cash Flow
Edit
By computing the assumptions above, Michele Sanguanini gets the following free cash flow to the firm:
Source: Created by the author.
Source: Created by the author.
The Return on Invested Capital will peak at 8.82% in year nine and decrease to the cost of capital in the terminal year. Michele Sanguanini doesn't see any sustainable moat around Bumble's business to give it a higher return than its cost of capital after year 10.
Bumble's fair value
Edit
Summing up the present value of all the future cash flows, taking out debt, minority interest, and adding cash, Michele Sanguanini gets a fair value for the Bumble shares of $20.49 that implies a 63% overvaluation.
The value created by future growth is 85% of the total value.
| | | |
| --- | --- | --- |
| | $ Value | % Value |
| Value of assets in place | $442.75 | 14.82% |
| Value created by growth | $2,545.36 | 85.18% |
Bumble Montecarlo analysis
Edit
As John Maynard Keynes once said, "It is better to be roughly right than precisely wrong."
For this reason, instead of focusing only on single, static assumptions, Michele Sanguanini integrated the intrinsic valuation with a Montecarlo analysis. Instead of using a single value for each input, I'll use a random distribution of values and check the frequency/probability of each fair value.
Distribution of values:
Growth rate: normal distribution with mean 20% and standard deviation of 10%.66% of the value will be within 10% and 30% growth rate.
EBIT Margin: normal distribution with mean 23% and standard deviation of 5%.
Sales to IC: triangular distribution. Minimum value 0.2, maximum one and most likely 1.
Monte Carlo Distribution

Source: Created by the author.
After 1,000 trials, Michele Sanguanini gets a lognormal distribution with a mean of $26.76 and a median of $22.50.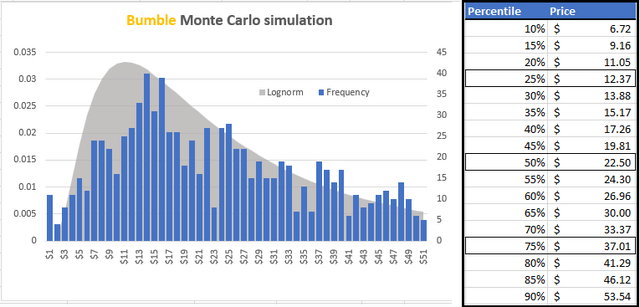 Source: Created by the author.
According to the Monte Carlo simulation, at the current price of $56.11, Bumble has only a 7.4% probability of being undervalued/a good buy.
The 25th percentile is $12.37, and the 75th at $37.01.
Short catalyst
Edit
To close the gap between the fair value and the price, the stock needs a catalyst that forces the investors to reassess their expectations. In Michele Sanguanini's opinion, the catalyst will arrive as soon as Bumble reports lower than expected user growth or operating margin, and this could happen at any upcoming earnings report.
Until that point, the stock could keep performing well while riding the tech stock mania. As a result, any short position should be placed with instruments with limited risk as put options, rather than directly shorting the stock.
Conclusion
Edit
Michele Sanguanini believes that Bumble is highly overpriced right now. He's convinced that the small probability of being fairly valued represents a good short play as soon as the company starts missing growth expectations.
To invest in Bumble, click here.
To contact Bumble, click here.