Powering the world's largest, most buzzworthy virtual and hybrid events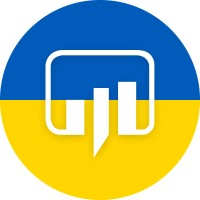 Jason Calacanis-backed startup, with $4.4M in capital raised
Gold Stevie Award for Best Tech Startup & Best Educational Event 2021
$1.65M in revenue since company launch in July 2020
Established client base includes Uber, Shiseido, Carnival and ServiceNow
Strong leadership team including former Disney, Hulu and CBS executives
Integrating innovative blockchain technology into the core platform
A large gap in the Enterprise Sector of the market
Edit
Current 'self-service' virtual events platforms are very limited in the options they offer, and are not built for professional use. Enterprise brands—and the top-tier production teams that support them—need more robust, flexible, and professional-grade toolsets to manage their premium events.
Enterprise customers need:
Edit
Broadcast-quality streaming, not pixelated content.
Ability to scale from 100 attendees to over 100,000, while supporting multi-day and multi-track content formats.
Enterprise-class security to safely maintain innovative ideas and user data.
Fully customizable experience that allows audiences to seamlessly engage with their brand.
We've already built the industry's premium platform and put it to the test with some of the top brands in the world including Uber, The United Nations, Anthem, Shiseido and many more.
BuzzCast was built by producers for producers and engineered with Enterprise Businesses in mind. We prioritized stability and scale by building our product from the ground up on AWS Serverless technology. By doing so, BuzzCast is able to deliver broadcast-quality streaming with customization capabilities, to support demanding brands and millions of viewers anywhere in the world.
Our platform was also architected as a single-tenant system, enabling us to deliver a world-class degree of security.
But don't take our word for it...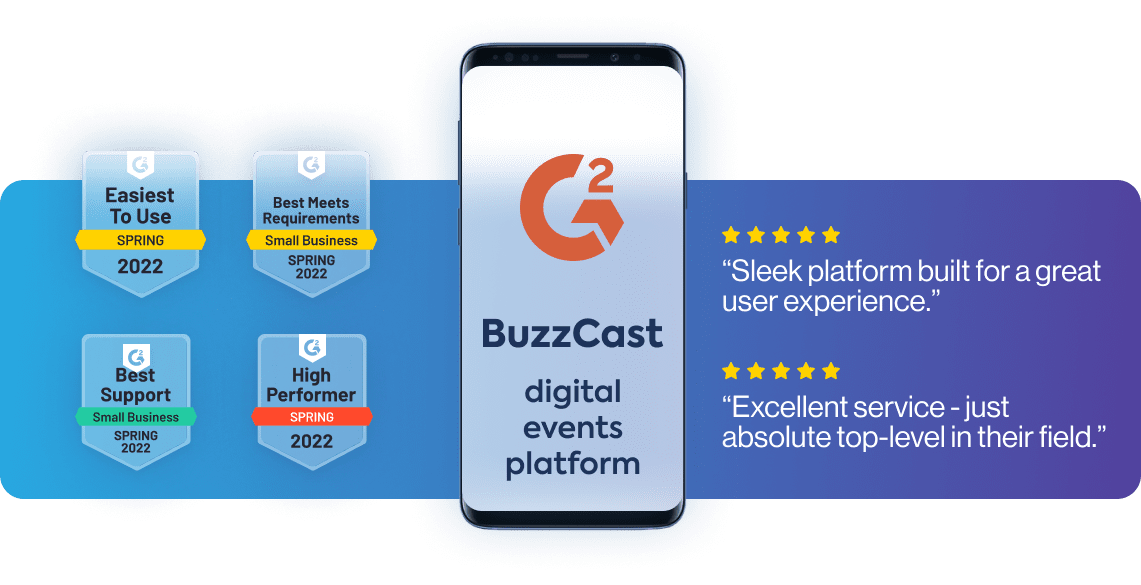 BuzzCast features
Edit

Our intuitive CMS (Content Management System) makes it easy to brand your event, select features, and manage content all in one interface. Utilize our built-in registration, or simply connect leading ticketing platforms.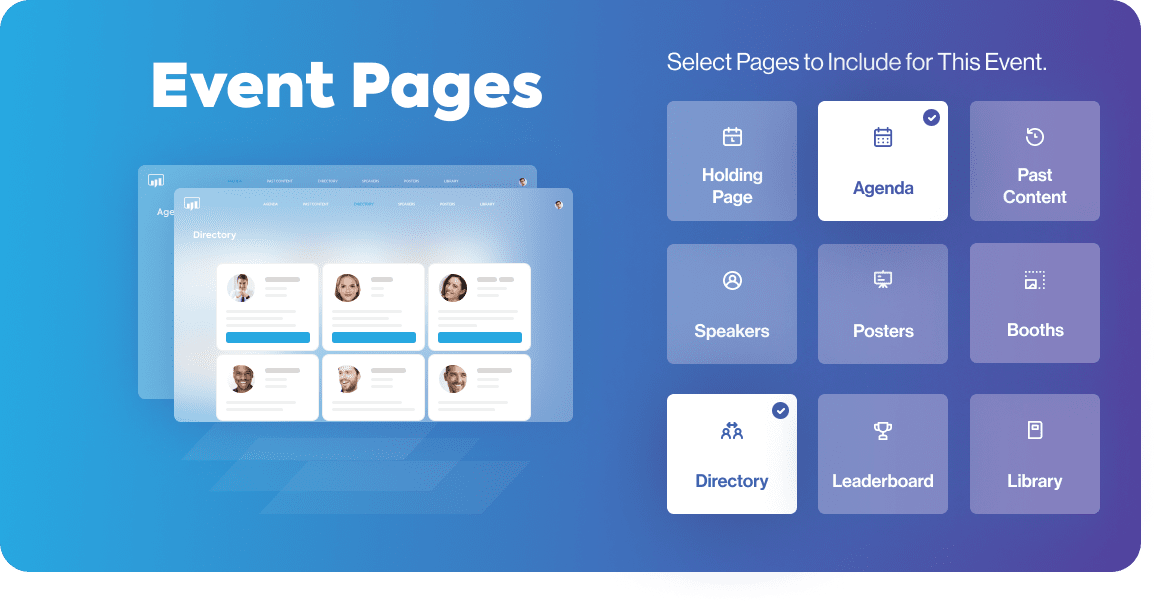 Rightsize your event by activating our robust set of features including: high-def streaming, polling, networking, sponsors, resource library, leaderboard, private meeting rooms, and more.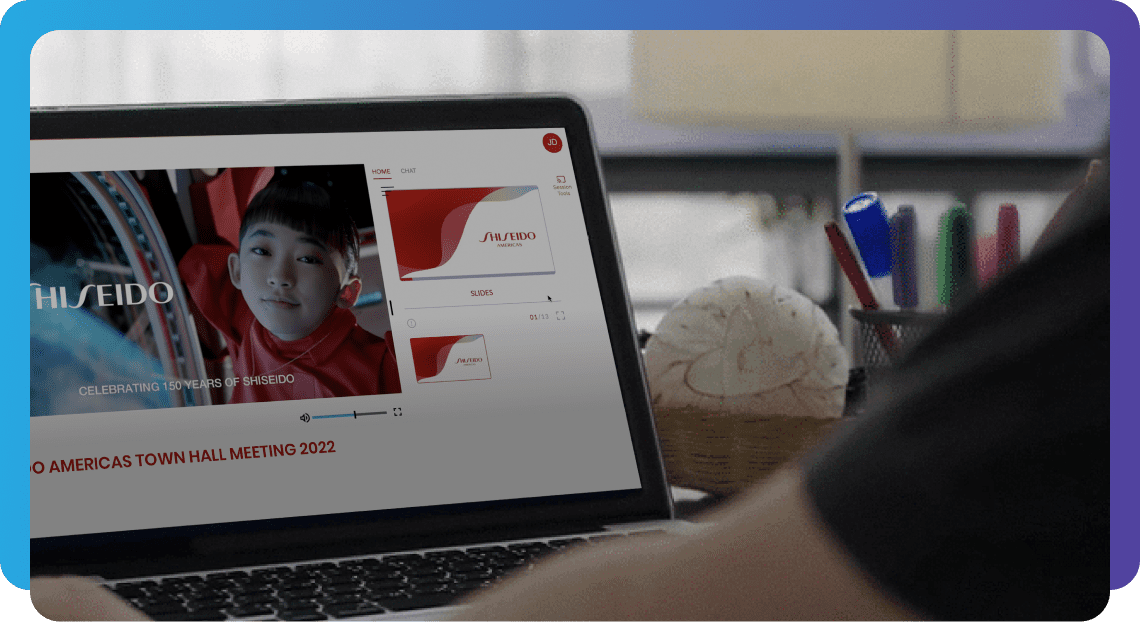 Leverage BuzzCast's rich analytics to see which attendees you should follow up with first, or identify your most popular topics and speakers and launch follow-up deep dive meetings or recast and promote popular sessions.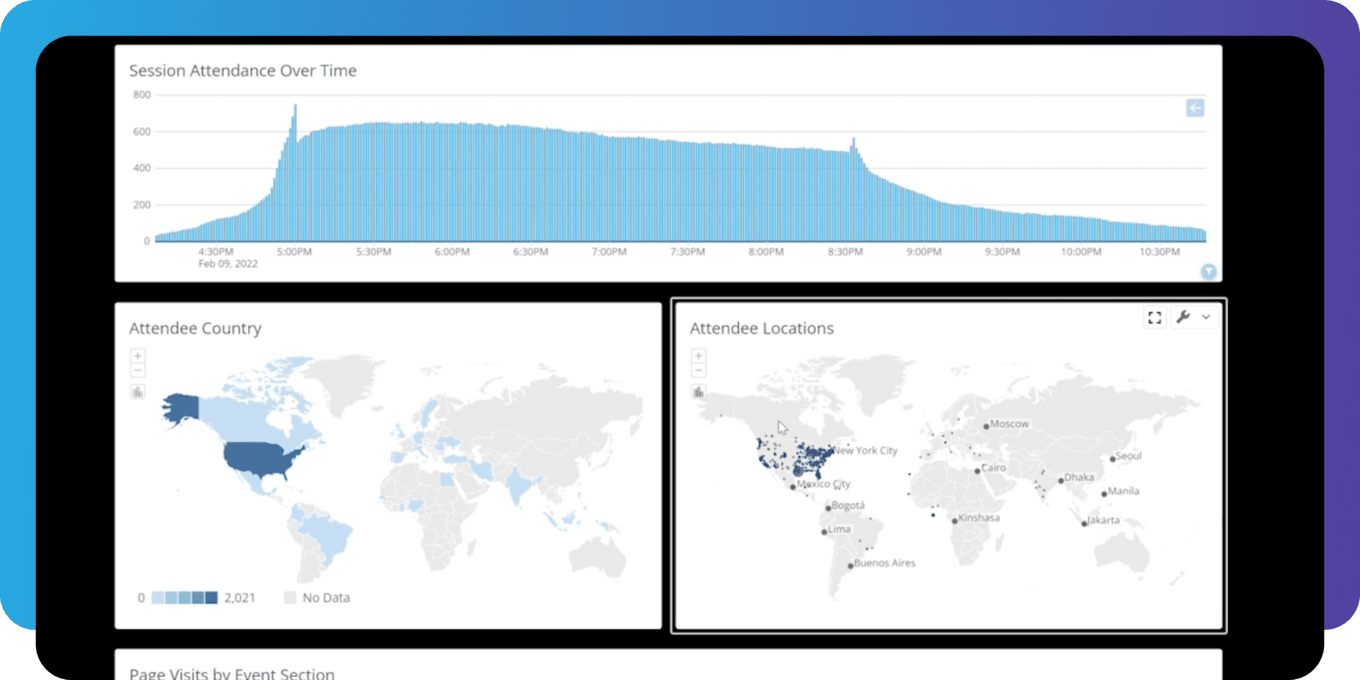 Generated $1.65M in revenue
Edit
Since launch in July 2020, the most prominent events have been hosted on BuzzCast. Across multiple industries, our platform powered global corporate town halls, internal sales kick-offs, multi-day and multi-track events, educational experiences, marquee conferences and more! BuzzCast continues to host simple to complex experiences, serving brands and production agencies including but not limited to The United Nations, Uber, Shiseido, Waste Management, Anthem Blue Cross and Carnival.

300% Increase in sales pipeline - Q4 to Q1 2022
Edit
In 'Q4' 2021, we moved out of 'Stealth Mode', and have seen an immediate and sharp increase in the sales pipeline.  We hired one Account Executive, two SDRs in Q4, as well as Jeff Kreinik—a 20-year veteran of event-tech sales—as our CRO.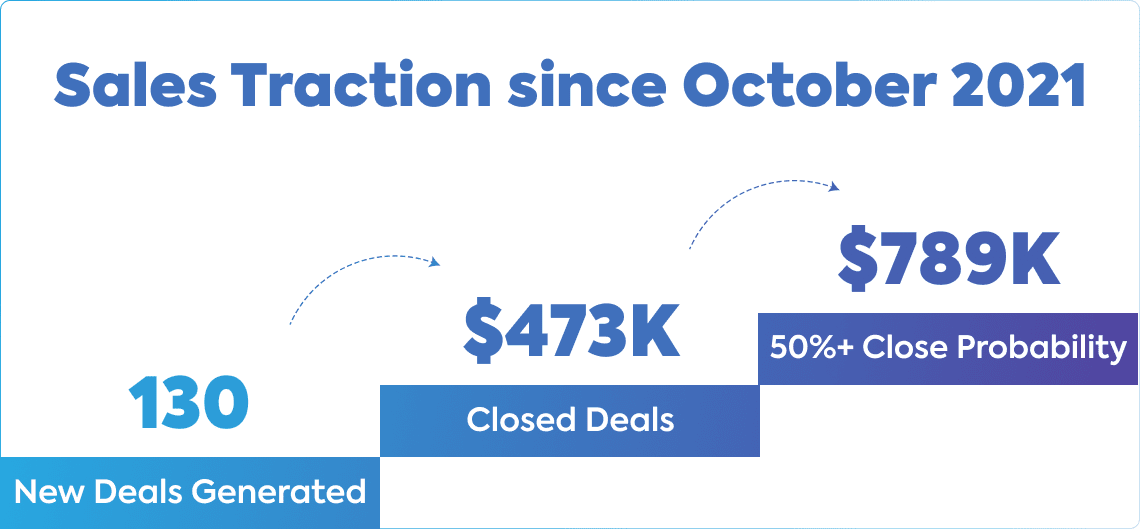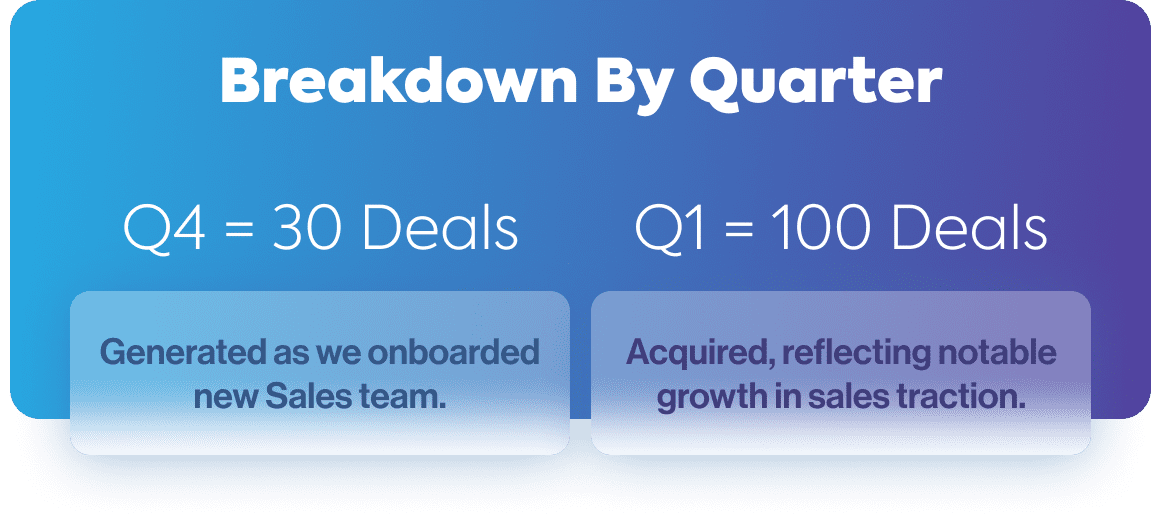 Projection analysis
Edit

Customers
Edit
Trusted by global brands
Edit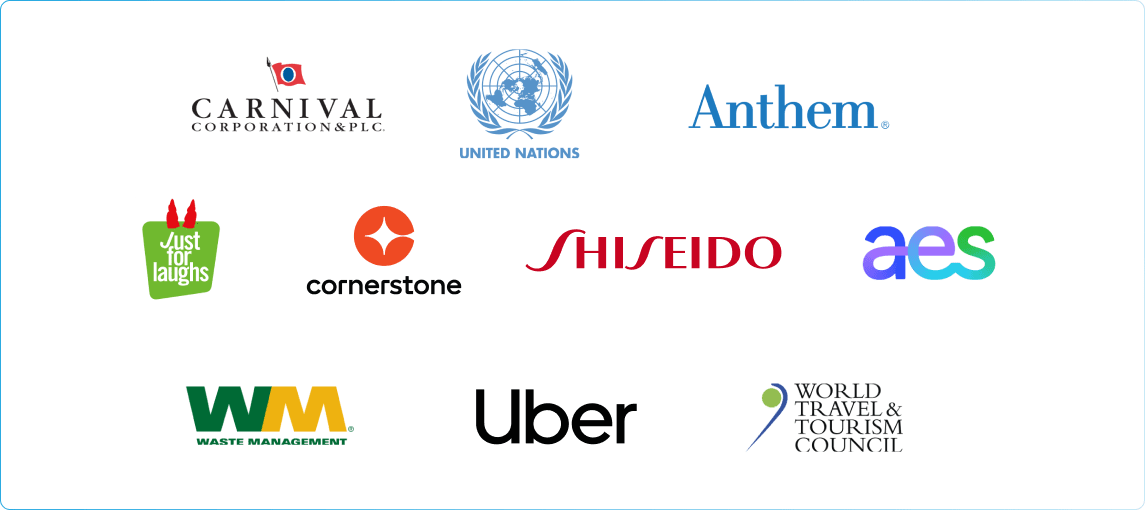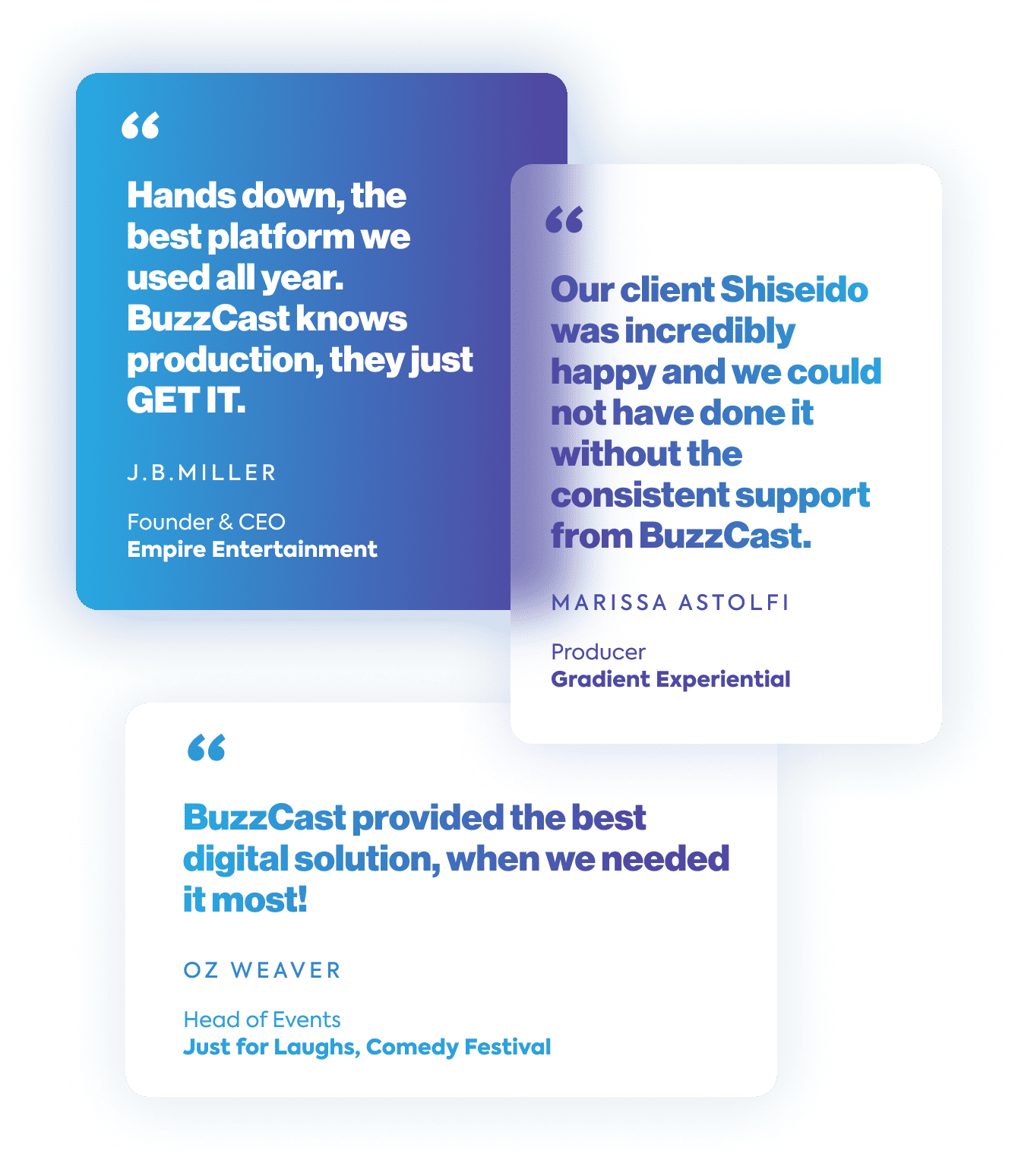 Business model
Edit
We leverage the existing client base of top-tier production companies
Edit
We provide top agencies with the technology backbone they need to operate enterprise events. By amplifying their event content and community investment beyond the event itself, we can boost ROI and ROX (return on experience).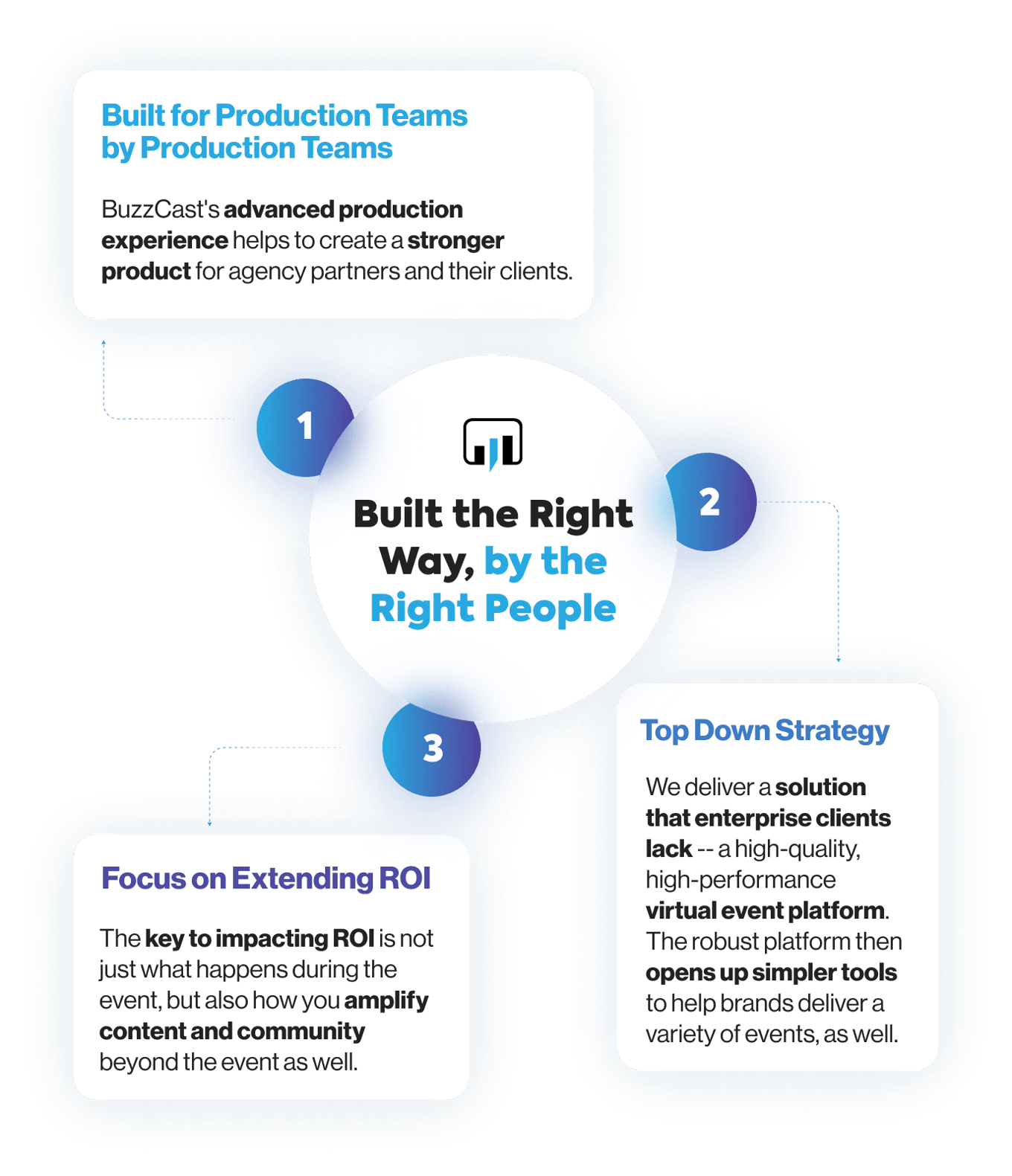 Our discipline
Edit
Operational Efficiency
Edit
BuzzCast's entire team received extensive training for EOS (Entrepreneurial Operating System), a practical methodology that creates a clear operational framework for effectively running a company, while implementing goals and accountability in accomplishing them.
Financial Oversight
Edit
BuzzCast works closely with CRI*: Carr, Riggs, Ingram to handle its accounting, strategic financial planning and cash flow management. *Greg Crabtree, author of Simple Numbers, developed a firm to support a system for strategically managing cash flow in a fast-growing startup.

Core Values
Edit
Solve complex problems, then expand the offering
Edit
With the Q4 2021 release of our CMS, we've already begun to expand our self-service offerings to enable our production partners and their enterprise clients to handle simpler meetings—in addition to their marquee events.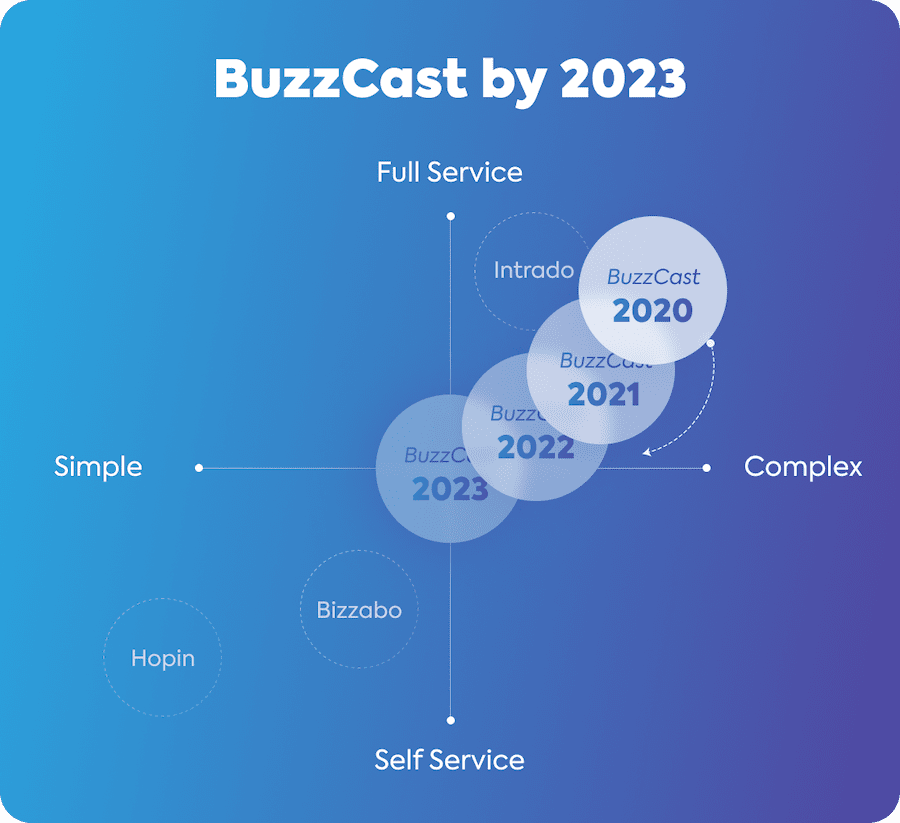 Market Trend
Edit
Competition
Edit
BuzzCast stands out in a market filled with outdated technology
Edit
BuzzCast's digital platform provides the customization and scale customers expect for their events and other experiential content. With the launch of our integrated CMS in late 2021, brands and production agencies now have the flexibility to seamlessly execute many events at a given time, while also amplifying engagement opportunities for their audiences. BuzzCast also continues to prioritize scale, security, and support across the entire platform, providing a dependable and trustworthy experience enterprise-grade customers require.
Our team is comprised of experienced producers, offering a unique approach to amplifying both virtual and hybrid events.
Vision and strategy
Edit
Where BuzzCast is going
Edit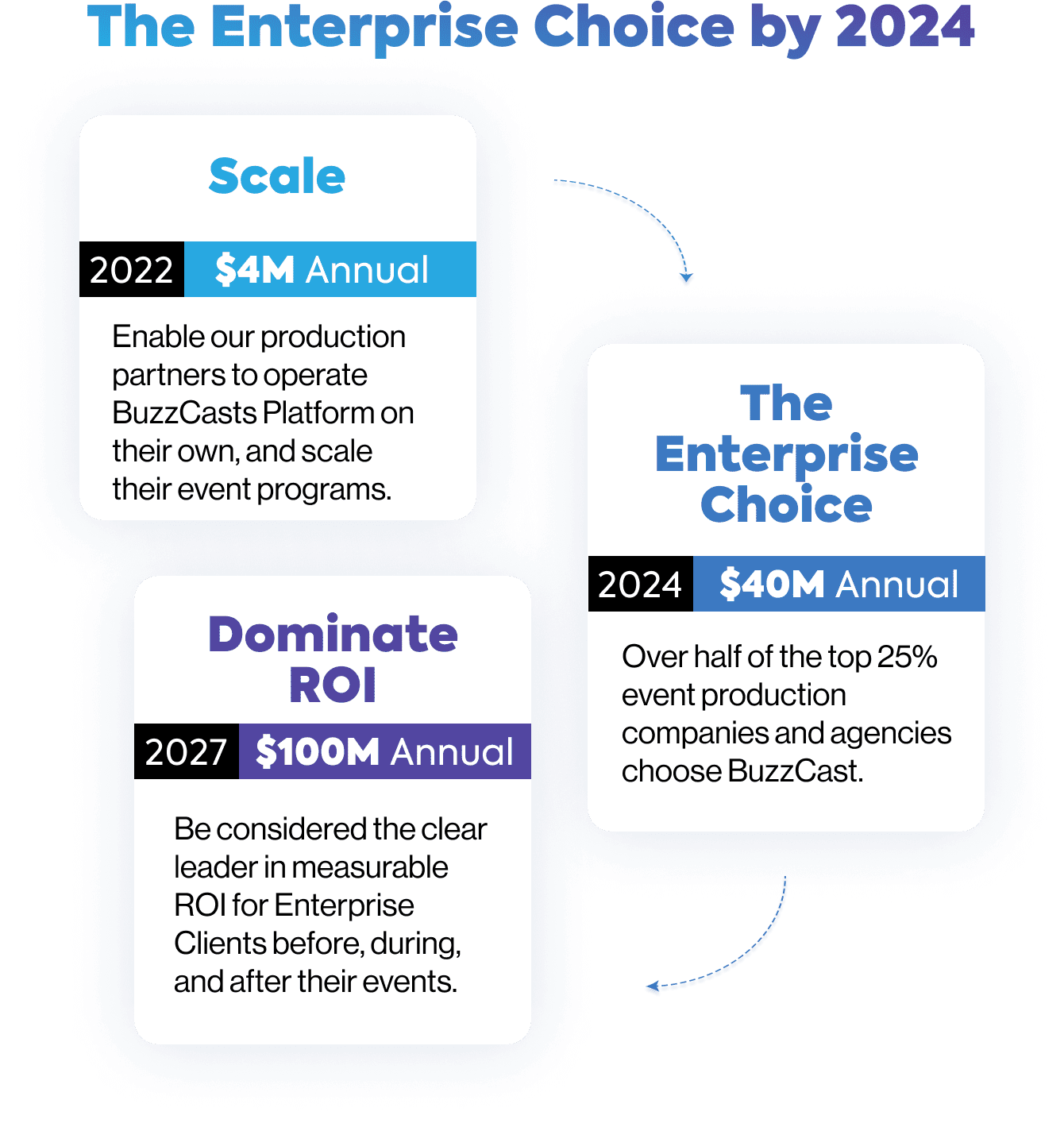 Digitize Content with Innovative Blockchain Technology
Edit
As the Digital Venue for large corporate and consumer events, BuzzCast is the "expo hall" for users to exchange  ideas and content.  By automatically turning every session, attendee, speaker and, sponsor booths into digital objects that can be collected, exchanged, and redeemed, we believe incredible value can be unlocked for event organizers, sponsors, and attendees.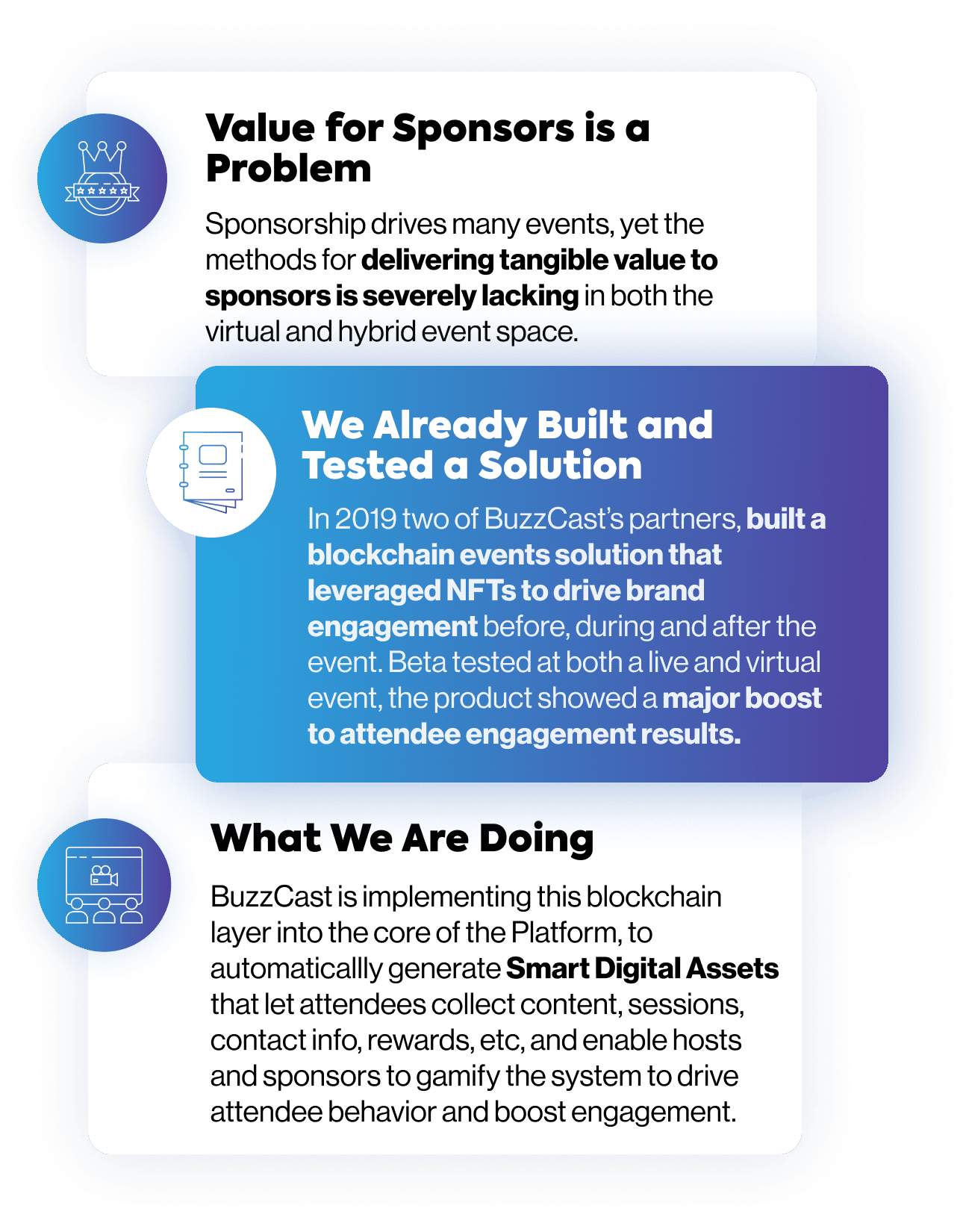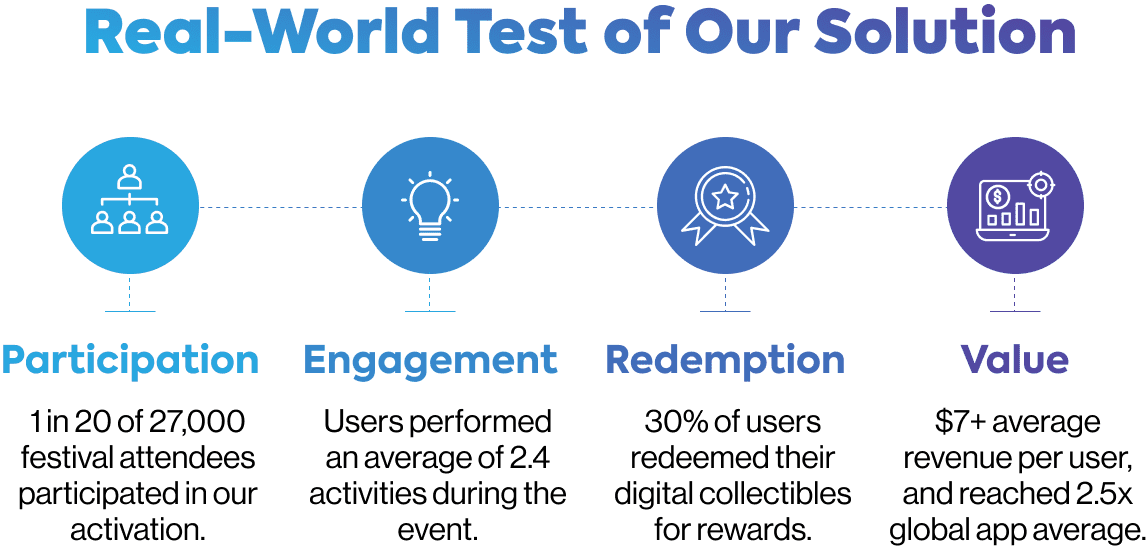 Democratize the private investment market
Edit
Since expanding our team at the end of last year, we've seen tremendous growth, and expect this to increase throughout the fiscal year. Through Republic, everyone will have the opportunity to impact our innovation at the ground level. In turn, BuzzCast will reach its fundraising goals, while also democratizing the private investment market.  
Current investors include: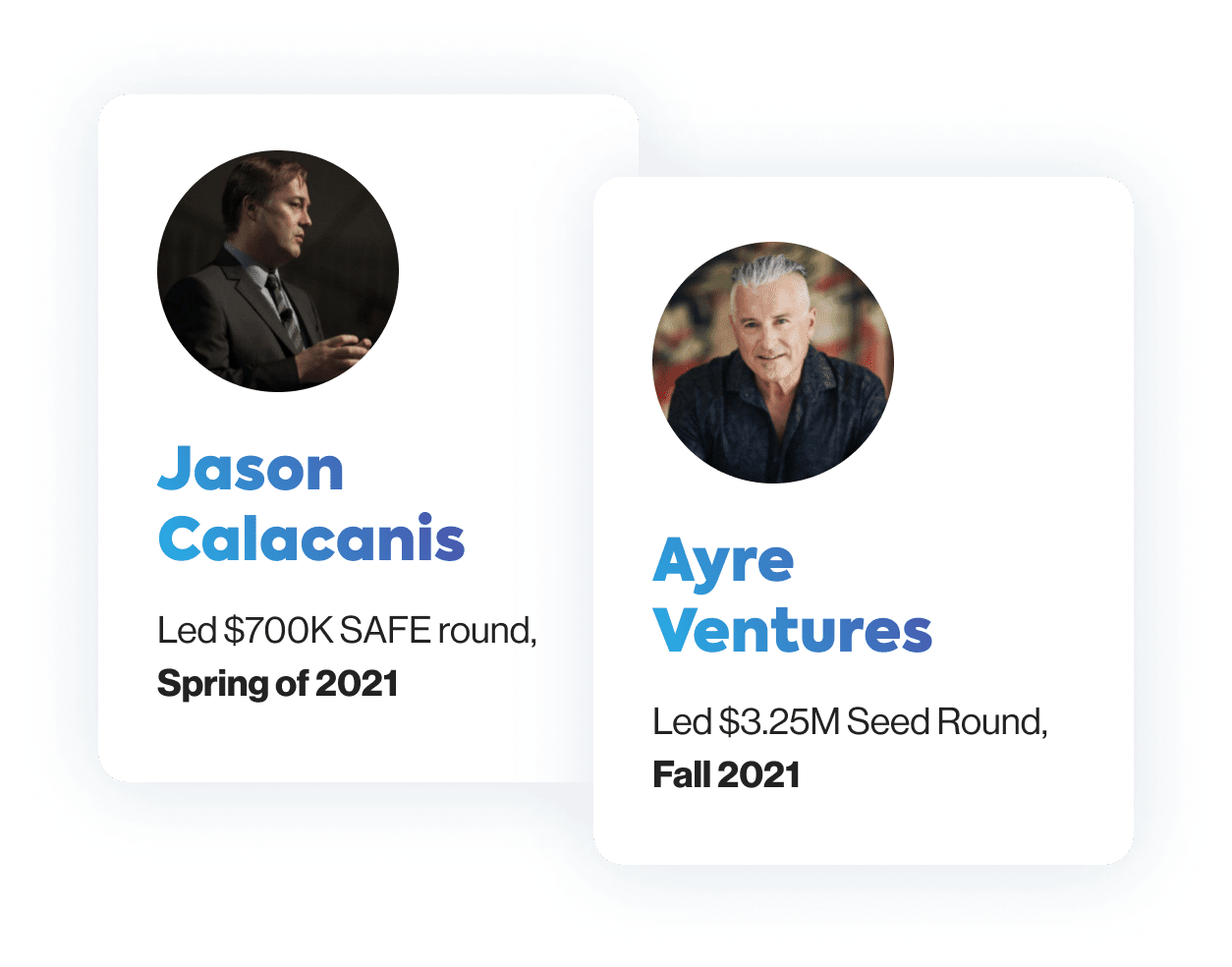 Veteran event producers & world-class  web technologists
Edit
Our founders launched the industry's premiere virtual and hybrid event platform in July of 2020. Learn more about then below!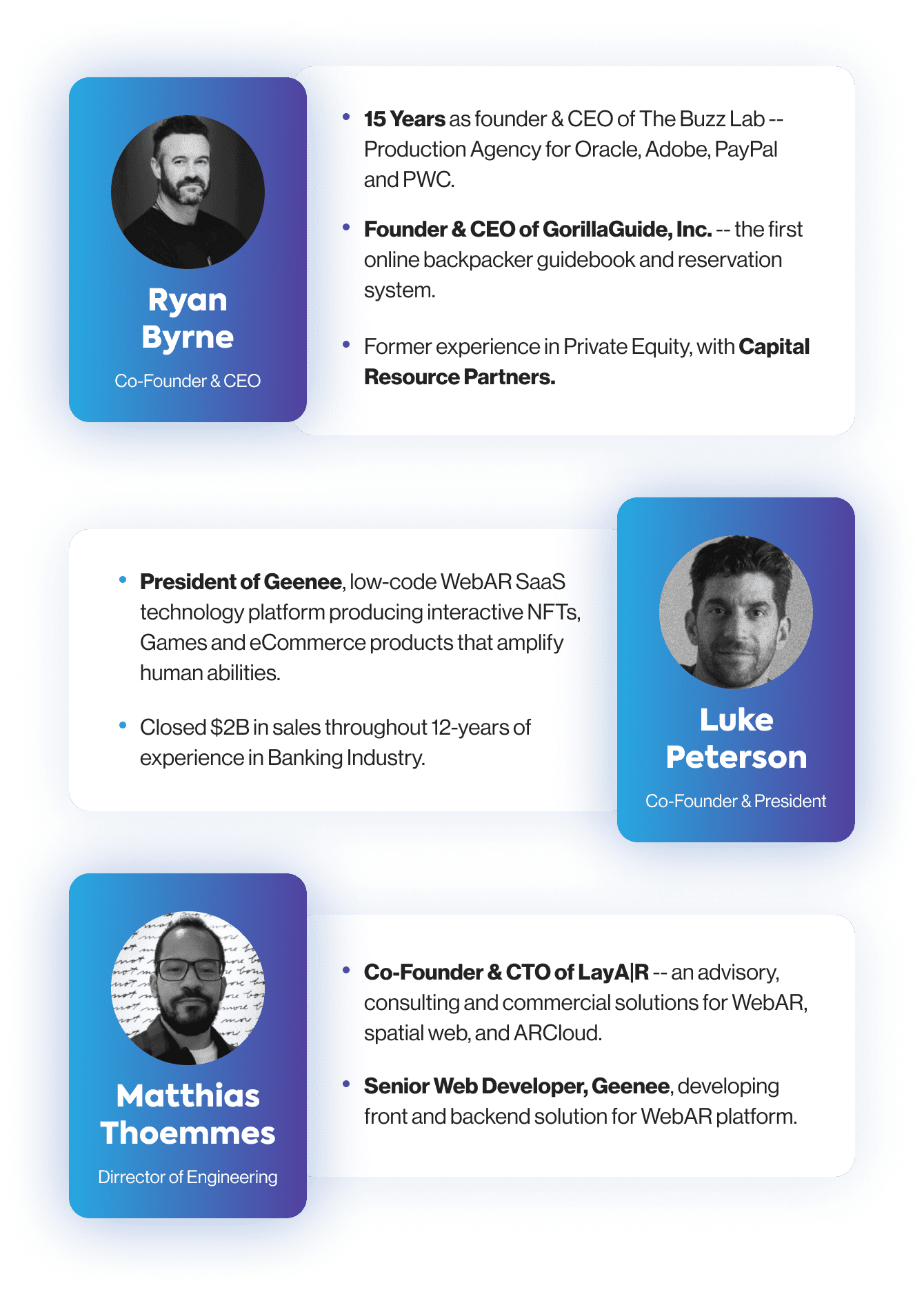 BuzzCast Team
Edit
Ryan Byrne
Co-Founder & CEO
Experience includes: Founder & CEO, The Buzz Lab, production company for Oracle, Adobe, eBay, PayPal and more; Founder & CEO, GorillaGuide, Inc.
Luke Peterson
Co-Founder & CPO
Experience includes: Founder & CEO, LAYAIR; President, US Operations, Geenee; Managing Director & Private Banker, First Republic Bank, Wells Fargo
Matthias Thoemmes
Co-Founder & Lead Engineer
Experience includes: Co-Founder & CTO, LayA|R; Senior Web Developer, Geenee; Front+Backend Developer, Ask HELMUT.
Karoline Mikkelsen
Head of Production
Experience includes, 15+ years in event production, NCompass, Ant Farm, Wondros & National Institute of Health; Production Manager, Cirque du Soleil.
Clay Webster
Chief Technical Officer
Experience includes: Head of platform engineering, CBS Interactive; Co-Founder & CTO, Vivoom; Platform Infrastructure, CNET.
Frank Addante
BuzzCast Advisory Board
Engineer turned entrepreneur, building high-tech, high-scale, disruptive technology companies. Experience includes: Founder, Rubicon Project (now Magnite).
Reeve Collins
BuzzCast Advisory Board
Serial entrepreneur focused on Digital Media & Blockchain Technologies. Experience includes: Co-founder & former CEO, Tether; Co-Founder & CEO, Blockv; Co-Founder, SmartMedia Technologies.
Gianna Gaudini
BuzzCast Advisory Board
Author of Amazon Best-Selling book: The Art of Event Planning. Experience includes: Head of Events at Airtable; Head of Events, AWS & SoftBank Vision Fund; 8+ Years, Marketing Events Leader, Google.
JC Oliver
BuzzCast Advisory Board
International speaker on Innovation. Experience includes: Co-Founder & CMO, Recast; Former Global Chief Creative and Innovation Officer, Microsoft; Former Global Chief Creative Officer, AOL.
Rachan (Butch) Reddy
BuzzCast Advisory Board
16+ years of experience investing in and guiding entrepreneurs in scaling innovative companies in the technology space, as well as extensive experience in the Asia market. General Partner, IDG Ventures.