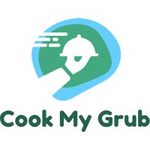 Cook My Grub is an online food delivery marketplace which offers fresh and authentic home-cooked food of exceptional quality. All the home-chefs are carefully curated and trained by our expert culinary team. Already operational across several geographies, they're raising funds to fuel further growth.
Aim to Disrupt the £10+ billion UK restaurant delivery market
Generating revenue in Maidenhead, Windsor, Slough and Marlow
Launches planned across London, Reading, Swindon & Home Counties
Average customer rating of 4.7*/5*
Finding time to cook is a luxury many people don't have! As a result, many people end up resorting to frozen meals. We believed a digital platform was needed to help those people connect with qualified home chefs. Cook My Grub (CMG) was conceived to provide a healthy & sustainable alternative for people unable to cook wholesome meals at home.
CMG considers people's cuisine choices and food preferences like Veganism, Vegetarianism, Halal and Gluten-Free. Using cloud technology, AI & ML, each customer is presented with a wide selection of cuisines to choose from. These meals can be ordered on the day or pre-ordered several days or even weeks in advance. For home chefs, we set up their own "virtual restaurant" which gives them the flexibility to decide when, what & how much they cook.
CMG has been featured in various mainstream & industry media like BBC Berkshire Radio, Business Cloud, Public Sector Catering & TechFound. 1300+ meals have been served across Maidenhead, Windsor & Slough.
The funds raised will be used to support further growth by increasing marketing, scaling-up operations and growing the technology teams. Further roll out of the service is planned across additional geographies with launches in Reading, West London, Swindon & Home Counties through 2021. The company's goal is to grow & consolidate the home-cooked food market by organising a currently unorganised sector.
The team got together and leveraged their years of experience from the technology and hospitality sectors to build a platform which would not only provide healthier home-cooked meals but also create employment opportunities for home chefs and caterers running small businesses. We are excited to be creating a new market space by leveraging the advancement of digital technology to deliver value for all the stakeholders involved.
Shabbir Mookhtiar (Co-Founder, Manages Marketing & Technology): Shabbir has helped deliver large scale digital programmes and built technology teams at world-leading organisations like Sky, NBCUniversal, Cubic Transportation Systems and Dish Network.
Dinesh Patil (Co-Founder, Manages Strategy, Operations & Finance): Dinesh has many years of experience in leading corporate strategy and commercial teams for telecom, media & tech giants like Telefonica, Dixons Carphone, Hutchison Whampoa and start-ups like SurgEase Innovations, SwissSerene.
Brian Dixon (Chef Director, Manages Food Compliance & Chef Onboarding) (Part-time): Brian has 15+ years of experience in the hospitality industry working with renowned brands in the UK and Europe. he also has experience running a catering business. He is an expert in food hygiene regulations and FSA compliance.