Key information

| | |
| --- | --- |
| Risk/return | High |
| Price per share | €25.15[1] |
| Asset class | Equities[2] |
| Industry | Healthtech |
| Country of incorporation | Belgium |
| Minimum investment amount | €25.15[3] |
| Maximum investment amount | €1,000,000[4] |
| Current valuation | €171,754,357[5] |
| Investor type | All[6] |
| Tax schemes | NA |
| Bid/ask spread | NA |
| Commission amount | N/A |
| Market | Private |
Cowboy is a leader of beautifully designed and customer-centric e-bikes. In a €700bn global micromobility market, Cowboy has seen record sales in 2021 having rapidly expanded to 12 countries. The company has just closed $80m Series C and has world-class investors including Index Ventures and Tiger Global.
Highlights
High growth sector with €700bn global micromobility market opportunity
Active in 12 countries across Europe and the US
Backed by top investors and just raised an $80m Series C
World-class customer NPS score, consistently above 70+
The speed of traffic in European cities is, in some cases, the same as the horses and carts of a century ago, with a much larger environmental impact.
Cowboy believes in a world with freedom in mobility. E-bikes are 2x faster than cars in large cities, are 30x cleaner and provide mental and physical benefits.
Its focus on every aspect of the customer experience is Cowboy's differentiator:
Beautifully designed hardware which has been recognised as the Best of the Best by Red Dot in 2021. Cowboy's superior ride-feeling is a testament to their attention to detail.
Fully integrated software with features such as crash detection, theft notifications, remote diagnostics and ride data make riding a Cowboy effortless. Since the release of the new app, riders have cycled over 3 million km.
Cowboy's ambition is to build the first true ecosystem for urban cycling, offering a full suite of services from theft insurance to a new, inclusive maintenance subscription, Cowboy Care, generating recurring revenue and customer NPS of 70+.
Its direct-to-consumer retail strategy means Cowboy owns the full experience. With test riders in over 75 cities and brand stores in Berlin and Brussels, and soon Paris, Cowboy is laying the foundations for future growth.
Its four-pillared strategy combined with its $80m Series C means Cowboy is on track to increase its riders volume going forward.
Adrien Roose, Founder & CEO
Serial entrepreneur, Adrien launched his first company in 2012 in the food delivery sector. This is where he became aware of the problems of urban mobility and launched Cowboy in 2017.
Tanguy Goretti, Founder & VP Software
Tanguy built his first site at age 15 and co-founded Djump while still a student in UCLouvain.
Karim Slaoui, Founder & VP Hardware Technology
Karim was Roose's co-founder and COO of their previous food-delivery business.
Alexander Cram, CFO
Alex led Finance at London startup, Onfido. He is a Chartered Management Accountant.
Vincent de Gaultier, VP Manufacturing
Holding a Masters Degree from Cambridge University, Vincent brings 9 years of experience from Toyota.
Charles Van Haverbeke, VP Operations
Charles has a strong entrepreneurial track record having worked in multiple companies with successful exits and launching UberEats in BE.
Ross McCallum, VP Hardware Engineering
Ross brings in over 25 years of hardware experience from Toyota and Philips.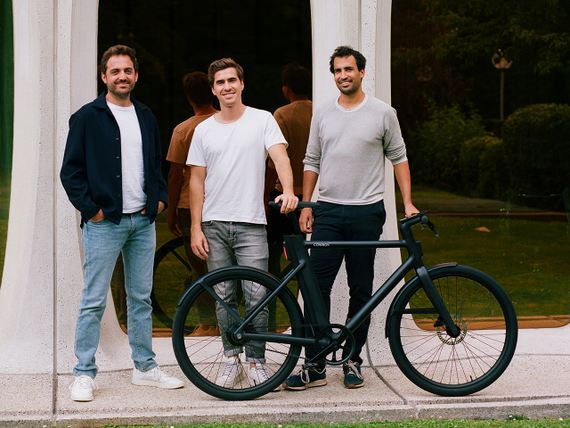 To invest in Cowboy SA, click here.
To contact Cowboy SA, click here.
References
Edit