Key information

| | |
| --- | --- |
| Risk/return | High |
| Price per share | £21.88[1] |
| Asset class | Equities[2] |
| Industry | Healthtech |
| Country of incorporation | United Kingdom[3] |
| Minimum investment amount | £21.88[4] |
| Maximum investment amount | £2,000,000[5] |
| Current valuation | £39,736,089[6] |
| Investor type | All[7] |
| Tax schemes | EIS[8] |
| Bid/ask spread | NA |
| Commission amount | N/A |
| Market | Private[9] |
The care sector crisis is caused by very low carer pay. Change this or you won't solve the problem. Curam uses intelligent, proprietary technology to safely manage a platform where carers earn 50% more and clients pay 10% less. The platform has delivered more than 1 million+ hours of quality, well paid care.
Highlights
300% YoY rev growth & £3.6m raised to date incl. ex founder of Gumtree
Carers averaging >£14.50 per hour (after Curam's fees)
Over 4k verified carers with over 50K having expressed interest
12 councils are working with Curam and they are in talks with a further 30.
Curam was started with the express aim of significantly increasing the earnings of carers, thus tackling their unsustainable estimated annual attrition rate of over 30%.
Our technology connects ​self-employed carers with clients, where they either search and message approved carers or post a job with us - making the hiring of a carer quick, easy and safe.
Carers are insured, given free training and carer benefits (including sick pay) and set their own rates.
The UK homecare sector is worth arund £20 billion with little innovative technology in use, particularly in the care agency channel. Over 50% of home care is funded by local councils - Curam's revenue model works within their funding constraints.
With an almost fully automated platform and a flat fee of 12.5%, Curam is providing a fast-growing scalable solution to this vast fragmented (over 8k agencies in the UK) sector.
The number of over 85 year old in the UK will double by 2042. Nearly 80% of over 55 year olds now own a smartphone making the introduction of a technology solution both desirable and inevitable.
Curam believes that the cure to the problems of its care sector is the intelligent and empathetic application of scalable technology, whilst also enabling a community where carers and clients are rewarded and respected. Curam built Curam to do just that.
Jody O'Neill, CEO & Co-founder: Jody has extensive experience as a management consultant in the NHS. His work often focussed on improving patient flow between the acute and community services. He has also owned and ran a home-care provider.​
A lot of the ideas that underpin Curam's model are as a result of his frustration at the huge cost to the NHS he saw, caused by the system's inability to source a carer quickly and efficiently, and the lessons learned from owning a home care agency.
Patrick Wallace, Commercial/Marketing Director & Co-founder: After careers in the army and then as a stockbroker, Patrick then spent many years as an entrepreneur setting up, buying and selling over 30 SMEs across a wide range of sectors including healthcare and technology.
Ben Weatherall, B2B Director & Co-founder: Ben started as a salesman in investment banking before his 20 year career managing a number of internet sales businesses. He heads up Curam's NHS/Local Authorities team.
Alkesh Kakde, CTO: Alkesh is an IT industry veteran with extensive experience in software design and product development across various sectors in both the US and India. He is a hands-on project planner with a diverse skill set specialising in building customised software solutions.
Biographies of the full Curam team are in its investment deck.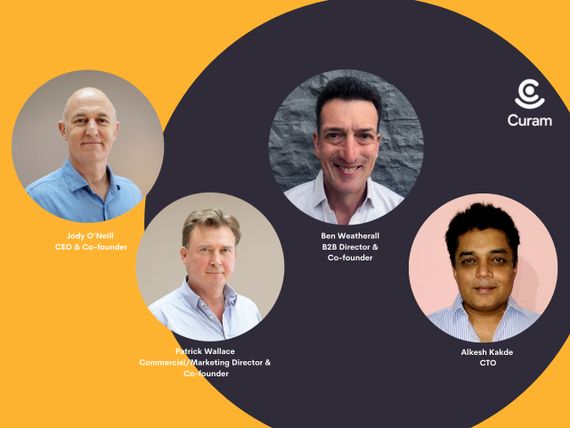 To invest in Curam, click here.
To contact Curam, click here.
References
Edit