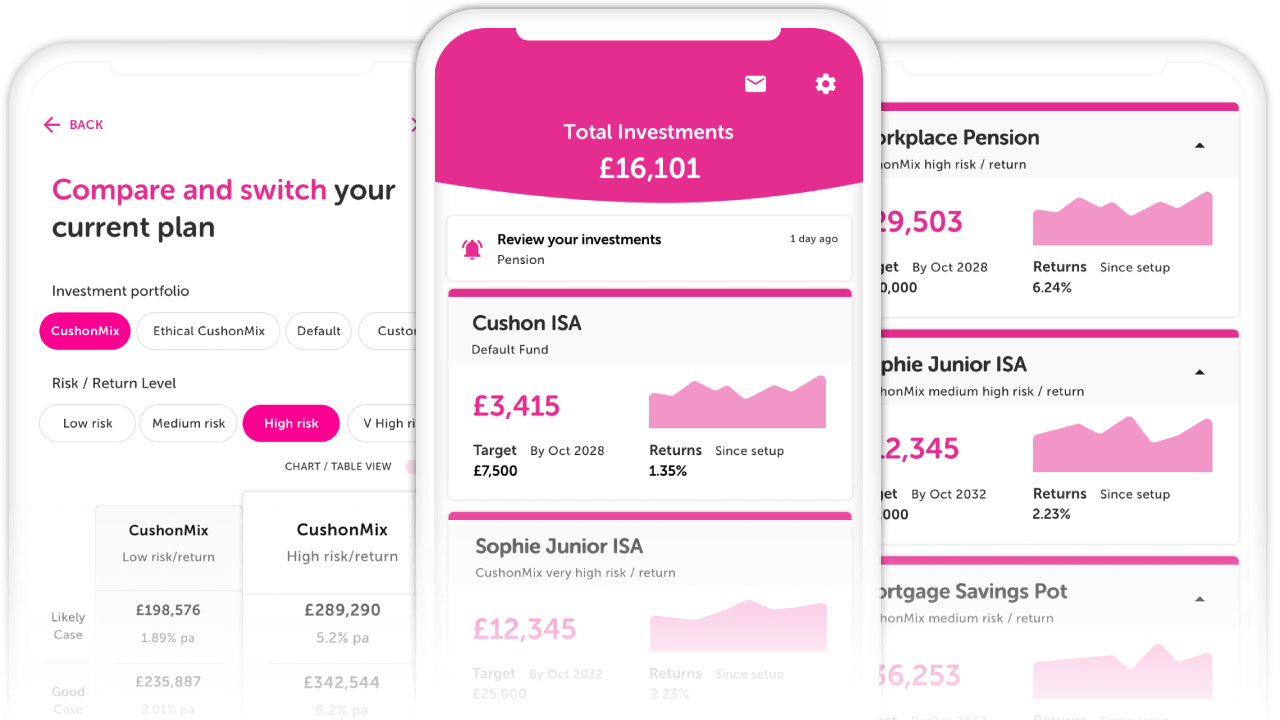 Cushon Limited is a company that's on a mission to improve people's financial futures.
Cushon Limited aims to turn the UK into a nation of investors, by promoting the benefits of healthy savings habits via people's employers. Cushon makes investing simple, easy and accessible for the mass market - aiming to make buying a Cushon ISA just as easy as buying a product from Amazon.
Employers promote Cushon as an employee benefit, to help their staff build healthy saving habits with the convenience of saving directly from their pay, often with a contribution boost from the employer as a more accessible complement to pensions.
Its service is automated and therefore very scalable. Cushon uses sophisticated algorithms to analyse over 1,000 funds, build ready-made portfolios and comparison tables and then monitor each customer's individual portfolio on a daily basis. Cushon owns all the tech and have full regulatory permission to handle client money.
Cushon aims to be the market leader in workplace savings, a market opportunity of £90bn pa in private and public sector pensions.
Financial Advisers are generally not interested in giving advice to people with less than £100k in liquid assets, so the average consumer gets caught in the growing advice gap. Increasingly, employees and the UK Government feel their workplaces should do more to help people with financial education.
Individual Savings Accounts (ISAs) are increasingly seen as an attractive complement to pensions as millennials prioritise getting on the housing ladder and higher earners are restricted by tightening limits on pension savings. As a result, 70% of employers are now considering introducing a workplace ISA (source: Willis Towers Watson, 2018).
Low rates on savings stimulates interest in investing, but choosing investments is daunting and confusing. Cushon's platform makes it easy with comparison tables and ready-made portfolios to suit different people's needs. Its technology designs and monitors different risk rated portfolios and provides regular alerts to keep investments on track.
Substantial accomplishments to date[1]Edit
Cushon was founded by Ben Pollard, an actuary specialising in risk & investment consulting. Ben went to buy an ISA and was so appalled at the experience he decided to build a platform to appeal to the average consumer.
In 2016, investment was secured from Unum, a Fortune 500 Company and one of the UK's largest providers of employee benefits.
Ben decided to focus on the workplace and the first corporate client went live in Spring 2017.
Strategic partnerships were formed with Aon and Thomsons, two of the UK's largest employee benefit consultants who recommend Cushon to their corporate clients.
Phil Hollingdale, a leading figure in employee benefits technology with a track record of building successful tech businesses, joined the company in August 2017.
Seed investment was secured in December 2017 from an enviable list of angel investors, followed by crowdfunding via Seedrs in September 2018. Cushon has used that funding to build its team, enhance its product and accelerate sales and marketing activities.
Cushon now has over 50 corporate clients (e.g. Morgan Stanley, Samsung, OVO Energy, Rolls Royce Engineering) with access to an estimated 100,000+ employees.
Cushon has a pipeline of another 150 organisations, which, between them, Cushon estimates employ over 1 million people.
A new strategic partnership gives Cushon access to many other organisations and hundreds of thousands of employees.
Recent product enhancements include Lifetime ISA, Cash ISA and Ethical Portfolios.
Monetisation strategy
Edit
Cushon charges a platform fee of 0.4%pa of assets under management, in addition to fund manager charges of around 0.2% - 0.25%pa.
Cushon considers that this is very competitive with other digital investment platforms and substantially cheaper than typically charged by more traditional wealth managers.
Assets accumulate as people top up their account over the years, the UK average contribution to an investment ISA is £6,000 per annum. This would equate to revenue of £24 in Yr1, £48 in Yr2, £72 in Yr3, etc… a total of £1,320 over a 10 year period.
Because employers promote Cushon to their employees its customer acquisition cost is low and Cushon doesn't need to invest significant amounts building a consumer brand.
Its goal is to be the "go to place" for workplace savings and to have over 200,000 customers on its platform in 5 years. First Cushon aims to land-grab and sign up corporate clients, then Cushon intends to focus on improving take up rates and encouraging customers to transfer existing investments.
Use of proceeds
Edit
Cushon has spent the last year building its team, investing in sales, marketing and product enhancements. Cushon is now 16 employees plus NEDs & Advisers. Cushon has got a great team with extensive business and sector experience. Cushon thinks big but acts small, keeping tight control over cashflow and being agile in order to seize opportunities.
Cushon expects this funding round will cover overhead for the next 12 to 18 months allowing the company to further prove the business model ahead of an intended institutional fund raise late 2020 / early 2021.
Its overhead is primarily people, offices and marketing. Cushon believes its cash burn is much lower than its closest competitors due to its business model and its tech, which automates functions many others manage manually, e.g. designing and monitoring portfolios.
Cushon believes that Nutmeg's recent funding round, which valued them at £245m, is an interesting benchmark.
References and notes
Edit