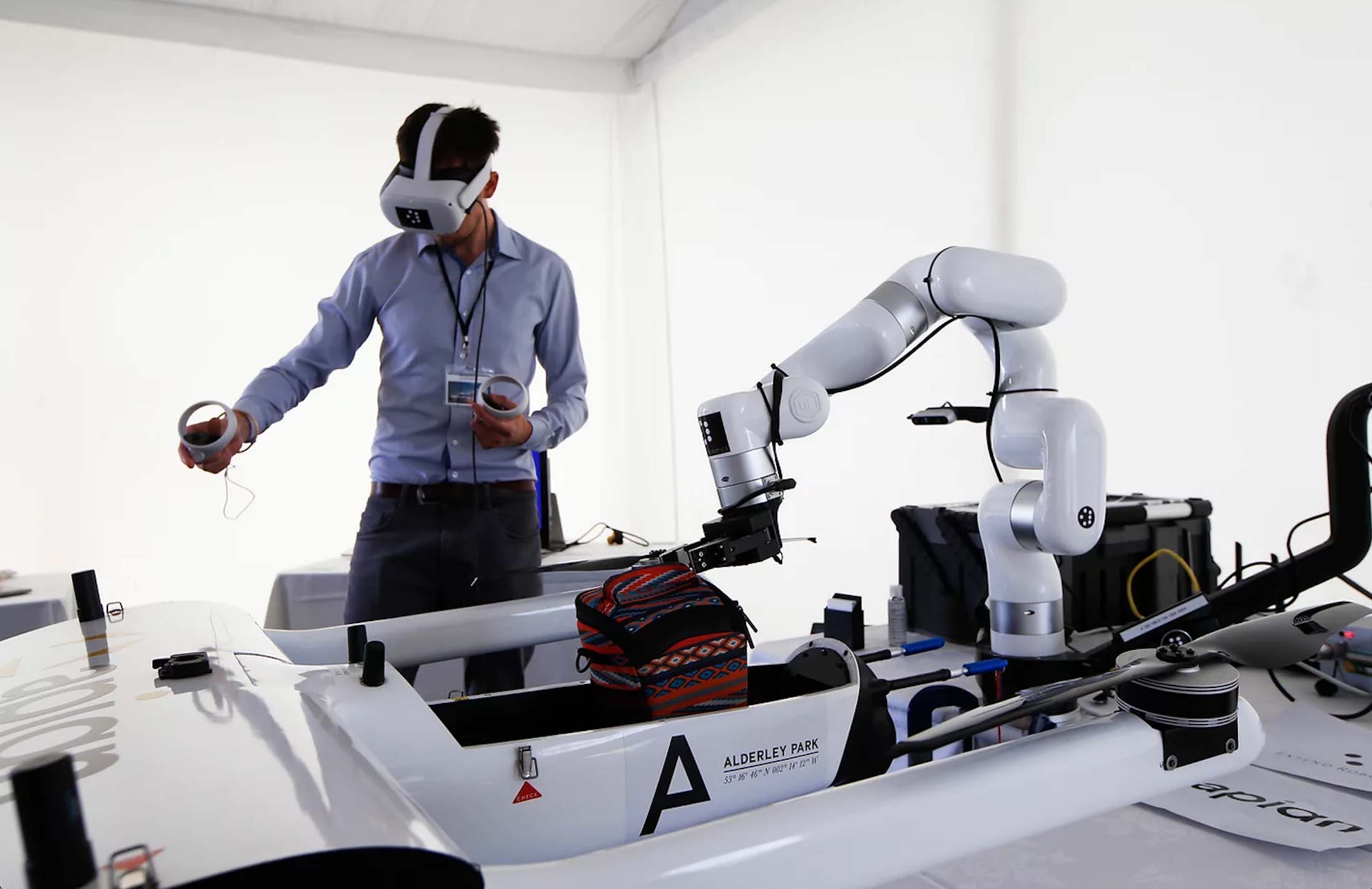 Most robots now a days are designed to do one simple task again and again, while not many people realized that, with this type of automation, over 50% of the work today still cannot be easily automated. The fundamental limitation is the dexterity, cost and scalability of these robots. But many industries are now having the burning need to avoid labour presence to have the work done safer, faster and cheaper. These tasks typically lies in nuclear, utility industries, and more recently shifted towards healthcare, agriculture and public service due to COVID-19 and Brexit.
We develop cloud-based Human-robot interface System for non- robotic expert to teleoperate and program robotic manipulators remotely for complex tasks. This software offering is able to turn complex robot into remote working tool for everyone, that can remove the cost for injury, reduce usage of PPE, and time wasted in preparation and travel.
The company's vision is to extend human capability beyond physical presence.
Seeking to raise £500k for an 18-month runway, of which £100k is committed.
Investment Interview[1]Edit
Explain what your venture does.
We develop an immersive human-robot interface to allow anyone to intuitively operate any robot remotely from anywhere.
What stage is your business?
MVP, initial validation
Describe your advisers.
Our advisors are leaders and successful investors in robotic and energy industry.
Give an overview of your startup's financing history.
The company initially started by Chang with initial £20,000 director loan. To date, We have raised £200,000 from britbots and cofounder Zhilong in our prior round and have won £50,000 grant from Innovate UK.
Explain the ownership structure of your company.
Chang Liu (71.7%), Ian Beswick (10.5%), Zhilong Yang (4.4%), Morgan Nightingale (2.6%), Britbots and Angels (10.7%).
How many employees do you have?
8.
How much money are you seeking to raise in the current round?
£500k.
Explain why you are raising finance.
This investment will help us to reach a runway until July 2022 for product development and market validation.
The fund will be used for team building, R&D, Intellectual properties, and manufacture.
The focus of 2021 is to achieve critical milestone of market validation and penetration, utilising and refining the MVP we have developed.
By the end of 2021, we aim to achieve 10 paid pilots (including partnership demonstrations), 10 software sales, 2 new subscription contracts as well as 2 developer kit sales.
Starting from 2022, we aim to be ready for fully integrated commercial solution while open for next round of scale up investment.
Please explain the history of your venture.
Initially from imperial white city innovator program with just an idea. Then we got selected into a range of top tier accelerator and incubators (such as Digital Catapult, Satellite Application Catapult, Google for startup, SimDH) and received investment from BRITBOTS as well as wining the global disruption innovate UK grant.
Our cyber-bartender demonstration in real-world restaurant has been featured in a range of well-known medias such as UKTN, Robotics Tomrrow, IEEESpectrum, Yahoo Finance, etc.)
Please explain the longer term, future vision for the Company
Ultimately, our vision is to extend human capabilities beyond physical presence. and build a cohesive relationship between people and AI, imbodied in physical robots.
With your help we can accelerate the journey together towards building the next generation teleoperation robot that can free us from physical presents, transform the way we live and work, and make our world a safer place.
Explain the core technologies and/or service propositions of your venture.
We offer the next generation 3D interface for robots for non-robotic experts to perform teleoperation or remote programming. Through the support of a range of industrial Collaborative Robots (Cobots).
Key value we can provide:
Intuitive teleoperation interface for effective complex remote handling
Immersive editor interface to program complex robot motions in true 3D VR.
Our advanced mechanics assistance system (AMAS) is a special VR game that connects with any physical robot provide immersive 3D perception and intuitive gesture control.
With our patent pending point cloud streaming algorithm, we have achieved 6 times latency reductions and 50 times bandwidth reduction comparing to standard method used by most robotic companies.
This technology takes the remote human-robot interface to the next level, with:
faster and more precise operations, by non-experts,
Naturally combines dexterous teleoperation with motion programming
Support consumer VR equipment with easy setup
Provide comfortable operation without motion sickness.
It also features industrial standard ROS interface, to integrate with any 3rd party robot arm.
Our AMAS is powered by the 3 key technologies:
Low latency volumetric telepresence technology gives people accurate sense of depth and avoid motion sickness
Interactive digital twin provides intuitive user gesture input at 20 Degree of freedom for complex operation
It offers a new way to remotely program the robots through multi-session recording and replay, which can also be triggered externally through developer friendly API.
Our imitation Engine is a Cloud-connected imitation pipeline enabling smooth transition to flexible Automation, by crowdsourcing user demonstration data. It extends remote working into physical domain, and unleashed efficiency by allowing anyone to teach the robot new automation skills through our AMAS interface.
Does your commercial strategy rely on intellectual property assets?
Our target markets are nuclear and utility industry, healthcare, and public service. Our niche scenarios in the target markets are listed below:
Nuclear: Handling materials in radioactive environments, such as decommissioning work and glovebox operation. The operators have to waste hours dealing with PPE, which leaves only 2 hours per day for the actual job, and still risking their lives.
Utility: Asset inspection and maintenance for power plants, oil gas platforms, or chemical plants. The operators have to access hazardous environments to perform inspection and maintenance tasks.
Healthcare: Contagion medical assistance in hospitals and care homes. Clinical workers normally have to wear PPE and risk direct contact with viruses.
Public service: Remote bartender, Kitchen work and retail. This allows the worker to remotely operate robots (teleoperation or remote programming), to work remotely on related tasks more effectively.
What commercial progress have you made?
For decommissioning, we have already in joint grant application with Sellafield as potential buyer and end user.
For Utility, we are in conversation with Ventil for chemical valve leak detection tasks. We are also in collaboration with Sonobotics where they use our system to perform NDT inspections (corrosion, cracks on metal pipes for oil gas platforms). Besides, we are currently running wind turbine control box inspection and repair joint demonstration with fineEnergy.
For Healthcare: we have already performed joint demonstration with MDTEC as closed suction for self-ventilating tracheostomy patients, as part of our Innovate UK grant. We are currently following up the discussion with Birmingham hospital NHS for further testing.
For Public service, we are in conversation with potential buyers like Robotazia restaurant, Nyrvan, Robot centre.
References and notes
Edit