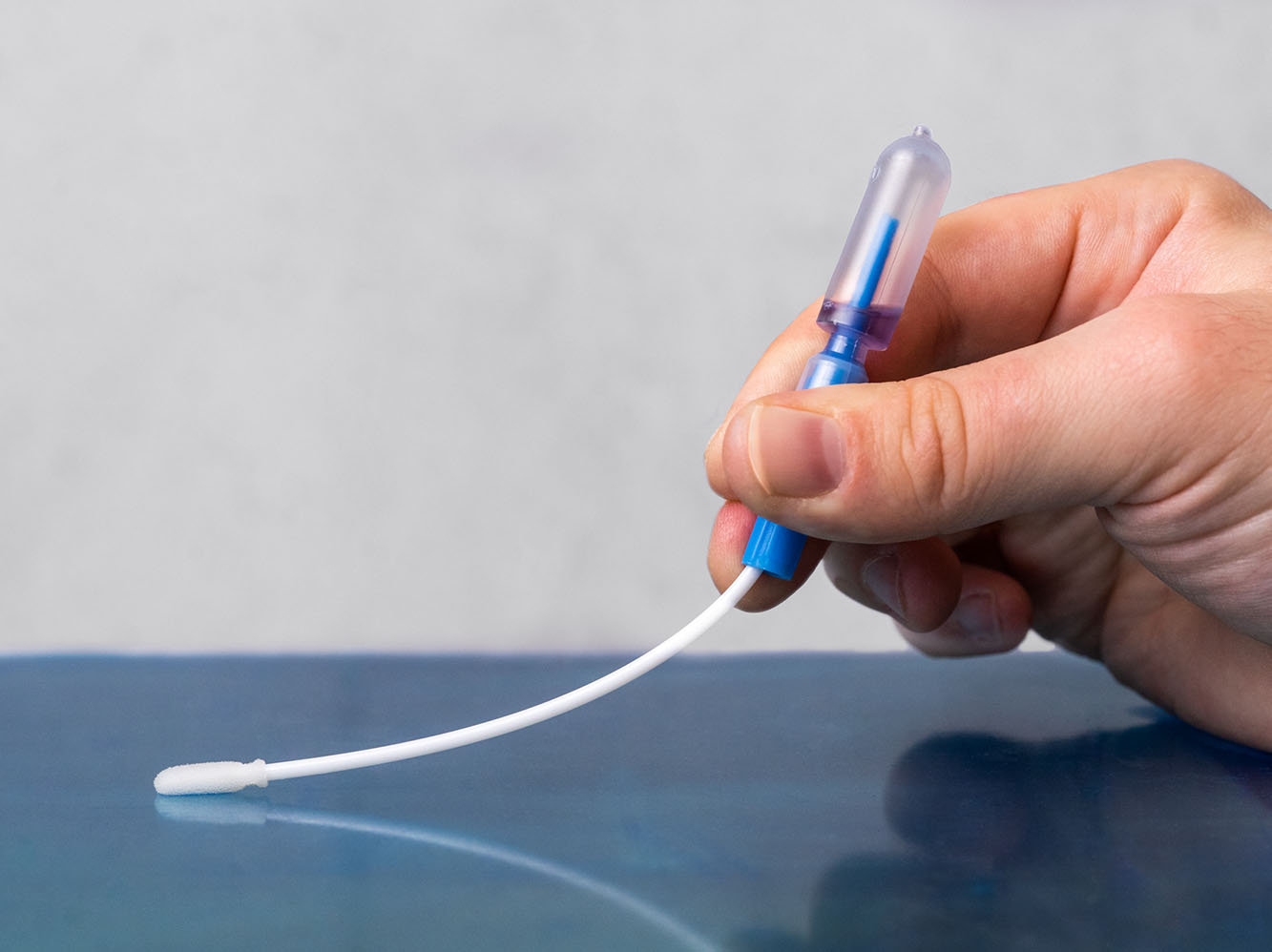 Confirming Cleanliness with Colour Change.
FreshCheck is revolutionising the way we understand safety, by providing the first affordable method to test surfaces for biological debris with a simple colour change - if it doesn't stay purple, you need to clean again.
FreshCheck creates colour-change tools for confirming hygiene. With an initial focus on the food industry, their platform technology has wider applications in healthcare, hospitality and consumer markets worth over £10bn in total. The technology is backed by a strong patent being filed in 9 territories.
The core colour-change technology that is used in the FreshCheck complete hygiene verification system has multiple applications. Ultimately, anywhere that contamination is an issue, FreshCheck can create a product to help. This means that there are opportunities in consumer markets, healthcare markets and further.
Seeking to raise £500,000 for a 12-month runway, of which £325,000 is committed, including £250k from Imperial.
Investment Interview[1]Edit
Explain what your venture does.
FreshCheck creates colour-change tools for confirming hygiene. With an initial focus on the food industry, our platform technology has wider applications in healthcare, hospitality and consumer markets worth over £10bn in total. The technology is backed by a strong patent being filed in 9 territories.
What stage is your business?
A previous MVP has been validated on the market with £80k in sales to over 200 customers, including over 20 customers showing multiple reorders. The team is currently developing an improved product offering due for launch in Jul/Aug of 2021 which builds on the market validated MVP.
Describe your advisers.
Dr. Lisa Ackerley - Marketing Advisor. Lisa has over 25 years of experience as an environmental health officer, and has advised brands including Dettol and Cuticura. She is incredibly active in the hygiene industry and helps advise on trends and market position. Dr. Sandry Primrose - Business Advisor. Sandy was fundamental in the creation of the ATP testing system, our principal competitor. He knows how to bring a hygiene testing system to market and helps oversee our business development. Nigel Trim - Commercial Director. Nigel has grown and sold multiple food testing businesses and provides commercial insights to help secure contracts & grow FreshCheck.
Give an overview of your startup's financing history.
FreshCheck was initially funded in 2015 by a Project Boost Grant from Imperial College Advanced Hackspace. This oversaw the development of FreshCheck's proof-of-concept experiments.
A further €30,000 was raised in 2016 through Climate-KIC in the form of a grant. This allowed for continued product development and the first industrial trials.
In 2017 FreshCheck won Imperial College's CDT Den, which awarded a £10,000 cash prize and the filing of our patent through Kilburn & Strode. This oversaw continued product development.
In April 2018 we secured a £150k SEIS raise with angel investors. The investors include Peter Norris, the chair of Virgin Holdings and John Brown, of John Brown Publishing. This fundraise allowed the team to go full time and secure industrial accreditation (sensitivity tests from Campden BRI and safety tests from NSF) for FreshCheck's first product - a colour-change spray. With the product independently verified and certified as safe for use, we began marketing and securing initial sales.
In July 2019 we raised a further £190k of EIS funds with the same angel group. This allowed for the continued exploration of the market and the formation of a sales partnership with a group called ICC partners, who have over 25 years of experience selling hygiene tests.
With market feedback and £80k of sales the team identified areas of where the colour-change offering could be improved, principally moving to a service model offering of a swab and app for full report. A £140k Innovate UK grant was secured in October 2020 to continue the development of a new swab-product and digital recording application. These funds provide a runway until June 2021.
Explain the ownership structure of your company.
Alex Bond (co-founder): 32.01%; John Simpson (co-founder): 32.01%; Robert Peach (co-founder): 5.61%; Options Pool (not yet created): 1.41%; Lisa Ackerley (advisor): 0.29%; ICC Partners (sales team): 5.26%; John Brown (investor): 13.07%; Peter Norris (investor): 3.44%; Andrew Jarvis (investor): 1.72%; Jimmy Moffat (investor): 3.44%; Mark Ellingham (investor): 1.73%.
How many employees do you have?
3 Full Time Employees. Alex Bond is a co-founder and the CEO of the company. John Simpson is a co-founder and the CTO of the company. Melis Ekinci is the head of research.
Currently our sales partnership (ICC Partners) are on a commission basis. Upon completion of the raise we will hire Mark Tolson (current head of sales for ICC) as the Head of Sales to remove the commission to ICC partners and improve profit margins.
Please provide the name of a lawyer, who will represent you for the upcoming investment round.
Patrick Tolhurst of Marlborough House Partners.
How much money are you seeking to raise in the current round?
£500,000.
Do you have any existing commitments to the current round?
A minimum of £325k has been committed. We have commitments worth £75-125k from new investors. There is a commitment from ICIF of £250k. We are in discussions with several angel groups / investors for further funding.
Explain why you are raising finance.
COVID-19 has created a huge awareness of hygiene and a much greater drive for hygiene testing. However, the existing tools for confirming hygiene are expensive, complicated and require bespoke hardware that is often faulty. This has limited the adoption of all existing tools, including the market leading ATP testing systems.
As companies reopen and are looking for methods to ensure cleanliness and provide positive marketing, FreshCheck is in a unique position to expand during this period. With this fundraise, FreshCheck will be able to take advantage of the growing market and secure a significant market share. To secure this market share, the fundraise will be spent employing Mark Tolson from ICC full time to speed up the sales cycle. The fundraise will also allow us to boost marketing spend to reach more fragmented sectors of the market (e.g. restaurant chains and hotels that are serviced by distributors).
The fundraise will provide a runway of 12 months. A detailed cost breakdown can be found in the pitch deck and in brief here:
Employee Costs, £200k
Manufacture, £85k
Marketing, £65k
R&D, £65k
Patent and Trademark, £45k
Overheads, £40k
This fundraise will allow FreshCheck to secure a significant market share of the existing ATP market. By offering a more affordable and accessible technology, it will also ensure FreshCheck is at the forefront of new markets that have arisen because of COVID-19. By capturing a large portion of the market, FreshCheck will quickly become profitable creating the opportunity for expansion into global territories and the development of new product lines to drive shareholder value.
Please explain the history of your venture.
FreshCheck was founded in 2015 and swiftly joined Imperial College's VCC program. The initial concept was to develop a smart use-by date that could accurately tell users when food had spoiled. Although the proof-of- concept technology was good after exploring the market opportunity with members of the food industry, it became clear the business model wasn't viable.
During these interactions with the food industry we became aware of the need for hygiene verification - the process of confirming that cleaning processes are working and that facilities are hygienic. With only one other technology in the market, it became clear that our colour-change technology could be applied for that purpose. We pivoted throughout 2016 and 2017 where we used funds from Climate-KIC to continue development. In 2017 we also won Imperial College's CDT den which allowed us to file our patent with Kilburn and Strode.
Following the conclusion of the co-founders PhDs an SEIS raise was completed in April 2018. This allowed the team to finalise R&D on FreshCheck's first hygiene test - a colour-change spray. By October 2018 the spray had been independently verified and safety approved for food manufacturing facilities.
The next year was spent securing initial sales, seeing good feedback and multiple reorders. The same angels then followed on in April 2019 with an EIS raise to explore the market more fully. At this point, the decision was made to secure a sales team to bolster revenue. In October 2019 ICC Partners were brought on board.
This increased our market exposure and revealed new areas for development. Specifically, that a swab product would better fit the market need and be more accessible to new markets. At this point COVID hit, and we had to scale back efforts as food manufacturers stopped adopting any new technologies.
In October 2020 we secured an Innovate UK grant worth £140k to develop the swab and a companion app for recording test results. We pivoted all efforts to developing the swab seeing it as a far more viable solution for the market with sizable profit margins. As of Feb 2021 the swab is almost completed and app development is underway putting FreshCheck in a perfect position to capture a significant market share of the far more hygiene conscious market.
Please explain the longer term, future vision for the Company
The core colour-change technology that is used in the FreshCheck complete hygiene verification system has multiple applications. Ultimately, anywhere that contamination is an issue, FreshCheck can create a product to help. This means that there are opportunities in consumer markets, healthcare markets and further.
The team intends to use this raise to continue R&D on a handwipe product for the consumer market. FreshCheck has already received interest from multiple international B2C chemical companies and will be exploring licensing opportunities for this product. The development and launch of this product into the B2C market is expected to require another raise in 2 years time. This raise will also be used to continue the R&D of future products. Looking even longer term, the team is keen to develop smart wound dressings and use-by labels to create a strong suite of products.
Explain the core technologies and/or service propositions of your venture.
The core technology that underlies FreshCheck is a colour-change test based on an iron-dye interaction. This interaction is interrupted by bacteria and food residues creating a visible colour change. The chemistry is incredibly versatile, and can be packaged in multiple formats providing the opportunity for multiple products to be developed (e.g. swab, handwipe, smart wound-dressings). Our initial market is the food industry, where hygiene testing is already commonplace. We are offering a full hygiene testing solution that provides a record of hygiene for due diligence defence and marketing purposes. In this market the FreshCheck system will be a combination of a swab and app product which are already close to market readiness.
The market's standard for testing hygiene (the ATP swab) is:
Expensive: £1.20/test.
Requires a reader that costs £750. Without a physical reader, it is impossible to do the test and repairs of the
machinery can take weeks, potentially halting production.
Slow: >1 minute for results.
Needs professional training and calibration.
Temperature-sensitive and must be kept refrigerated.
A short shelf-life makes it difficult to buy in bulk.
FreshCheck's swab is designed to remove these issues and is:
Affordable: <£0.60/test.
Self-contained: The colour change means no hardware is required for reading results.
Simple: The colour change is intuitive, removing the need for professional input. Allowing any staff member to run the test.
Stable: Room-temperature stable, with a long shelf-life for easy storage and allowing use at any location at any time.
Rapid: Results in under 30 seconds.
The complete hygiene verification system that FreshCheck offers allows larger companies to adopt a more affordable system that is easy to implement. It also provides the first system that can be incorporated by HoReCa businesses (Hospitality, Restaurants and Catering) and smaller companies that cannot afford the current ATP systems. FreshCheck also offers a more reliable system as it is not dependent on physical hardware, which are often prone to breaking and need calibration.
Does your commercial strategy rely on intellectual property assets?
Yes, the key chemistry and formulations of FreshCheck products are secured under IP that is currently being filed into 9 key territories across the globe. The key claims of the current patent cover a range of chemical families and core reagent ratios, as well as any mixture comprising these core reagents. For companies to create a similar product, entirely new compounds would need to be developed which is both time consuming and expensive, further adding to FreshCheck's protection. The IP secures the current and future compositions of FreshCheck that can be commercialised. The exact reagent compositions and ratios for each product offering are held as a trade secret by FreshCheck to further boost protection.
What commercial progress have you made?
FreshCheck has achieved over £80K in sales of its current product, the FreshCheck spray. The majority of sales have been to food manufacturing businesses via commercial distributors including Christeyns Food Hygiene and Bunzl. Sales have also been generated organically to smaller businesses via the online sales portal to a range of businesses across the world to over 200 customers. Feedback from these sales suggested that repackaging the technology in a swab would provide greater market penetration. As such, the decision was made to pivot away from the spray and towards a swab and app complete hygiene verification system.
Currently sales are principally made through a service agreement signed with ICC partners who sell principally to food manufacturers via direct sales. The immediate plan is to bolster sales through ICC partners into the Food Manufacturing industry via ICC of the FreshCheck swab and app offering. Interest in the FreshCheck swab and app solution has been garnered and once manufacturing and successful efficacy testing of the swab has been achieved in May 2021 the full sales cycle will begin. The initial forecasts provided by ICC partners suggests a first year revenue of up to £950K, targeting the top 5 largest groups in the UK alone.
Plans following on are to target the hospitality sector during their post-COVID openings, as restaurants, hotels and facilities with high public touch points are looking to validate and prove their cleaning is effective to provide their staff and customers with confidence in their safety.
References and notes
Edit