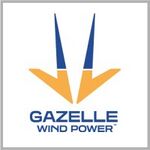 A revolutionary platform design that reduces the cost of energy.
Designed especially for floating offshore wind.
Capable of supporting all main Wind Turbine Generators.
Mass produceable from existing port and manufacturing facilities.
Introduction
Gazelle Wind Power was founded to exploit patented technology for a unique floating offshore wind platform that significantly reduces the weight, size, and cost of existing floating platforms and mooring systems.
Gazelle Wind Power plans to license the technology to energy Project Developers, EPCs, or Wind Turbine OEMs, for the construction, installation, and operation of floating wind platforms globally.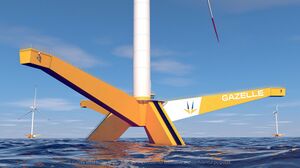 We estimate that the Gazelle platform could offer significant (30%) cost savings over currently deployed platforms whilst minimizing the environmental impact on the sea bed.
The company is now finalising preparations to build a 2-megawatt demonstrator plant at a development site in the Canary Islands. The platform design also has the potential for adjacent applications and upstream and downstream expansion.
Substantial accomplishments to date
Dr Antonio García developed and patented Gazelle's innovative mooring system and hull structure for a 2 MW wind turbine. The concept was validated independently by Safier Ingenieri using OrcaFlex software.
Gazelle patented the unique mooring and hull geometry system.
Basin tests were performed in October 2019 at the Technical University of Naval Architects of the Polytechnic University of Madrid (CEHINAV) for a 2 MW model FOWT.
The first basin test model was at 1:100 scale and 2nd at 1/65th scale. The models were tested for two modes: operational (with the rotor exposed to wind thrust) and survival (with the rotor turned off due to wind overspeed). All testing met expectations from software simulations.
The 2MW demonstrator design is now ready for procurement.
An extensive team of partners for the project has been agreed upon including, Vestas, Bridon-Bekaert, Maersk Supply, and Safiere Ingeniere.
Gazelle Wind Power was named a finalist in the 23rd annual S&P Global Platts Global Energy Awards in two categories: Emerging Technology of the Year and the Rising Star Company Award.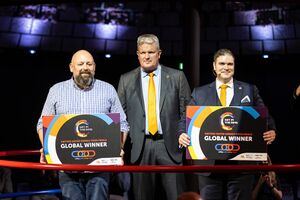 Monetisation strategy
Gazelle's business model is based on licensing its patented technology to Floating Offshore Wind project developers based on a percentage of platform cost. The license fee will cover the amortisation of technology development costs together with bespoke engineering for each project development and further R&D in the platform structure.
As a licensor there is no significant barrier to scale, and the intent is to scale with the market. There is a clear opportunity to increase penetration beyond the forecast 10% in line with market shares of the major wind turbine manufacturers.
It is expected that the platform design will be specified by project developers and Gazelle intends to develop account management structures to be in place to manage the relationship with the relatively small number of major developers, globally.
Use of proceeds
Gazelle's money is primarily being spent on the engineering design and development of its unique floating platform technology, DNV certification of the technology, project management of the 2MW demonstrator (including supply chain partners), marketing, strategy and PR, equity fund-raising, finance and admin.
Demonstrator Project Design Engineering 17% Project Management 6% Sourced Equipment 38% Gazelle Platform and mooring 21% 15MW Design Engineering 13%
PR/Marketing 3% Accounting & Legal 2%