A new way to design your home. Get dozens of projects from trained architects!
$2M+ raised
Notable angel backing
60,000+ registered designers from all over the world
50,000+ projects created by designers in our contests
1,500+ homes, offices or shops redesigned with Gopillar
1M+ in prizes paid to designers active on GoPillar
10,000+ designers enrolled in online courses on GoPillar Academy
The architectural design market is broken, and we need to reshape it
Only 17% of people hire a designer to help with their home renovation.
Meanwhile, designers don't have a reliable network to find customers online and to work remotely.
New emerging technologies (such as BIM) are changing work processes, leaving most active professionals behind.
Designers find it difficult to access high quality online professional training to learn how to use new technologies and new software.
The COVID-19 pandemic has reshaped how people live, work and learn. Almost every industry has now embraced remote work and remote learning.

The architectural design industry has fallen behind, and it is time to close the gap
GoPillar is the new way to design homes online
Edit
Our revolutionary design method allows anyone with an architectural project need to get professional support from architects and engineers around the world, saving a lot of money compared to the traditional design services.

Over the years, we have built a huge international community of professional architects, engineers, interior and landscape designers that work and learn remotely.
Attending GoPillar Academy's online courses allows designers to improve their professional skills. In return, clients receive impressive design options, creating a win-win solution for professionals and customers alike.
Customers experience an international and dynamic service that allows them to cut the time and the costs of architectural design by giving them the chance to evaluate many options and choose the right solution for their tastes and needs.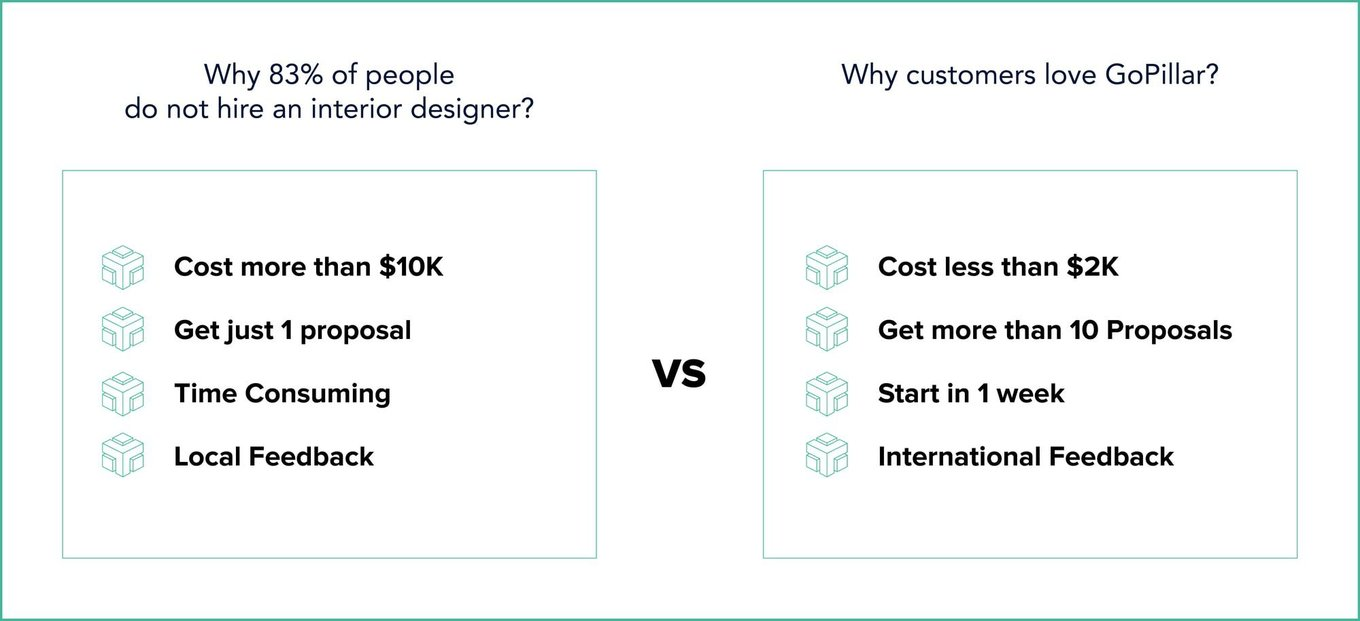 At the same time, designers can work remotely, find new customers, and interact with colleagues from all over the world. Designers also have access to all the tools, licenses, 3D models, CADs, and training courses necessary to consistently improve their skills and the quality of their projects.  
GoPillar Ecosystem One place for all professional opportunities
Edit

GoPillar is an integrated ecosystem, offering design services, job opportunities, and professional tools that enable designers to be ready for any future challenges in this fast developing market.          
Job opportunities
Edit
GoPillar.com is an online design marketplace supported by a large international community of designers. Thanks to our unique model, we provide clients with dozens of custom, high quality design options crafted by our professional designers.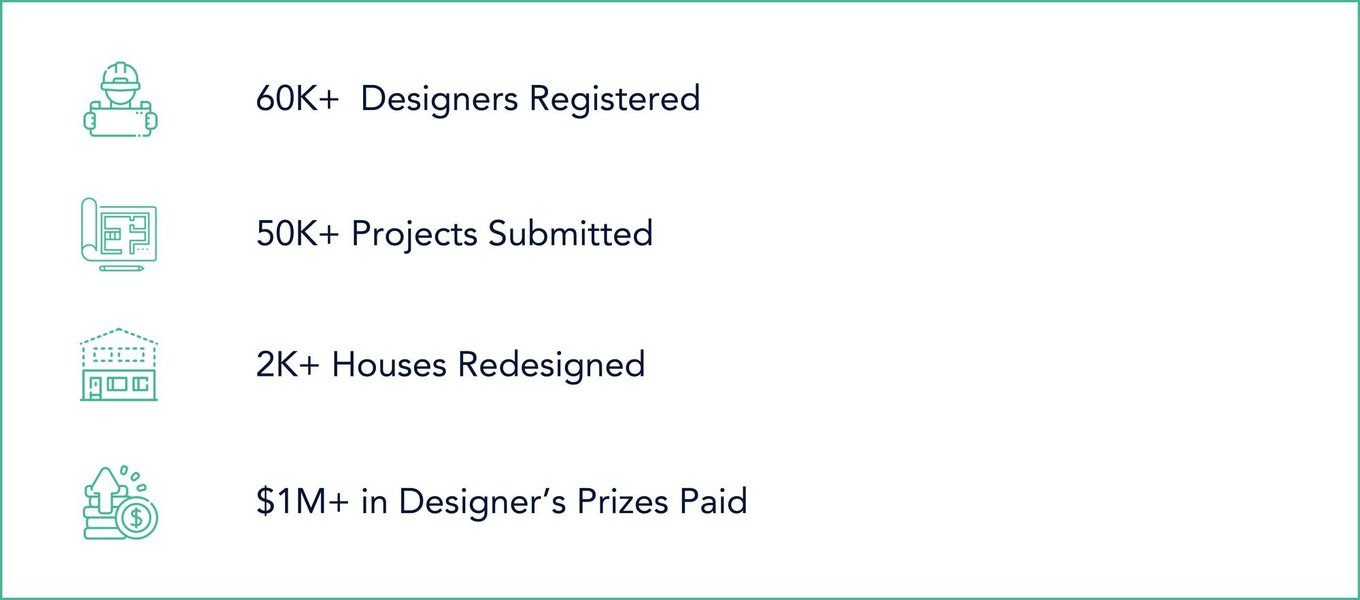 Online education
Edit
GoPillar Academy is a place where designers from all over the world can strengthen their skills to find new job opportunities becoming expert users on industry-standard architecture and engineering software. Our professional courses are designed to be a combination of a frontal theory lesson and a practical tutorial.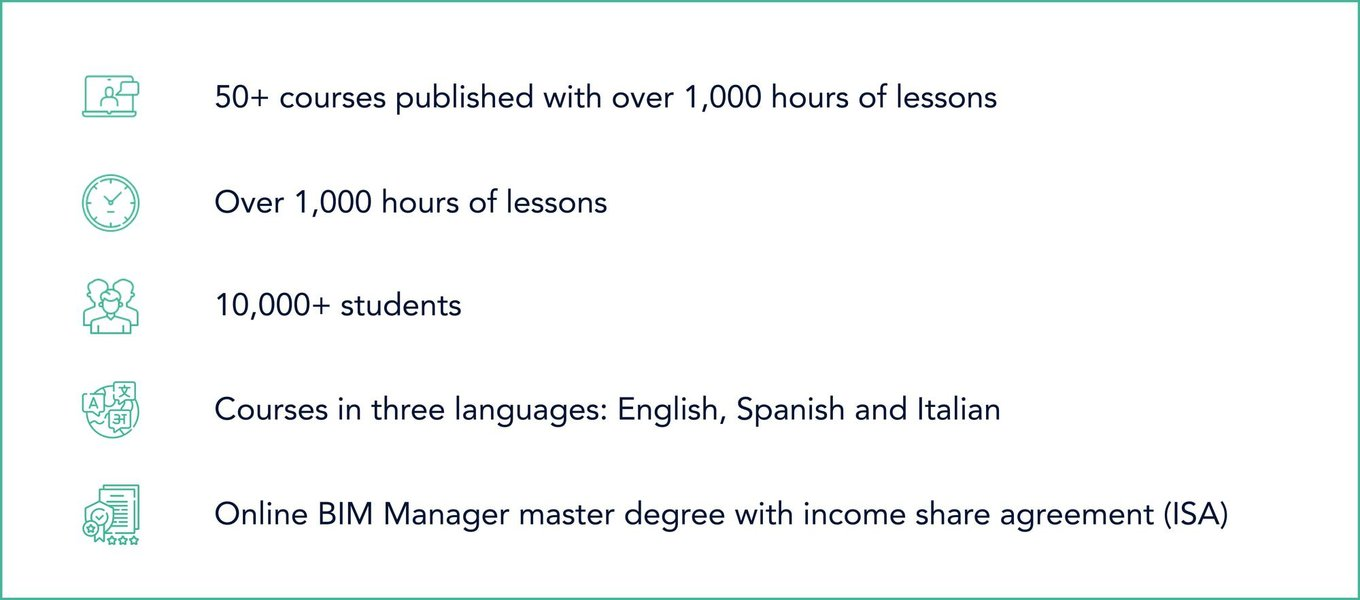 How it works:
Edit
GoPillar Academy is an exciting, easy to use learning platform for the upskilling of 3D modeling, BIM software and professional updating in general.
OnDemand:
Edit
we offer more than 50 online courses on the essential architectural subjects in 3 different languages. With preregistered courses, students can go back to review class lessons and materials. Students also have direct interaction with the course instructor via private Facebook groups.
Master BIM:
Edit
First Master ISA for BIM Manager starting in December 2022. Our Masters are cohort-based courses that last between 3 and 6 months. They are taught via live stream and consist of up to 20 students. These courses are designed for experienced professionals in the field. Additionally, 25% of selected students will have access to our ISA program.  
Corporate Training:
Edit
Custom employee training for architectural firms and construction companies are available. We provide companies with one to one training as well as many custom online courses taught by highly trained professionals. In the future, we would like to offer companies the chance to hire our instructors for coaching or consulting purposes.  
1-to-1 Consulting:  
Edit
Tailored BIM and 3D Software one to one training with our instructors are available to students and professionals. We allow students to book individual lesson hours with instructors via their student account on GoPillar Academy.
We are growing organically In the last 3 years we have increased our net revenues by 25x
In 2019, we started offering services for our professional community with the win-win goal of increasing the sources of revenue while, improving the quality of the projects designed on our platform.
Since the introduction of GoPillar Academy, we have multiplied our net revenue by 25 times in the last 3 years. Starting from $22,000 in 2018 to more than $750,000 in 2020.  
Our marketplace has grown organically. Without any advertising, we have grown from 164 competitions in 2018 to 286 competitions in 2021 (+74%) with a significant increase in average expenditure per contest.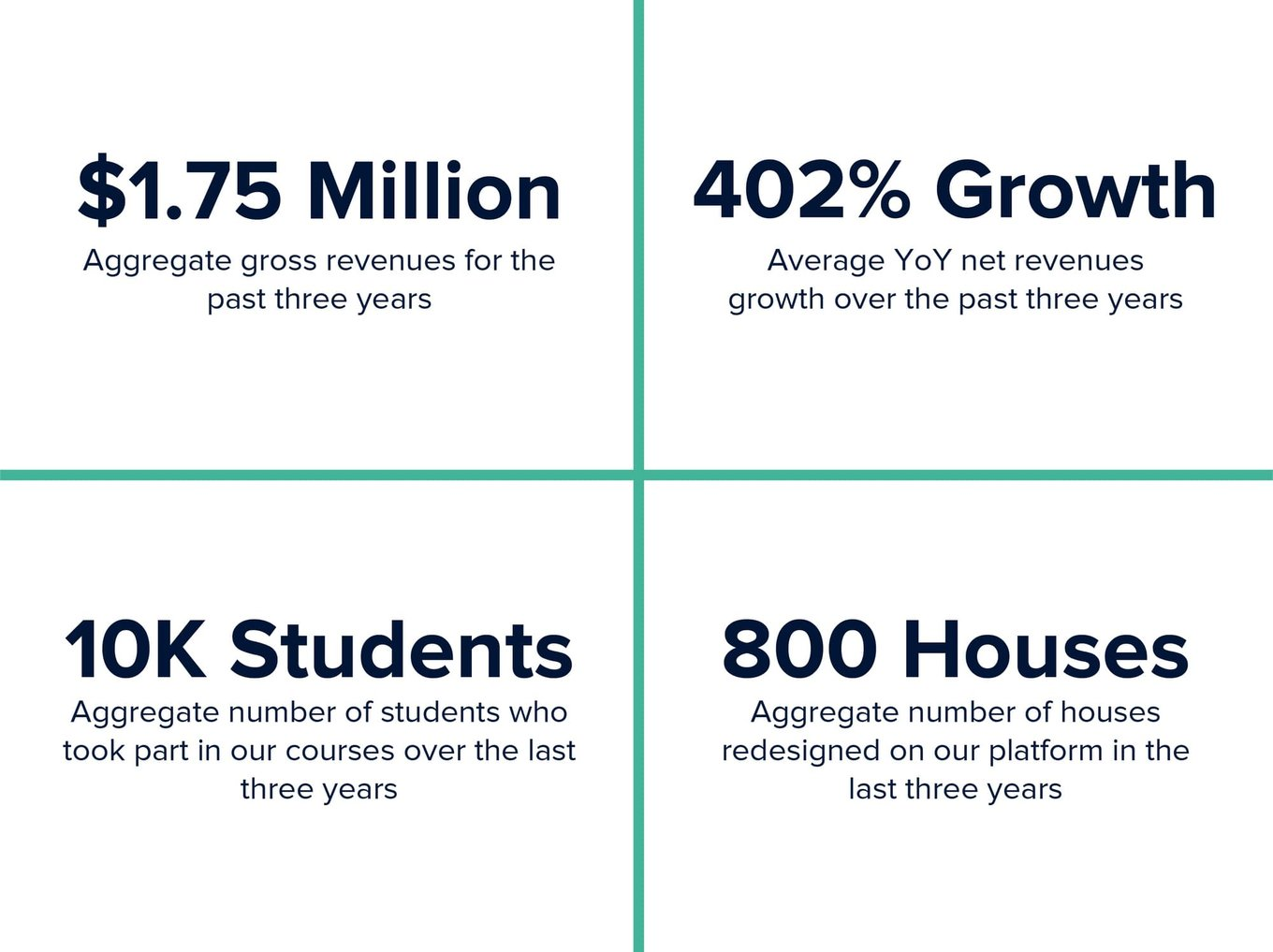 Customers
Edit
Scaling by turning our suppliers into customers we learned that it takes balance to scale a marketplace.
During our first few years, we completely focused on affordability and disruptiveness of the service. However, designers were unhappy with the low contest prizes and the clients were dissatisfied with the average quality of the projects.
For this reason, we have built a balanced work environment over more recent years. We have consistently increased the cost of the design service and introduced new services that aim to strengthen the skills of our professionals. To date, we are loved by both clients and professionals, as shown by the GoPillar (4.7/5) and GoPillar Academy (4.6/5) rating on Trustpilot.

GoPillar.com customers are typically private owners of homes, offices, shops, or small to medium sized construction companies. Customers love the chance to explore different professional perspectives. As the average quality of projects posted by our designers grows, so does the client's willingness to spend.
Most of our designers are European especially from Southern and Eastern Europe, from countries such as Italy, Spain, Greece, Serbia, and Ukraine. We also have many active designers from South America, Southeast Asia, and Africa. The designers appreciate the chance to find new customers without the worry of geographical barriers and being introduced to colleagues from all over the world. Likewise, designers enjoy strengthening their skills by enrolling in our online training services.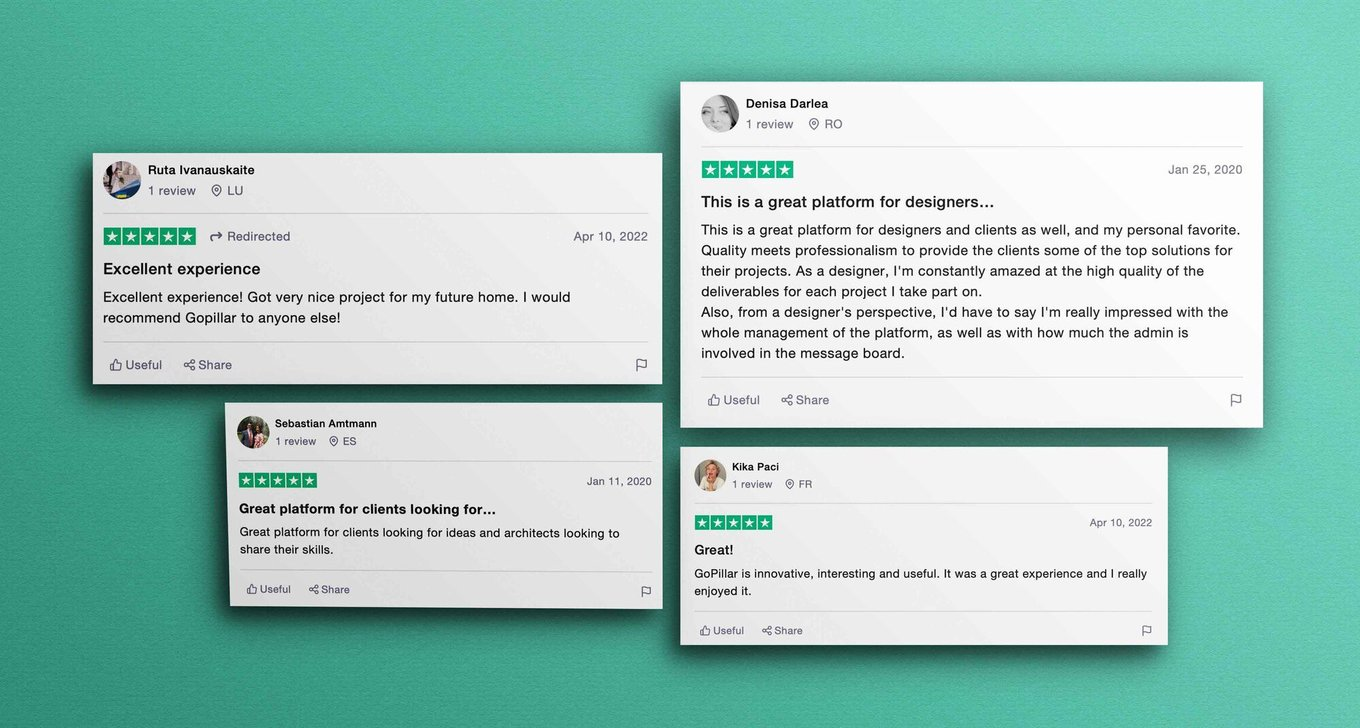 Business model
Edit
A win-win circular business model
Edit
Designers earn cash prizes, then spend that money to buy our services, improve their skills, and win more!
Thanks to our online competitions, designers from all over the world can win cash prizes and enlarge to their client portfolio.
A portion of the earnings is reinvested to improve their digital and design skills on GoPillar Academy or to buy SaaS design services, such as GoPillarVR. In this way, designers can create ever more complete and attractive projects, winning even more competitions.
We view GoPillar as a hub for architects, engineers, interior designers and landscape designers where they can work and access all the main professional digital services.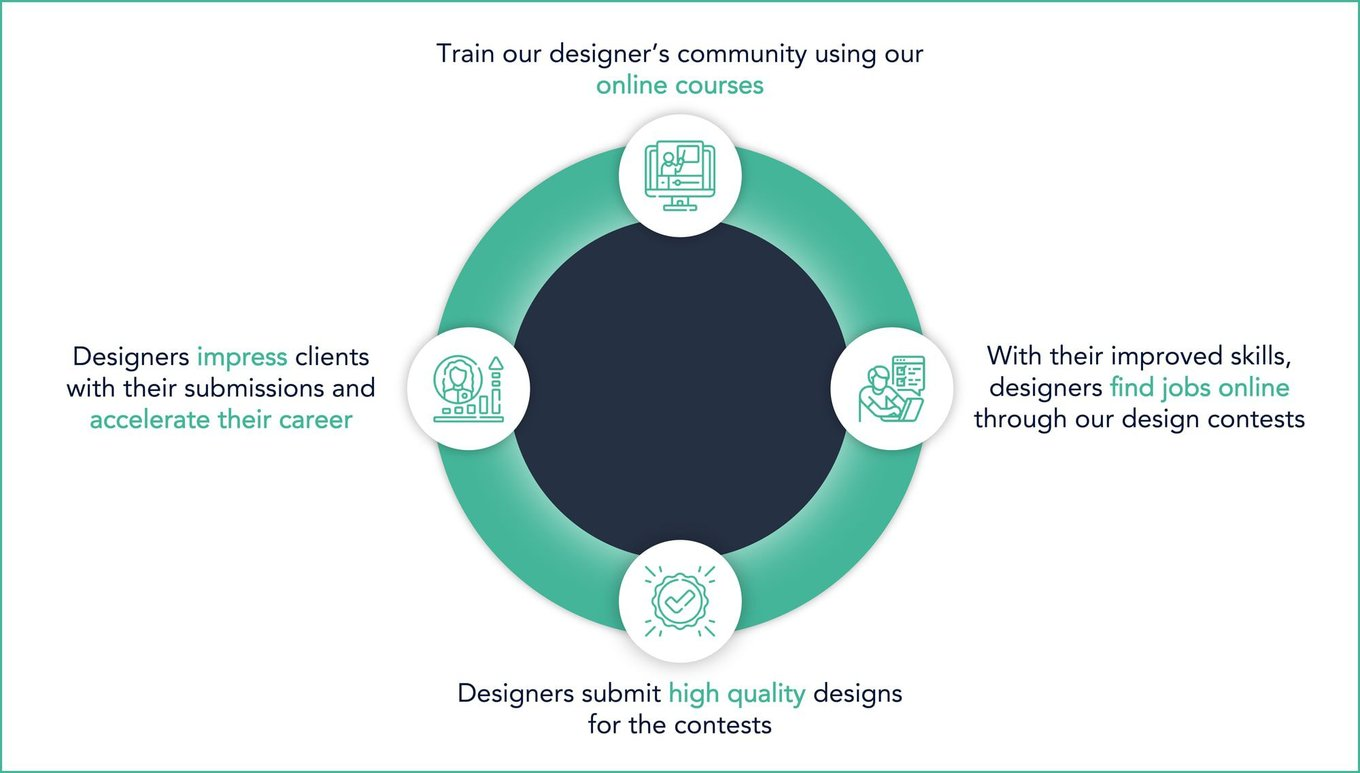 In the GoPillar Ecosystem, different business models coexist, from those based on a fee to subscription models. These are the main ones:
GoPillar Contest Fee:
Edit
We take a 30% commission of what our customers invest to launch their design contest. The average cost per contest is about $1,500, with an average fee of about $450.
GoPillar Premium Designer Subscription:
Edit
Our marketplace is virtually free for designers, but for the most active we offer a premium account with several extra features. This allows them to maximize the contests participation returns. The subscription cost is $12 per month or $90 per year.
Online Courses on GoPillar Academy:
Edit
We directly produce all courses available on GoPillar Academy, with no teachers revenue share. To purchase one of our pre-registered courses a designer spends, on average, between $150 and $200.
GoPillar Academy Premium Membership:
Edit
Designers can subscribe to GoPillar Academy to have access to all courses and special contents. The subscription costs $29 per month and $290 per year.
These are the main models; however, we run and are going to run others that are designed to address different potential business customers.  For example, we could run ads on GoPillar News for furniture and construction companies who want to reach designers. On the other hand, we will address larger architecture and construction companies on the outsourcing of BIM modeling with GoPillar BIM.  
EdTech & Architectural Services market assessment
Edit
The market for architectural services is huge; however, it remains almost completely offline. The COVID-19 pandemic as well as the addition of new digital technologies, such as BIM methodology, are forcing players to go digital. Over the next few years, the vast majority of architectural firms will begin offering remote design services and will require training and tools to complete the digital transition.
On the other hand, the online training market is expanding in all verticals, including architectural design. Several winning models are emerging from pre-recorded asynchronous courses to Cohort-based live streaming courses.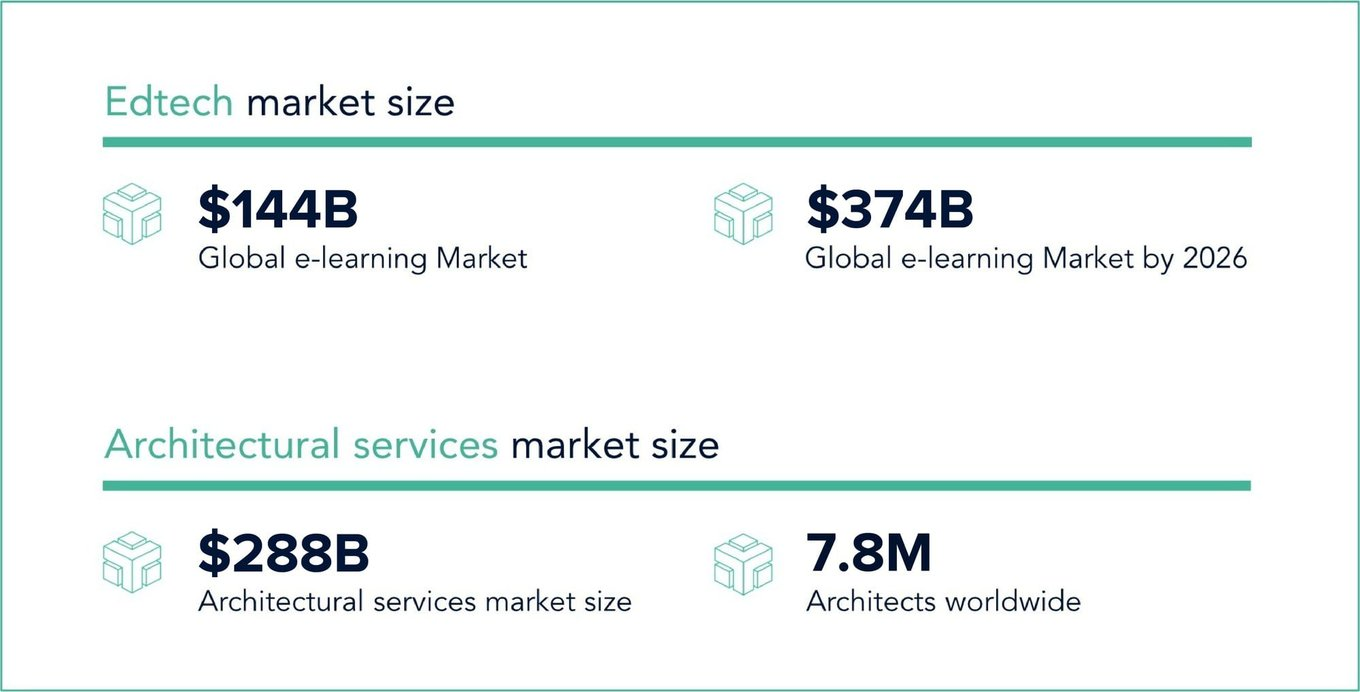 Competition
Edit
The all-in-one platform for designers
Edit
Where designers learn and train their skills, find online jobs, and accelerate their career
In the digital services market for architecture, GoPillar is the only all-in-one web platform and this allows us to have a sustainable competitive advantage. By giving designers the opportunity to earn cash prizes, we are able to acquire professionals for a lower acquisition cost compared to all other online academies and any other digital service for designers.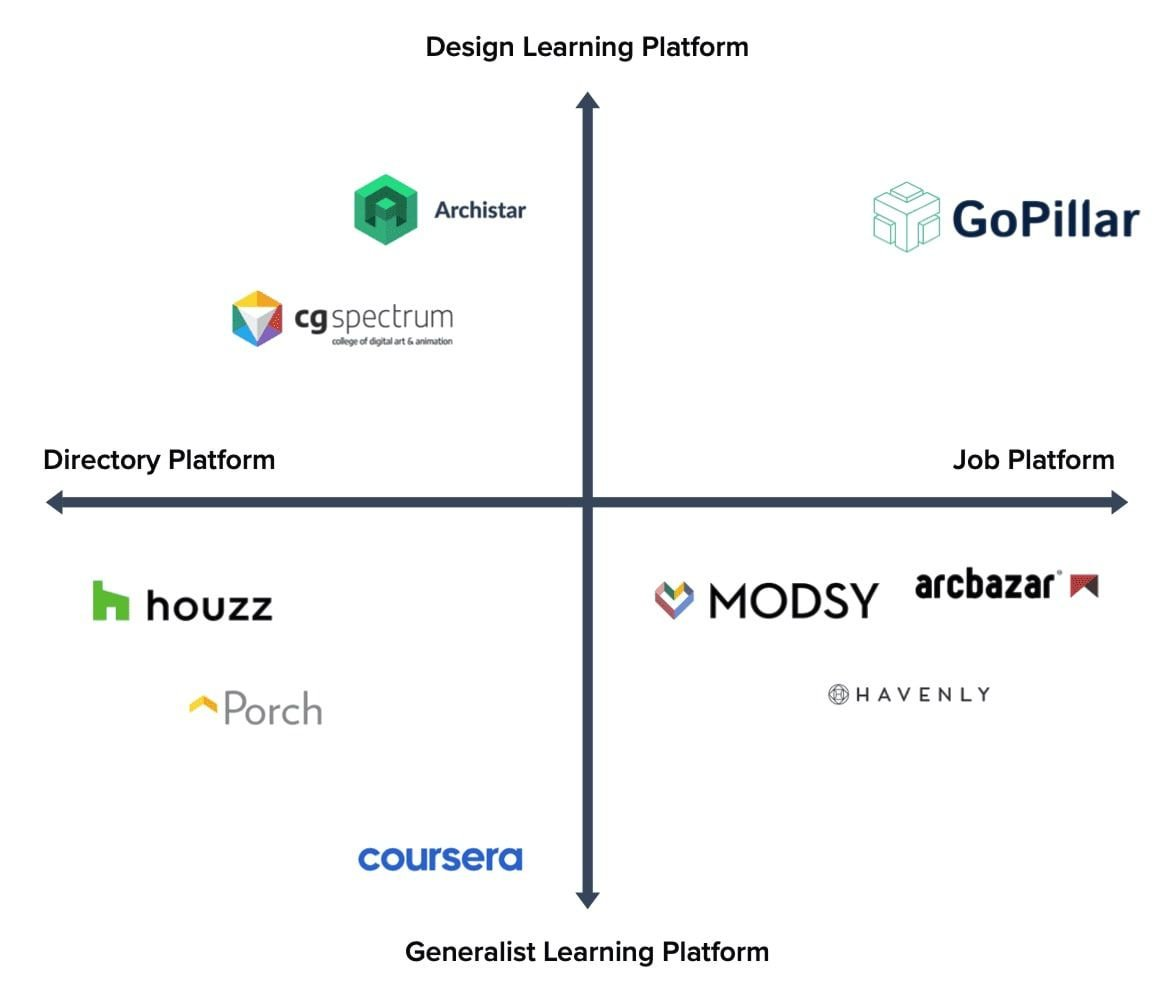 Our goal is to turn GoPillar into the world's leading designer hub. A digital space where professional designers can find job opportunities as well as digital services to help make that happen. In order to achieve this goal, we will add several new services, including:
GoPillar HR
Edit
To help GoPillar Academy trained designers to find stable offline jobs as BIM specialist, BIM manager and 3D artists.
GoPillar CAD
Edit
To give designers the opportunity to buy and download all CADs and 3D models they may need to complete their projects.
GoPillar BIM
Edit
To allow our BIM professionals to provide their BIM modeling services remotely to companies in need of outsourced modeling.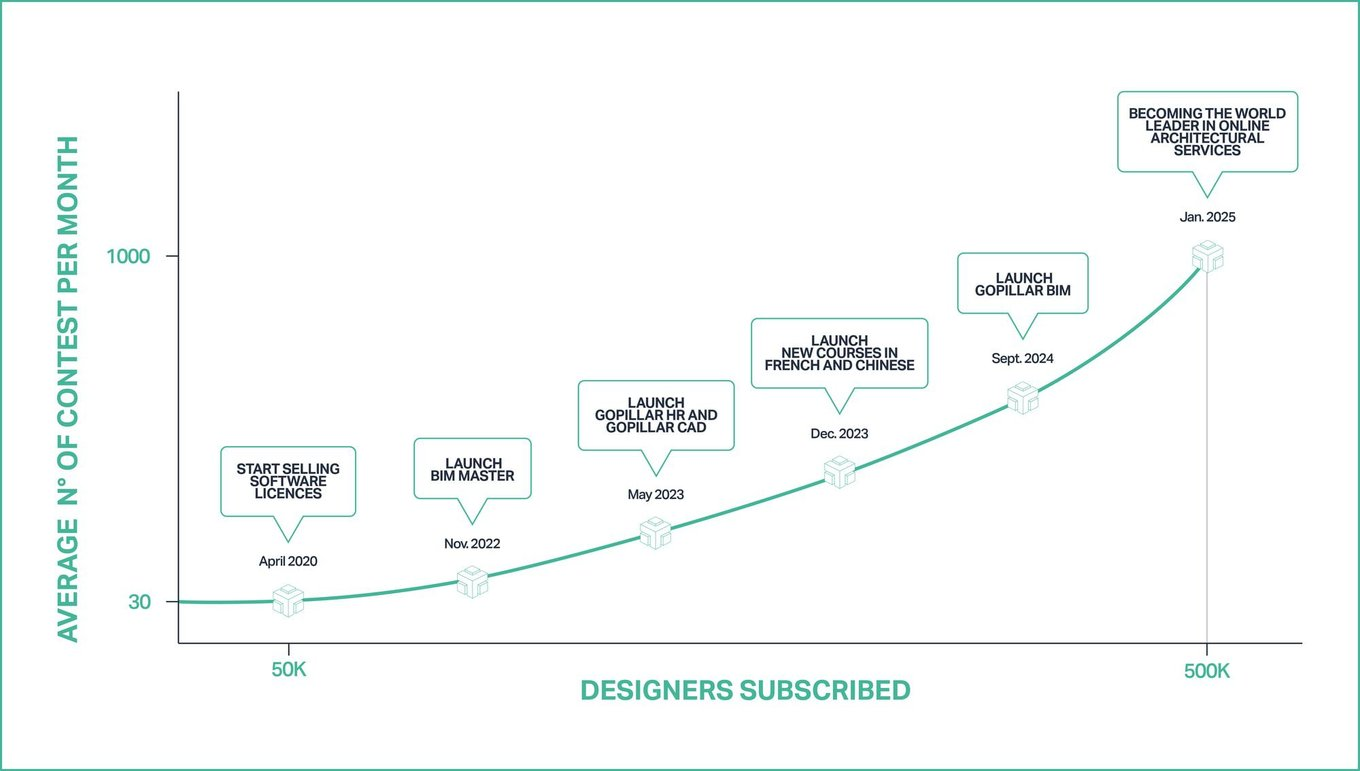 Vision and strategy
Edit
Our mission
Edit
Revolutionize the architectural design market to create economic and social value on a global scale, empowering customers and designers with online tools to  collaborate and succeed.
The architectural design market is outdated, pre-digital, and non-meritocratic which results in a low added value for the client. Additionally, this traditional offline approach is expensive, local, and exposes the client to the abuse of asymmetry by the professional.
On the other hand, young professionals struggle to find job opportunities and are often forced into years of internships in already established firms. The selection of professionals primarily takes place on a patronage basis, further undermining the meritocratic dynamics.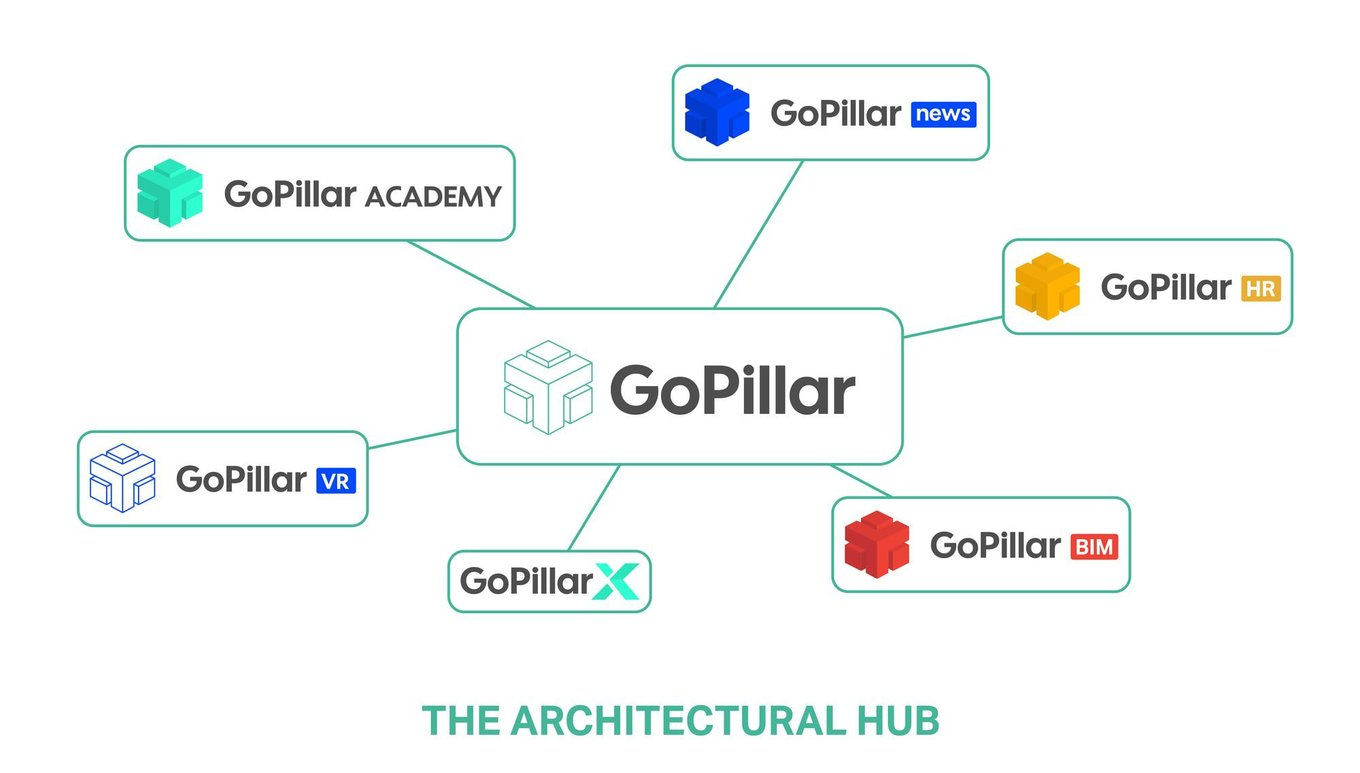 We see the future of architecture as international, plural, and meritocratic. This results in projects that are high in value added for both the client and the professional.
GoPillar's goal is to create an online space where supply and demand can meet, providing professionals with the tools they need to succeed and customers with all the information needed to select the professional that better fits their tastes and needs.
We have already raised $2M+ from diversified investors, including US Venture Funds and Chinese and Middle Eastern Business Angels.
Our team has participated in acceleration programs all over the world, including 500 Startups in Mountain View and Startup Chile. This has allowed us to acquire vertical skills on digital startups management and building, an international cap-table with investors who can support us with business development as well as fundraising.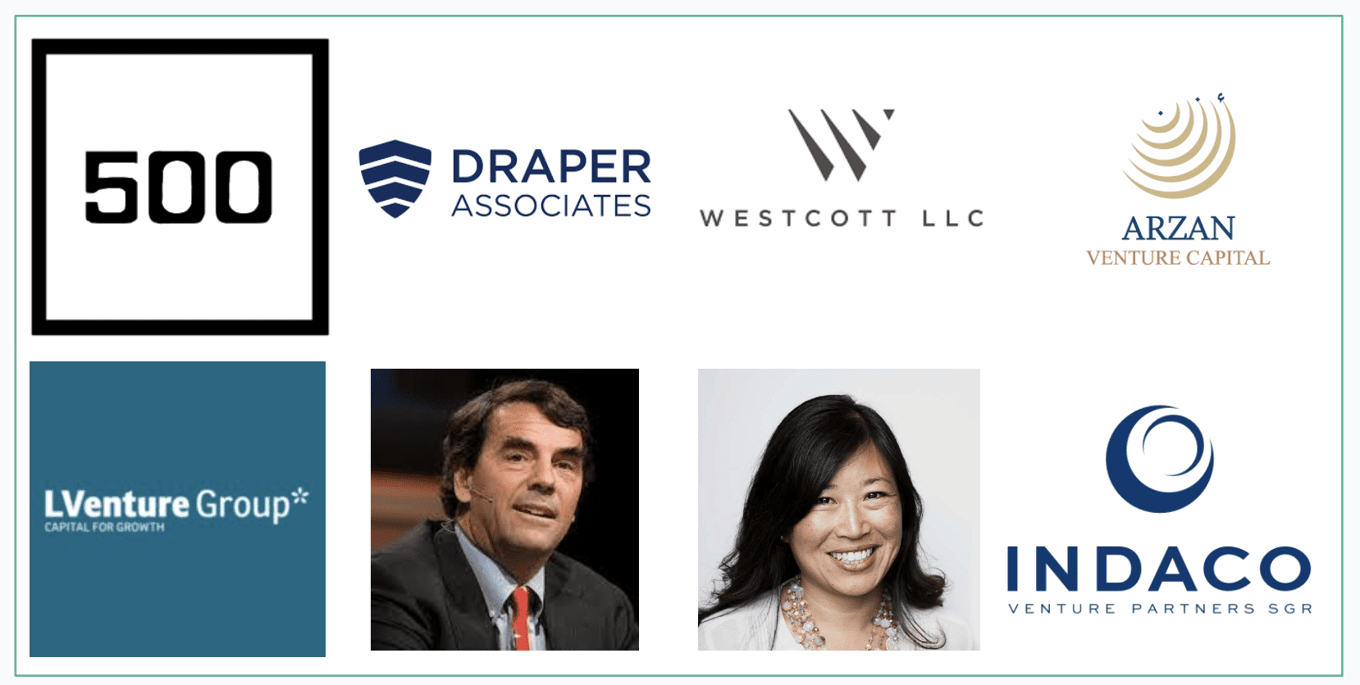 Passionate and experienced Founders
Edit
Friends who have been working together for 10 years
GoPillar was founded by 3 childhood friends, Frederico and Filippo Schiano di Pepe and Alessandro Rossi. Moved by a common passion for innovation and the digital space, the three took part in 3 different acceleration programs and helped to create several other startup companies. Over the years, they received several personal awards, including Federico who has ranked in Forbes 30 Under 30 Europe in 2019.
GoPillar Team
Edit
Alessandro Rossi
Co-Founder & CEO
Startups Advisor
Filippo Schiano di Pepe
Co-Founder
Startup Chile Mentor
Federico Schiano di Pepe
Co-Founder
Forbes 30 Under 30 Europe
Emanuela Furone
COO
Giulio Blasi
CTO
Marco Romeo
Sales Manager