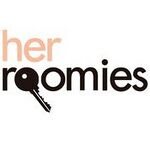 Her Roomies aims to be the go-to accommodation rental marketplace and community proptech platform for women. Founded in Spain, we're raising capital to develop our technology and expand our reach in Spain and the UK.
Our analysis indicates we are the first female-focused accommodation rental platform
Launched in Spain, entered the UK, now pushing for European expansion
Global prop tech market estimated at USD 521billion and with projected CAGR of 8.6%
We estimate our Total Addressable Market at 264 million females in the EU/UK/USA
Chiara knows firsthand how challenging it is being a female renter and wanted to provide women with more rental opportunities - all on a single platform, creating a safe rental ecosystem and community for women while also offering landlords a focused marketing and sales channel that targets female tenants.
Chiara reached out to her father, Nick Fraser, who has experience in real estate development and investment, - October '20 they launched Her Roomies together as a go-to accommodation rental platform and community for HER.
In Europe 30% of all people are renters. Of these 50% are women.
74% of 119 females we surveyed, said a female-focused website would rank highly when looking for a new rental.
Traction:
Since launching our Spanish MVP we've seen positive traction. With less than €500/month in marketing, we have built our community of 4000 registered users.
Achieved 100k site visits since launch
Peak of 10k active users in Dec. 2021
Registered users MoM growth of 30% to Dec. '21
€708k in accumulated channelled transactions since launch (Jan.-Dec. 2021. pre-revenue & -€48k loss in 2021)
Site visits from more than 120 countries
Registered users MoM growth of 30% to Dec'21
Estimated total number of listings currently +44k units
With this raise we will aim to:
Develop our product and technology
Invest in marketing and team
Expansion in Spain, the UK/EU
Build our community.
Chiara Fraser - Chiara created Her Roomies after a personal experience in Barcelona highlighted the lack of and true need to have a safe rental space and full rental solution thought out and designed for women. Chiara brings her strong background in strategic concept development, brand management and building community initiatives, and large-scale event planning to the team.
Nick Fraser - Nick sees an incredible opportunity to establish Her Roomies as the de facto go-to accommodation rental portal for HER. He believes that the scalability opportunity, both in geography and content is very attractive. Similarly the opportunity to grow Her Roomies into a female lifestyle brand. Nick brings extensive senior-level cross-border real estate development and investment experience to the team. Nick's asset class focus has been student housing, residential, hospitality, tourism and offices.
Advisory Board
Victoria Bennett - has experience in marketing, brand and community building experience including Ariel at P&G, most recently with startups.
June Ohashi - Founder and CEO of Rezgo, a SaaS platform founded in 2007 to help tour and activity operators take bookings online.
Cherine Aboulzelof - Managing Director Head of Europe and a global Investment Committee member of BGO Strategic Capital Partners, the real estate multi-manager platform of BentallGreenOak.