A new video game system that's redefining entertainment with family and friends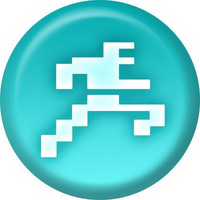 Over $25,000,000 in purchase and pre-orders
Over 100,000 units pre-sold to fans and retailers
Partnerships with MLB, Hot Wheels, Sesame Street, Care Bears and more
Extensive game library, including remade fan favorites
Innovative easy-to-use controllers with touchscreens and wireless charging
Family-friendly games designed for all skill levels and playing together
Click "Terms" or "How it Works" to learn how you can make revenue


A unique video game system that's redefining entertainment with family and friends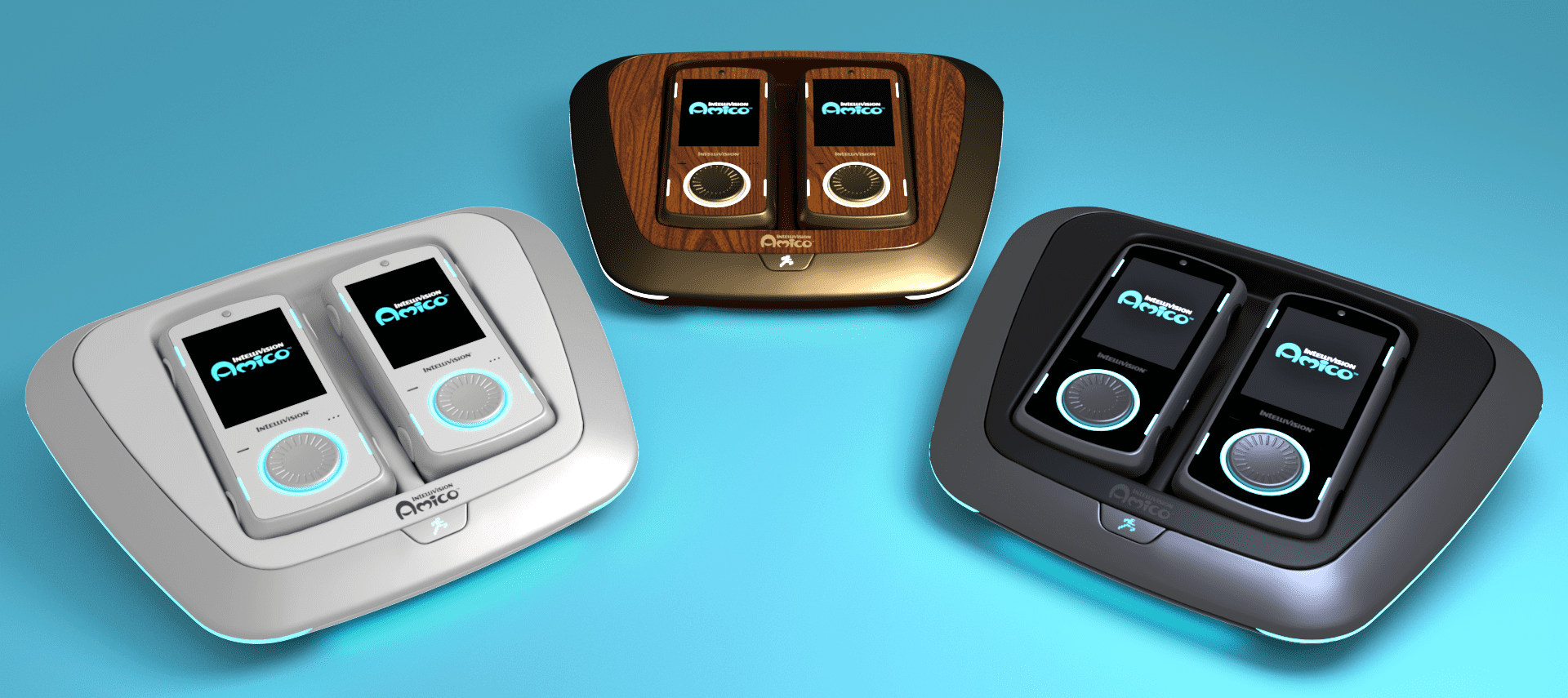 Isn't it true that your fondest memories of playing video games are when you played together in the same room with a group of people? Much has changed in gaming since Intellivision began, with games becoming more isolating, complicated, and competitive. Using technology, creativity, and unrivaled passion, our team is on a mission to bring family and friends together again.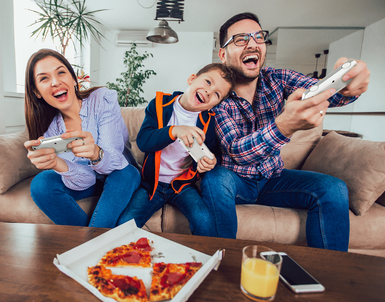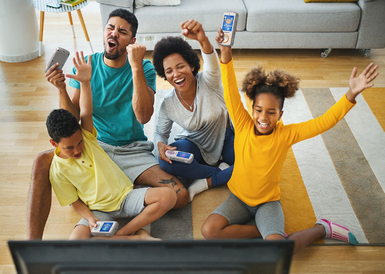 "At Intellivision, our mission is to use technology to bring people together by delivering simple, affordable, family-focused entertainment to everyone."
-Tommy Tallarico, CEO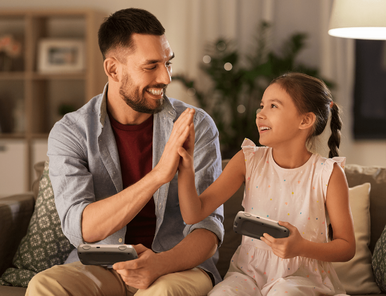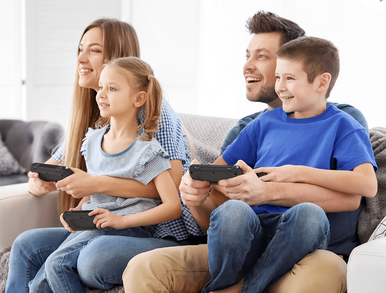 We strive for simplicity in everything we create — from our easy touchscreen, disc, and motion controls, to our effortless menus and games for all skill levels.

An Amico system with two controllers and six installed games will retail for around $249 at launch — additional games will be typically priced $9.99 or less.

Every game on Amico encourages group participation and teamwork through "couch co-op" style game play plus we're committed to offering products that parents can trust.

We want Amico to be who you turn to on family game night — our diverse library of titles offers something for everybody.

When designing Amico, we had a vision — make gaming accessible again. Our team has packed an incredible number of features into a simple and affordable package. Luckily, we didn't have to start from scratch — the original Intellivision system had many great features that served as inspiration for Amico. Modern technology, updated ergonomics, and a fresh personality make for an entertainment system like no other.
Easy-To-Use Controllers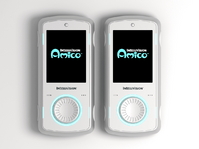 Feature-rich controllers designed for functionality and simplicity — with an integrated touch screen, motion control and wireless charging.
Up To 8 Players
Group play is easy with 2 controllers included with every Amico plus Intellivision's free iOS or Android app enables additional players to use their smartphones as controllers operating simultaneously on the same console for up to eight total players.
Immersive LED Lighting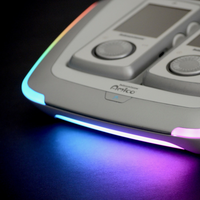 Interactive lighting makes gaming fun and memorable while also helping guide players in an interactive way. A unique play experience you can't get anywhere else.

Intellivision Amico is designed to bring social fun back to the living room! Amico is the Italian word for "friend" or "buddy" and Intellivision Amico encapsulates this meaning with fun, value and togetherness at its core. Affordable, family-friendly games encourage group participation and teamwork and are designed to appeal to a broad audience from nostalgic gamers to families who want to enjoy fun games together. Amico is the perfect new friend for your home!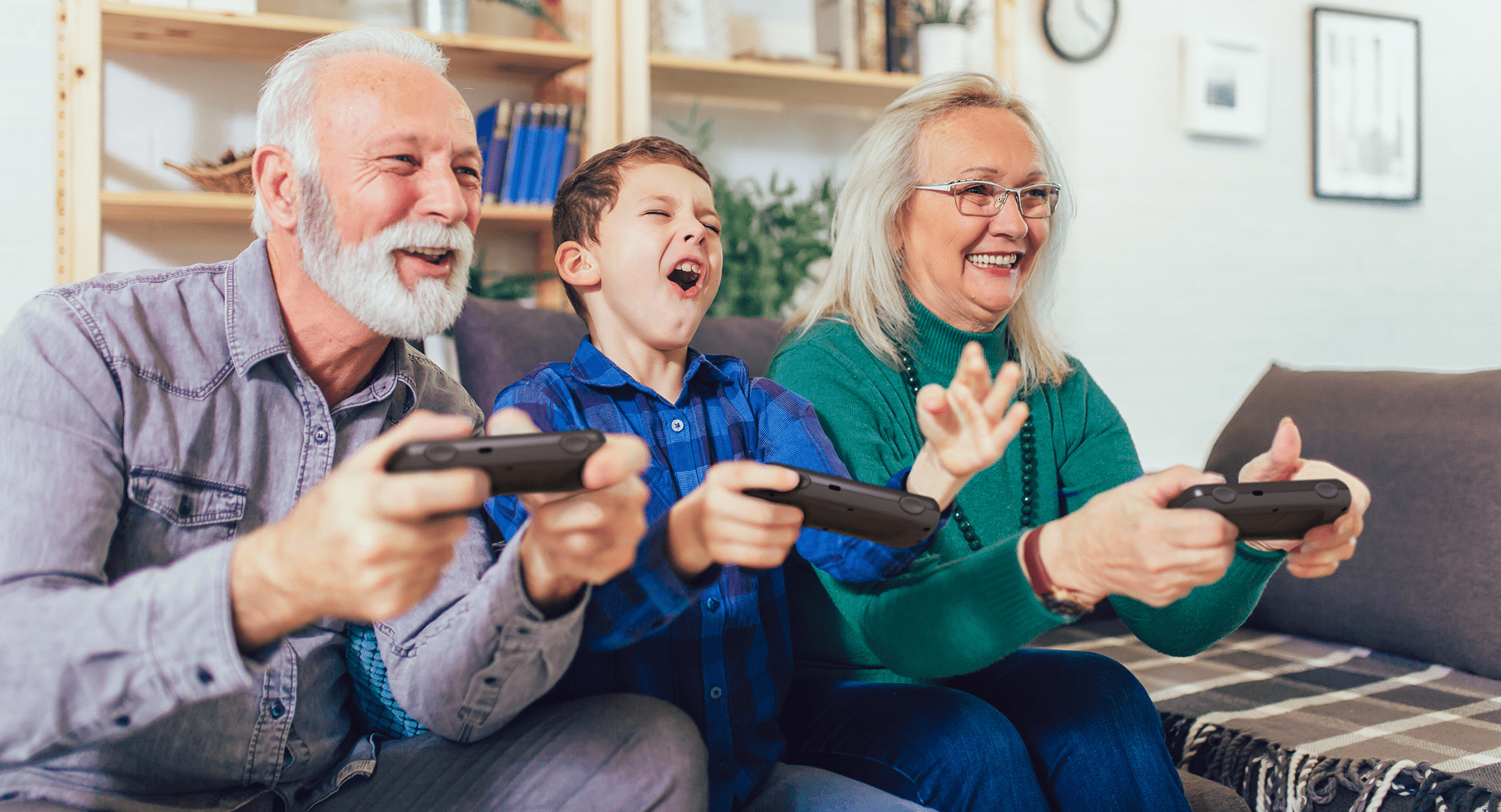 Family-Friendly Content
Games are appropriate for everyone — no bad language, graphic violence/blood or sexual content.
Trustworthy Gaming
No ads, microtransactions, loot boxes, or in-game purchases.
Six Premium Pre-Loaded Games
With additional games typically ranging from $2.99 - $9.99.

Premium, family-friendly games for all skill levels: from sports & recreation, educational & brain games, to party games and retro classics — there's truly something for everyone.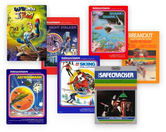 Classic Titles Remade Exclusively for Intellivison
Your favorite Intellivision, Atari, Imagic, and other classic games return exclusively on Amico completely and authentically re-imagined to bring the fun and simplicity of classic gaming to modern day — new graphics, sound, couch multiplayer and entirely new ways to play!
The original Intellivision console has a proud and long history with sales spanning three decades (1979-1990). The Intellivision brand was a pioneer in the video game industry, a trend we intend to continue with Amico. By the early 80's, Intellivision owned 20% of the home video game market with gross sales of over $500 million a year and 1,800 employees worldwide.

The original Intellivision console has a proud and long history with sales spanning three decades (1979-1990). The Intellivision brand was a pioneer in the video game industry, a trend we intend to continue with Amico. By the early 80's, Intellivision owned 20% of the home video game market with gross sales of over $500 million a year and 1,800 employees worldwide.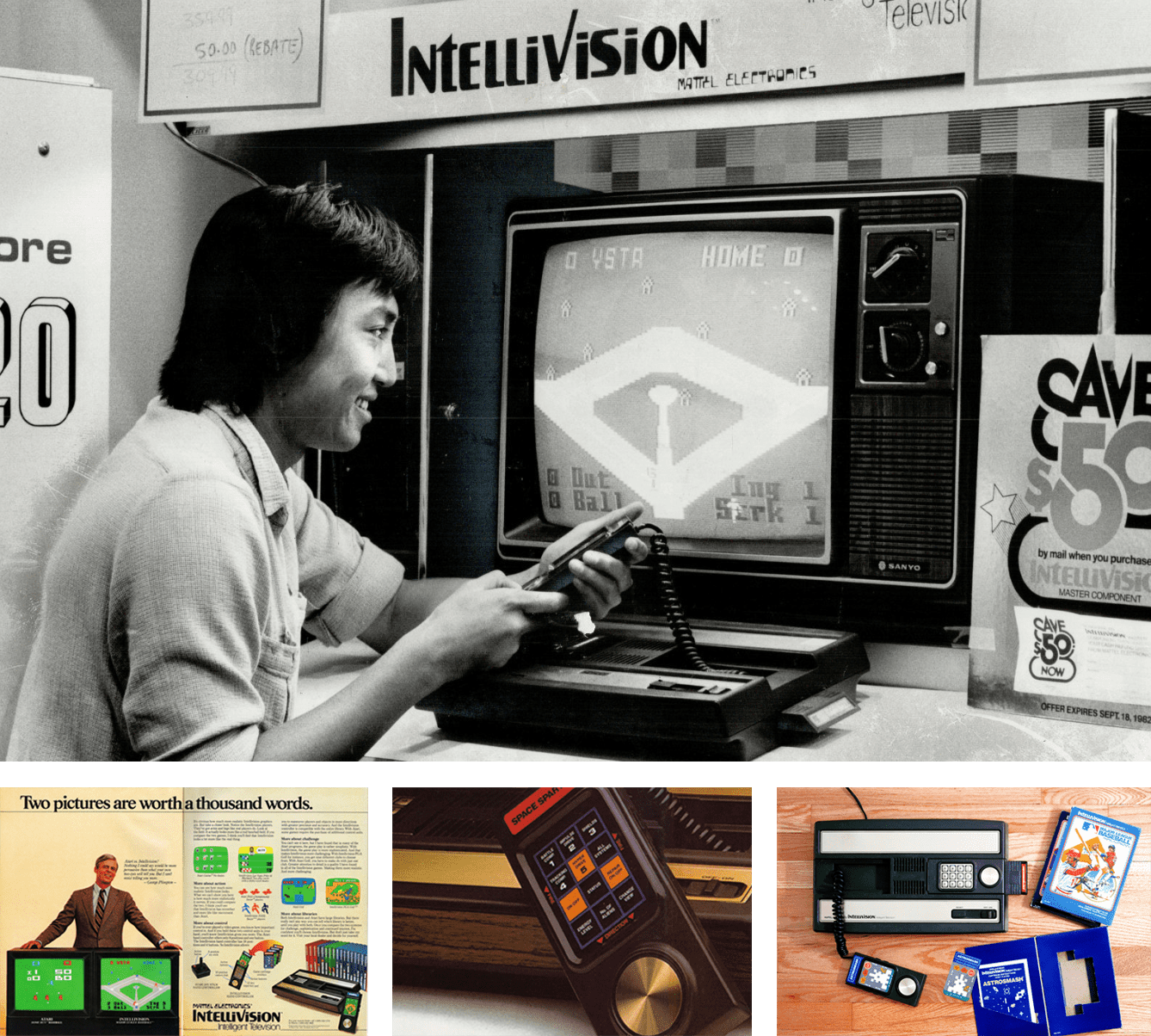 With a legacy of game leadership since 1979 and $25,000,000+ in pre-orders, Amico is already taking the gaming world by storm.

The Intellivision team comprises of some of the brightest, most experienced, and incredibly passionate folks with backgrounds in aerospace (such as Mars Rover and Blackhawk projects), toy, technology, consumer products, medical and military fields. With over 600 years combined experience in the video game industry, including veteran team members who have been with Intellivision since 1981, this powerhouse team will truly deliver.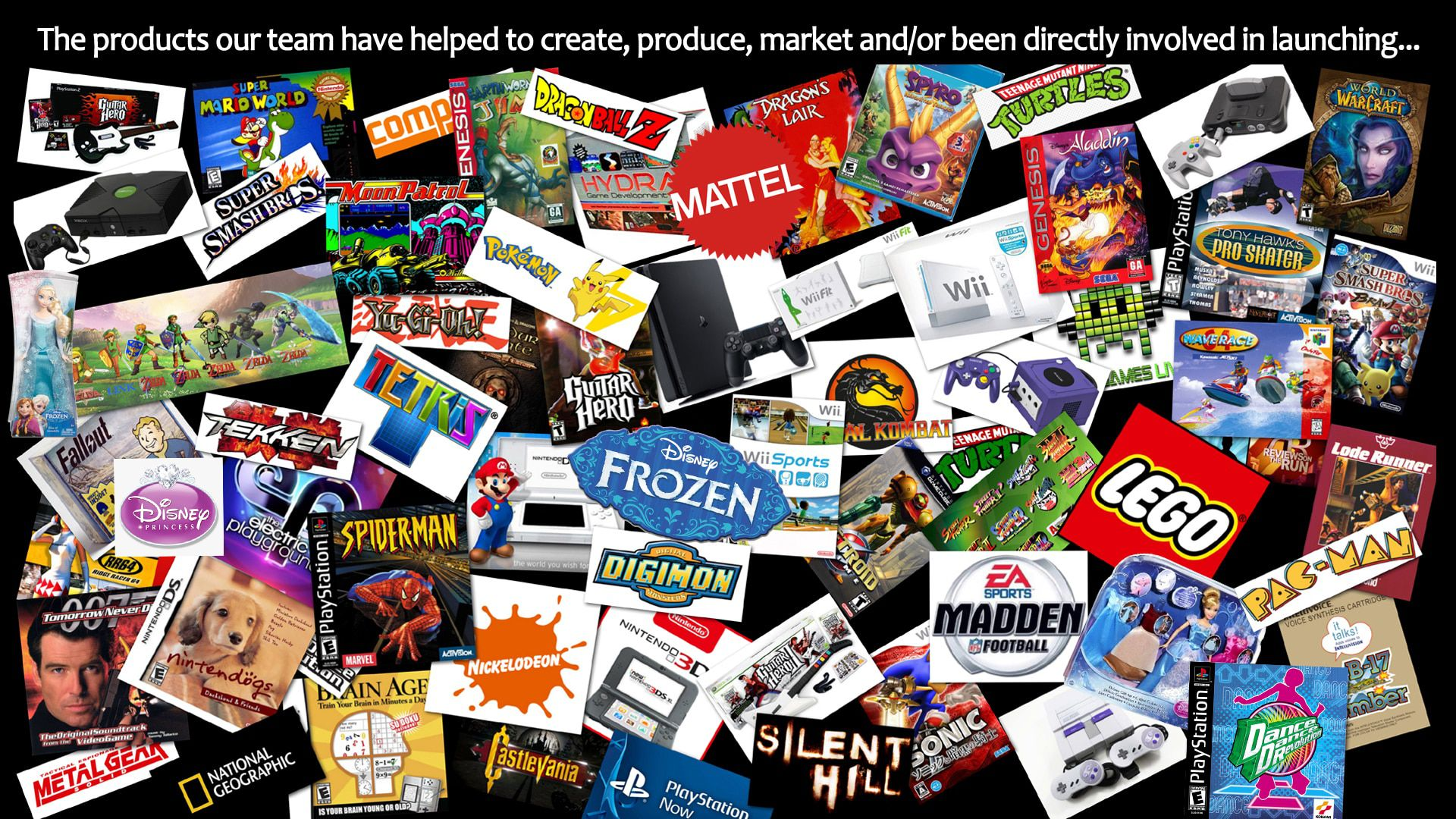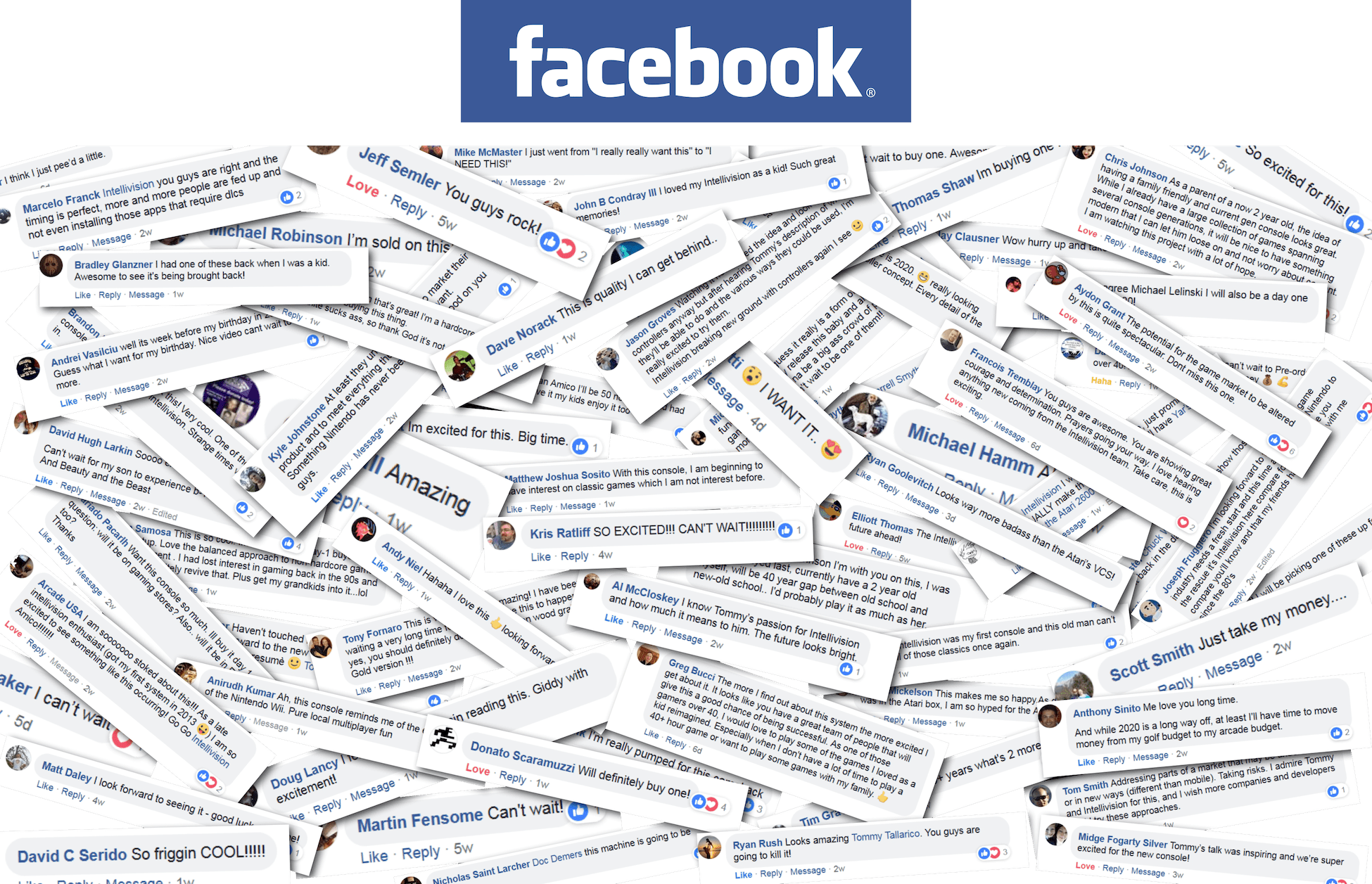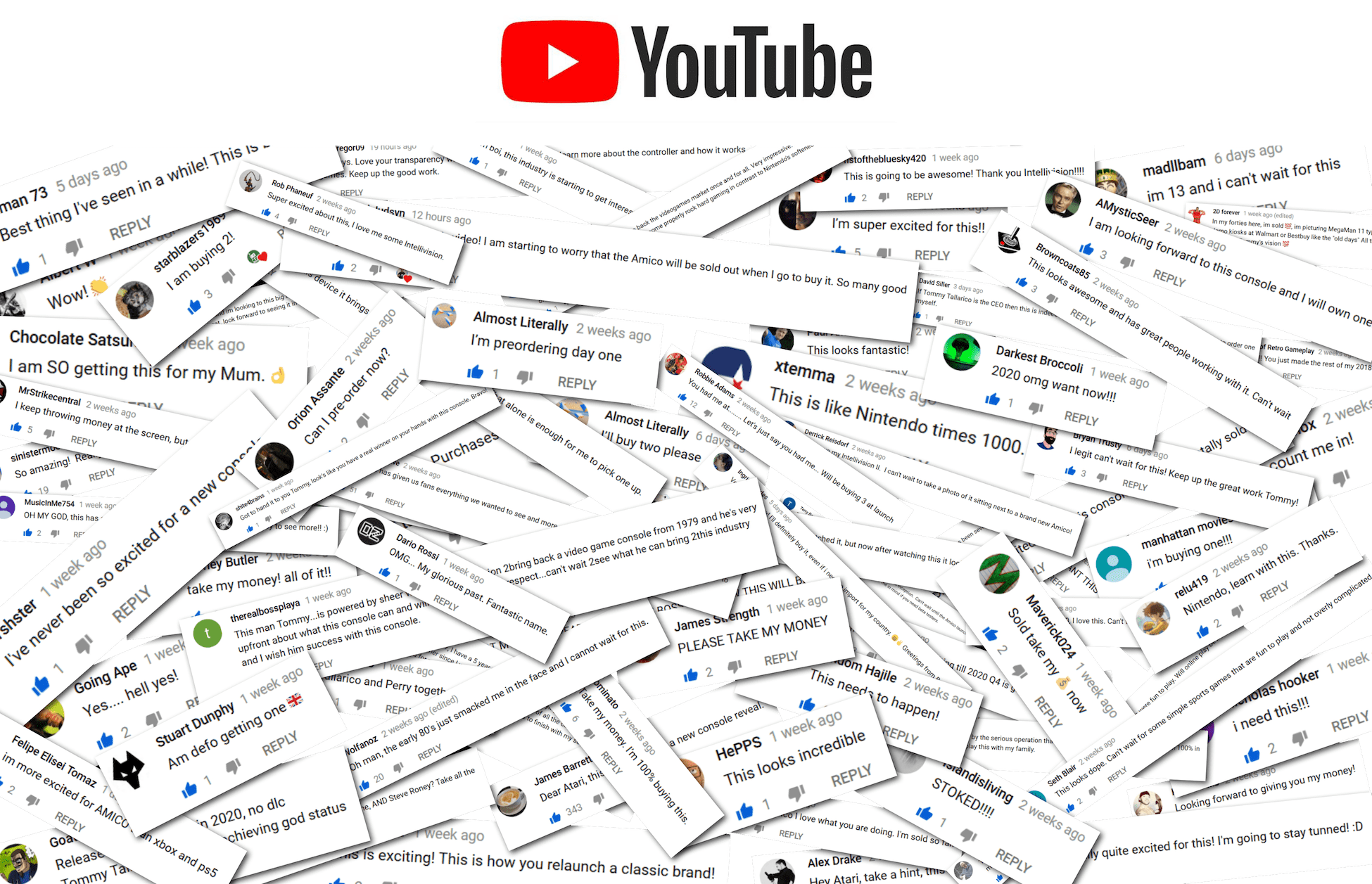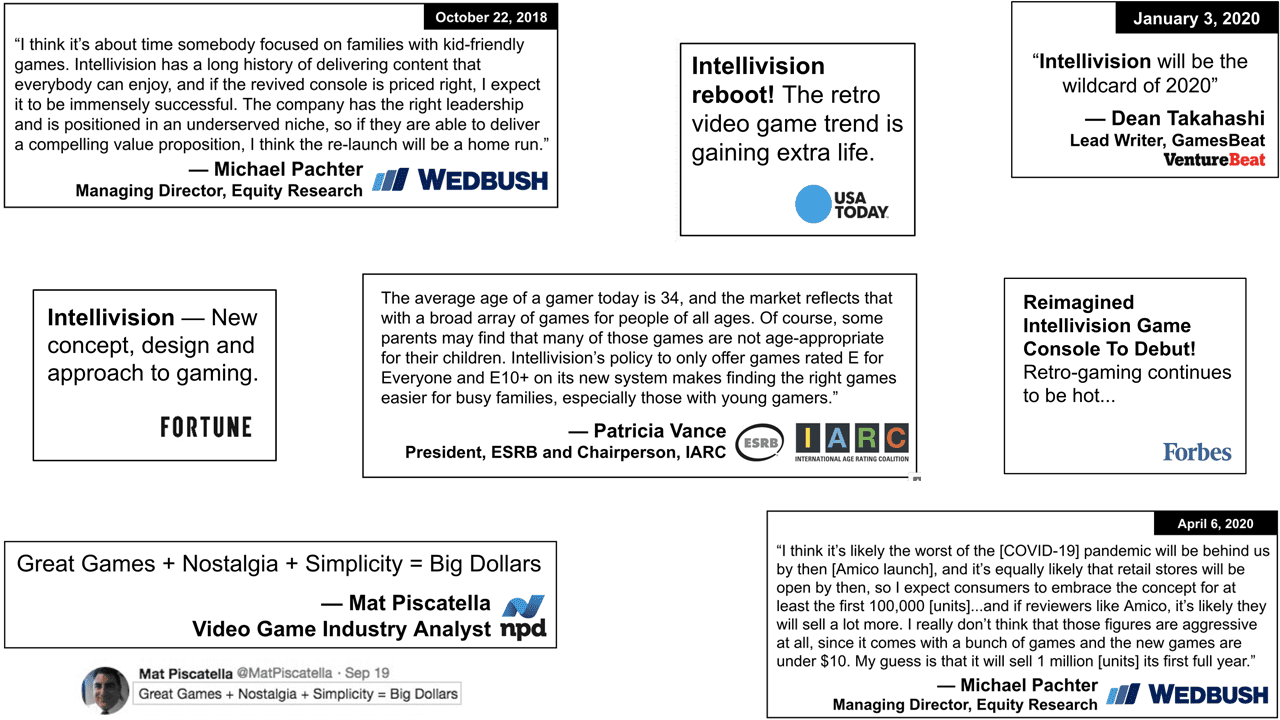 Why others invested
Igors Lavrinovics
ACTIVE INVESTOR
Video games have been in a perpetual bull market since they launched in the late 1970s. The timing here is like being able to invest in Nintendo before it launched their franchises.
Robert Noland
INVESTOR
I have 6 kids! I want to make family gaming great again!
Harvey Ellis Curtis
INVESTOR
I have been following the news about Amico since it was first announced. I am a fan of the system, and I believe the company are doing all the correct things to make it a success. It is an innovative system, I look forward for when it comes out (I have already pre-ordered mine). The system has something for most demographics, the main selling point being family fun with every game being multi and single player.
Intellivision Amico Team
Edit
Tommy Tallarico
CEO/President
30+ years veritable video game industry icon and one of the most successful video game composers. 50+ industry awards and has worked on 300+ game titles totaling 200M+ units and $10B+ in revenue.
Nick Richards
COO/CFO
25+ years in enterprise software and serial entrepreneur with multiple transaction experience. Strong track record managing growth strategies from small start-ups to larger multi-product divisions up to $300M in revenue.
Hans Ippisch
President — European Operations
30+ year leader in the video game industry and former German game developer/journalist. CEO/Chairman of the board of Computec Media Group – largest video game media house in Germany.
Phil Adam
SVP Business Development & Sales
35+ year industry veteran involved in bringing 350+ IPs to market. Responsible for bringing Tetris to the world. Signed the first games from Blizzard, Bioware and Parallax. Former President/COO of Interplay and Founder/President of Spectrum Holobyte.
Jason Enos
VP Production
25+ year industry veteran (Konami, Sega, EA, Pygnosis, Bandai Namco) and jack of all trades with pedigree of award-winning franchises Metal Gear Solid, Castlevania, Contra, DDR, PAC-MAN, Silent Hill, Dragon Ball Z, Dark Souls, Monopoly and 100+ more.
Bill Fisher
VP Technology
30+ year gaming veteran and President/Founder of Quicksilver Software. First generation of video game designers starting at Mattel Electronics/Intellivision in 1981. Key in bringing the first voice to video games with Space Spartans and B-17 Bomber.
Cara Acker
VP Global Marketing
16+ years consumer/retail marketing experience at leading companies Mattel, Bosch and Gap Inc. Directed the world's #1 girls licensed property and toy industry's #2 Fashion Doll category brand (Disney Princess) and Disney's #1 animated film (Frozen).
Sumeet Aggarwal
Managing Director MENA & South Asia
15+ years as a key game industry specialist in the United Arab Emirates. Managed marketing for Microsoft Xbox Middle East – helped launch Xbox 360 and Kinect. 10+ years hosting/producing award-winning gaming radio show, Game On on Dubai Eye 103.8.
John Alvarado
Software Technical Director
30+ year award-winning industry veteran as a developer, programmer, entrepreneur and technical director. Key roles at Virgin Games, Blind Squirrel Games and 13+ years at inXile Entertainment. President/Founder of Big Grub, creating PC/console games.
Mike Dietz
Art Director
30+ year multi-disciplined award-winning developer/animator – worked on 50+ games, including the hits Disney's Aladdin and Earthworm Jim. Key creative roles at Virgin Games, Shiny Entertainment, Disney, The Collective, Heavy Iron Studios and FoxNext.
Rusty Buchert
Senior Producer / Business Development
30+ year industry veteran in lead production roles at WhiteMoon Dreams, Sony and Interplay. Brought 150 titles to market, produced the genre defining Descent 1&2, signed/produced flow, Flower and Unfinished Swan and launched PlayStation Network.
Guido Henkel
Senior Software Engineer
35+ years in games as a designer, programmer, producer, publisher, writer, graphic artist, business developer, sound designer and composer on 30+ computer/mobile games. Master of 20 programming languages, authored 19 books and serial entrepreneur.
David Perry
Board Member / Investor
Iconic industry veteran, founder of Shiny Entertainment and Gaikai cloud gaming – acquired by Sony for $380M to create PlayStation Now. 35+ years of games on 30+ platforms, including Earthworm Jim, TMNT, Aladdin and The Matrix – $1B+ in retail sales.
Stephen Roney
Co-Founder / Investor
Started at Mattel Electronics/Intellivision in 1981. Co-Founded Quicksilver Software. Developed games like B-17 Bomber and Star Trek: Star Fleet Command. 20+ years in aerospace/automotive with Hughes Aircraft, CADAM Inc. and Garmin International.
Mike Mika
Advisor Hardware / Software
20+ years in game development for mobile, console, arcade and PC with Fox, Warner Bros., Disney, Activision, Nintendo, Capcom, EA, Ubisoft, Konami and more – 200+ games and $1B+ in sales. Former Head of Backbone Entertainment. Industry historian.
Scott Tsumura
Advisor — Japan Liaison
40+ year game creator, producer and executive/serial entrepreneur. Former President of Nintendo Software USA. Key roles at IREM, Bullet-Proof Software, Spectrum Holobyte, MicroProse and Tozai, Inc. Worked with Shigeru Miyamoto and Alexey Pajitnov.
Michael Gallagher
Advisor
Former 11-year President of the Entertainment Software Association. Former Assistant Secretary for Communications and Information at the U.S. Dept. of Commerce. Held Communications Practice chair at law firm Perkins Coie. Multiple awards recognition.
Abbey Konowitch
Advisor
Quintessential music executive – former GM of Madonna's Maverick Records, SVP Music/Talent at MTV, GM of Disney Music Group / Hollywood Records, EVP at MCA/Universal Records. Worked with Aretha Franklin, Blink-182, Miley Cyrus, Jonas Brothers, etc.