AI-based customer experience automation platform for financial institutions
Backed by Barclays Techstars and Independent Community Banking Association
Financial institution customers with AUM ranging from $100M to $2.5T
$130B market opportunity with a projected $25B for AI in Finance by 2025
Backed by VC firms such as Breega Capital and HoltExchange
Resale and innovation partnership with Finastra, IBM, Accenture-FIL
Advised by former CEO Banamex

USA

(Citigroup) Rebecca Macieira-Kaufmann
Diversified team with fintech, banking, and wealth management background
Financial institutions lack personalized customer engagement
Edit
8 in 10 consumers would switch financial institutions for a better experience.
As Millennials and Generation Z come of age, they're expecting a seamless user experience on par with all other technology they are used to. For financial institutions to truly keep up with the modern-day customer, they need to customize and personalize their customer experience – empowering the individuals to feel in charge of their finances.
Modern financial institutions have lean sales and marketing teams that need a customer engagement tool built on AI and data flow. For them...
Edit
Leveraging data and insights are often squandered
Edit
Financial institutions' sales and marketing teams often don't have the tools and resources to leverage internal data for customer engagement.
Sourcing the right content
Edit
engagement content and screening it for compliance is challenging and time-consuming.
Engineering cost
Edit
Building, testing, and analyzing AI models and customer engagement scenarios are expensive.
A no-code customer engagement platform built on data and AI
Edit
KapitalWise has built a platform that aims to help financial institutions' relationship managers and marketing teams elevate their work with new, relevant insights into their client's financial life, and better help customers achieve their financial goals.
Moments of truth
Edit
Data-driven approach to identify the moments of truth to engage with customers.
Engagement content
Edit
Customized and ready-to-use marketing content and customer-facing apps developed by experts.
Engagement builder
Edit
Build, pilot, and deploy new customer experiences without IT support.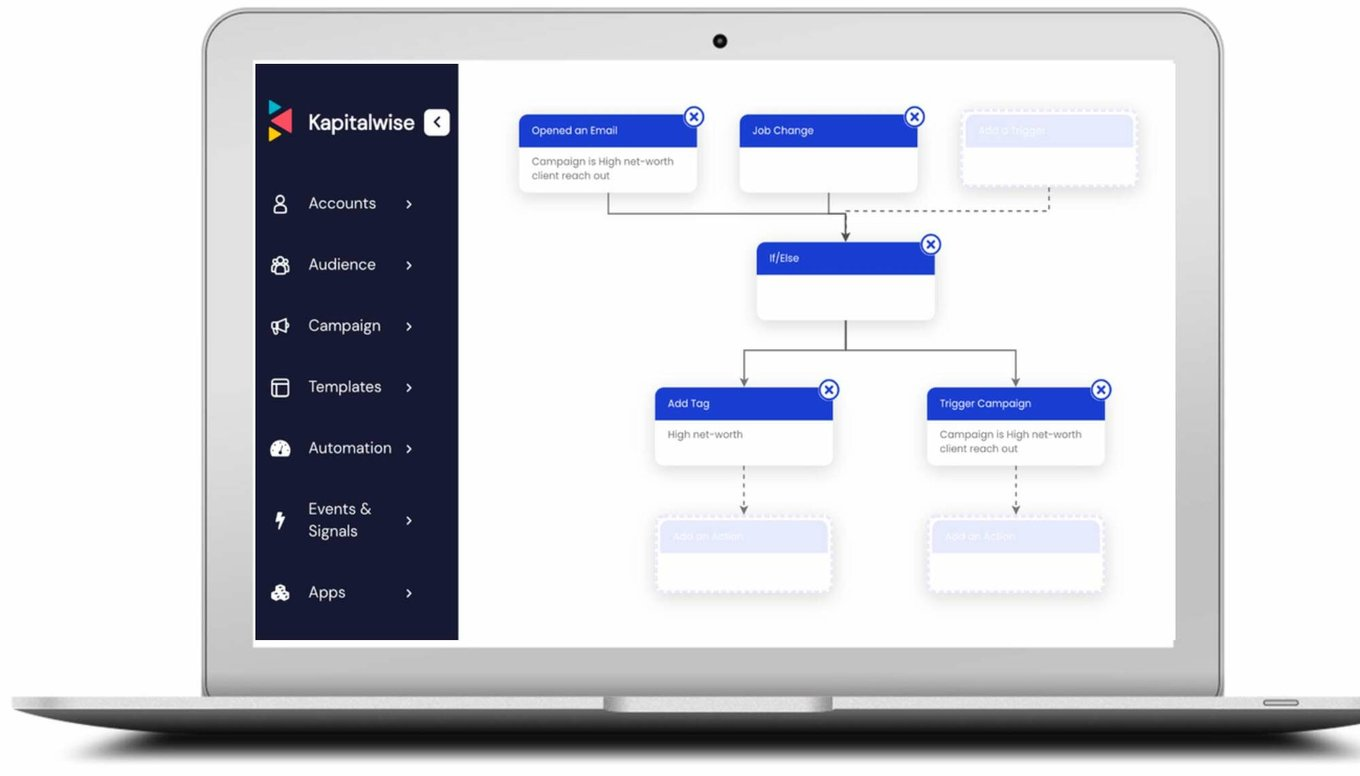 Kapitalwise: no-code customer engagement
Edit
Kapitalwise has created a way to extract behavioral insights from financial information on a massive scale. We believe that with the insights we can provide, financial institutions will be able to create the customer experience that everyone wants.
Signalwise
Edit
Data aggregation and AI to detect "Moments of Truth" and predict "Next Best Action" to engage customers.
Contentwise
Edit
Apps, tools, and financial education content with pre-built engagement automation templates.
Marketingwise
Edit
Email, SMS, Web Analytics, and Social Media marketing automation.
Saleswise
Edit
Lead management tools built to close more deals. Manage pipeline, tasks, notes, and meetings.

300% increase in managed customer accounts
Edit
From Q4 '21 to Q1 '22
Edit
Kapitalwise has graduated from the Barclays Techstars and Fintech Innovation Lab and received over $950K investments from investors and accelerators, including Techstars, Breega Capital, and the Independent Community Bankers of America (ICBA). We have dozens of customers using our platform ranging from global Tier-1 banks to B2C fintechs. We also have paid evaluation contracts signed with large Tier-1 banks like Bank of America and Barclays South Africa (ABSA).
Booked ARR: $120K
Edit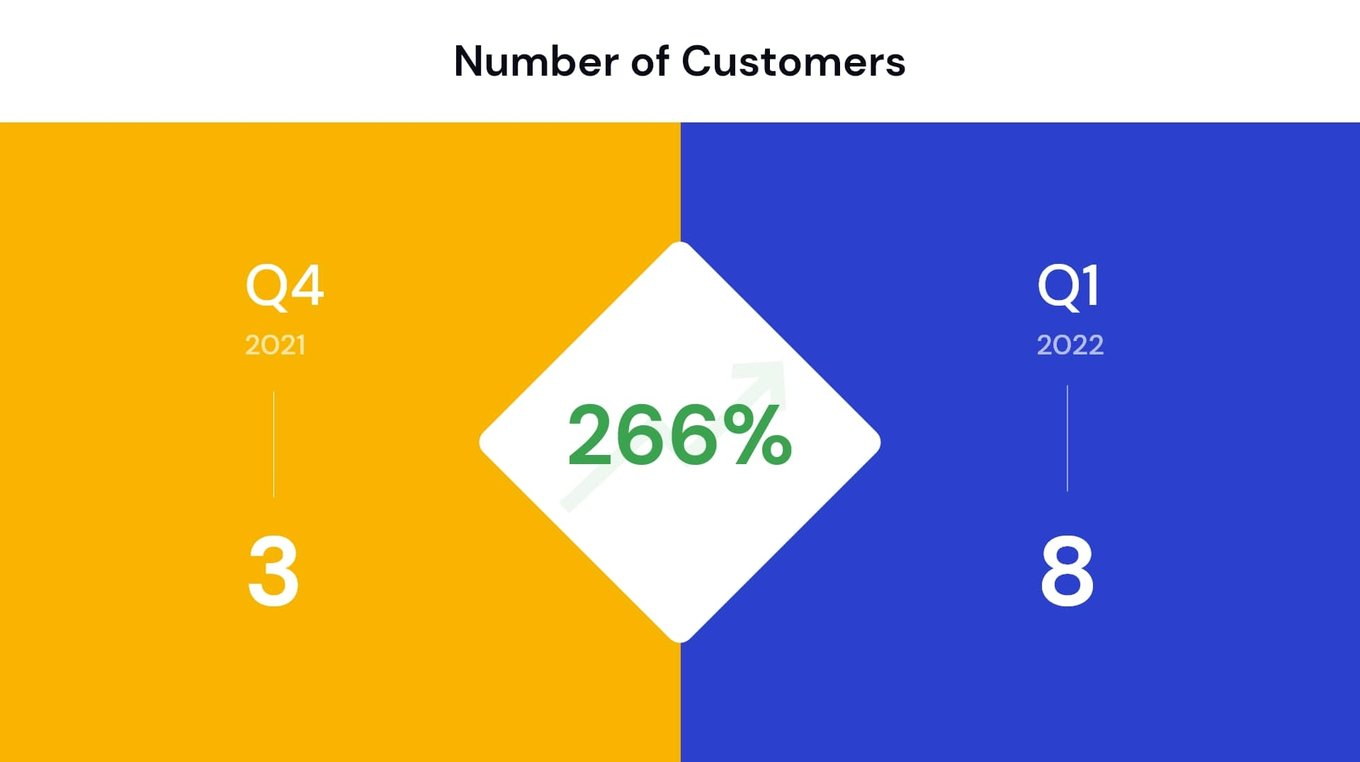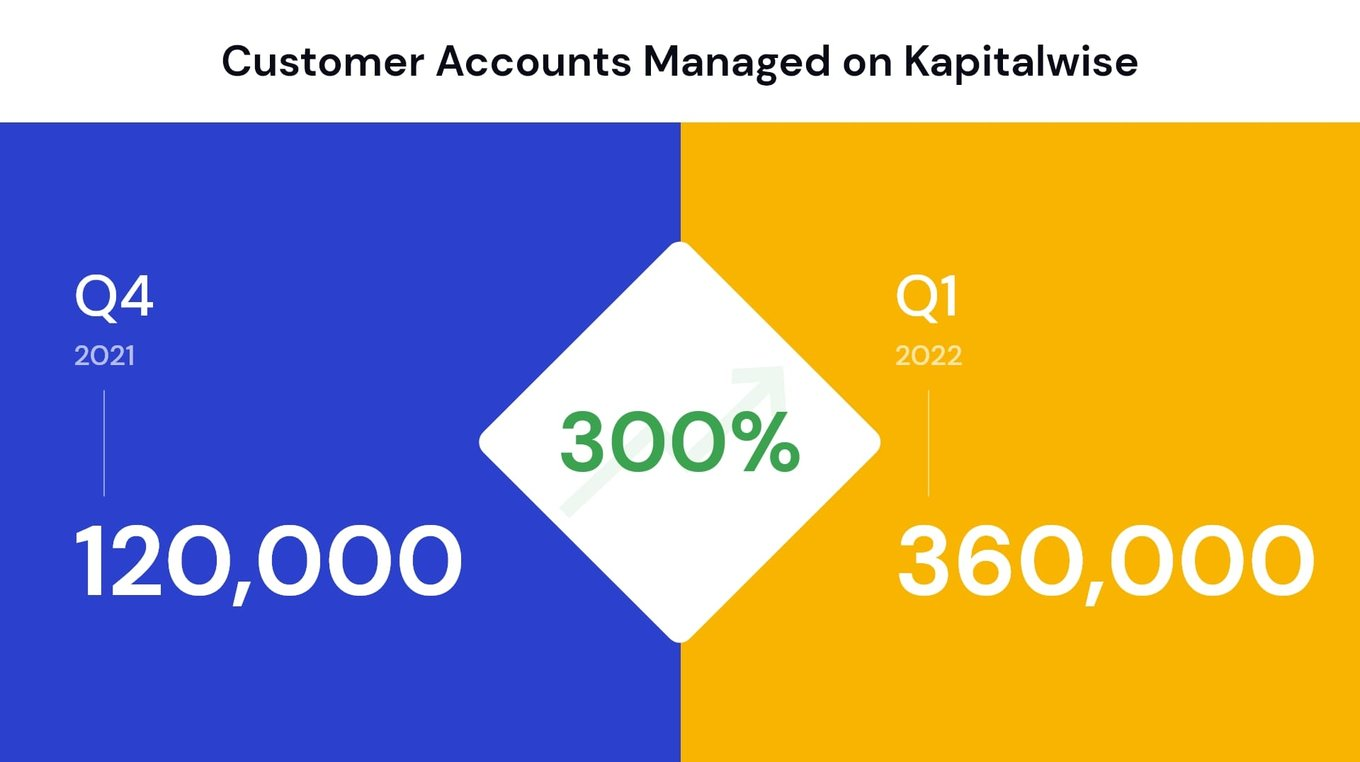 Financial Projections*
Edit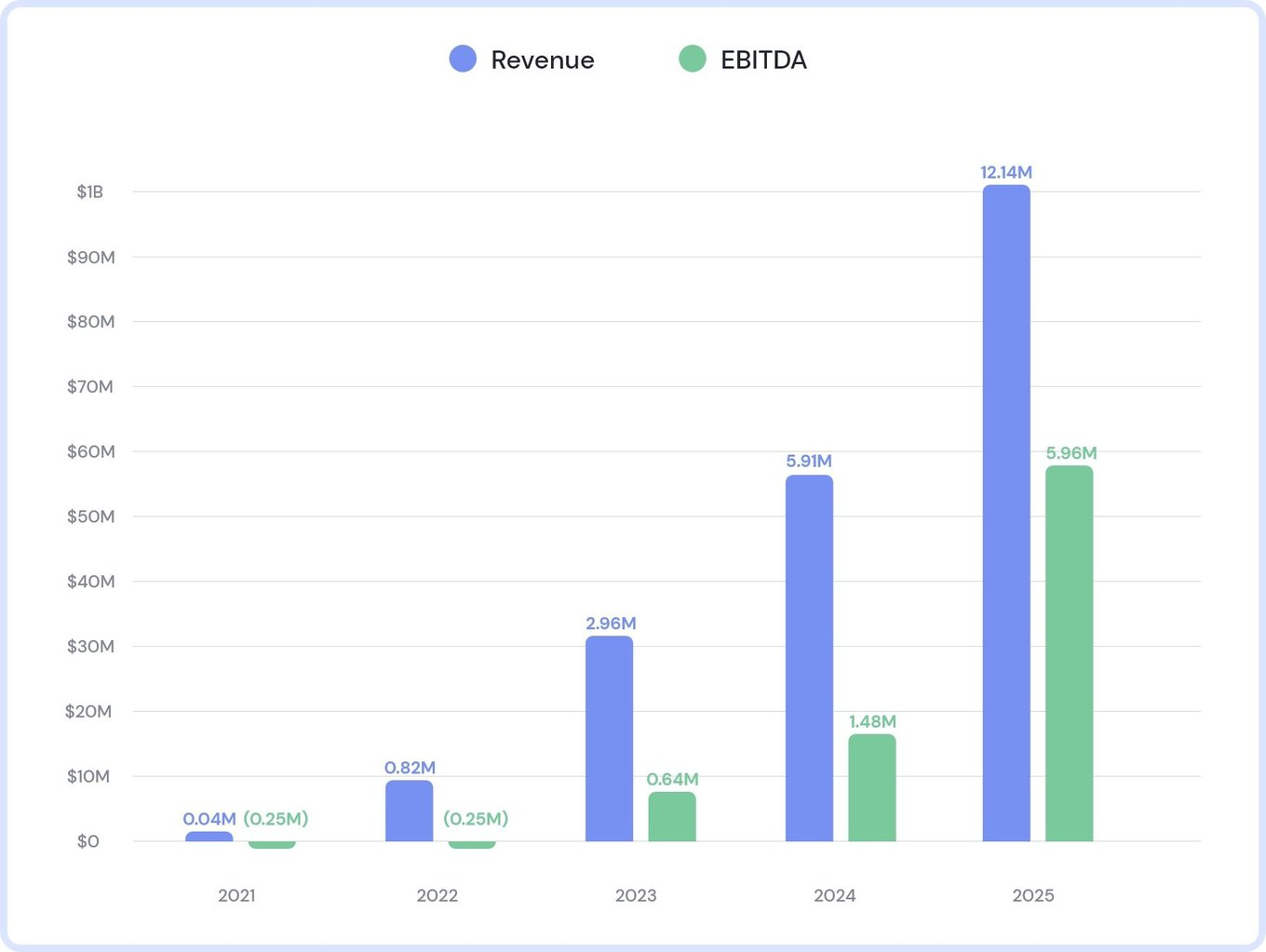 * Click here for important information regarding Financial Projections which are not guaranteed.
Customers
Edit
Serving an expanding roster of financial institutions
Edit
Live Customers:  
Edit
Mid-market financial institutions, including regional banks, wealth management firms, and global Tier-1 banks.
Pipeline:
Edit
A total pipeline worth more than $10M in potential contract revenue.
Our proud partners work with us to make banking more accessible and innovate new ways to improve customers' financial life.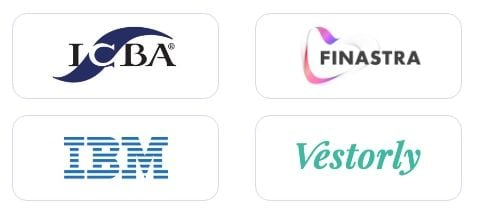 Appreciation from our customers
Edit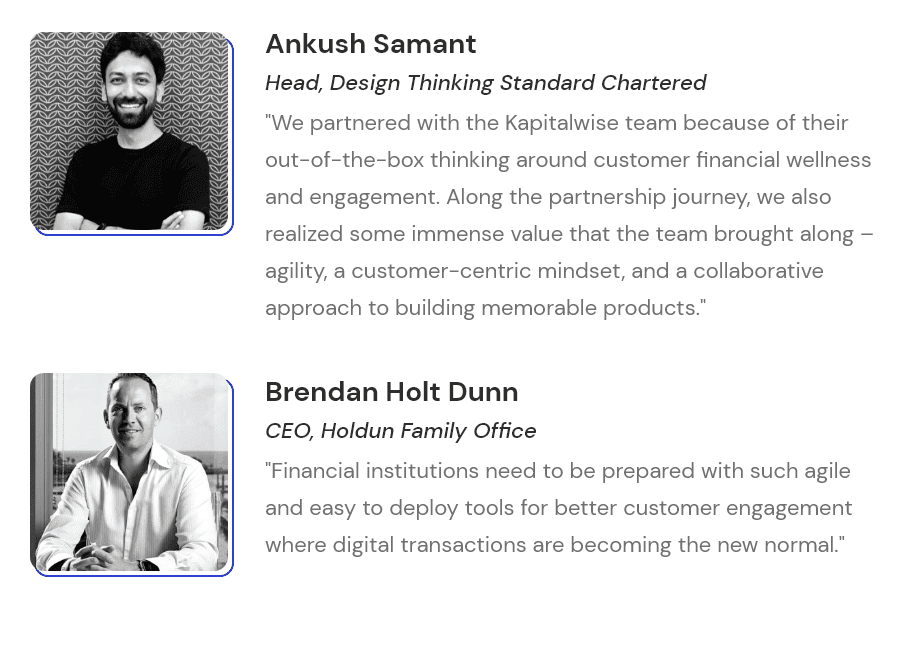 Business model
Edit
Average subscriptions starting at $750/month With additional monetized features and content options
Kapitalwise is pursuing a B2B model for our distribution. Our monthly subscription pricing is based on the number of customer accounts managed on the Kapitalwise platform, starting at $750/month. In addition to the base platform, we offer additional features and content purchase options.
Our enterprise plans include features that require custom data integration. We charge an installation fee for onsite installations which range from $150K to $300K.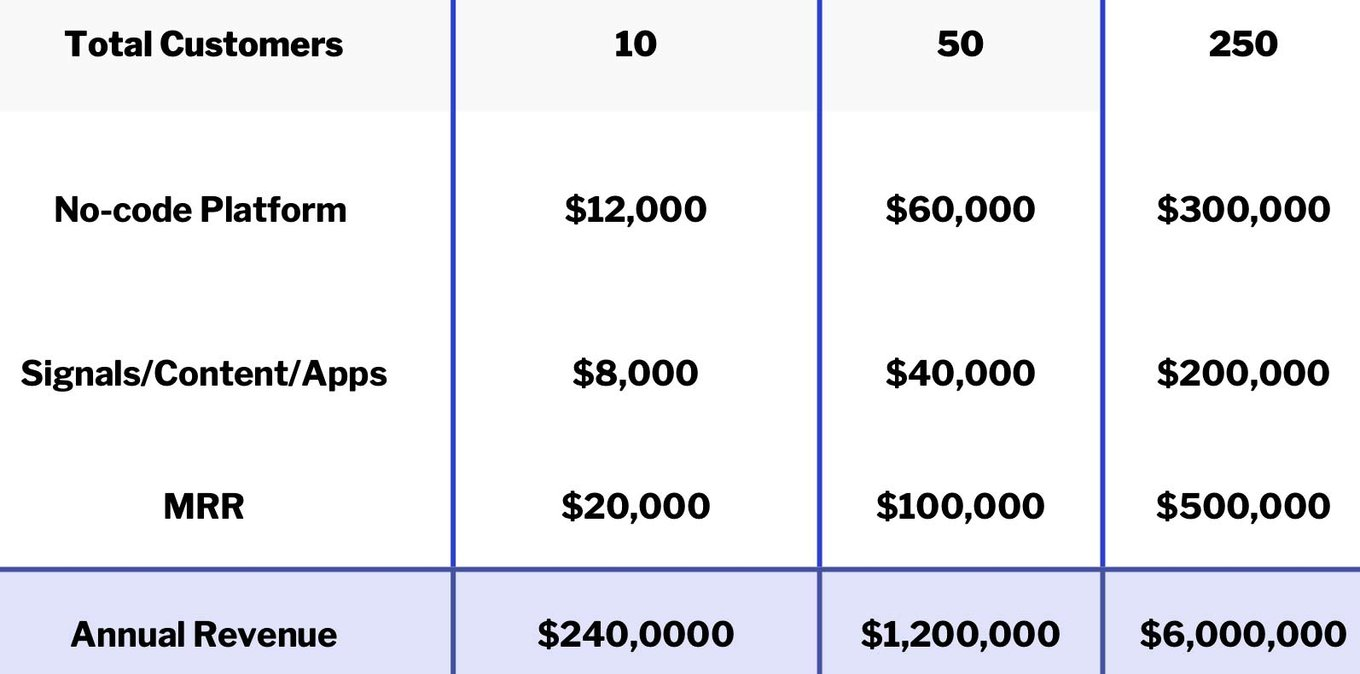 * Click here for important information regarding Financial Projections which are not guaranteed.
The $1.5T finance and insurance industries are ripe for disruption
Edit
The FinTech industry is already a major contributor to the global financial sector. The $58B global CRM market will reach $129B by 2028.
16% Two of the faster-growing categories of CRM are expected to be engagement automation and customer service, with 15.86% and 14.37% CAGR.
10% The top four industries for CRM software use are services (32%), information technology (13%), manufacturing (13%), and finance (10%).
Market opportunity
Edit
Serviceable Market: 90K Financial Institutions
Obtainable Market: 9K Financial Institutions

Credit Unions and Banks are hyper-aware of the trend and how important these tech solutions have become to their businesses: 60% of credit unions and 49% of banks say they believe that a partnership with a FinTech firm is important.
Competition
Edit
Financial CRM landscape
Edit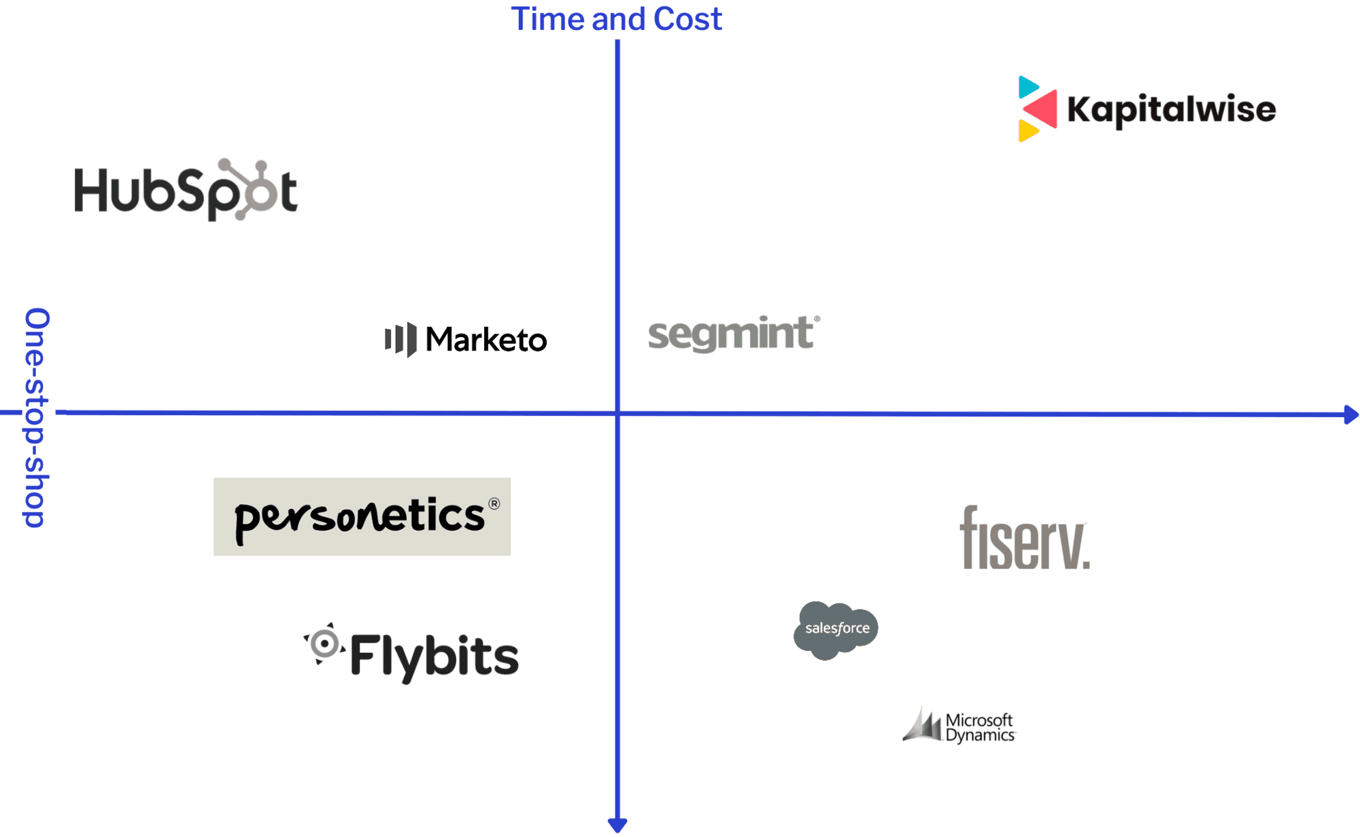 Use of funds
Edit
Expanding Sales & Marketing Roles:
Edit
VP of Marketing, two SRDs.
Product and Engineering
Edit
Extending the current engineering team from 10 to 15. Hiring the VP of engineering and Chief Product Officer.
Additional features
Edit
Adding embedded fintech (Card Issuing and Lending) to the current App Marketplace.
Investors
Edit
Backed by leading VC firms and accelerators
Edit
Kapitalwise has raised nearly $1M from top VC firms in the banking and fintech industry. We have been part of prestigious startup accelerators like Barclays TechStars, PlugandPlay, VentureCetner, and Fintech Innovation Lab.

Leadership
Edit
Diversified team with the right mix of technology, strategy, and operations backgrounds
Kapitalwise Team
Edit
Sajil Koroth
CEO
Sean Parker
CRO/CSO
Paul Stamoulis
Chairman
Rebecca Macieira-Kaufmann
Advisor - former CEO Banamex USA (Citigroup)
Jesse Martinek
Director of Partnership
Manuel Morales PhD.
Scientific Advisor - Professor Montréal University
Engineering & Product
Development