Making ad spend analytics easy to understand for every marketer
$930K lifetime revenue (historical & contracted)
Hired first two full-time employees in 2022 (Engineer & BDR)
Raised $200K in pre-seed round in late 2021
Four active clients, two signed LOIs, $350k in weighted sales pipeline
Fully automated reporting UI launched Q4 2021 (manual work cut 90% YoY)
Approached by two companies for acquisition in 2022 (both declined)
Added 5x CEO Bill Eichen as advisor in Jan 2022 (MD @ GimmelFund)
79% of marketers struggle to interpret and apply data analytics to improve marketing ROAS.
Edit
This is due to specialized knowledge requirements and lack of analytical staff.*
As a result, advertisers either forego buying analytics tools or use biased platform data to evaluate ad spend effectiveness.
*emarketer study 2019
Simple, actionable ad analytics
Edit
Mint Measure's ad analytics platform provides easy-to-read charts and pre-analyzed insights so any marketer knows what's working.
Prescriptive recommendations make optimizations easy and actionable.
We help brands know which ad channels are driving results and how to optimize.
Here's a look at our UI and reports: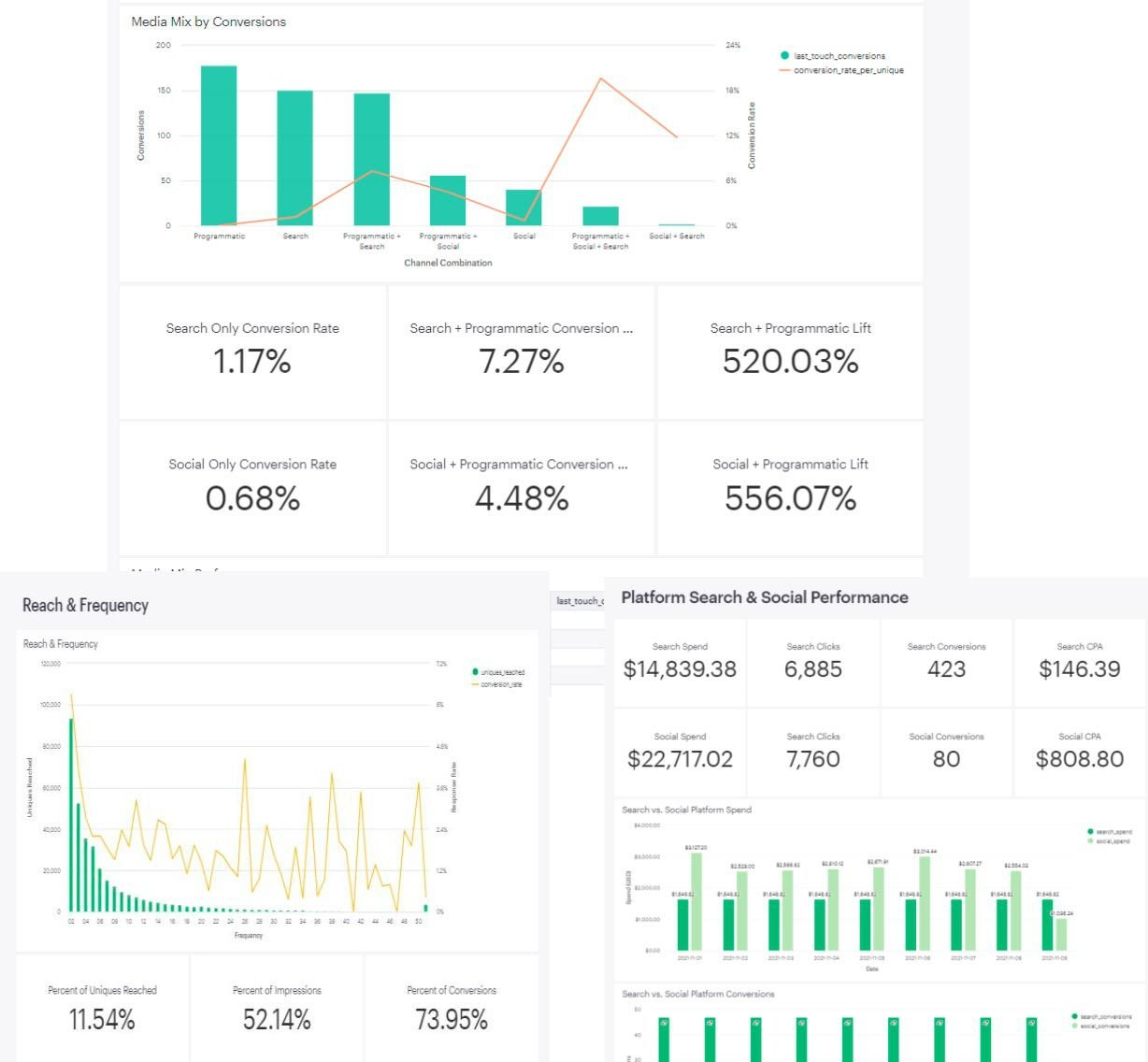 How it works
Edit
Mint Measure's tech is placed in each ad platform for a brand, and we monitor ad delivery and actions taken by users.
This data is cleaned and transformed into easy-to-read charts. Insights give context, and recommendations are provided for the client to take action.

Mint Measure's unfair advantage
Edit
We created a new way to process data to deliver 80% of the value of the enterprise solutions at 20% of the cost.
Our unique methodology quantifies what's working and where marketers should allocate ad budgets to drive growth with these proprietary metrics:
Incremental reach
iCPM - cost of incremental reach
Incremental conversions
iCPA - cost per incremental conversion
By the numbers
Edit
2020 revenue - $47,500
2021 revenue - $321,000
2022 bookings - $506,000 (+53% YoY)

$149K ARR + $357K Pay-per-use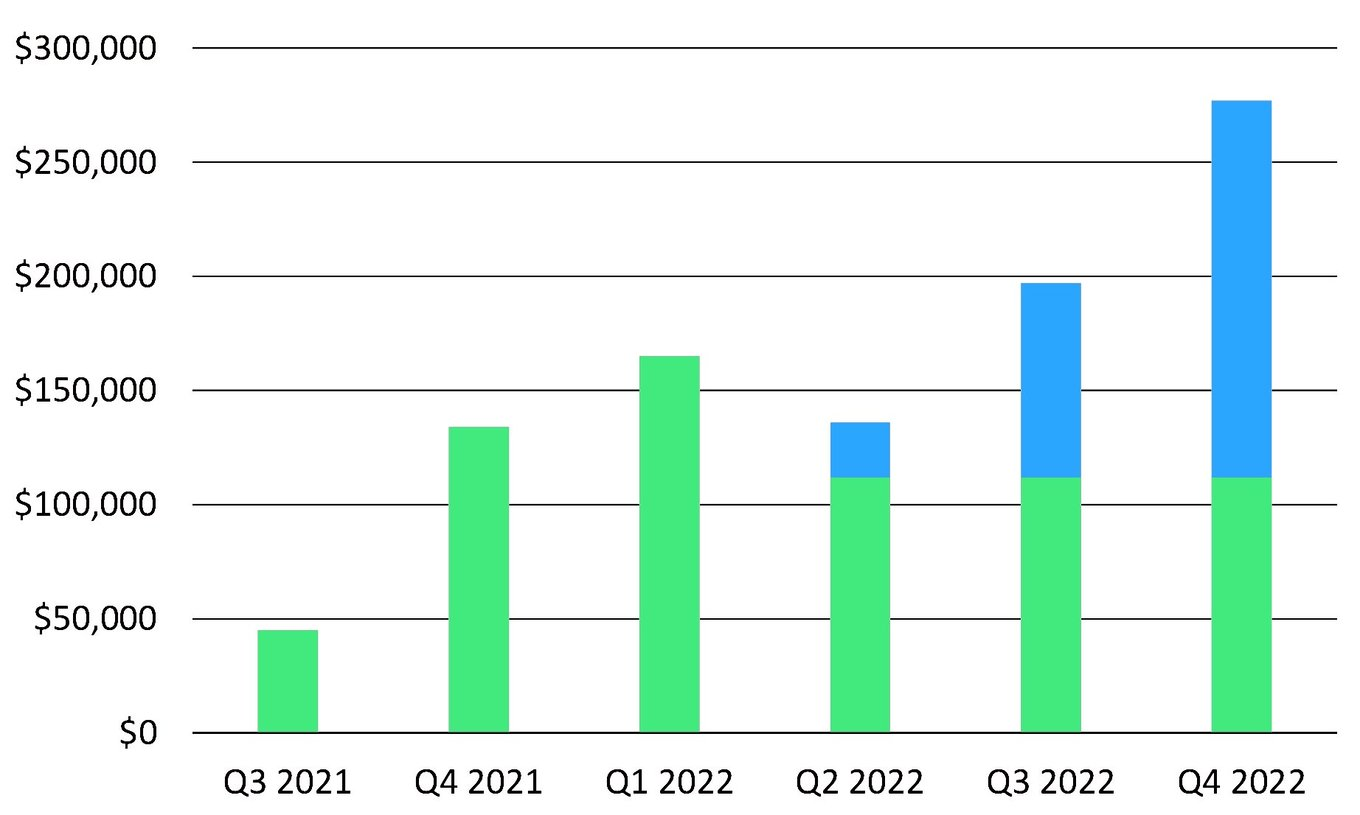 Customers
Edit
4 active clients
Q4 2021 closed 2 new deals
Q2 2022 forecast – 4 new deals ($10k MRR)
4 proposals out for approval; strong sales pipeline
Where we are today
Edit
Core Analytics Platform
Edit
Serving clients for ~18 months
$930K lifetime revenue
$506K booked so far for 2022
Repackage products
Edit
Parsed analytics into 3 SaaS products to align with client needs and stages of growth
Launched new SaaS website in February, with ability for customer to purchase online
Data Sales
Edit
Upsold a current client to begin using audience data
3 upcoming pilot campaigns with brands for data sales
Staff & Growth
Edit
Hired first 2 staff
Sales Rep; has been 1st sales rep 3x
Lead Engineer
Partnerships
Edit
Developing long term partnership with High There/CannaGrowth platform to serve as their dedicated analytics provider
Expanding relationships with ad agencies to gain client referrals
Customers
Edit
Customer segments
Edit
We service brands spending $400k–$30M per year on advertising.
Edit

Facts about attribution
Edit
70% say cost justification is a challenge
78% of marketers plan to adapt of increase their use of cross channel attribution
Only 39% of companies are carrying out attribution on 'all or most' of their marketing activities (Source: econsultancy)
70% of businesses are now struggling to act on the insights they gain from attribution (Source: AdRoll)
42% of marketers report attribution manually using spreadsheets (Source: econsultancy)
53.3% say a minimal understanding is the main challenge of effective marketing attribution (Source: Ruler Analytics)
Business model
Edit
Monthly fee and pay-per-use options
Edit
Option 1: Monthly Fee (SaaS)
Edit
3 tiers of product

$699 ($500K ad spend)
$1,249 ($1M ad spend)
$2,499 ($2M+ ad spend)

Currently our GTM for 2022
Option 2: Pay-Per-Use
Edit
For ad agencies only
Rates range from $0.50-$1.00 CPM
Yields 30% increased profit
Attribution companies intersect:
Edit
Analytics + digital identity + data sales
Edit
Nielsen – $6B Revenue
Neustar – $575M Revenue
LiveRamp – $443M Revenue
Companies that offer all 3 earn 20–50x higher revenues than single-service companies
18 month SOM* - $2M ARR
6 year SOM* - $92M ARR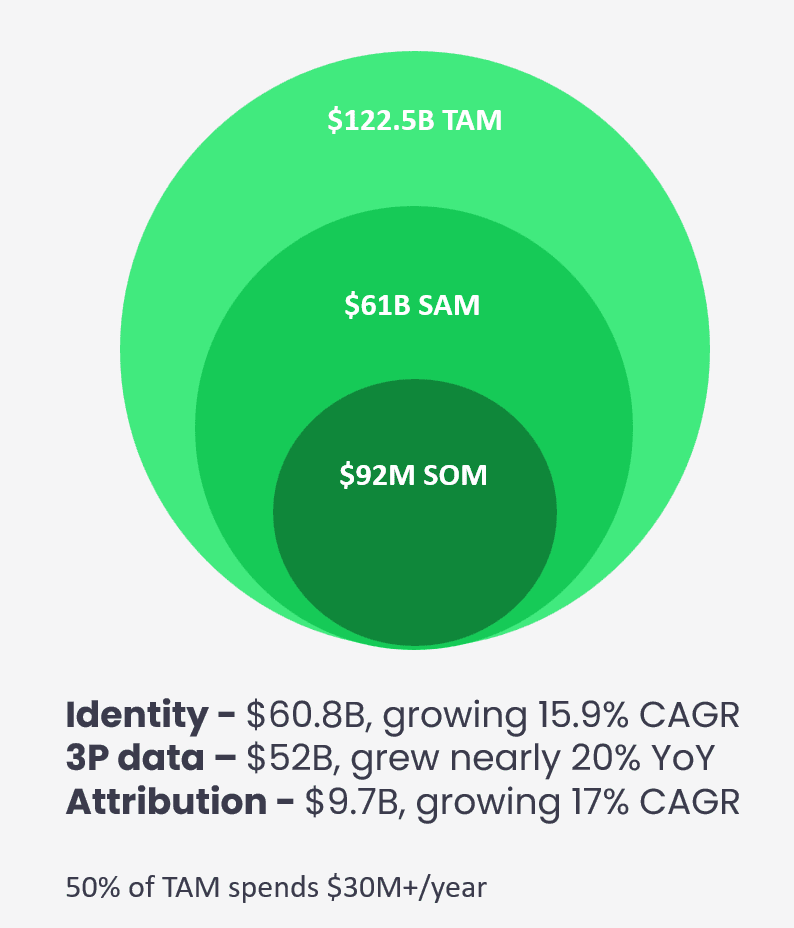 *SOM is project growth
Competition
Edit
Competitive landscape
Edit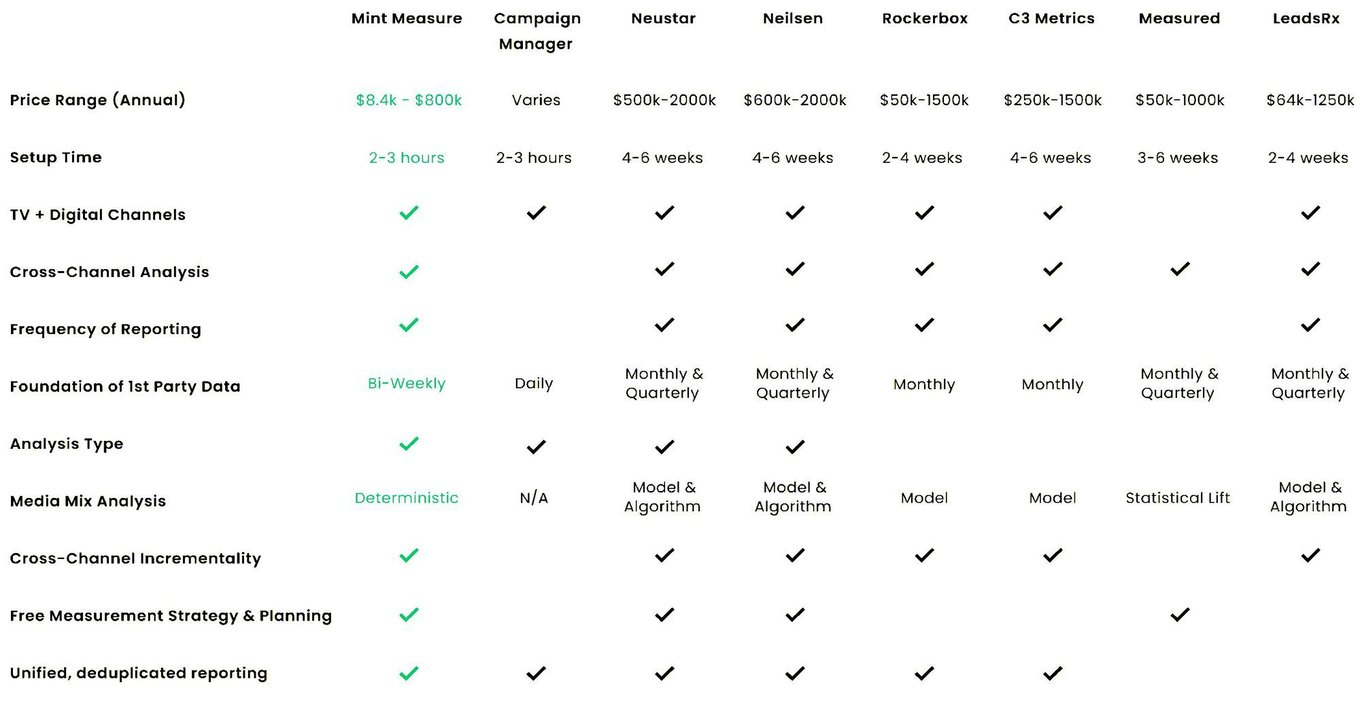 Vision and strategy
Edit
What we'll achieve with your investment
Edit
Core Analytics (SaaS)
Edit
Finalize product market fit; repeatable sales processes
Add $750K ARR in 12 months
Incorporate client feedback to improve platform usability
Continue automating workflows and scale prep
Data Sales & Identity
Edit
Build pipes & automate data workflows for data sales

Create integrations into top 5 DSPs

Add $150k in data sales revenue
Use of Funds
Edit
Team Marketing
Edit
Biz Dev & Account Executives (23%)
Data engineer (22%)
Data Analyst (11%)
Databricks & Azure (7%)
ID5 & Experian (4%)
Marketing
Edit
SEO & paid search (7%)
Content marketing (5%)
Industry conferences (3%)
Legal (2%)
Office supplies (1%)
Discretionary (15%)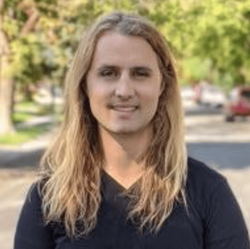 Scott Konopasek
CEO / Platform Creator
11 years in Adtech
Built Mint to solve the pain points he experienced
Performance marketer & analytics expert
Track record driving double-digit growth for clients
Process-driven thinker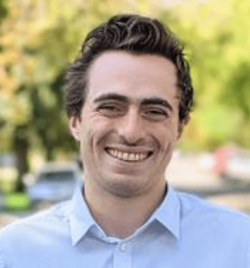 Alex Netelkos
CPO / Product, Data, and Analytics
7 years in AdTech
Analytics Lead at DSP MediaMath for clients Walmart, Home Depot and Proctor & Gamble
Led creation of MediaMath's SOURCE Reporting Dashboard
Experience in analytics, client services and product development
Mint Measure Team
Edit
Scott Konopasek
Founder
Alex Netelkos
Head of Product & Analytics
Keoni Murray
Lead Engineer
Brandon Beck
Business Development Representative