Connecting mobility + technology + hyperlocal out-of-home advertising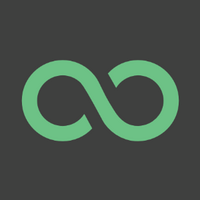 Highlights
Edit
$628.7K YTD Revenue | 59% YoY Growth
$343.2K Q2 Revenue | 84% YoY Growth
$1.5M pre-seed capital raised from top-tier investors including Techstars
Launch OOH ad campaigns as easily as posting a Facebook ad
Ads are wrapped on gig economy driver vehicles & autonomous robots
Track, measure, & optimize campaign performance in real-time
Featured in Forbes, Entrepreneur inc, Techcrunch, Smart Cities Dive, ETC.
Advertisers can see 600% ROI when using out-of-home advertising*
Edit

*Source: (2017) Out of Home Advertising Association of America
But the out-of-home advertising can present challenges for advertisers:
Edit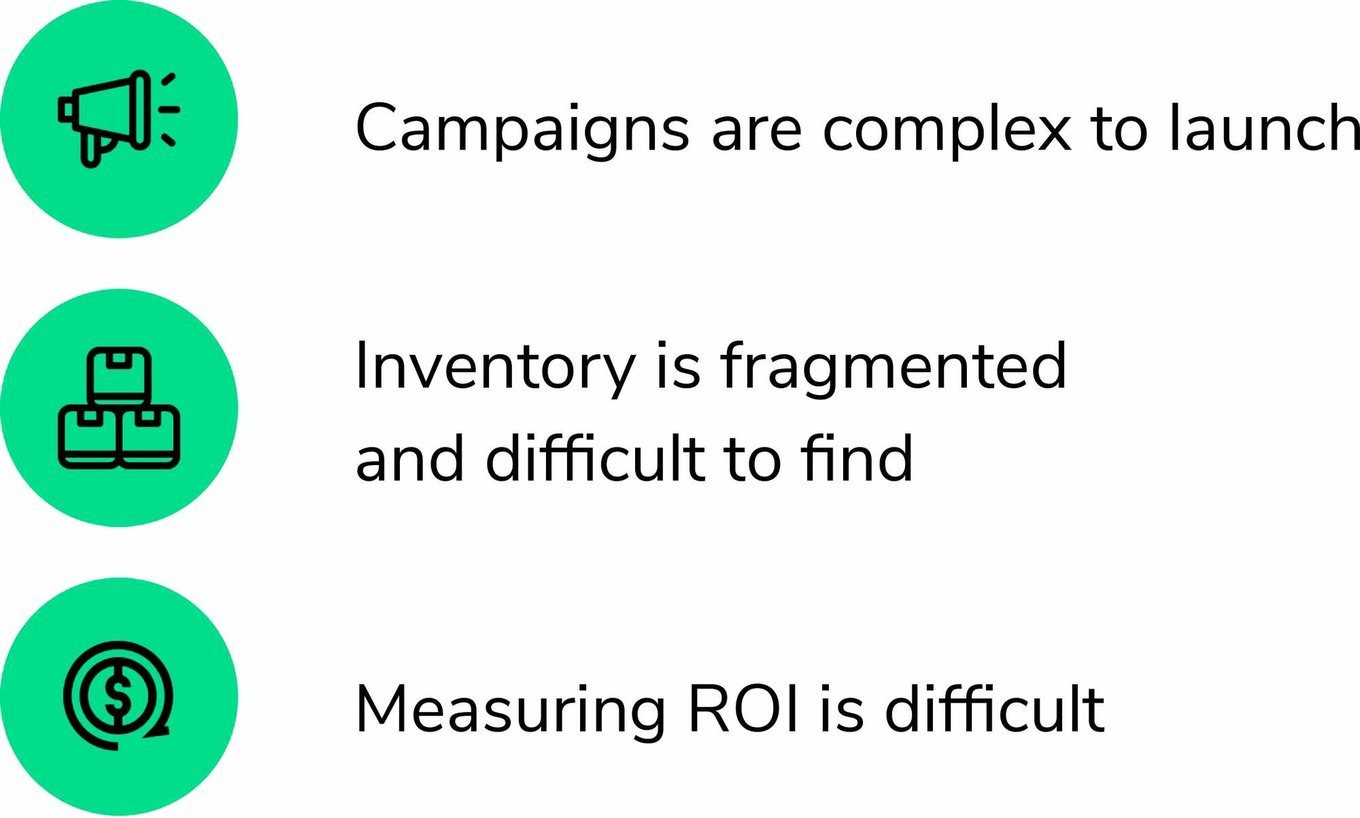 With Nickelytics, brands can launch hyperlocal out-of-home advertising campaigns as easily as they would post a Facebook Ad.
Edit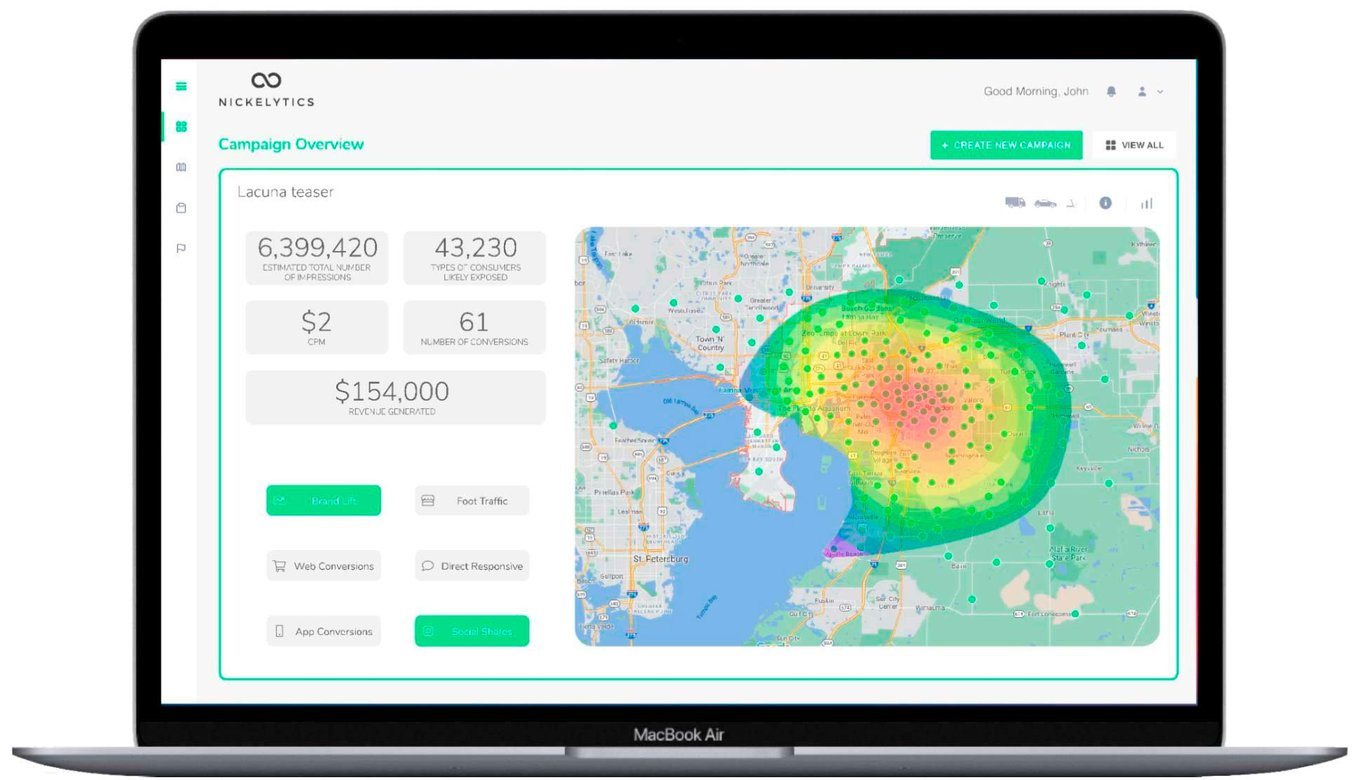 How it works
Edit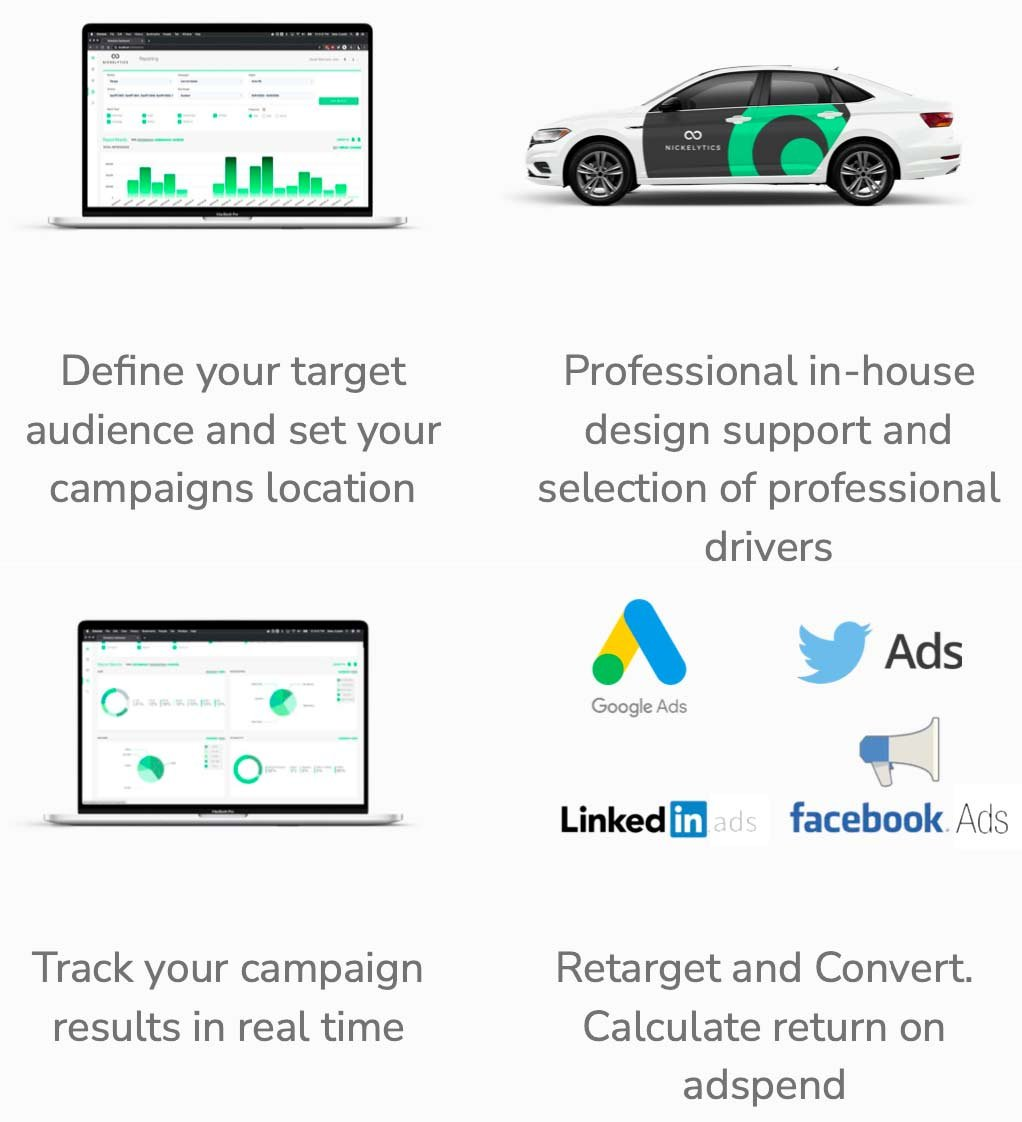 We've unlocked a new asset class
and turned it into a hyper-local and measurable Out Of Home Advertising medium.
Average ~$2.10 CPM per advertiser campaign.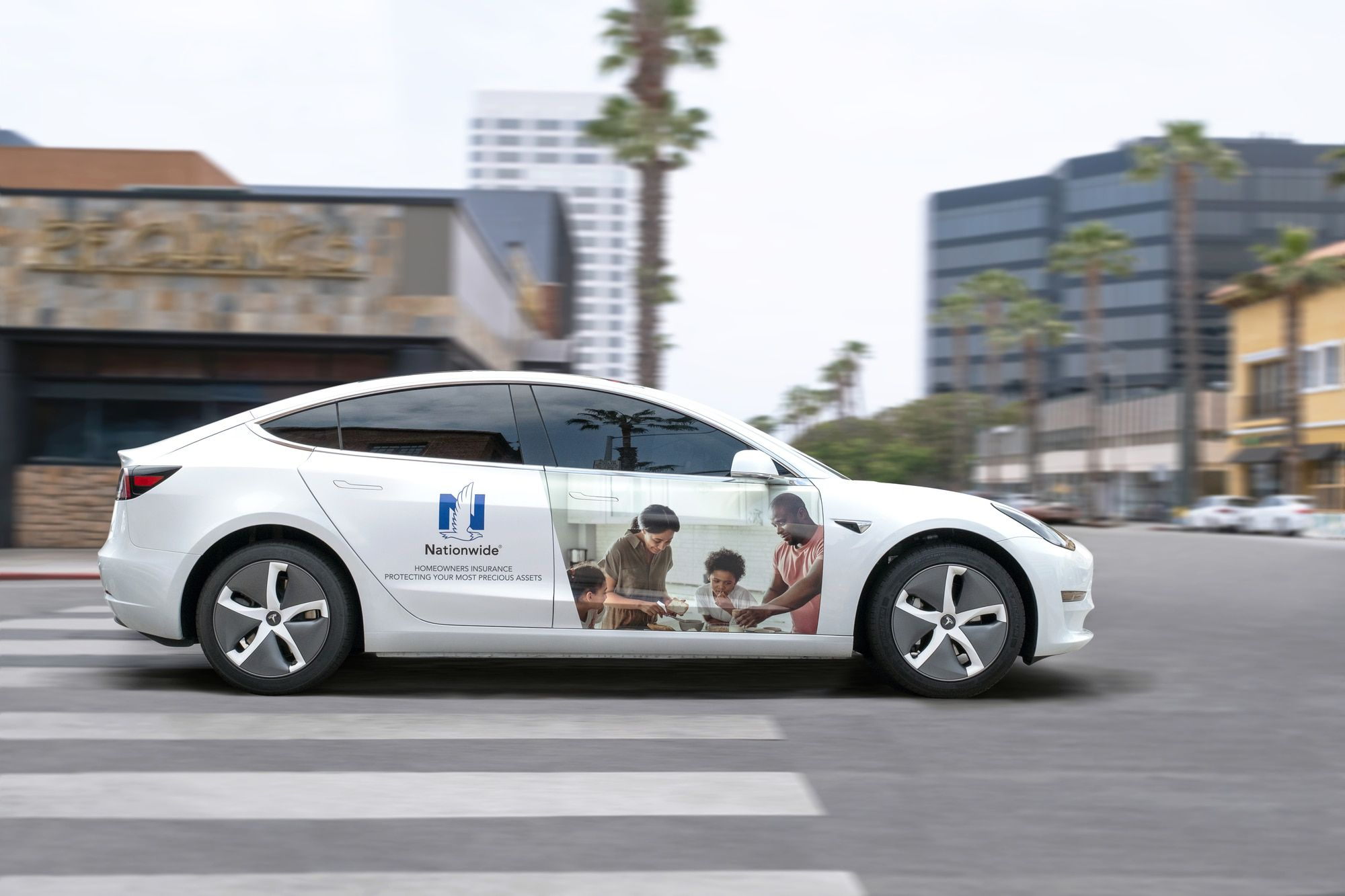 Today's model: Mobile out-of-home vehicles
Edit
Gig drivers & fleet operators
Edit
We wrap (physical wrap) gig economy driver vehicles that travel at least 42 miles daily through busy city streets.
Our 15,000+ driver database includes drivers from:
Grubhub | Uber | Instacart | Lyft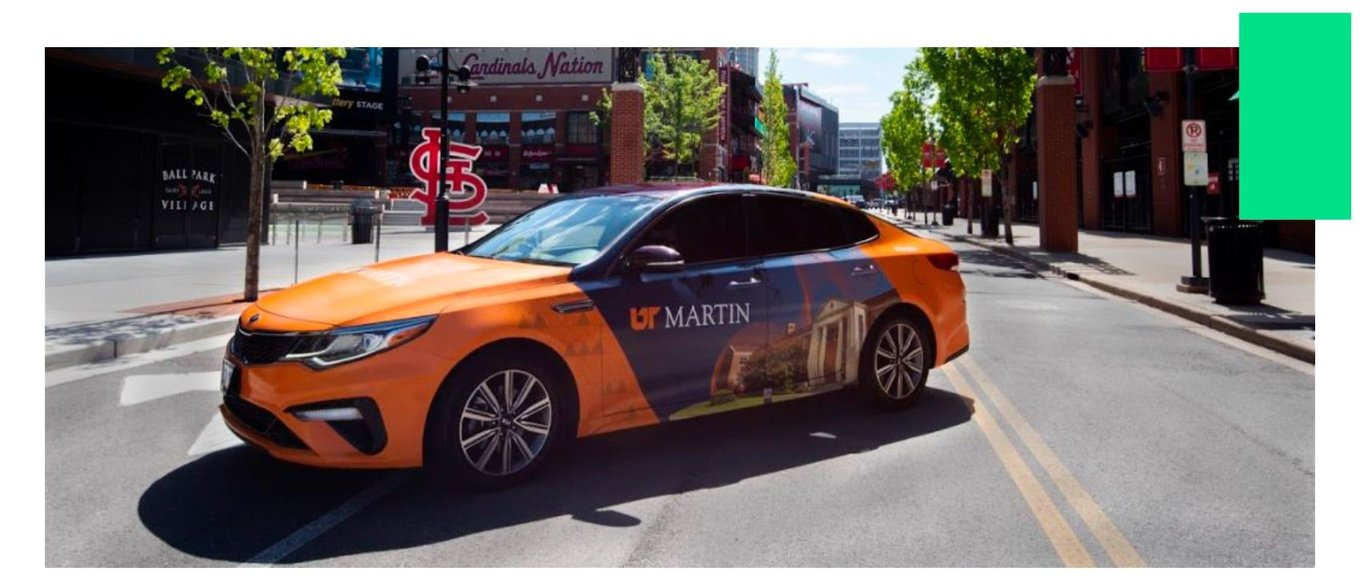 Autonomous delivery robots
Edit
We wrap self-driving sidewalk delivery robots that travel at least 10–12 hours per day.
Our robot inventory in LA is rapidly growing.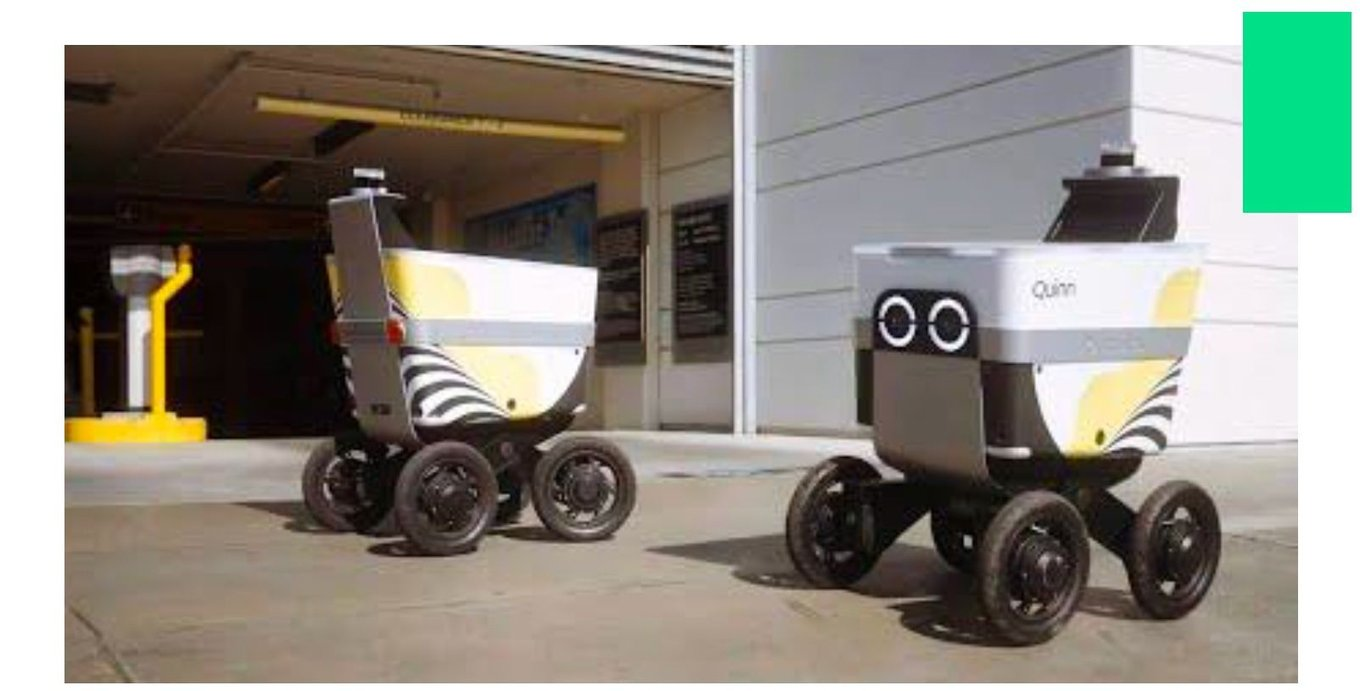 Track, measure, and optimize your campaign performance with real-time attribution and measurement
Edit
With Nickelytics, advertisers can track and attribute website visits, store visits, app downloads, and other conversions to gain a better understanding of the performance of their campaigns.
Nickelytics by the numbers
Edit
59% YoY revenue growth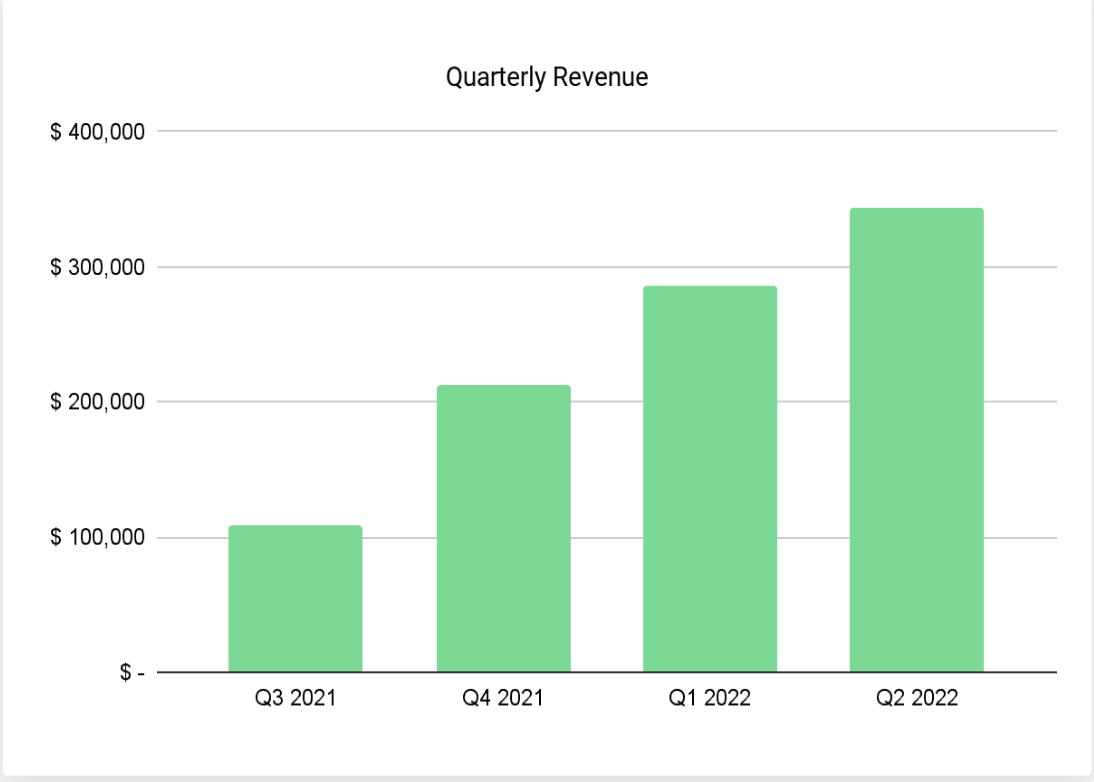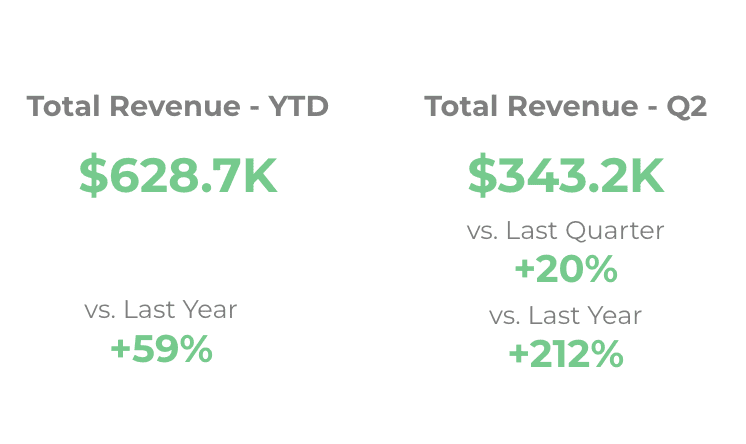 Customers
Edit
We've run OOH campaigns with some of the top brands and agencies in the industry
Edit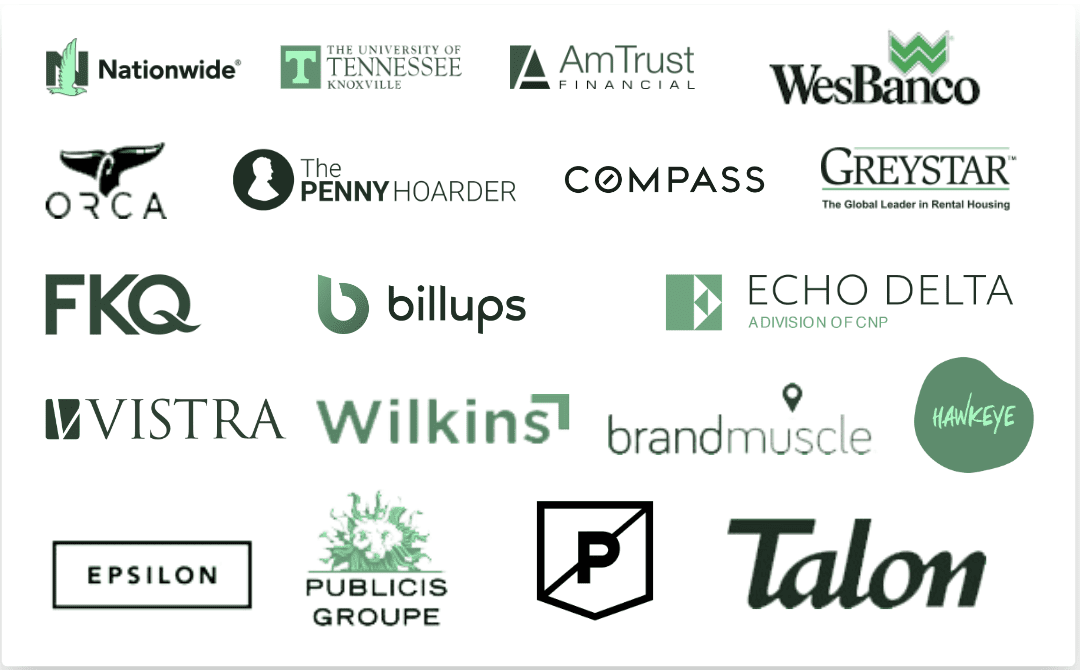 Case study: AmTrust
Edit
AmTrust—a Fortune 500 company—ran a test campaign with Nickelytics in 2021 in NYC.
They saw more than 7.4 million impressions, with an effective CPM of $2.69—which powered one of their best digital campaigns via retargeting. After seeing the measurable results that Nickelytics provided, they renewed from 5 vehicles to 60 vehicles in 2022 across 4 major metros.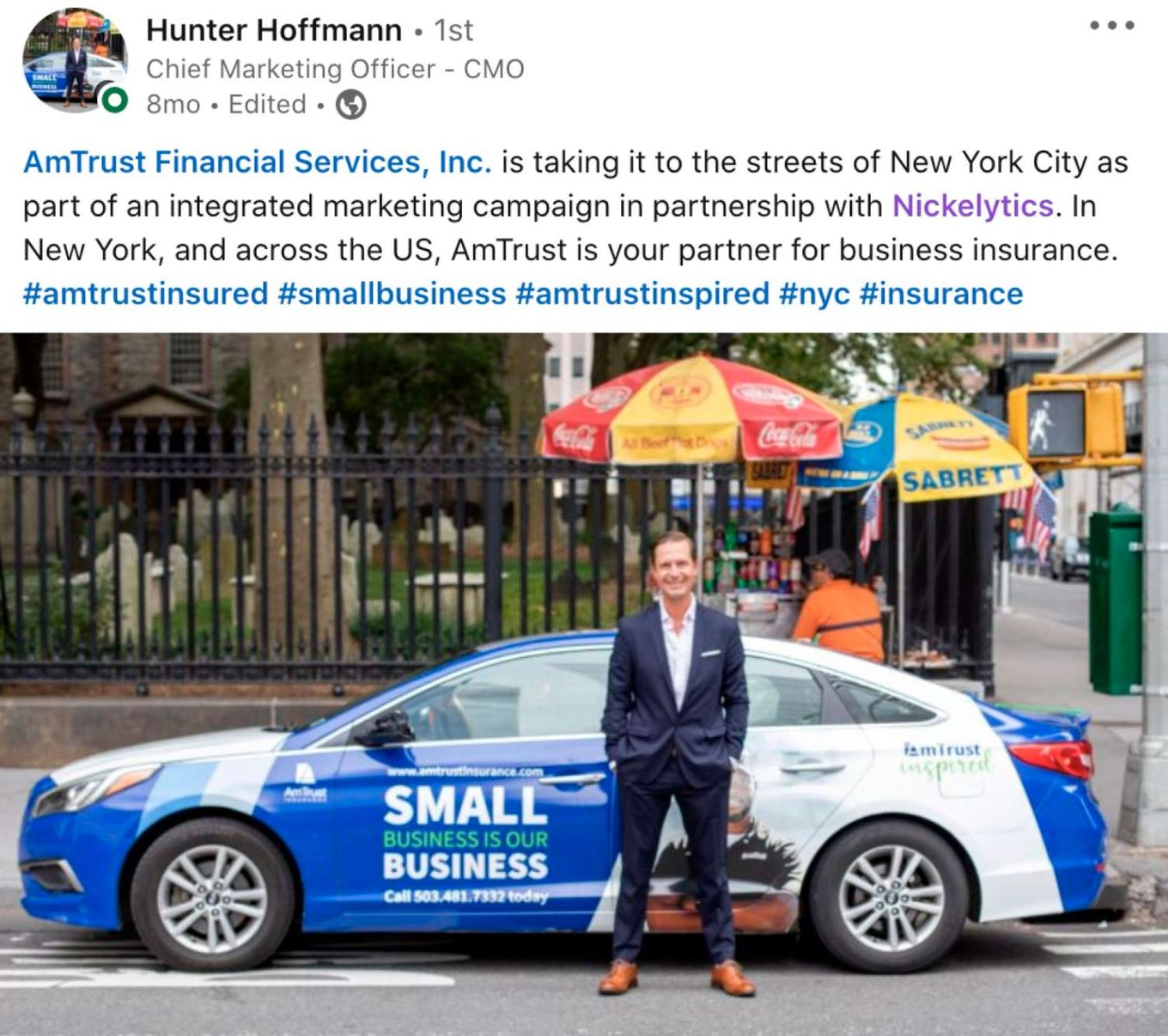 Business model
Edit
Nickelytics keeps 70% of ad revenue
Edit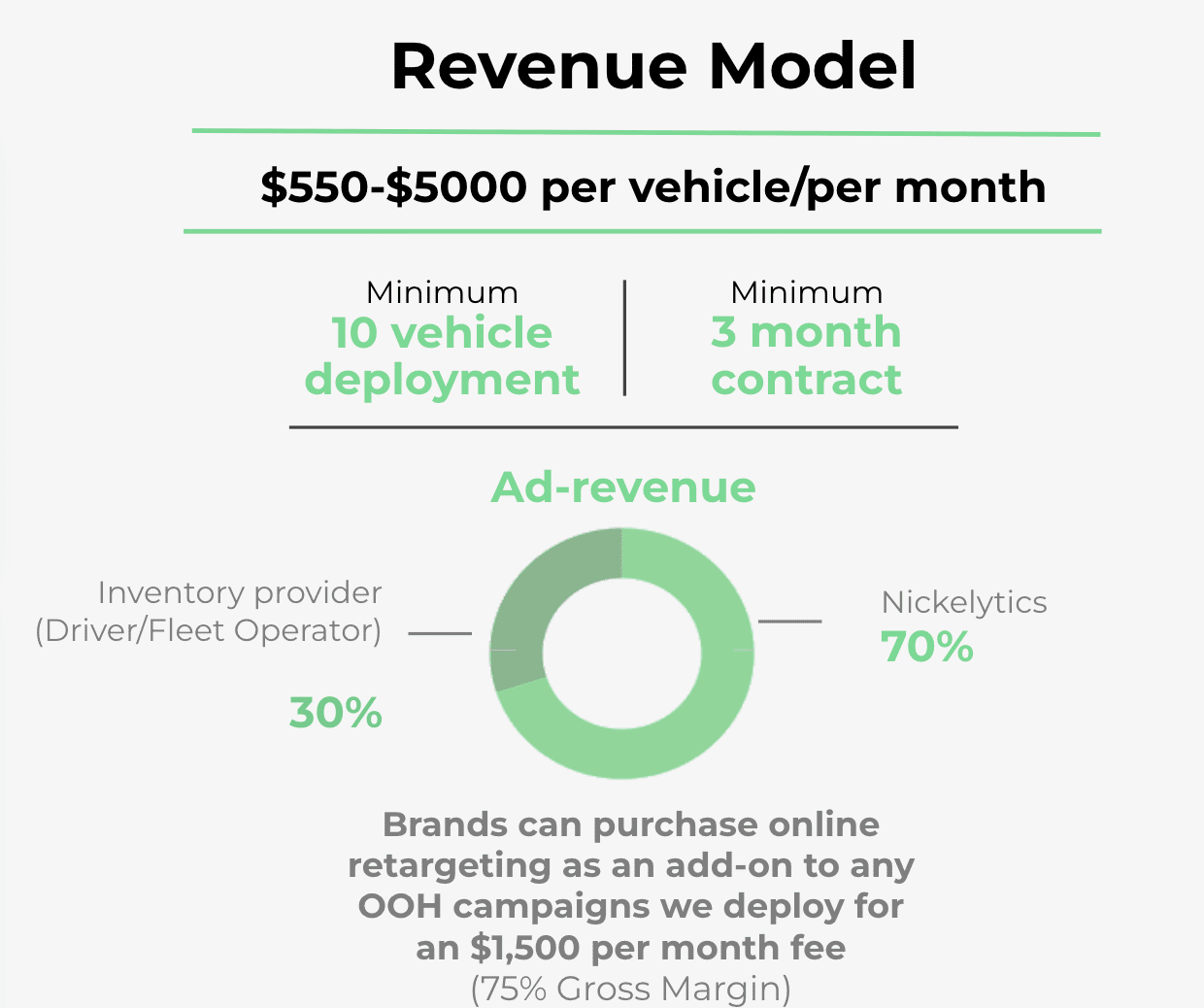 Massive opportunity
Edit
Competition
Edit
First movers in the Digital Out-Of-Home EV landscape
Edit
We are first-to-market in helping established Electric Vehicle charging suppliers better subsidize their operations by integrating a proven revenue stream. This enables us to scale rapidly, as our partnership will give us exclusivity for top sought-after locations.
Connecting Mobility OOH
Edit
We specifically target the emerging sector of mobility + public good. We integrate our technology with the latest Out Of Home inventory to capture consumers on the go.
Unfair advantage
Edit
We are the only platform to connect predictive analysis, machine learning, and an integrated programmatic buying platform to streamline the entire OOH buying process.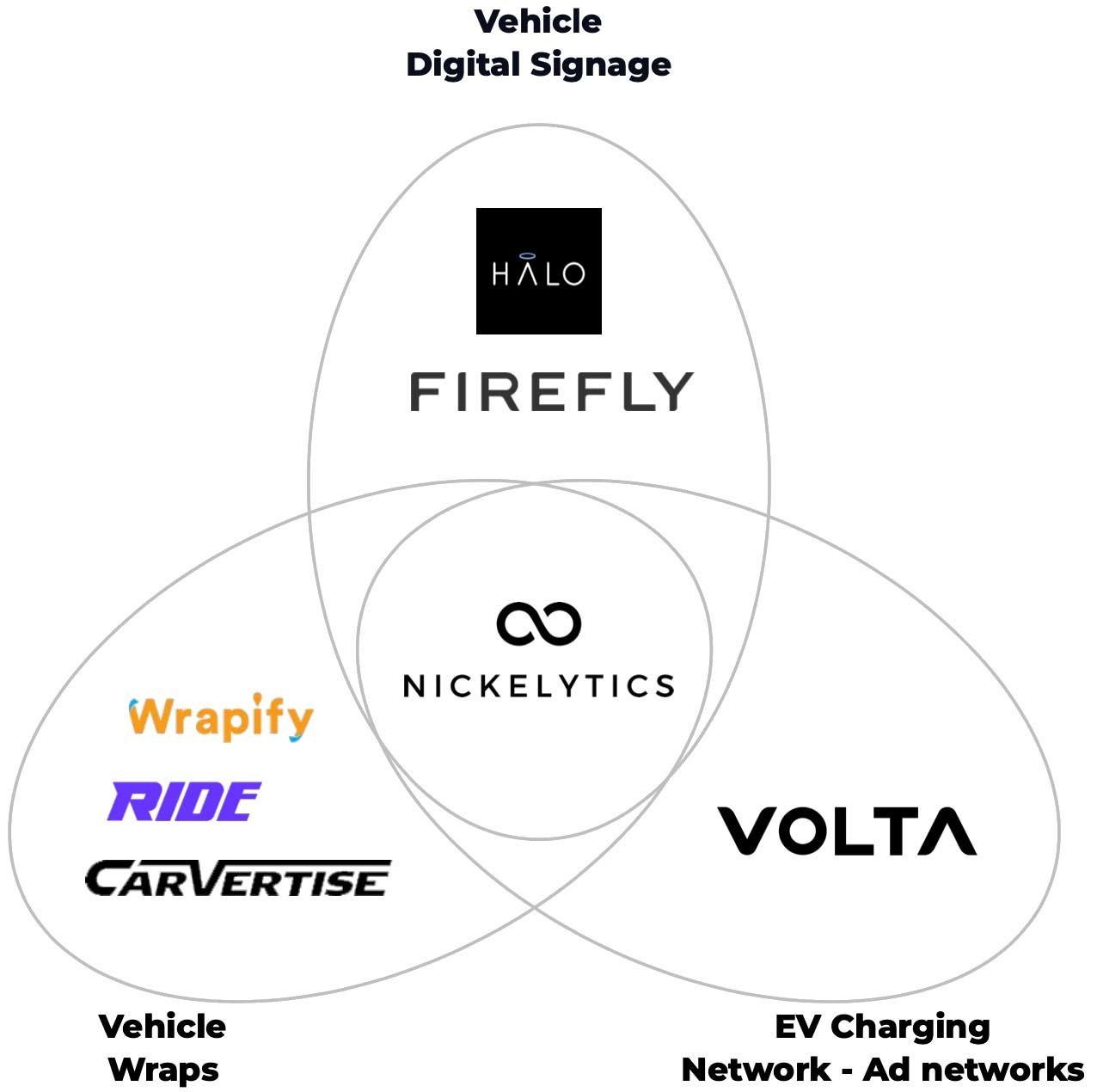 Vision and strategy
Edit
Planning for expansion with digital signage, mobility & digitalization
Edit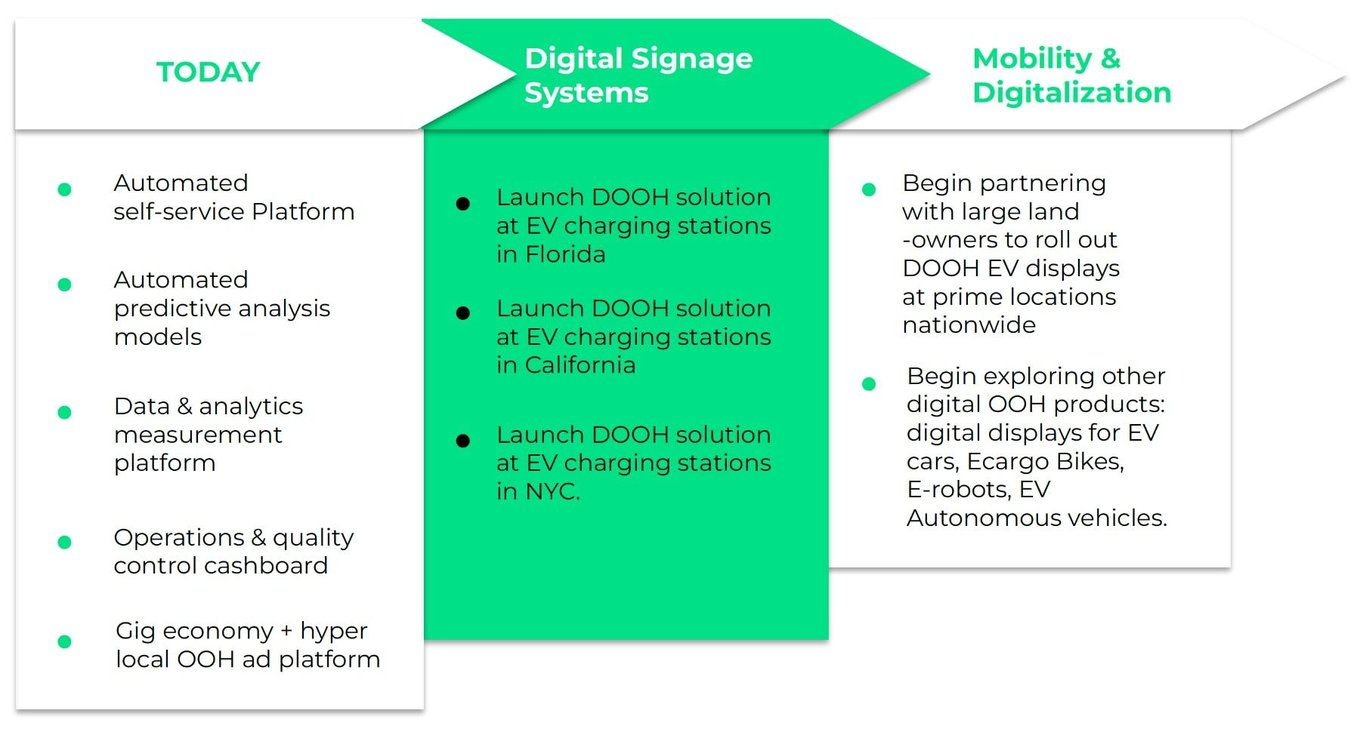 Next segment: Integrating advertising into the electric vehicle charging network
Edit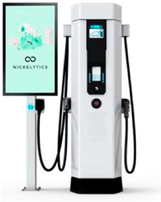 The EV charging network is poised to explode from its current 40K public chargers to >500K by 2030.
Our programmatic Digital Out Of Home platform connects electric vehicle charging providers to advertising revenue.
Unit economics:
Edit
By partnering with Nickelytics, we help offset the electric vehicle providers' network operating expenses significantly.
We provide a turnkey solution for ev charging companies interested in generating advertising revenue at their top EV charging sites.
According to Statista, the current gas station advertising industry grew to $1.2B in 2020.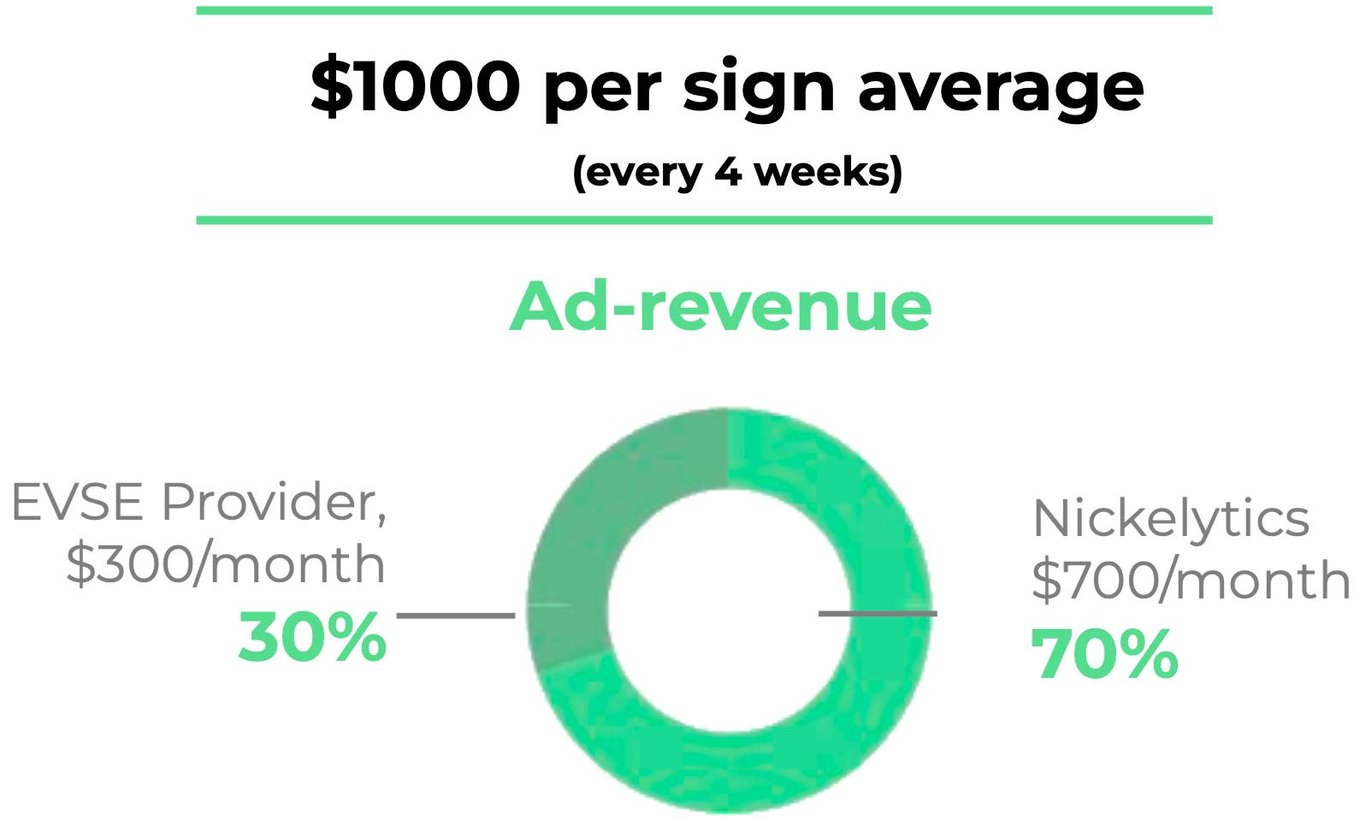 Our mission has always been to leverage existing and improving networks. We've already helped countless rideshare drivers earn supplemental income to cover costly expenses.
With our growth into the DOOH EV charging space, we can help speed the adoption of EV charging networks by lowering the operational costs for site owners/hosts as we share a percentage of the ad revenue generated from our screens.
We believe the future of automotive is electric, and we're positioned to help foster the next generation of "smart gas station tv" with our DOOH solutions.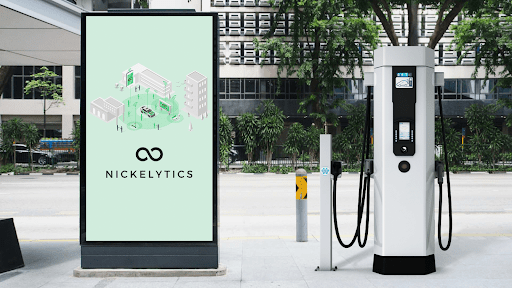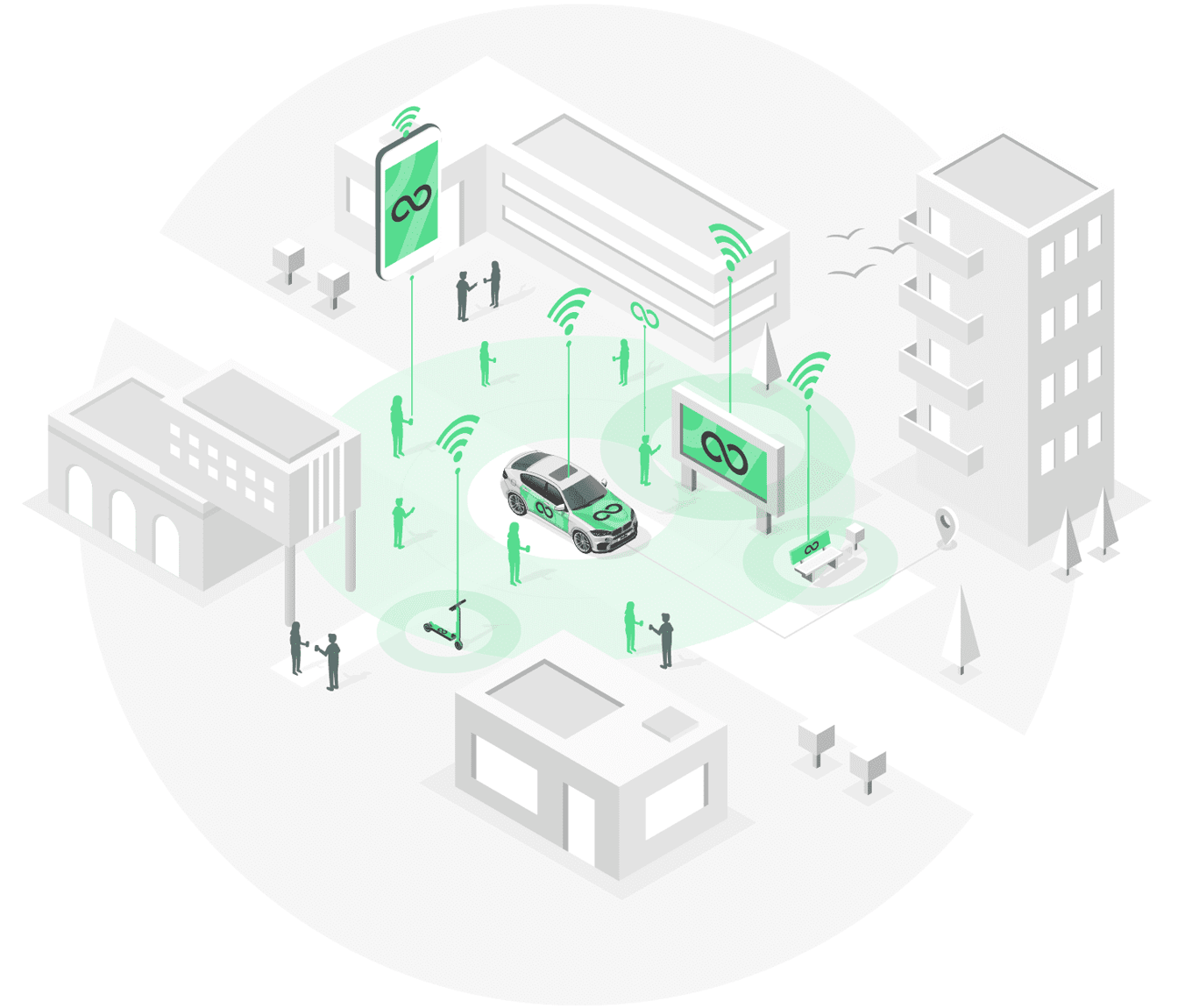 $1.5M previously raised from top-tier angels and institutional investors
Edit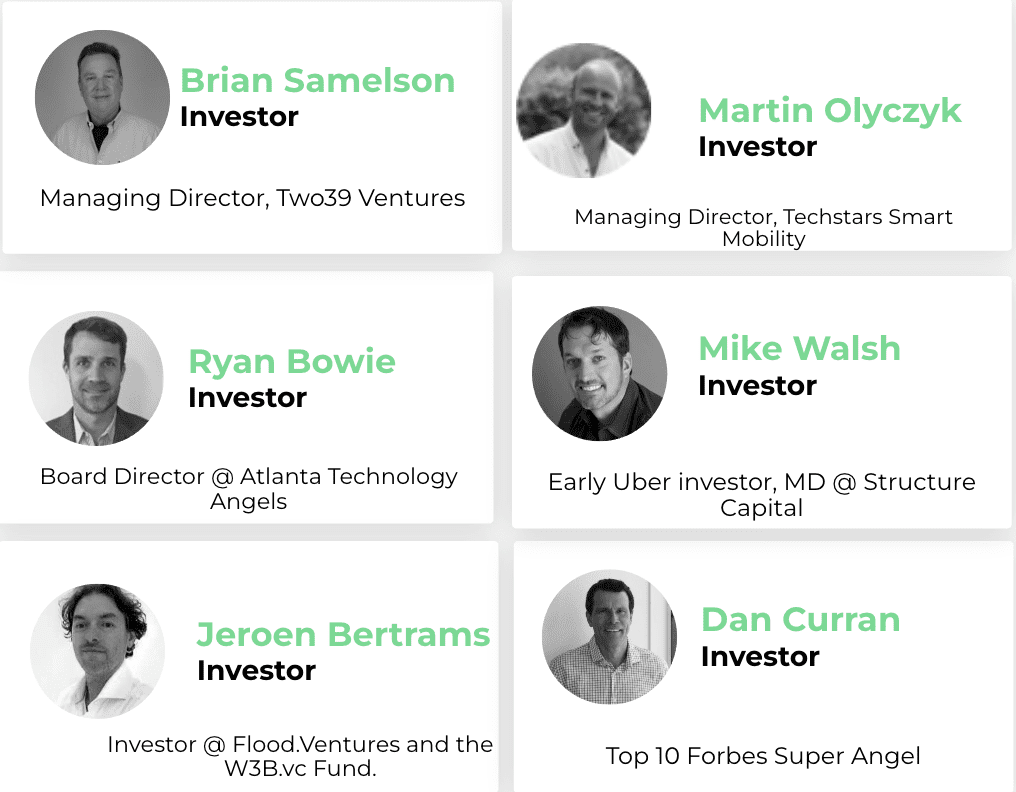 A combined 20 years of adtech leadership at Google, Amazon, Salesforce, Gartner, and Linkedin
Edit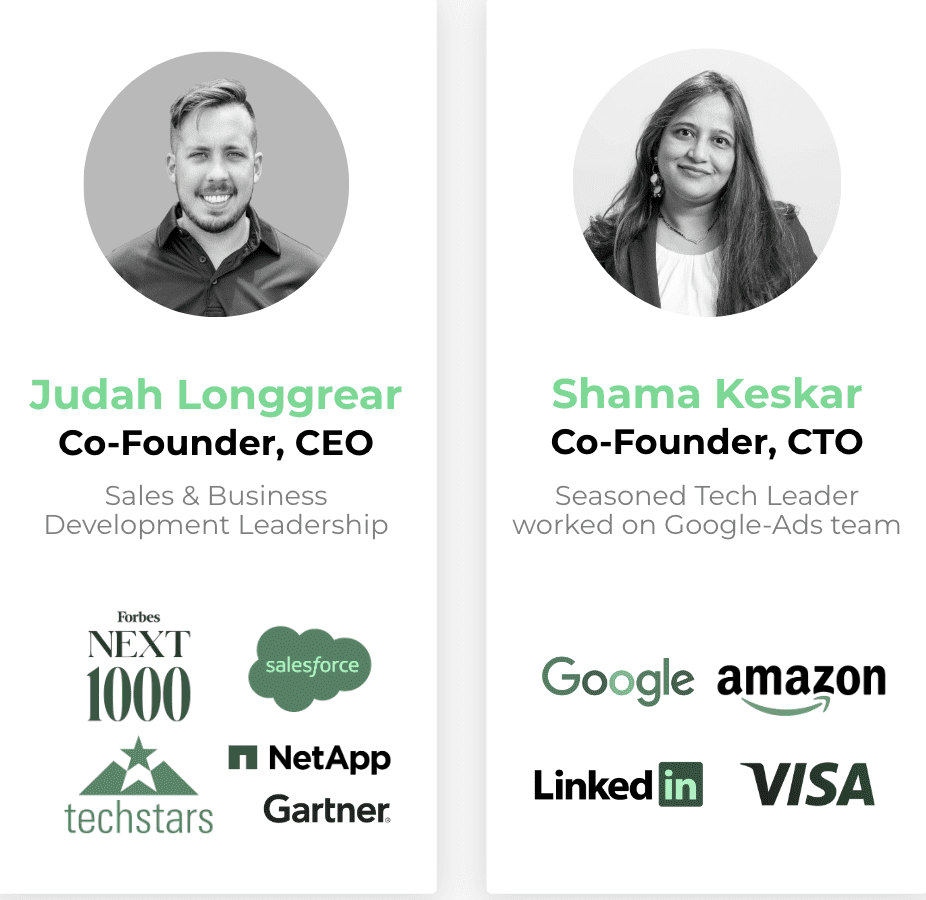 Nickelytics, a Techstars '20-backed startup, is a platform that makes launching hyper-local Out-Of-Home advertising as simple, scalable, and measurable as posting online ads.
We've solidified our product-market fit, and we're now seeking new funding to continue to scale our business and bring our digital OOH ad platform to rapidly growing EV charging station networks, and accelerate our demand-side growth.
Nickelytics Team
Edit
Judah Longgrear
Cofounder & CEO
Shama Keskar
Cofounder & CTO
Christopher Joyce
Director Sales
Carlo Chica
Director of Operations
Saurav Bhandari,
Fractional CFO
Jasmin Ferraz
Business Development
Nate Lewis
Senior Software Engineer
Ricky Wang
Software Engineer
John Joseph Ranara
Operations