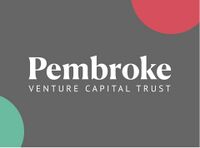 Pembroke is a leading consumer VC linked to PE firm Oakley Capital that has backed brands including Five Guys, Plenish and Pasta Evangelists.
The fund is a leading consumer investor in the VCT space, having made 42 consumer investments over almost a decade.
The fund is run by the founding CEO Andrew Wolfson and has invested in an array of well-known consumer brands including Five Guys, Pasta Evangelists, Popsa and ME+EM.
The fund began as part of Oakley Capital, the leading mid-market PE firm, and the team has decades of private equity and venture capital investment experience between them.
About Pembroke
Edit
Pembroke began in 2012 as a venture capital fund managed by Oakley Capital, the mid-market private equity group (with €4.8bn under management). The fund was started by Peter Dubens, the serial entrepreneur and co-founder of Oakley Capital, alongside Andrew Wolfson, Pembroke's CEO and CIO. Both remain in the business and manage the fund's overall strategy.
The fund is celebrating its 10th anniversary this year, maintaining its focus on "building the brands of tomorrow". There are 10 team members responsible for the fund's investments and operations, together managing the fund's 42 portfolio company investments. The fund is one of the few VCTs in the market with a primary focus on consumer investing, and has consequently invested in household names including Thriva, Troubadour, Five Guys, Plenish and Pasta Evangelists.
Key managers
Edit
Andrew Wolfson
Andrew is the co-founder as well as CEO and CIO of Pembroke. He is responsible for executing the firm's strategy, leading the investment team, deal origination and supporting portfolio companies. Andrew sits on the board of a number of Pembroke's investments and previously ran several businesses in sectors ranging from hospitality to manufacturing and telecoms before he joined Oakley Capital and Pembroke.
David Till
David is a non-executive director and member of Pembroke's investment committee, as well as the co-founder of Oakley Capital. Prior to Oakley Capital, David developed 365 Media Group plc and Pipex Communications plc, where he led all 26 acquisitions and disposals between 2002 and 2007 before starting Oakley. He began his career in the British Army before qualifying as a chartered accountant.
Simon Porter
Simon is Pembroke's Investment Director and is responsible for leading deal origination and execution, alongside support for portfolio companies where appropriate. Simon joined Pembroke in 2017 from Oakley Advisory, a leading mid-market TMT corporate advisory firm. He began his career as an equity analyst at Nils Taube Investments LLP and graduated with a Ph.D. in Mechanical Engineering from Bristol University in 2009.
Investment strategy
Edit
Pembroke is a consumer-focused early stage fund that invests in founder-led businesses building the "brands of tomorrow". Through this strategy, the team are focused on consumer investments that fall into six main areas: health and wellness, hospitality, education, design, media, and digital services. This approach has delivered a recognisable portfolio over time including several household name brands and two exits (both in the past year).
Pembroke invests in both seed and series A businesses, with a focus on series A (business with around £1m of annual revenue at the point of investment). The fund pursues a 'stepping stone' investment approach, writing initial tickets of between £1m-1.5m and regularly following-on with further capital if a business is performing. The fund says it prefers this approach because it enables it to assess a portfolio company's performance as it develops (versus providing a larger amount of capital upfront).
The fund targets 10-12 new investments per year (approximately one per month) and expects two-thirds of its current fundraise to go towards supporting its existing portfolio with follow-on investments. Over the past year, the fund has made 8 new investments and 15 follow-on investments.
Pembroke operates a two-stage investment approval process. The first stage involves commercial analysis and founder meetings before a short paper is presented to Pembroke's investment committee. If an opportunity is of interest, the startup is invited to meet Pembroke's investment committee for assessment. If a company passes this second investment committee stage, an investment offer is made.
The investment team is composed of 4 investment professionals who are supported by a board of 5 directors and 4 investment committee members. The team has a range of backgrounds including ex-finance, startup and business professionals. Pembroke's board of directors includes Jonathan Djanogly, MP for Huntingdon, and its investment committee includes John Paton, Chair of The Independent and Evening Standard news organisations. Past and present directors of the fund have invested £2.5m into the fund, and intend to invest a further £350,000 this year.
Past investments
Edit
Credentially
Edit
Credentially was launched in 2016 by founders Kit Latham, a former A&E doctor, and Artem Stalpouski, a software engineer. They combined their expertise to address the lengthy hiring processes, disjointed onboarding efforts and fragmented compliance reporting that healthcare providers experience.
LYMA was founded in February 2017 with an aspiration to develop a luxury wellness brand. The company worked closely with industry experts and the world's leading nutritional scientists, combining intensive R&D with the latest technological advances to produce a unique and high-quality, evidence-based nutritional supplement. LYMA was recently named one of 2021's Most Innovative Companies by Fast Company.
ME+EM (exited)
Edit
ME+EM is a luxury quality womenswear fashion brand founded in 2008. The brand targets women aged 30‑55 who are busy and fashion conscious, offering a classic aesthetic and embodying designer quality at an affordable price. Pembroke exited their investment in ME+EM in March 2022 for a 16.1x return.
Popsa is a photobook app that, through the use of proprietary machine learning algorithms, has reduced the time it takes for customers to produce photobooks from 2 hours to an average of just 6 minutes. Since Pembroke's investment in 2018, Popsa has continued to experience rapid growth, partly fueled by an expansion to the US and Europe.
Thriva provides customisable Direct-to-Consumer blood testing kits that customers can use in their own homes to fill small sample vials. The results are processed and reviewed by a UK qualified GP before being sent to the consumer via a secure online dashboard, usually within 48 hours.
Pasta Evangelists (exited)
Edit
Pasta Evangelists sells quality fresh, cooked pasta and sauces, pasta making kits and masterclasses through a wide range of channels, aiming to become the authority in fresh pasta. Since Pembroke's investment in January 2020, the home delivery sector has thrived. In January 2021, Pembroke sold its stake in the business to Barilla Group, generating a 2.3x return within 12 months.
Plenish (exited)
Edit
Plenish was founded in 2012 by Kara Rosen, who, after moving from the US, saw a gap in the UK market for cold pressed juices with no added sugar. Pembroke recently sold their stake in Plenish to Britvic, generating a 2.3x return for the fund.
Five Guys
Edit
Five Guys is a fast-food chain serving a range of hand‑made burgers made with fresh locally sourced beef and cooked on a grill, served with unlimited toppings and fresh‑cut fries. Pembroke teamed up with the US chain in 2013 as they embarked on their UK expansion, and the company now has over 100 outlets nationwide.
As this Fund is a VCT, upon investing you will gain access to both the fund's current investee companies along with new investments made by the fund. Please note that some of the companies set out above are past investments by the fund and are presented for indicative purposes only.
Track record
Edit
The below chart shows Pembroke's historic performance, rebased to show performance over time as if you had invested £100 at the beginning of the period.
In each year, the green bar represents the value of the fund on 31 December. This is known as the fund's net asset value (or NAV). The smaller turquoise bar displays the cumulative dividends issued by the fund over the displayed period. Dividends are distributed by the fund to all investors and, together with the NAV, form the fund's total return.
Total return from an investment in Pembroke[1]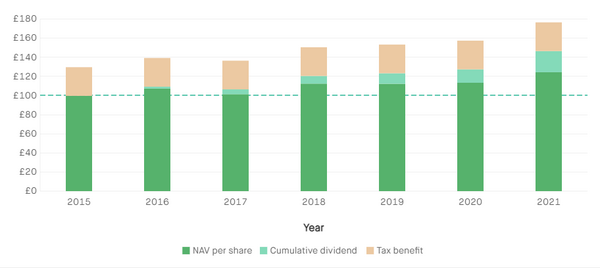 Fund fees
Edit
Expected annualised fee: 2.60%
This is the expected total fee of the fund, averaged across a 5 year hold period. This figure is an estimate only and below we set out the actual fees payable. Please note this figure does not include performance fees (as they are not guaranteed to be payable).
Breakdown
Edit
Initial fee: 3%
This fee is a one-off fee that is deducted upon investment into Pembroke. It is not charged on an ongoing or annual basis. This figure includes a discount 2.5% for investing through Further (headline initial fee is 5.5%).
Annual management charge: 2%
This fee is the fund's annual management charge, paid each year to the fund manager for making and managing investments.
Performance fee: 20%
Pembroke takes a performance fee of 20% on any net realised investment gains returned in excess of their hurdle, which is an annual return of 3p per share. This calculation includes past investment losses and is a high water mark. This means, if the fund makes a £100 investment which returns £500 five years later, Pembroke will take an £77 performance fee and future net realised returns will have to exceed the £500 'high water mark' for any future performance fee to be taken. This fee is included in the fund's annual NAV calculation, so is not taken out of your cash returns directly.
The fund manager does not charge fees to investee companies. Further receives an initial commission (0.0%) and a trail commission (0.375%) on funds processed for the fund manager. Commission is paid by the fund manager, so there is no additional charge to you.
Expert view
Edit
The view is provided by Tax Efficient Review
The Pembroke VCT has a rather unique investment strategy in looking to build up founder-led businesses over time across the sectors where they have significant experience: Wellness, Food, Beverage & Hospitality, Education, Design, Digital Services and Media.
Pembroke benefits from insights from PROfounders and Oakley Advisory which are both part of the Oakley group. They provide Pembroke with market intelligence and a potential source of deal flow through their wider network.
Since the previous review they have had two exits, Plenish Drinks and Pasta Evangelists, the proceeds of which have generated a further 8p per share in special dividends for shareholders. These exits occurring against the economic backdrop of the Covid-19 pandemic is encouraging.
The Pembroke VCT now has a respectable £153m in assets under management and the investment team and portfolio has grown over recent years. This offer is looking to raise their largest amount to date: £40m, plus a £20m overallotment facility.
The team at Pembroke though can be congratulated on the successes they have achieved to date from a relatively young portfolio and they have shown they can deliver positive returns from investee companies.
References
Edit
↑

Based on having invested £100 in 2015.