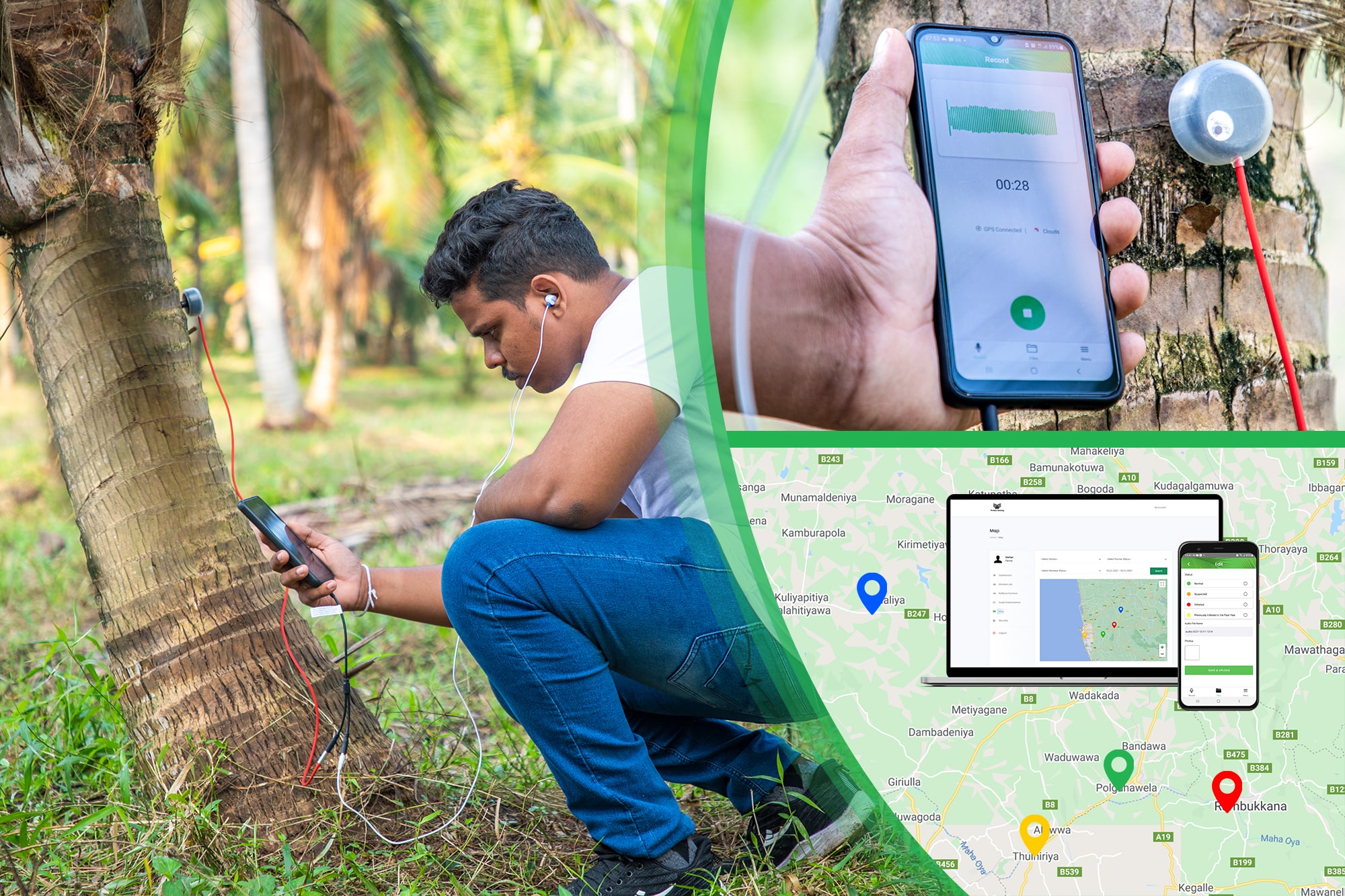 Protecting the global palm industry
More than 10% of production from palm trees are lost due to red palm weevils each year. Permia has the only scalable solution for the detection and treatment against red palm weevils
The leading provider of grower intelligence on red palm weevils and agronomy services to palm plantations globally
Seeking to raise £200k for a 24-month runway, of which £20k is committed.
Investment Interview[1]Edit
Explain what your venture does.
We offer a field testing service to detect Red Palm Weevil larvae growing in coconut palm trees within the first 2-weeks of infestation. The testing service uses state of the art IoT solutions based on Cloud Coputing and Machine Learning.
What stage is your business?
Initial commercial operations of the MVP.
Describe your advisers.
Dr. Stephen Hampson (non-executive chairman), Dr. Priyanthie Fernando (former head of crop protection, coconut research institute, Sri Lanka)).
Give an overview of your startup's financing history.
1. EPSRC early stage impact acceleration award (IAA) of £9,000 2. Late stage IAA (£41,400). 3. College seed grant for start-ups (£40,000).
Explain the ownership structure of your company.
Thrishantha Nanayakkara - 34% Hasitha Wegiriya – 17% Stephen Hampson 8.5% Imperial College Innovations Ltd – 25.5% Unallocated options for future employees/management – 15%.
How many employees do you have?
None at the moment. Directors Thrishantha Nanayakkara and Hasitha Wegiriya contribute to technology development, and director Stephen Hampson contributes to investor and customer relations.
How much money are you seeking to raise in the current round?
£150k - £200k.
Do you have any existing commitments to the current round?
We do not have commitments at the moment. We are proceeding to do commercial trials in Mexico, UAE, Israel, and Sri Lanka. This funding will help us to provide matching funding to bid for an Innovate UK grant.
Explain why you are raising finance.
We will use the funding to expand commercial trials in more countries and to test new scalable cloud based IoT technologies with Innovate UK funding.
Please explain the history of your venture.
Following up on nearly 12 years of research to develop the founding principles, a portable sensor and a mobile phone app was developed to assist coconut growers to listen to the acoustic signals from a coconut tree to separate fibre crunching sound of red palm weevil larvae from other similar sounds like water transportation up the trunk, activity of other insects, and twisting sound of the trunk due to wind. The mechanical structure of the new sensor is designed to cancel background noise using a combination of hard and soft materials. The new app also filters the acoustic signal to facilitate this process. Field tests were carried out in August 2018 in collaboration of the Coconut Research Institute (CRI) of Sri Lanka, the government certifying authority of such new technology solutions. They confirmed that the new solution is much better than the previous solution sold to growers with around 97% accuracy in early detection of larvae activity. From September 2018 – now, we have developed a cloud based AI solution with an improved mobile phone app that can transmit data to the cloud platform. This solution is now being used by a grower in Mexico. We are in the process of dispatching sensors to growers in UAE, Israel, India, and Sri Lanka for further commercial scale testing.
Please explain the longer term, future vision for the Company
Our long-term vision is to provide an integrated aggrotech solution for farmers to do predictive maintenance of farms by monitoring the health of plants. This includes using multispectral aerial imaging and acoustic data to monitor insect infestation, deficiency of fertilizer and water, and deterioration of soil conditions. We will use our cloud-based AI solutions to help growers and governments to take precautionary action to maintain a high level of productivity and break down barriers for inexperienced growers to be competitive. With these scalable technologies, we envision to expand our market share to be the World's leading plant health monitoring company.
Explain the core technologies and/or service propositions of your venture.
The technology is a cloud based IoT solution where acoustic data of insect activity collected from a portable sensor connected to a smart phone app are processed using a cloud based AI algorithm. This helps growers to monitor developments of infestations using a web based visualisation of GPS tagged data. Regional patterns of infestation helps governments and grower communities to take precautionary collective action to save trees.
Does your commercial strategy rely on intellectual property assets?
We have a pending patent application for the portable sensor.
What commercial progress have you made?
We have sold sensors to Mexico and Sri Lanka. We have requests from more than 120 service providers. We will start to dispatch sensors to at least India, UAE, Israel, and India before July 2021.
To invest in Permia Sensing, click here.
To contact Permia Sensing, click here.
References and notes
Edit