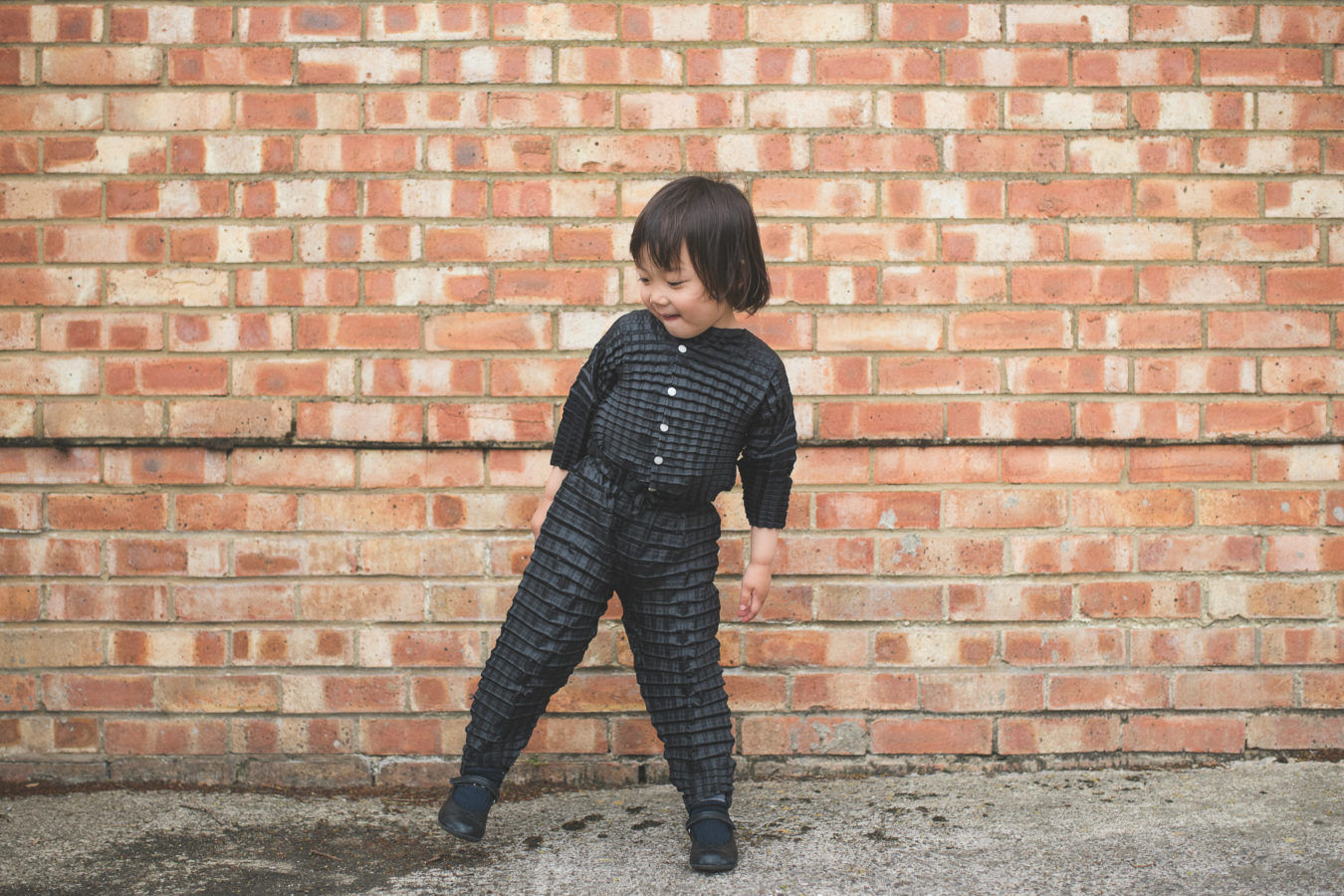 Petit Pli engineers clothes that grow with your child.
A material technology spin out from Imperial College London. Founded by Ryan, an aeronautical engineer specialising in deployable nano-satellite structures. Shortly after gifting clothes to his newborn nephew, they were already too small! This experience served as a signal: childrenswear today fails to recognize their fast growth. Clothes that grow patent accepted by the EUIPO.
Petit Pli is on a mission to clothe the future of humanity by pairing innovation with sustainability; it's just starting with the next generation.
Seeking to raise £1,000,000 for a 18-month runway, of which £300k is committed. Profitable in y/e 20/21; generating £346k of D2C revenue a year after commercialising its technology.
Investment Interview[1]Edit
Explain what your venture does.
Petit Pli identifies & commercialises scalable material technology opportunities that can have a positive & holistic impact along the wearable industry value chain.
What stage is your business?
Petit Pli is currently seeking seed funding has achieved consistent recurring monthly revenue and is entering a growth stage.
Describe your advisers.
Our Advisers:
Erik Bang leads Innovation at the H&M Foundation; he brings a wealth of experience related to nurturing fashtech startups
Matt Pollington boasts >10 years of marketing experience (ex SKY) current Director of Digital & Customer Marketing at B2C home furniture and decoration company MADE.com
Josh Yentob - Head of Partnerships at Appear Here and co-founder of In Parrallel a consultancy firm dedicated to supporting DTC brands expand their reach in the US and UK
Chrissy Liu boasts experience in business model innovation & sustainable strategy, current Head of Sustainability at Volvo, ex Deloitte and Capgemini Consulting and previous Director of Global Commercial Transformation at Volvo.
Give an overview of your startup's financing history.
2018: Costs put forward to R&D of childrenswear enabling development of POC to commercial design Grants: £25k (James Dyson Foundation, Shell) | Funding: £165k Sustainable ventures & Angels
Revenue: £14k (Selling Beta Units)- petitpli.com
2019: Costs put forward to commercial production & launch, hires, IP protection and novel applications: Grants: £250k (H&M Foundation, Innovate UK & Deutsche Bank) |Funding: £95k ASA Sky Ocean Ventures | Revenue: £31k petitpli.com
2020: Costs put forward to marketing, new product development launch, IP protection and studio Grants: £105k (Innovate UK) | Revenue: £346k - petitpli.com
Explain the ownership structure of your company.
Company ownership structure

| Name | Share class | Number of shares |
| --- | --- | --- |
| Ryan Mario Yasin | Ordinary | 50,000 |
| InnovationRCA | Ordinary | 1,323 |
| F Ciment Ltd | Ordinary | 1,587 |
| Seedrs Nominees Ltd | Ordinary | 10,265 |
| Gabriella Yasin | Ordinary | 4,600 |
| Options | Ordinary | 3,560 |
Total shares: 71,335
How many employees do you have?
Full Time:
CEO and Founder
COO
Content producer and CRM
Part time:
Fashion Designer (3 days)
Design Engineer (4 days)
Design Strategist (3 days)
Head of Marketing - ex-head of marketing @ Rapha Cycling D2C (3 days)
PR & Marketing assistant A (4 days)
PR & Marketing assistant B (3 days)
Please provide the name of a lawyer, who will represent you for the upcoming investment round.
Patrick Tolhurst.
How much money are you seeking to raise in the current round?
£1,000,000 - EIS eligible.
Do you have any existing commitments to the current round?
Committed: £100k from Index Project (DK); £200k family office fund and PE firm.
Explain why you are raising finance.
Petit Pli is seeking £1m to support with:
Key hires:

CMO with Digital Marketing expertise
Part-time CFO to help manage cash flow of aggressive scaling
Engineer for prototyping. This raise will help accelerate execution of product roadmap to maintain growth momentum (Maternity & more)

Marketing and sales:

Further testing, improving efficiency of current advertising budget. Aim: to penetrate & increase UK, USA, FR, GER market share for aggressive scaling of sales
Set up fulfillment in USA (accounts for 40% of current sales) & IR

Production:

Capital to aid aggressive production scaling, collaborations and new market opportunities

R&D:

Capital to secure further R&D, IP opportunities and apply for further non-dilutive grant funding from InnovateUK to continue to innovate within our sector

IP & LICENSING PATENT:

Legal fees involved in protecting our patent in multiple territories
Licensing strategy for non-compete Petit Pli applications, & collaborations to raise brand awareness.
Please explain the history of your venture.
Petit Pli's major vision to clothe the future of humanity - starting with the next generation, is bold. To support its realisation Petit Pli had to evolve quickly from a student project with a proof of concept in 2017 into a business with a commercialised innovation through rapid R&D and raising seed investment; filing patents, setting up ethical & sustainable supply chains & building a team- all done successfully in < 2 years. Petit Pli's rapid growth is a testament to its unique solution & young, agile interdisciplinary team - strategically chosen to support Petit Pli's growth & to actualise its major vision; thus asserting Petit Pli's authority as a human-driven wearable technology company catalysing the garment industry's move to the wide scale adoption of a sustainable future. Through longstanding support from members within Imperial's faculty, its press office and enterprise team Petit Pli as able to create route to market strategy, secure IP protection and grow.
Please explain the longer term, future vision for the Company
Petit Pli's longer term vision is to continue solving real needs within wearables by pairing innovation with sustainability and applying human centric design principles to realise novel IP to enter and expand its reach in existing markets. By 2024 Petit Pli wants 1 in 10 children to own a pair of Petit Pli bottoms in the UK & USA. Petit Pli believes the next raise following its existing raise will be in 18 months. Petit Pli is on mission to clothe the future of humanity. We're just starting with the next generation.
Explain the core technologies and/or service propositions of your venture.
Petit Pli's first technology is a patent-accepted structure (patent number GB1709842.7) embedded in textiles to enable bi-directional growth. Petit Pli's technology works by employing a Negative Poisson's ratio – a phenomenon utilised in stents and biomedical implants. Petit Pli's technology has moved from proof of concept (2017) to a scalable technology in June 2019 - sold on petitpli.com. Petit Pli's IP reduces the incidence of waste and CO2 emissions produced in the garment industry at point of production, distribution and after purchase & proliferates sustainable purchasing behaviours. Petit Pli achieves this by innovating within a specific market segment where the problem is acute – the
£290bn global childrenswear market.
Product USPs:
Cheaper - save parents over £215 over 3.25 years [average UK garment spend before 3 years of age = £2500]
Reduced carbon footprint - reduction of 69 kgCO2eq with every garment
High-quality technical water-repellent and breathable materials
Induce behavioural change - fitting 7 sizes - Petit Pli works on a psychological level instilling slow fashion values in the next generation
Easy to recycle - Petit Pli suits are constructed from a monofibre polyester - making them easy to recycle & fit in a circular model.
Garments are made from a recycled PET-bottles
Less waste at:
Manufacture & Transport[reduction of 69kgCO2eq]
Inventory space usage for retailer
Fewer e-commerce returns (only 2% vs industry standard of 40 - 70% of online purchases are returned, mainly due to size discrepancies)
End of use - garments are recyclable & a take-back scheme is being investigated.
Does your commercial strategy rely on intellectual property assets?
IP: Patent number GB1709842.7 STATUS: EUIPO accepted in 2021
TERRITORIES: UK, USA, Germany, France, Japan, Korea, Australia, China. Owning and licensing Petit Pli's IP is core to Petit Pli's growth strategy as Petit Pli aims to grow and supplement its B2C model through B2B licensing opportunities.
What commercial progress have you made?
High level progress:
Q1 2017 Proof of concept & MVP prototype
Q2 2017 2017 UK James Dyson Award & viral news globally, resulting in customer emails captured
Q3 2017 Raised £165k seed funding
Q2 2018 Sold Beta-trials to users worldwide, collected feedback to iterate design
Q3 2018 Innovate UK Grant; Dezeen Award for Best Wearable Design (beating Google)
Q4 2018 H&M Global Change Award & Grant - €150k & support from KTH University & Accenture
Q2 2019 Commercial Launch D2C
Q2 2019 petitpli.com DBACE Winner
Q3 2019 Sky Ocean Ventures advanced shareholder funding agreement, further InnovateUK R&D funds
Q3 2019 Exhibited in the Philadelphia Museum of Art; agreed to be part of V&A collection in 2022
Q4 2019 2020 Forbes 30 under 30
Q1 2020 Invited as expert delegate of DIT & KTN to help inform UK policy
Q2 2020 Sustainable Innovation Fund competition £105k; TIME Magazine 2020 Best Inventions of 2021, pop-up launched
Q4 2020 Revenue to date detailed in Petit Pli's executive summary, business plan & pitch deck with forecasts available on request
Q1 2021 £300k committed from Index Project Fund (DK), EPIC Private Equity & Branson Family Office.
References and notes
Edit