A leading online film packaging, financing, and distribution marketplace.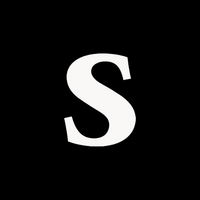 Highlights
Edit
Matches filmmakers with talent, financing, sales, and distribution
AI-driven film performance analytics predicts 80% of "hits" and "misses"
$560M box office generated from 297 Slated-listed theatrical releases
$13.5M in contracted fees generated to date
Multi-billion-$ hedge fund committing financing to top scoring projects
Partnered with Bleecker Street and Round Table to release top scoring films
In active discussions with Columbia Pictures, Tristar, Universal & more
Streaming Wars = Explosive demand for content
Edit
The 2021 theatrical and home/mobile entertainment market globally was a record $99.7 billion, +24% vs 2020. Including pay TV, the value increased to a record $328 billion, beating pre-pandemic figures.* As a result, studios and streamers worldwide plan to increase content spend to a record $230 billion in 2022.**
Investing in movies remains one of the more resilient, attractive investment asset classes in the world. However, there are 2 key challenges for investors: early access to deal-flow, and analytics to identify likely "hits".
*Motion Picture Association  **Ampere Analysis
2021 Content Spend (billions)
Edit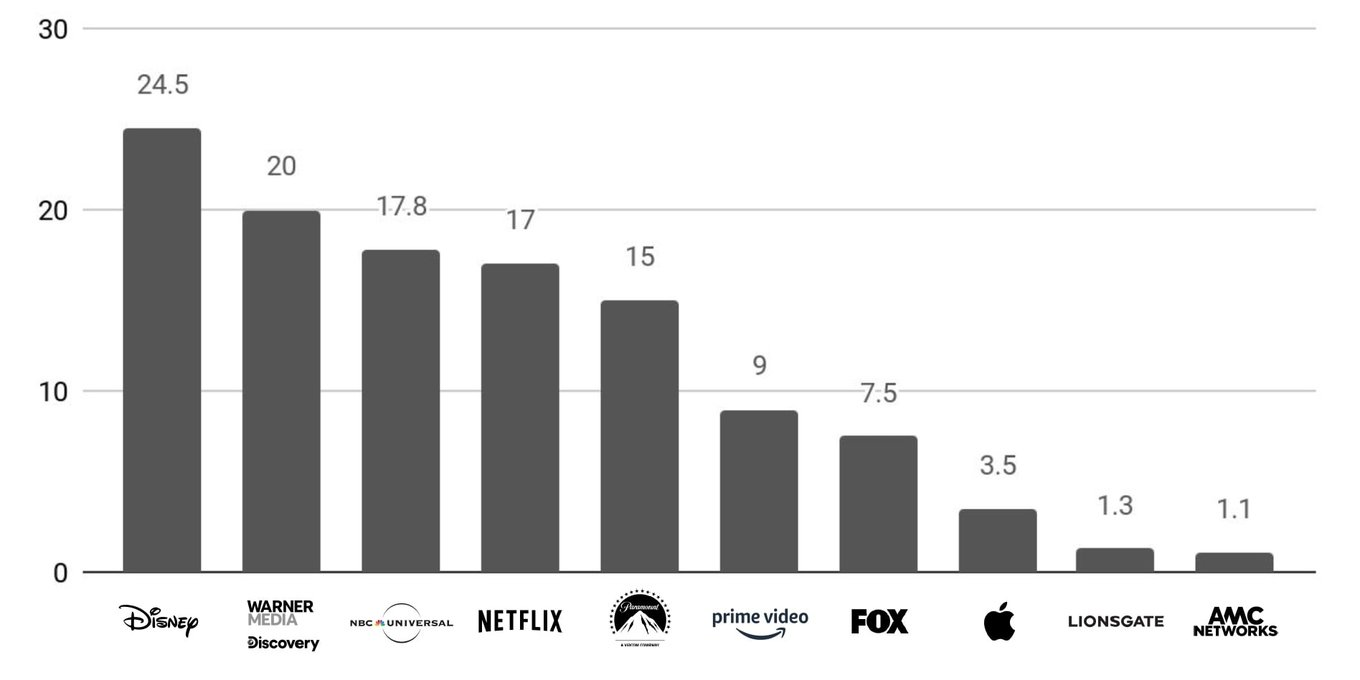 Slated: Supplying great content at scale.
Slated is a leading online film packaging, financing and distribution marketplace, well positioned to supply the exploding global demand for great content.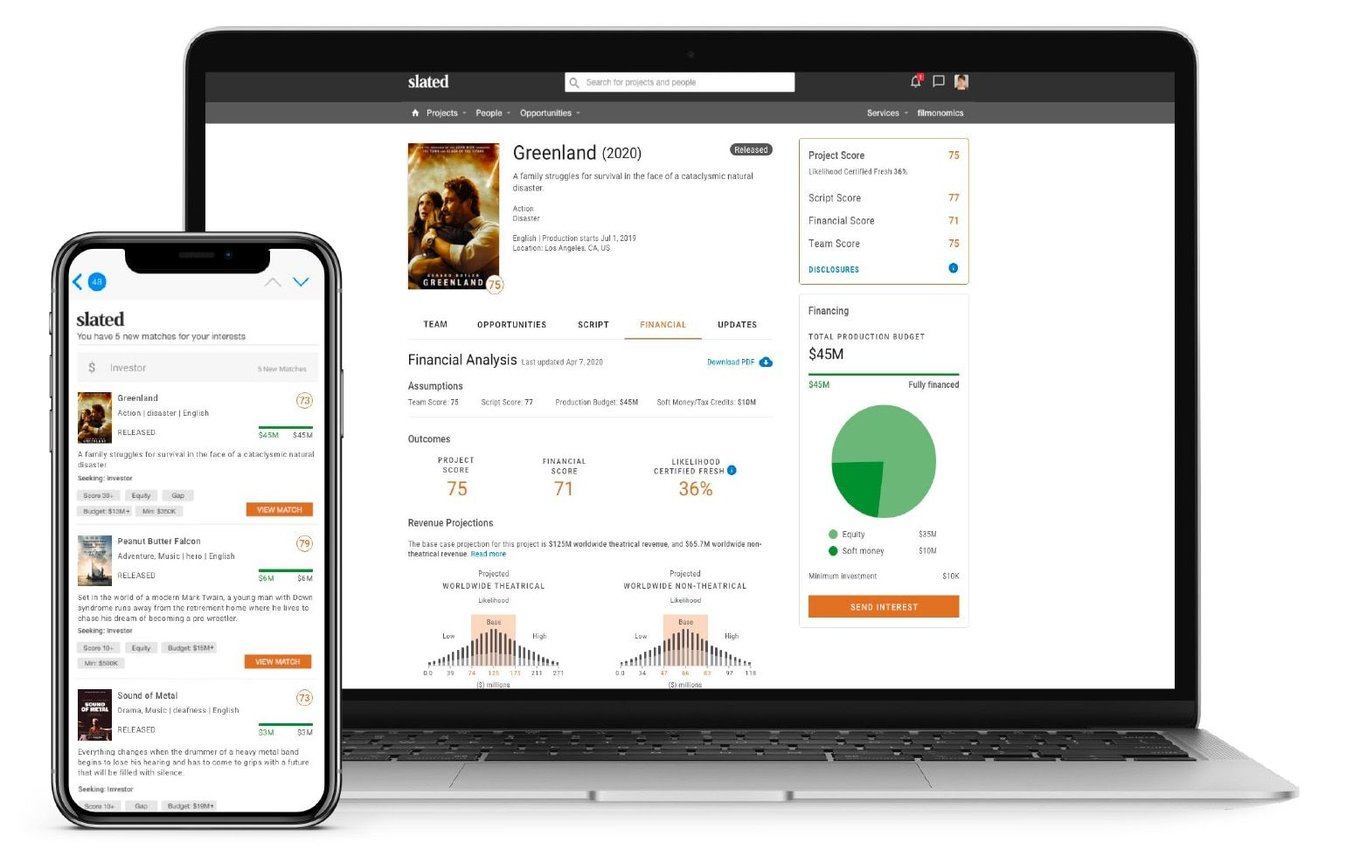 Slated platform advantages
Edit
First-look advantage: Slated's content pipeline
Edit
op talent consistently lists great projects during development. 2,000 new projects listed annually, 3 years pre-release on average.
1,400+ Slated-listed films have been released, including 297 theatrical releases grossing over $560M at the box office.
Slated's proprietary scoring system can identify the most commercially-viable projects based on the track record of the team, the quality of the underlying material, and the project's likelihood of commercial success.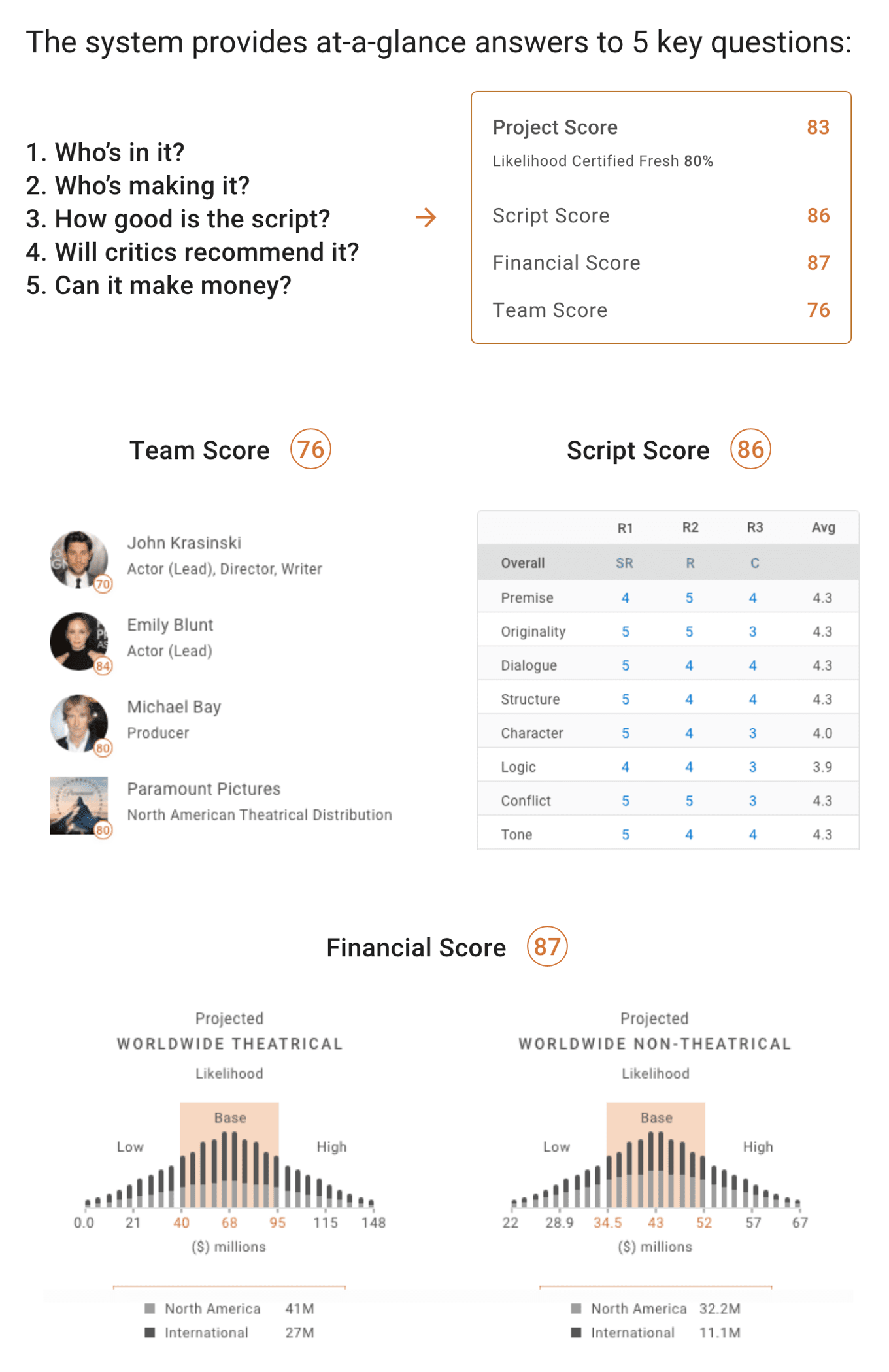 Arbitrage advantage: Early insights for financiers & distributors
Edit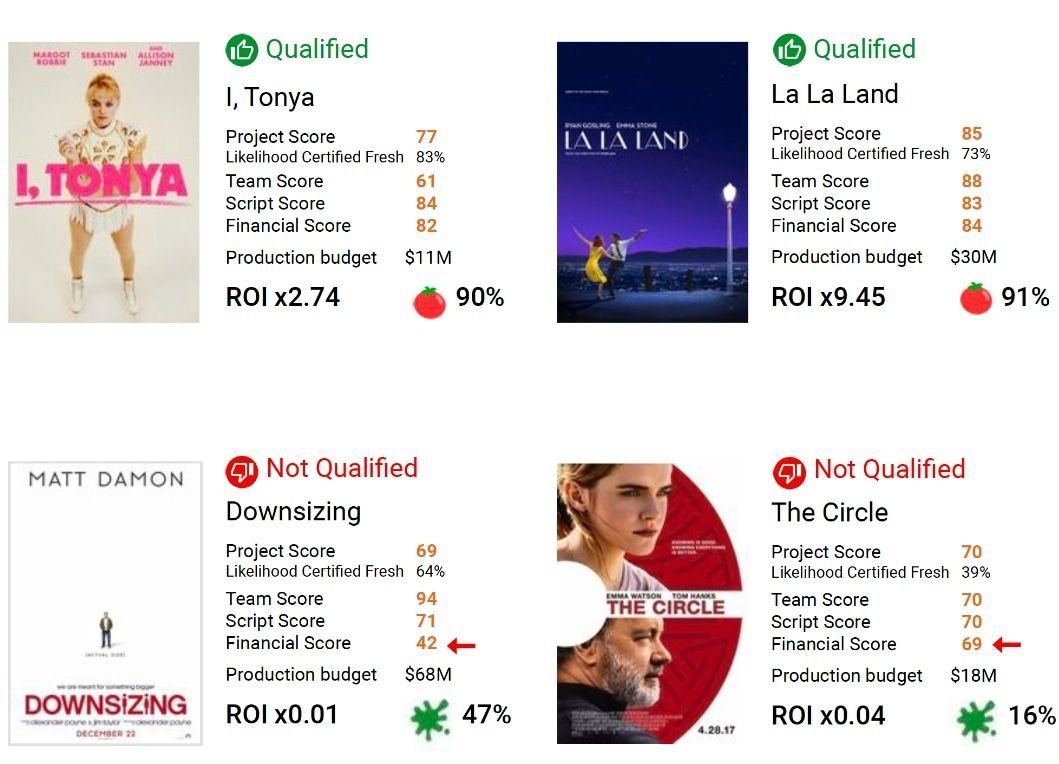 Marketplace traction: Contracted fees growing rapidly
Slated earns fees for cast, crew, investor, and sales/distribution attachments made "via Slated." Invoicing and collections occur as projects move into production or release.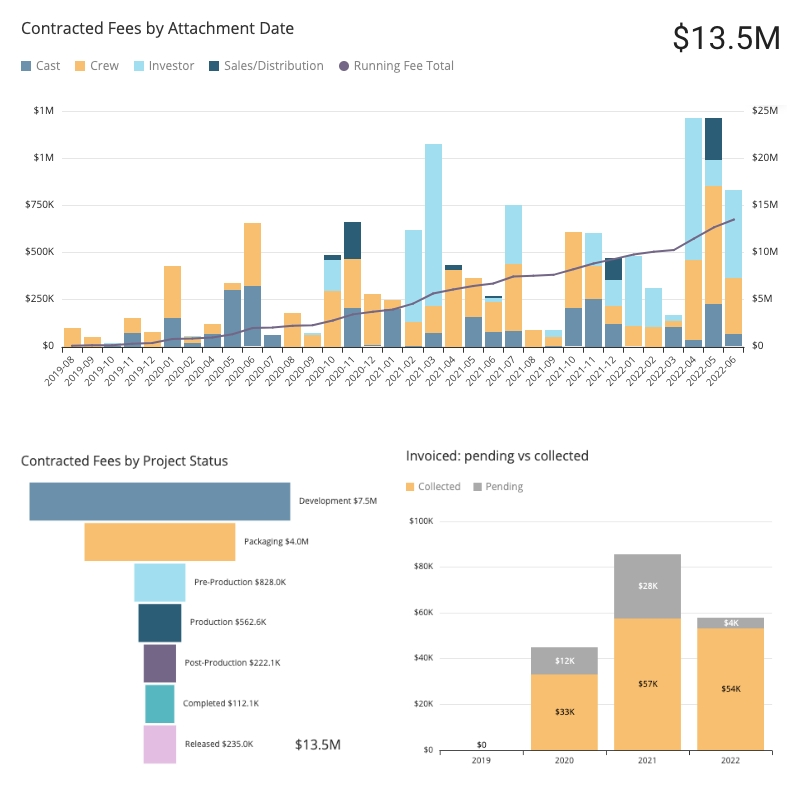 Customers
Edit
Financing & distribution partnerships
Slated is under NDA with financing and distribution companies looking to leverage our A.I. based predictive analytics and deal-flow to finance or distribute film projects with the highest potential ROI.
Slated is currently in discussions with several multi-billion dollar hedge funds to secure a $50M debt facility to finance the production of top scoring Slated projects.
Distribution partnerships with Bleecker Street and Round Table to release several top scoring movies per year domestically.

Slated is in active discussions with major studios to bring $200M+ in financing to their film slates, including:

Business model
Edit
Earning fees by providing value at every stage.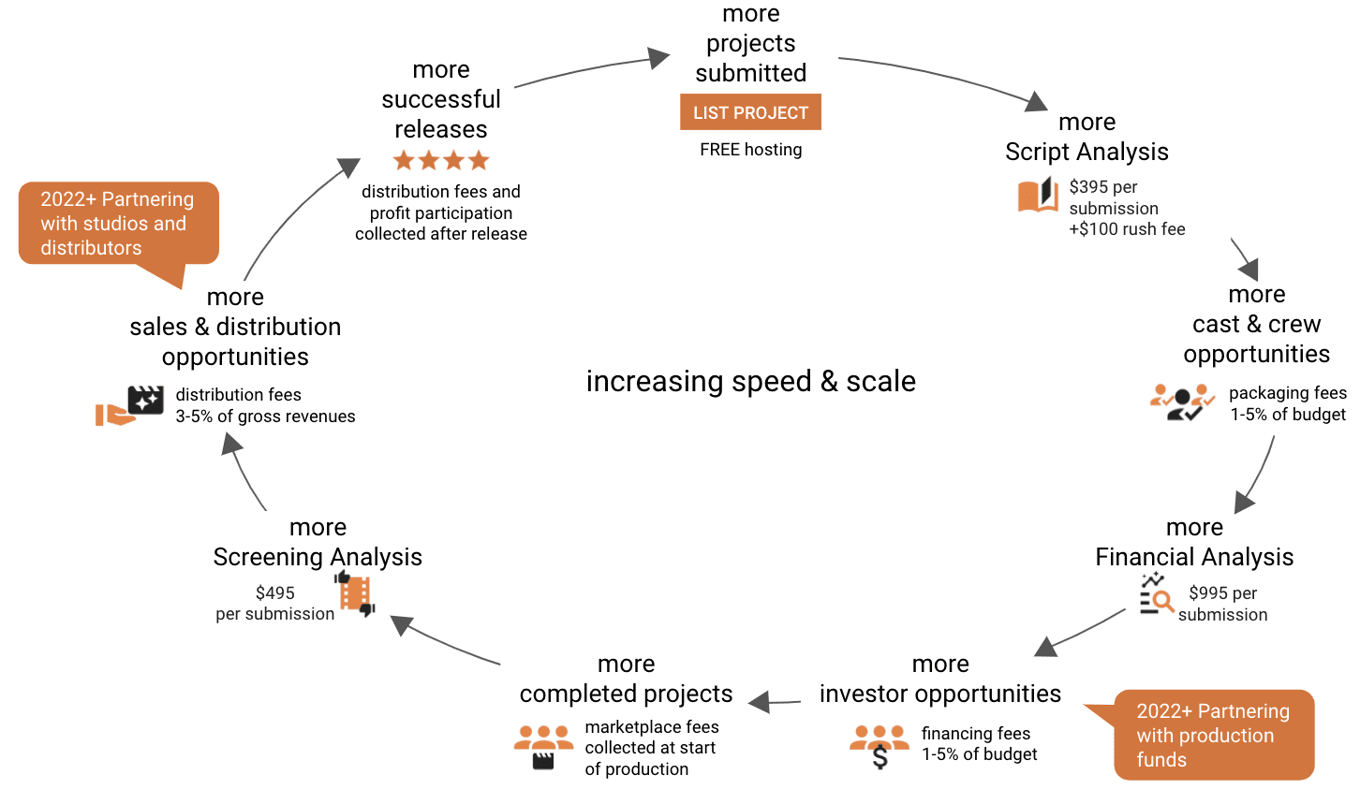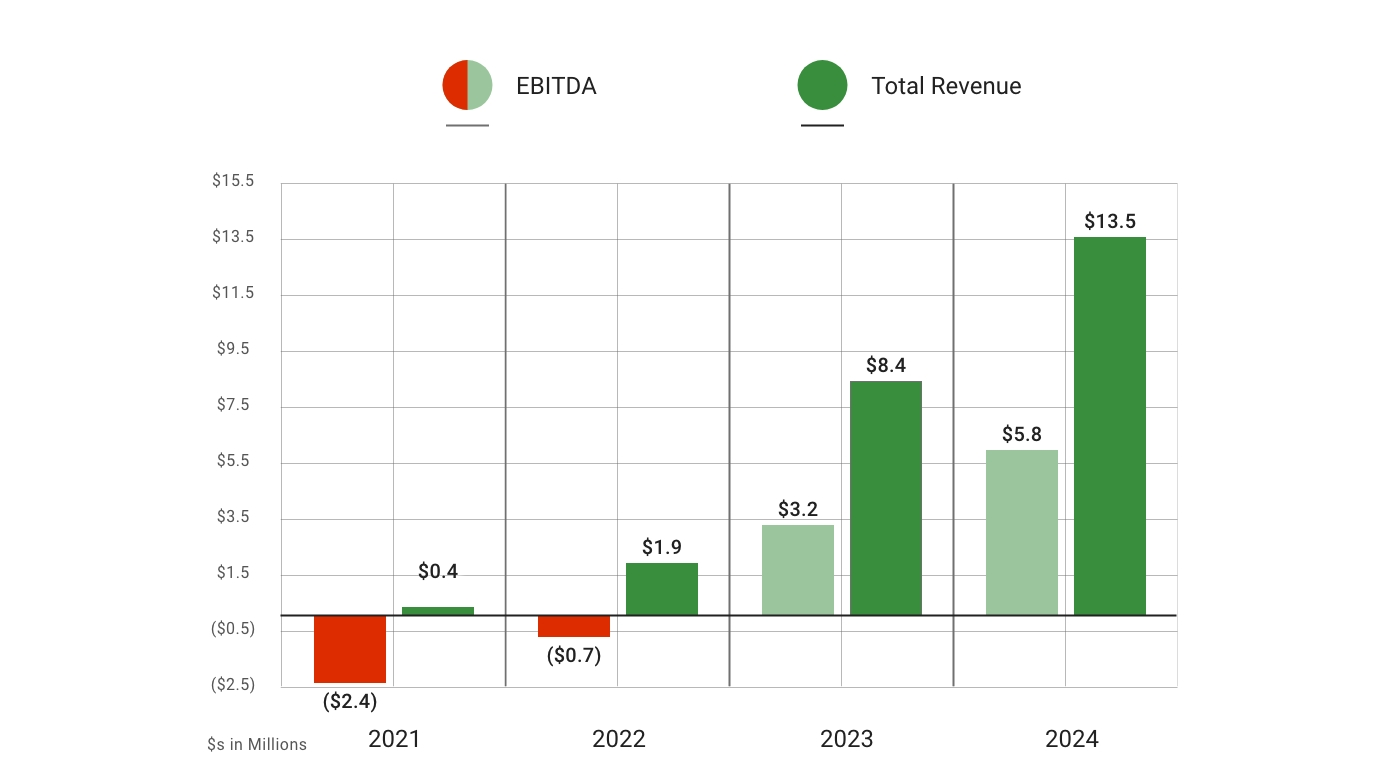 Large Addressable Market
Competition
Edit
Slated's analytics and marketplace edge.
Slated is one of the first end-to-end online film packaging, financing, and distribution marketplaces: efficient, AI/data-driven, and scalable.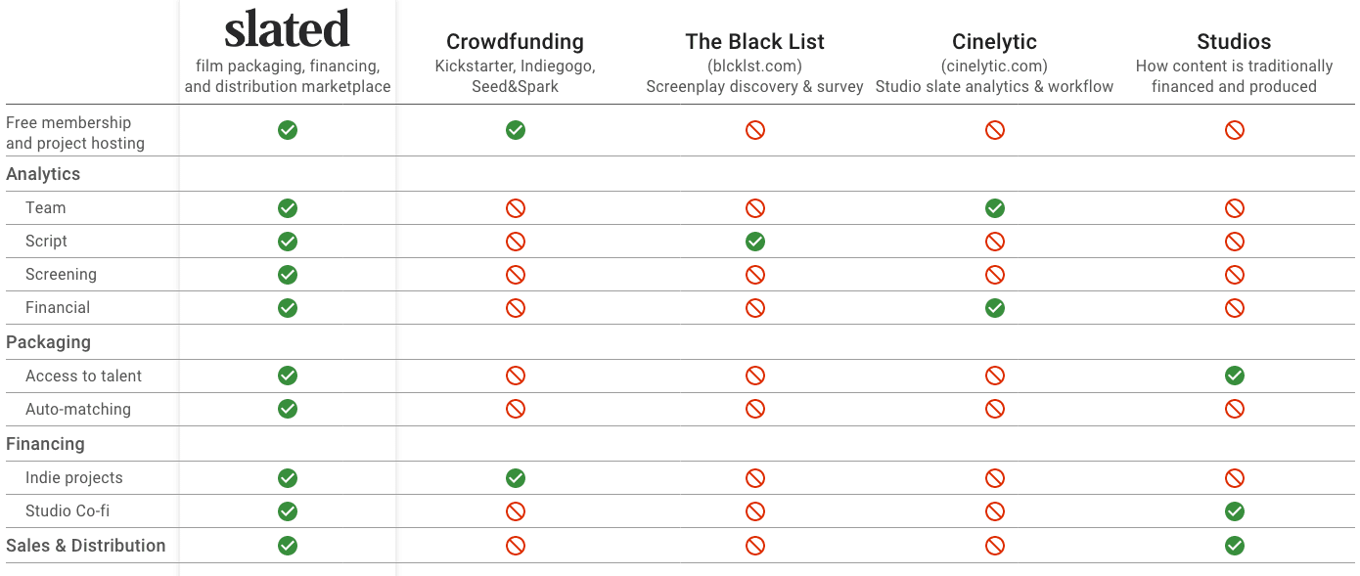 Vision and strategy
Edit
Platform development roadmap
Edit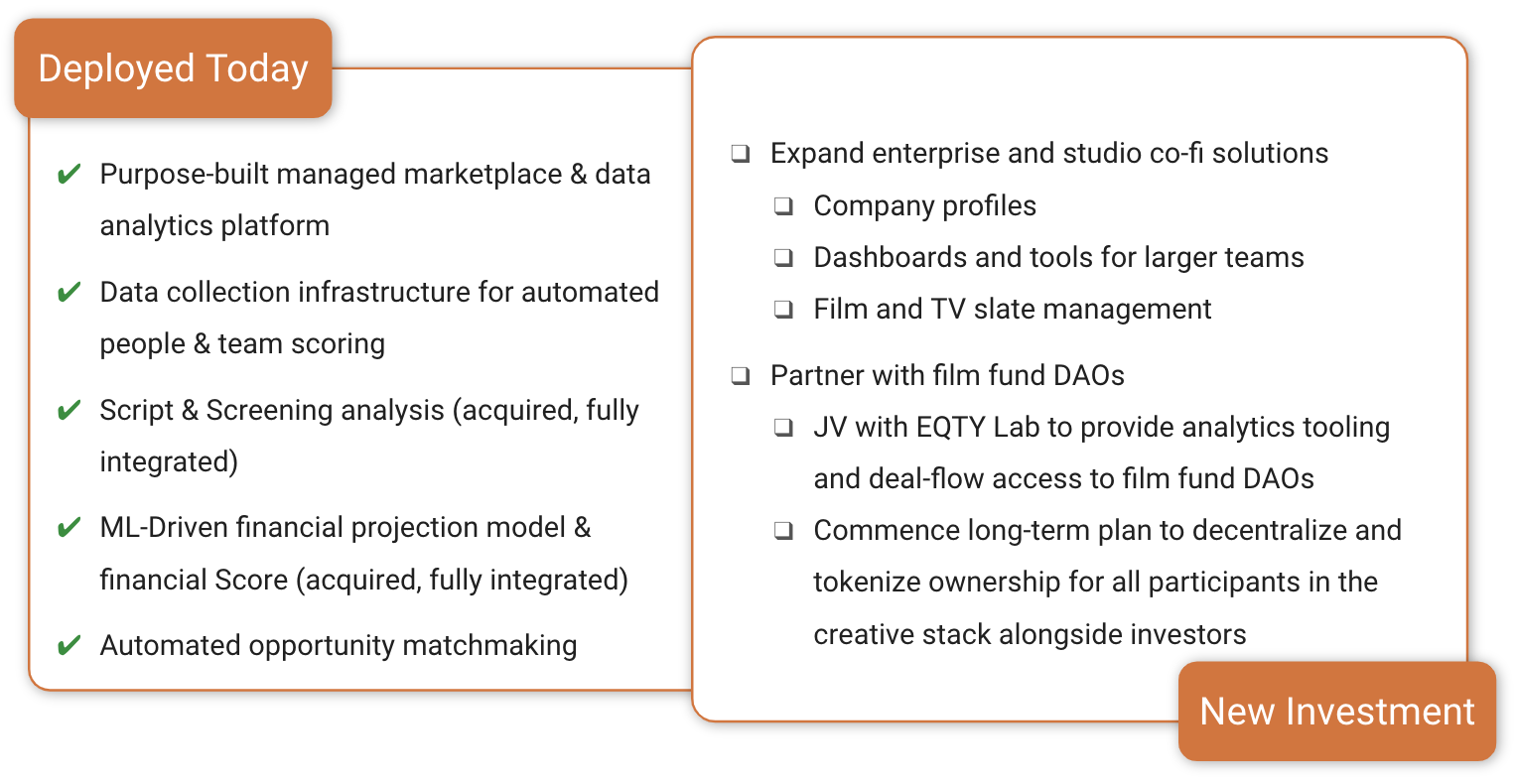 Slated's DAO & Web3 roadmap
Edit
Streamline and transform the market for content ownership via film fund DAOs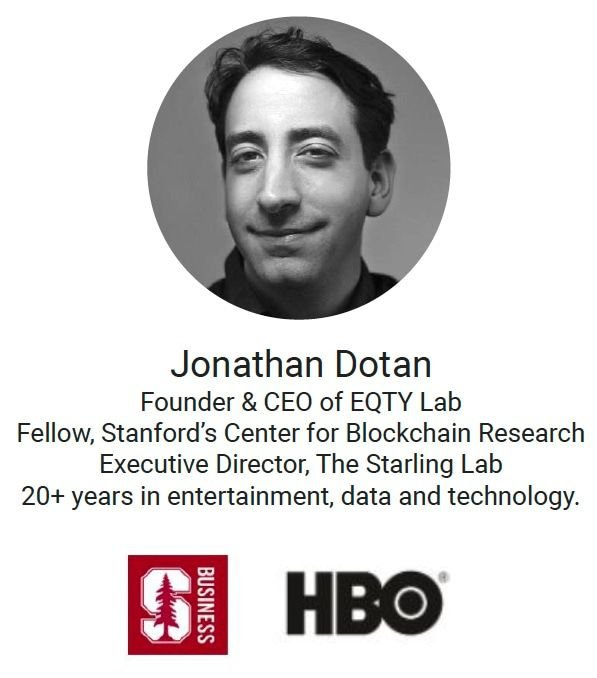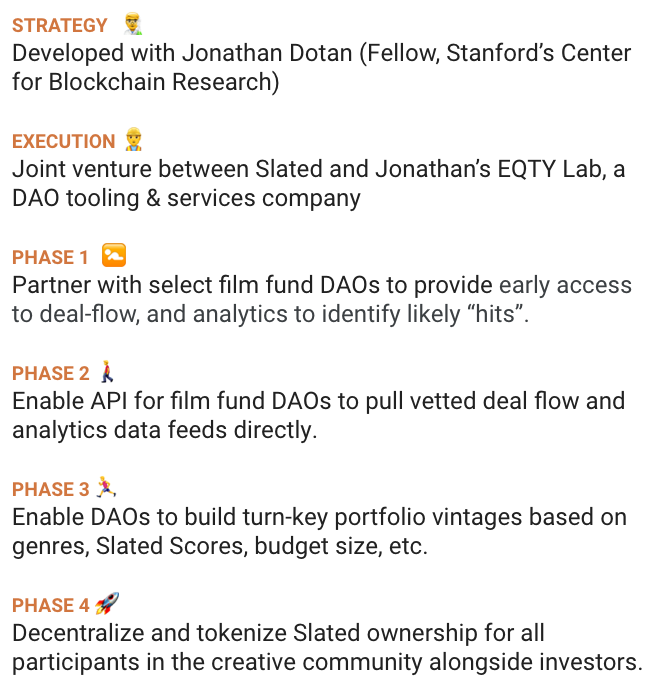 Slated Film Fund I: Production capital for studio co-financing
Edit
Slated is raising a first-of-its-kind investment fund leveraging its A.I.-based predictive analytics to finance film projects with the highest potential ROI.
Slated is seizing an unprecedented market opportunity:
Explosive demand for content and capital requirements
Absence of co-financing institutional capital
Uniquely favorable studio terms (e.g. reduced fees, low execution risk)
Streaming platforms acting as backstop to hedge against risk
Company has engaged advisors BardiCo & HQ Digital (a Digital Currency Group company) to assist raising capital for Slated's Studio Co-fi Fund
The fund will co-invest alongside major studios, independent distributors, and Slated marketplace films.
We are already in active discussions with:

Managers greenlight track record
Edit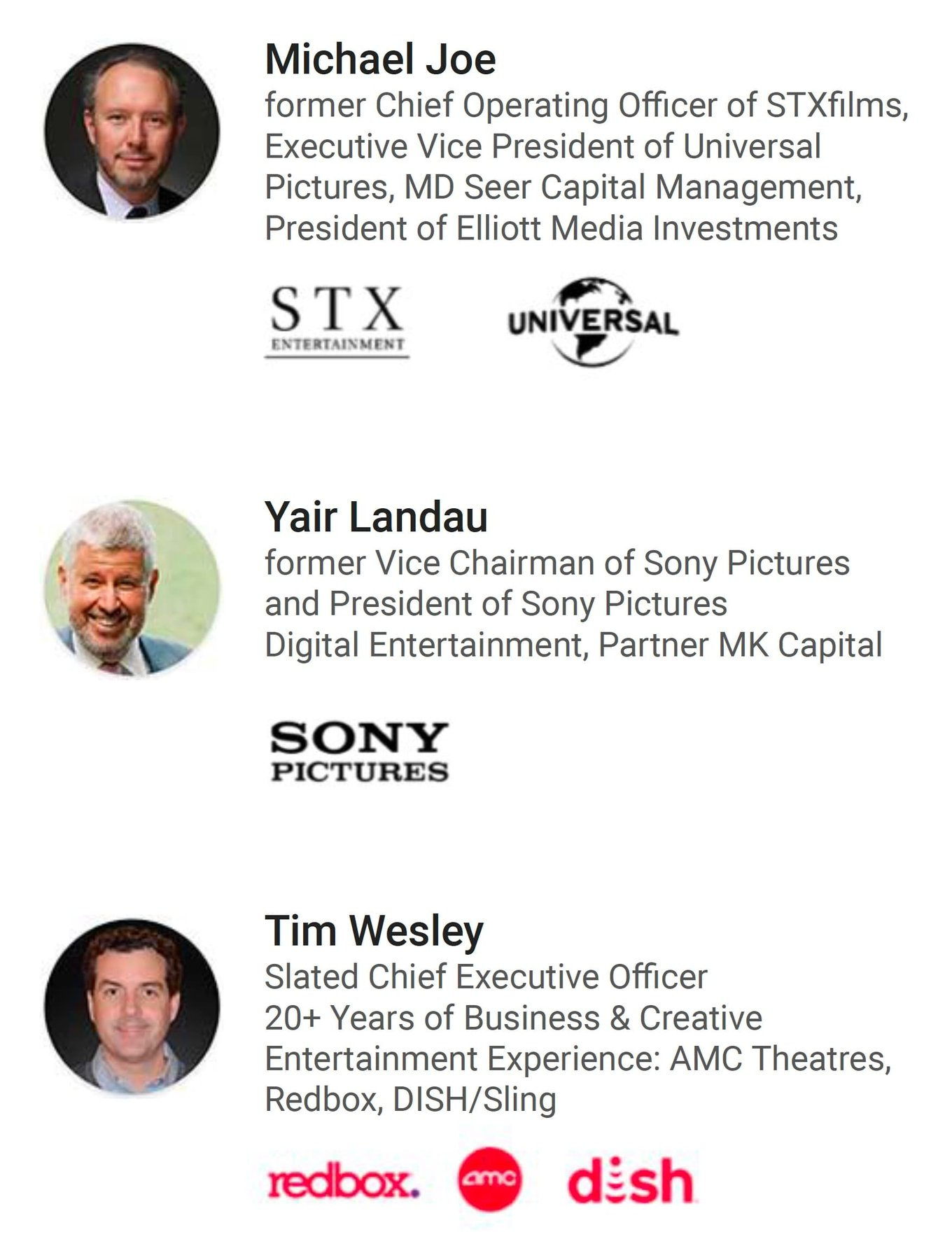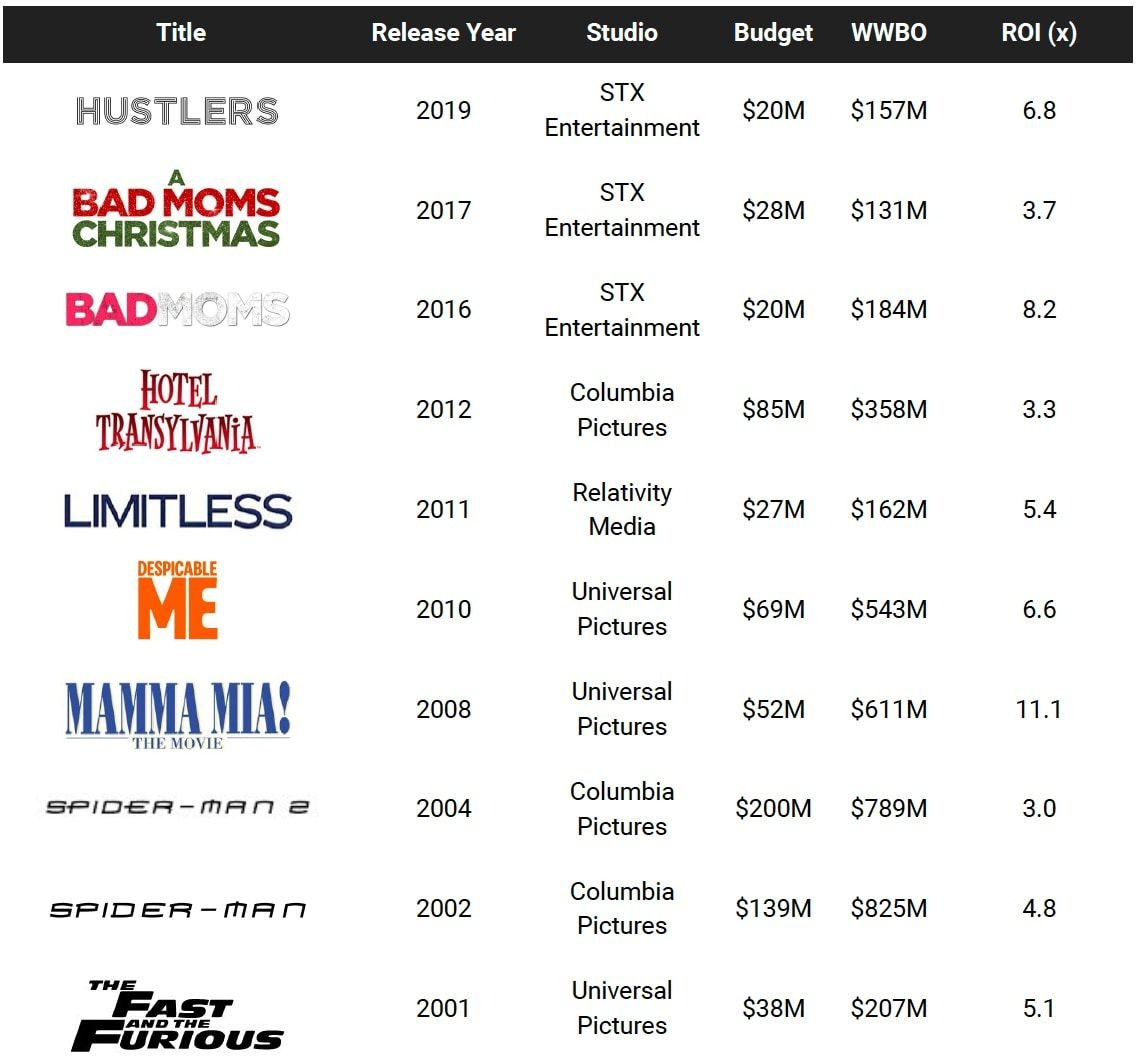 Veteran Investors
Edit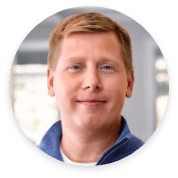 Barry Silbert
Founder and CEO of Digital Currency Group (DCG), the world's largest cryptocurrency asset manager with $50B AUM.
Founder and former CEO of SecondMarket, which sold to Nasdaq in 2015.
Entrepreneur of the Year by Ernst & Young and Crain's. Fortune's prestigious "40 Under 40" list.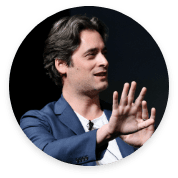 Stephan Paternot
Co-founder & Executive Chairman of Slated
Co-founder of PalmStar, a film production and financing company that has produced and financed over 30 films including Hereditary (2018), Collateral Beauty (2016), Sing Street (2016) and John Wick (2014).
Early investor in Digital Currency Group, SecondMarket, LendingClub, Indiegogo, AngelList.
Co-founder of theglobe.com, one of the first social networks. In 1998 the company had a record-setting IPO, pushing the company valuation to over $1B.
Ernst & Young Entrepreneur of the Year
Author of A Very Public Offering, as featured in National Geographic Television series Valley of the Boom.
Leadership
Edit
CEO & Board of Directors
Our leadership team is opening doors at every level of the film industry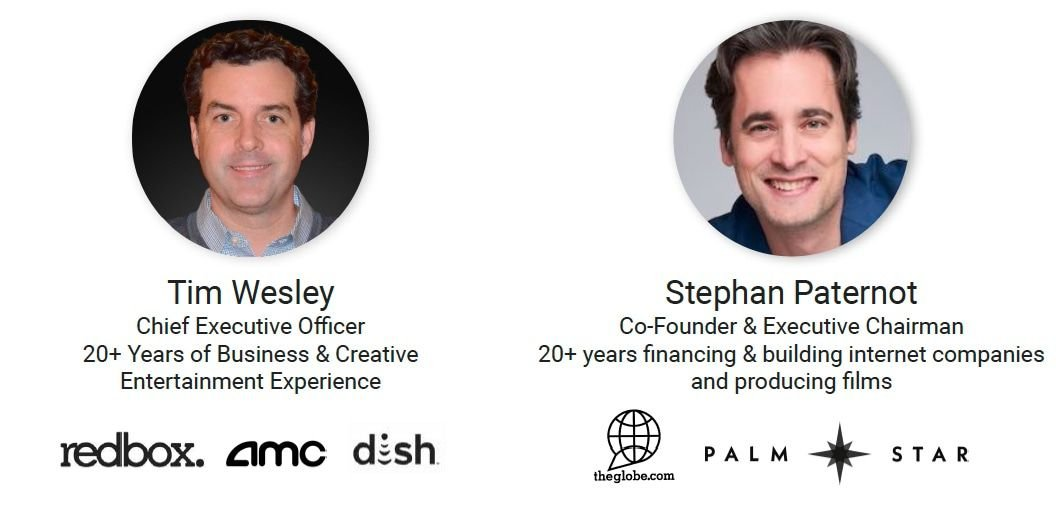 Why invest in Slated today?
Edit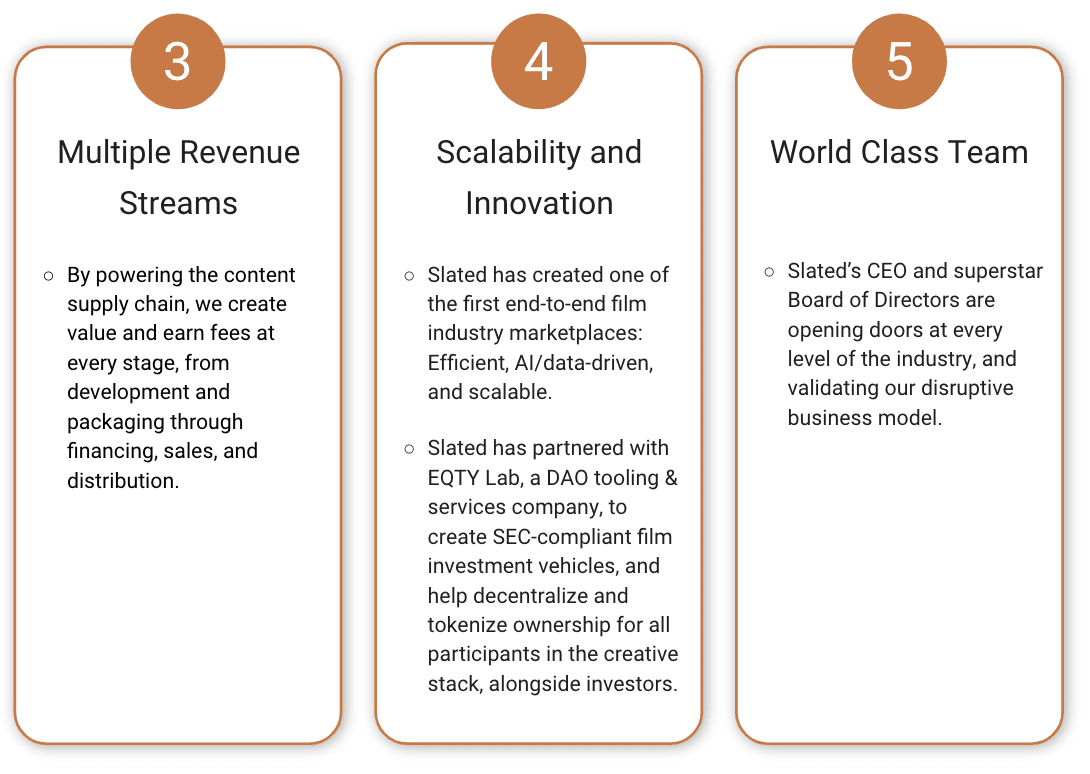 Slated Team
Edit
Ann Nguyen
Chief Technical Officer
Greg Gertmenian
Head of Film Development
Jay Burnley
Head of Film Finance
Alex N
Head Architect
Alexander Z
QA Manager/Scrum Master
Alina P
QA
Anton L
Backend Engineer
Ben S
Marketing Associate
Chandler F
Development Assistant
Chelsea T
VP of Development
Dan S
Data Scientist
Dima M
Frontend Manager
Ivan B
Frontend Engineer
Jess H
Social Media Manager
Kris R
Manager of Documentary Films
Kristina M
Marketing
Mirela G
Backend Engineer
Mitchell S
EP Services Manager
Sara B
Sr Data Scientist
Sara S
Accounting
Thien H
Devops