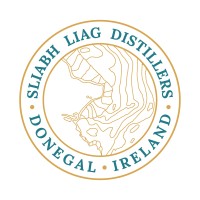 SLD has sold 240,000 bottles of award-winning Irish Whiskey, Maritime Gin and Vodka to over 40 countries. H1 2022 YoY whiskey unit sales almost tripled. Increased production capacity required at existing and new distillery operations to meet the forecasted doubling of category size by 2030.
Fast growing Irish whiskey segment and super-premiumisation of gin
Highly experienced global drinks industry board and management team
Three brands in 40 countries and Ardara Distillery phase one complete
Previous investments of c€9m from Asahi, angels and government organisations
Since 2017, Sliabh Liag Distillers (pronounced "Sleeve League") has marched on in its mission of reclaiming the distilling heritage of Donegal. A 2020 fundraise exceeded target by 126%, securing phase 1 of Ardara Distillery build.
Located on the wild Atlantic coast of Ireland, SLD produces soft drinking hard spirits based on the history, terroir and folklore of Donegal. Its new €6m distillery creates distinctive, heavily-peated pot still and single malt whiskeys and savoury maritime gin. The existing Carrick operation bottles and distributes the award-winning range of The Legendary Silkie Irish Whiskeys and all other brands. With distribution partners in 40 countries – including 41 states of the USA which accounts for around half the global Irish whiskey market – they have seen a tripling of Silkie unit sales in 2021 (vs 2020).
SLD now want to accelerate its brand growth and plan to increase the distilling capacity at Ardara by 30% in preparation for anticipated future demand for the smoky style of Irish whiskey. They also plan to start building at the Bull Field, which has planning permission for another distillery.
The company aims to scale up its international drinks business.
Board of directors
Edit
James Doherty: Founder/MD. With multiple MD positions at William Grant & Sons, Fosters and SABMiller and a first class record of complex brand management in international drinks markets, James has operated across the world with brands such as Hendrick's, Glenfiddich, The Balvenie, Grolsch & Peroni. Both of James's grandfathers were renowned illicit distillers in Donegal, and a source of inspiration for the SLD journey. He is vice-chair of IWA.
Moira Doherty: Founder/Director. Hailing from Bulawayo, Zimbabwe, Moira is the inspiration and distiller behind An Dúlamán Gin. She has been nominated and shortlisted for Master Distiller of the Year at the Icons of Gin Awards.
James Keith: Founder/Director (part-time). Successfully initiating & driving early-stage businesses for 30 years in industries ranging from FMCG, IT, construction & property.
Domenic De Lorenzo: Non-exec Director. Former Chief Financial Officer of SABMIller plc, one of the world's largest brewers, and currently Non-exec Director at Fevertree Drinks plc.
John Davidson: Chairman & Non-exec Director. Former General Counsel & Corporate Affairs Director at SABMiller plc and a trustee of several charitable trusts including Tearfund.
SLD is backed by and supported by several historical investors, including Asahi, Enterprise Ireland, Western Development Commission and Údarás na Gaeltachta.
As with any investment, investing in Sliabh Liag Distillers carries a level of risk. Overall, based on the key risks highlighted below, the degree of risk associated with an investment in Sliabh Liag Distillers is higher than in a company that's trading on a public market.
Early-stage investment
Edit
Sliabh Liag Distillers is at one of the earliest stages of the business lifecycle, and the failure rate of companies at that stage is usually much higher than those at a later stage.
Illiquid investment
Edit
The number of transactions in shares of private companies is usually significantly lower than in public companies, typically resulting in it taking longer to sell shares in private companies at a price that is at least equal to the price that the shares were bought at. Accordingly, the Sliabh Liag Distillers investment opportunity is considered to be higher risk than more liquid companies.
References and notes
Edit