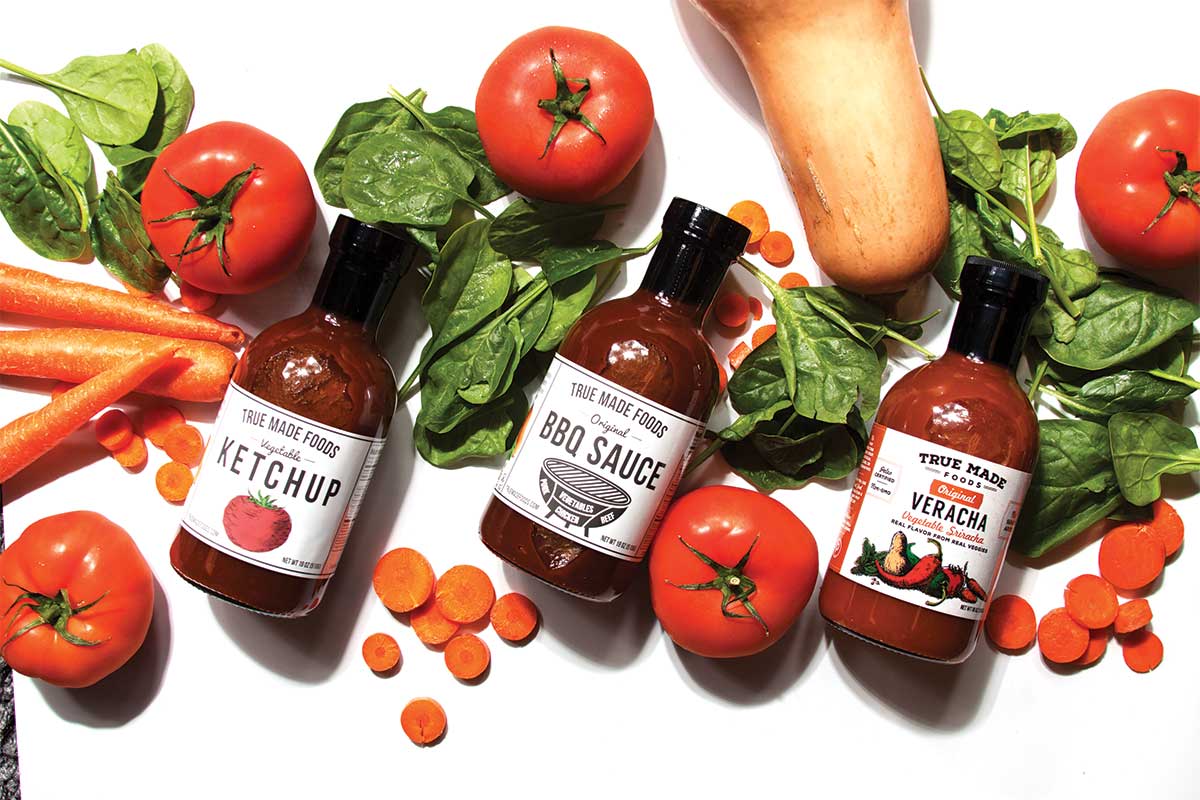 Available in 5K+ stores across the U.S., including Kroger and Whole Foods
$2M+ in gross sales in 2020 | $1M+ in gross sales YTD APR2021
120% YoY growth
97% ranked us "Excellent" or "Good" when sampled by over 6,000 moms
$4M+ in funding to date from prominent investors
Veteran-owned and operated
Official Ketchup of the Boston Red Sox and Washington Nationals.
Conventional condiments are loaded with sugar
Some of our favourite condiments—ketchup, BBQ sauce and sriracha—are the biggest sources of hidden sugar. In fact, they are likely to be the most sugar-dense products in the average refrigerator. Each of these standard sauces has more sugar per ounce than ice cream, and most BBQ sauces have more sugar per serving than a glazed donut! This poses a huge problem for many families: the kitchen staples we use in our family dinners, backyard barbecues and at our ballparks are actively making America sicker and fatter.
Real flavor from real veggies
True Made Foods replaces refined sugars with real veggies and fruit. We are founded on a simple philosophy: cut the refined and artificial ingredients out of your condiments, and replace them with real produce. We bring kid-approved flavors to your backyard barbecue turning empty-calorie condiments into nutrient-dense, paleo superfoods. Our goal is to make family dinners, backyard barbecues and trips to the ballpark fun and healthy again, and not a guilt-ridden compromise.
We aren't just another sauce.
We are the flavour of a modern America.
Good food, made true
We now offer a line of veggie-sweetened ketchups, regional style BBQ sauces, sriracha, mustards and hot sauces. They are Whole30 and paleo certified, keto approved, vegan, non-GMO and gluten free. We cut the sugar, but kept the flavor. Our recipes honor family recipes that use root veggies, and we never use artificial or refined sweeteners, ever.
We are also now the official Ketchup, Mustard and BBQ Sauce of the Boston Red Sox and Washington Nationals!
Red Sox! The Nationals!
True Made Foods is the official condiment for the Red Sox, and we are also the exclusive brand for our hometown team, The Nationals!
Nationals Park integrated new, no-touch technology in their pumps, dishing our our veggie-sweetened condiments safely and quickly.
Over $2M gross sales in 2020
Our products are now available in over 5,000 stores across the U.S., including Kroger, Walmart, Sprouts, and Whole Foods. We are the fastest growing ketchup in the U.S., and the #1 non-private label brand in the Kroger NF Condiment category. In 2020, our top line sales grew 120% YoY. Our grocery sales grew 175% YoY.
In 2021, we launched food service sales on the back of a three year exclusive contract with the Boston Red Sox. In 2020, Food Service sales were 2% of total sales (YTD). And in 2021, Food Service sales are now 10% of total sales in 2021 (YTD through 30APR21), and the majority of growth to come in H2, when our $ sales from retail usually dip because of seasonality. Our baseball contracts speak to our potential to be the next iconic American food brand.
Over $1M in sales YTD as of MAY 1st , 2021
We have already broken $1M in sales for the year (2021) and have seen record sales months in March and April. We are now the fastest growing ketchup brand in the United States.
True Made Foods is coming out of the COVID-era stronger than almost all brands our size.
Our success this year speaks to the strength of our business, the wide appeal of our brand, and our potential for extreme growth. Our brand and products are approachable and can compete with conventional brands on taste. We see success in both natural channels like Whole Foods and Sprouts and conventional channels like Kroger and Safeway.
Customers
Edit
We can replace Heinz
We asked over 6,000 moms to try our ketchup, and here's what they said:
Since sampling, 80% of these moms started purchasing our ketchup and 54% bought other True Made Foods products. The #1 reason for not purchasing was that they "could not find the ketchup" in their favorite store. We found that 87% of these moms were Heinz purchasers before trying True Made Foods.
Our incredible repurchase rate and high ratings among our core demographic, plus our adoption by mainstream outlets like the Boston Red Sox, suggest our ability to be a true disruptor on shelf.
Business model
Edit
Successful retail model and growing online presence
We employ a traditional CPG business model, using distributors and selling direct to larger chains like Kroger and Walmart. We are also developing our online channels, and plan to significantly increase online sales in 2021 as we partner with a national micro-fulfillment agency. Lastly, as mentioned before, we are using the Red Sox contract to launch into food service, which, traditionally, is twice the size of the retail market for condiments.
Gross Margins (YTD 2020)
average product margin is 42%
average gross margin after shipping/handling is 36%
average net margin after trade spend is 18%
We reduced our packaging cost on our ketchup by 50% from 2019 to 2020
We currently spend 20% on trade spend annually
We expect to see gross margins (after s/h) grow to +40% in 2021 through lower toll and packaging costs and higher volume shipping (creating lower costs per product).
Freight is currently 5% of total sales, our goal is 2-3%
We also expect to see trade spend decrease as a % of total sales as we grow. More mature companies in our categories spend approximately 10% annually on trade spend.
We're taking over a $30B global condiment market Like many food categories, the future of condiments is moving towards healthy, sugar-free alternatives.
We plan to use the capital raised here to help us expand into food service in the second-half of 2021. The food service condiment space is three times the size of the retail market in the United States. And, we believe it acts as an ideal marketing platform for our products, because our brand is so exposed as a front-of-the-house category.
In retail, we are currently experiencing 100%+ year-over-year growth and we have been able to earn over $5MM in gross sales in four years on the market. Our velocities are increasing monthly. In Kroger and Whole Foods, our velocities have steadily increased since launch.
Graph below is weekly scanned unit sales in Kroger Banners since our in-store launch from May 2020 to Feb 2021.
Competition
Edit
No one does what we do
True Made Foods is healthier than the "healthy" brands, better tasting than the conventional brands, and a truly authentic brand with wide appeal.
Some of America's favorite condiments are also some of the biggest sources of hidden sugar. But unfortunately, if you have kids, these condiments are staples at dinner and family cookouts.
Our mission is simple: help busy families cut refined and artificial sweeteners out, and pour on veggie-fueled goodness instead.
Our resilience and increased sales growth during COVID above the category, demonstrates our wide appeal and approachable branding. We are America's Ketchup.
Remaking it right
We are out to create a world where people can enjoy their favorite foods, guilt-free and without compromise.
We started by revolutionizing America's favorite iconic condiments with the sweetness of real fruits and vegetables instead of sugar. Now there's no negotiation or compromise at the dinner table, the backyard barbecue, or the ballpark, just extra veggies hidden in crave-able goodness.
We want to be the next great American food company and completely take over the categories we are currently operating in.
But in the short-term, our goal is to grow True Made Foods to +$10MM in annual sales in the next two years (by EOY 2022) and +$100MM in annual sales by 2026.
Our strategic plan is to focus on distribution and velocity growth in conventional and natural grocery channels in 2021 and 2022, while also expanding into food service.
We plan to close contracts with 10x colleges and universities by the end of 2021.
In 2021, we launched 1,000 new placements in banners like Safeway, Stop & Shop and Harris Teeter. In 2022, we plan to expand into Target, HEB and Publix.
In 2023, we plan to expand into club channels (e.g. Costco).
We also plan to use True Made Foods as a brand platform and expand into complimentary categories once we are established in our current categories and over $10MM in sales.
Investors
Edit
We've raised $2.3M in funding to date
We are seeking growth capital to help us further scale our business. Capital raised here on Republic will be used to increase our marketing budget and help us build food service sales on the back of our Red Sox contract. In 2020, we grew year-on-year velocities ($ sales per store) by 40% without any marketing budget. Imagine what we could do with your support.
Our other prominent investors include SOSV, Siddhi Capital, Black Jay Investments, Veteran Capital, and the New York Angels. We are also supported by the FOOD-X accelerator.
Meet Abe. True Made Foods was founded by Abe Kamarck, a Navy Veteran and father of four. Abe and his wife are both Veterans and former athletes, and they knew the importance of their kids eating healthy veggies and avoiding sugar. However, one product persisted to be part of their weekly dinners: ketchup. Abe was not a fan of ketchup, knowing it had more sugar per ounce than ice cream, but he couldn't get his kids to give it up... so, he made a better one.
Abe had grown up making pasta sauce with his Sicilian mother who always used carrots as the sweetener. He wondered—couldn't that process also work for ketchup? Turns out, it does.
Meet our Pitmaster. Known as "The Pitmaster" in barbecue circles, Ed Mitchell has been cooking traditional whole-hog barbecue since he was a teenager in Wilson, NC. When his father became ill, Ed returned to Wilson to help his mom in the family store. By accident they started selling their family-recipe whole hog BBQ and ended up launching a BBQ revolution. The Southern Food Alliance hailed Ed's 'Cue as the most authentic in the South. And in 2000, Peter Kaminsky, author of Pig Perfect, introduced Ed to the superior taste of free-ranging pigs raised on traditional foods. Ed was convinced that this was the taste of his youth he'd been searching for, and worked with local Universities to encourage the growth of pasture raised hogs. In 2017, Ed and his son, Ryan, turned down larger food brands to partner with True Made Foods, because as a pre-diabetic, Ed became concerned with the amount of sugar that has leaked into our diets and how it was affecting his community and Ryan, a former college athlete, believed in the mission of turning BBQ into a superfood. Ed and Abe are both veterans and both share a passion for better food and the preservation of our culinary traditions.
We have a limited operating history upon which you can evaluate our performance, and accordingly, our prospects must be considered in light of the risks that any new company encounters.
The Company is still in an early phase and is just beginning to implement its business plan. There can be no assurance that it will ever operate profitably. The likelihood of its success should be considered in light of the problems, expenses, difficulties, complications and delays usually encountered by companies in their early stages of development. The Company may not be successful in attaining the objectives necessary for it to overcome these risks and uncertainties.
The amount of capital the Company is attempting to raise in this Offering may not be enough to sustain the Company's current business plan.
We may face potential difficulties in obtaining capital. We rely on other companies to provide components and services for our products.
We rely on a certain partnership agreement to use certain intellectual property rights for our business.
The Company's success depends on the experience and skill of the board of directors, its executive officers and key employees.
Although the Company is dependent on certain key personnel, the Company does not have any key man life insurance policies on any such people.
Damage to our reputation could negatively impact our business, financial condition and results of operations.
Our business could be negatively impacted by cyber security threats, attacks and other disruptions.
Security breaches of confidential customer information, in connection with our electronic processing of credit and debit card transactions, or confidential employee information may adversely affect our business.
The use of individually identifiable data by our business, our business associates and third parties is regulated at the state, federal and international levels.
The Company is not subject to Sarbanes-Oxley regulations and may lack the financial controls and procedures of public companies.
We operate in a highly regulated environment, and if we are found to be in violation of any of the federal, state, or local laws or regulations applicable to us, our business could suffer.
The food condiment category is price competitive and is characterized by high fixed costs. A reduction in prices for the industry could affect the demand for our products and services.
We may implement new lines of business or offer new products and services within existing lines of business.
Damage to our reputation could negatively impact our business, financial condition and results of operations.
Global crises such as COVID-19 may significantly affect our business operations and revenue projections.
We have never generated any significant revenues, have a history of losses, and cannot assure you that we will ever become or remain profitable.
We have limited commercial experience in marketing or selling any of our products, and unless we develop these capabilities, we may not be successful.
Our small size and limited history negatively affect our ability to raise capital.
Attempts to grow our business could have an adverse effect on the Company.
A decline in consumer spending or a change in consumer preferences or demographics could reduce our sales or profitability and adversely affect our business.
Our inability to secure, maintain and increase our presence in retail stores could adversely impact our revenue, and in turn our business, financial condition, results of operations and prospects could be adversely affected.
The food condiments category in which we participate is highly competitive. If we are unable to compete effectively, our results of operations could be adversely affected.
If our products do not gain market acceptance, it is unlikely that we will become profitable.
Food condiment safety, quality, and health concerns could adversely affect our business.
Product recalls and product liability, as well as changes in product safety and other consumer protection laws, may adversely impact our operations, merchandise offerings, reputation, financial condition, results of operations, and cash flows.
The loss of any of our key merchandise vendors, or of any of our distribution arrangements with certain of our vendors, could negatively impact our business.
We rely on co-packers to provide our supply of treat products. Any failure by co-packers to fulfill their obligations or any termination or renegotiation of our co-packing agreements could adversely affect our results of operations.
As our business increases in size, we will need to locate and contract qualified co-packers with sufficient dedicated space for our gluten-free, "no sugar added" and "less sugar" products, and there is no assurance that we will be able to do so.
A large portion of our sales involves the sale of gluten-free, "no sugar added" and "less sugar" products.
If we do not manage our supply chain effectively, including inventory levels, our business, financial condition and results of operation may be adversely affected.
Failure by our transportation providers to deliver our products on time or at all could result in lost sales.
We may face difficulties as we expand into countries in which we have no prior operating experience.
The growth of our business depends in part on our ability to accurately predict consumer trends, successfully introduce new products and services, improve existing products and services, and expand into new offerings.
We face various risks as an e-commerce retailer. Increases in raw materials, packaging, oil and natural gas costs and volatility in the commodity markets may adversely affect our results of operations.
Adverse weather conditions, natural disasters, pestilences and other natural conditions can disrupt our operations, which can adversely affect our business, financial condition and results of operations.
Shifting Consumer Tastes.
As a food production company, all of our products must be compliant with regulations by the U.S. Food and Drug Administration ("FDA"), as well as the United States Department of Agriculture ("USDA"), and in addition a number of our products rely on independent certification that they are non-GMO, gluten-free, "no sugar added" and "less sugar". Any non-compliance with the FDA, or USDA, or the loss of any such certification could harm our business.
Our independent accounting firm's review report contains an explanatory paragraph that expresses substantial doubt about our ability to continue as a "going concern."
The Company's management may have broad discretion in how the Company uses the net proceeds of an offering.
The Company has the right to limit individual Purchasers commitment amount based on the Company's determination of a Purchaser's sophistication.
State and federal securities laws are complex, and the Company could potentially be found to have not complied with all relevant state and federal securities law in prior offerings of securities.
The Company could potentially be found to have not complied with securities law in connection with this Offering related to "Testing the Waters."
The U.S. Securities and Exchange Commission does not pass upon the merits of any securities offered or the terms of the offering, nor does it pass upon the accuracy or completeness of any offering document or literature.
Neither the Offering nor the Securities have been registered under federal or state securities laws, leading to an absence of certain regulation applicable to the Company.
The Company has the right to extend the Offering deadline. The Company has the right to end the Offering early.
The units of SAFE will not be freely tradable until one year from the initial purchase date. Although the units of SAFE may be tradable under federal securities law, state securities regulations may apply, and each Purchaser should consult with his or her attorney.
Purchasers will not become equity holders until the Company decides to convert the Securities into CF Shadow Securities or until there is a change of control or sale of substantially all of the Company's assets.
Purchasers will not have voting rights, even upon conversion of the Securities into CF Shadow Securities; upon the conversion of the Crowd SAFE to CF Shadow Securities (which cannot be guaranteed), holders of Shadow Securities will be required to enter into a proxy with the intermediary to ensure any statutory voting rights are voted in tandem with the majority holders of whichever series of securities the Shadow Securities follow.
Purchasers will not be entitled to any inspection or information rights other than those required by Regulation CF. Purchasers will be unable to declare the Security in "default" and demand repayment.
The Company may never elect to convert the Securities or undergo a liquidity event.
Equity securities acquired upon conversion of SAFE securities may be significantly diluted as a consequence of subsequent financings.
Equity securities issued upon conversion of company SAFE securities may be substantially different from other equity securities offered or issued at the time of conversion. There is no present market for the Securities and we have arbitrarily set the price.
In a dissolution or bankruptcy of the Company, Purchasers will not be treated as priority debt holders and therefore are unlikely to recover any assets in the event of a bankruptcy or dissolution event.
While the Crowd SAFE provides for mechanisms whereby a Crowd SAFE holder would be entitled to a return of their purchase amount, if the Company does not have sufficient cash on hand, this obligation may not be fulfilled.
The Company has the right to conduct multiple closings during the Offering.
To invest in True Made Foods, click here.
To contact True Made Foods, click here.