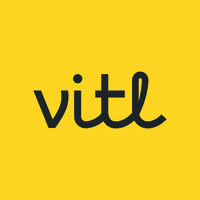 Vitl is aiming to create a next generation nutrition company, powered by personalisation and backed by science. With 600k+ AI-powered consultations completed, listings in 2000+ UK stores and backed by leading investors incl. True Capital & C4 Ventures, they are now raising funds to begin plans for international expansion.
3x revenue growth over the past 3 years (to £2.4m 2021, P&L: -£2.5m)
Listed in FT's 1000 Fastest Growing Companies 2021
Backed by True Capital, Channel 4 Ventures and others
Rated 'Excellent' on Trustpilot
Vitl exists to empower people to understand their bodies and provide the right nutritional products to achieve their goals, aiming to change the one-size-fits-all nutrition industry.
AI-powered consultations provide users with personalised nutritional information and from the 600k+ consultations, Vitl has created a range of nutritionally tailored products for the retail market.
Now listed in over 2000 stores nationwide – with over 250,000 units sold – including Sainsbury's, Boots, Holland & Barrett, Gorillas and Deliveroo, they are looking to take on what they believe to be an outdated supplement industry valued globally at $151.9 billion (2021) and forecasted to expand at a 8.9% CAGR from 2022 to 2030.
Vitl has experienced significant growth in brand awareness in the past 18 months, since launching OOH & TV campaigns and being featured across titles such as The Times, Stylist, The Daily Mail, Glamour, The Grocer and The Evening Standard. A key investment from Channel 4 Ventures aims to bolster this growth in brand awareness.
Backed by other leading UK investors including the founders of Zoopla, LoveFilm and Bulldog Skincare, alongside True Capital, and the £100m Angel Co Fund. Vitl is now raising to execute its new product development roadmap, grow its team and begin plans for international expansion.
Jonathan Relph, Chief Executive & Founder
After working at top fund managers including Citadel and Fidelity, Jonathan realised he was analysing everything except what mattered most, his own health. Frustrated by poor existing offerings in the market and passionate about nutrition and technology, Jonathan's mission is to harness the power of AI and data to improve users' health and bring more impactful products to consumers.
Freddy Hare, Head of Operations
With 6 years at Vitl, Freddy is the longest serving employee and has scaled its operations through its growth.
Rachael Condon, Head of Marketing
Rachael has extensive FMCG marketing and sales experience. Having worked at Nestle in San Francisco before moving to take the lead on marketing at Vitl.
Makan Houston, Head of Tech
Having spent over 5 years at Vitl, Makan has led the building of both its tech platform and development team.
Bill Chellingsworth, National Account Manager
Bill joined Vitl to spearhead its growth from a DTC brand, to one that now sees Vitl in over 2000 stores across the UK & Ireland.
Roxane Bakker, Dietitian
An award-winning dietitian, Roxane is responsible for ensuring its AI engine provides customers with accurate and bespoke health solutions.
The company's wider team includes 19 FTEs and 12 contractors.
As with any investment, investing in Vitl carries a level of risk. Overall, based on the key risks highlighted below, the degree of risk associated with an investment in Vitl is higher than in a company that's trading on a public market.
Early-stage investment
Edit
Vitl is at one of the earliest stages of the business lifecycle, and the failure rate of companies at that stage is usually much higher than those at a later stage.
Illiquid investment
Edit
The number of transactions in shares of private companies is usually significantly lower than in public companies, typically resulting in it taking longer to sell shares in private companies at a price that is at least equal to the price that the shares were bought at. Accordingly, the Vitl investment opportunity is considered to be higher risk than more liquid companies.
Reference and notes
Edit