The snack & cookie brand on a mission to create a more joyful, inclusive world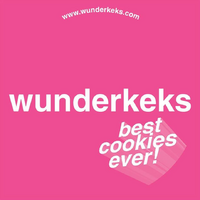 Bootstrapped from a farmer's market stand in '19 to $5.1M+ in sales in '21
A brand on a mission to build Safe Spaces for everyone!
PR coverage: The Today Show, Inc., Business Insider, Bon Appetit, WSJ
Advised by one of the minds behind Ben & Jerry's, Jeff Furman
Expanding beyond cookies into many branches of the sweets snack space
The $100B sweets markets is craving innovation after years of neglect
Immigrant, queer, Latinx-owned company
Consumer brand choices have become a part of how we express our values & consumers are mindful of what brands they associate themselves with.
Millennials and GenZ are hyper-aware that in a world so full of options, the choices they make are constantly judged the second they are made public. And they are all public.
They are also very unlikely to be loyal to a brand, unless they buy into the brand's mission and values.
Trends from the past 10 years have focused mission-driven brands into health-adjacent categories, leaving an opening in the snacks category where wunderkeks® fits seamlessly.
The cultural moment claims for more conversations that enable the creation of Safe Spaces: about mental health, about sexual identity, about race...
A sweet snacks brand that enables having those conversations by telling stories
Edit
1. Food and beverage are the new external signifiers.
Edit
The pandemic left other status symbols out—fashion, travel, cars—accelerating a trend as old as the Starbucks cup. Now we proudly show off what we're eating and why.
2. We treat sweets differently than other foods.
Edit
Sweets are celebratory; we usually share them along with an "I love you", "I care about you", "I'm proud of you". That opens the door to have a heartfelt conversation.
3. Everything is a storytelling opportunity
Edit
A brand built around starting conversations about Safe Spaces is a brand that becomes part of the consumer's own story.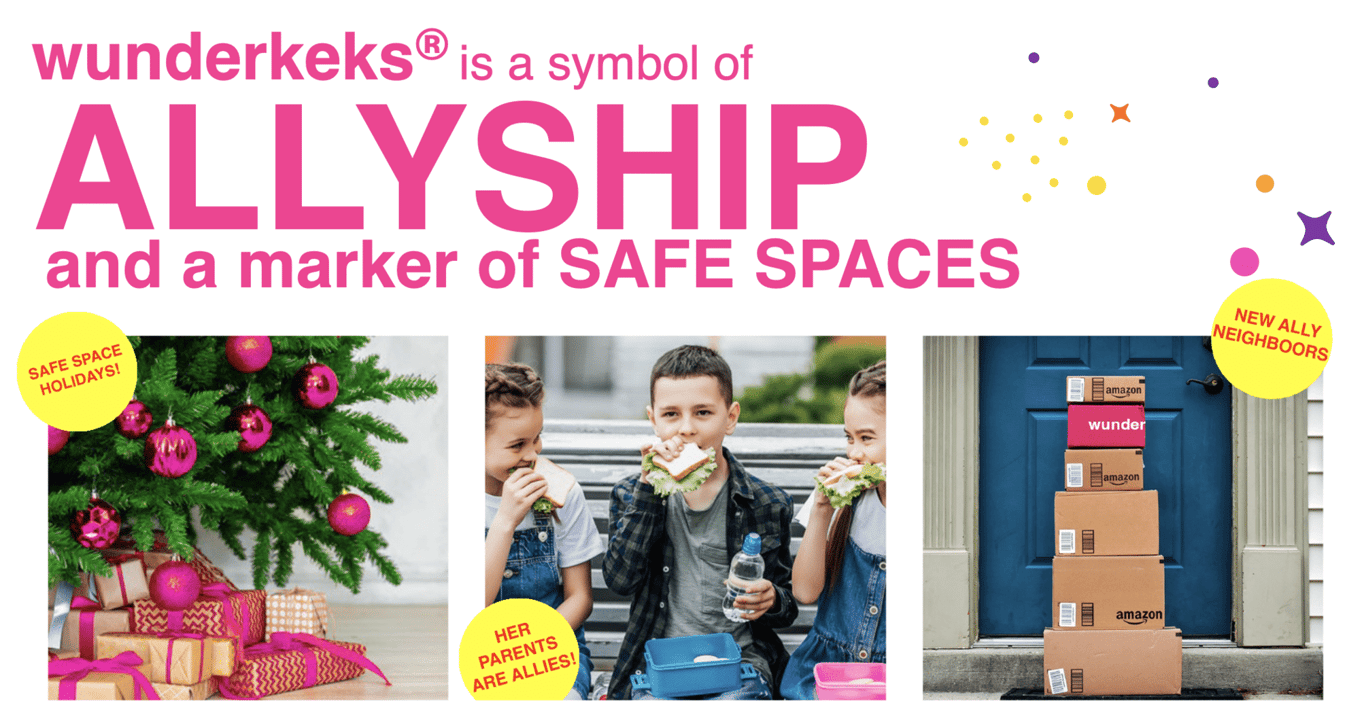 prompting deep conversations.
The brand is fun, engaging and offers a unique unboxing experience: it makes you feel like a child again, which is the exact state of mind to have the conversations we are sparking.
A dozen cookies: the first one is for you, the second one is for your socials, the rest are for sharing!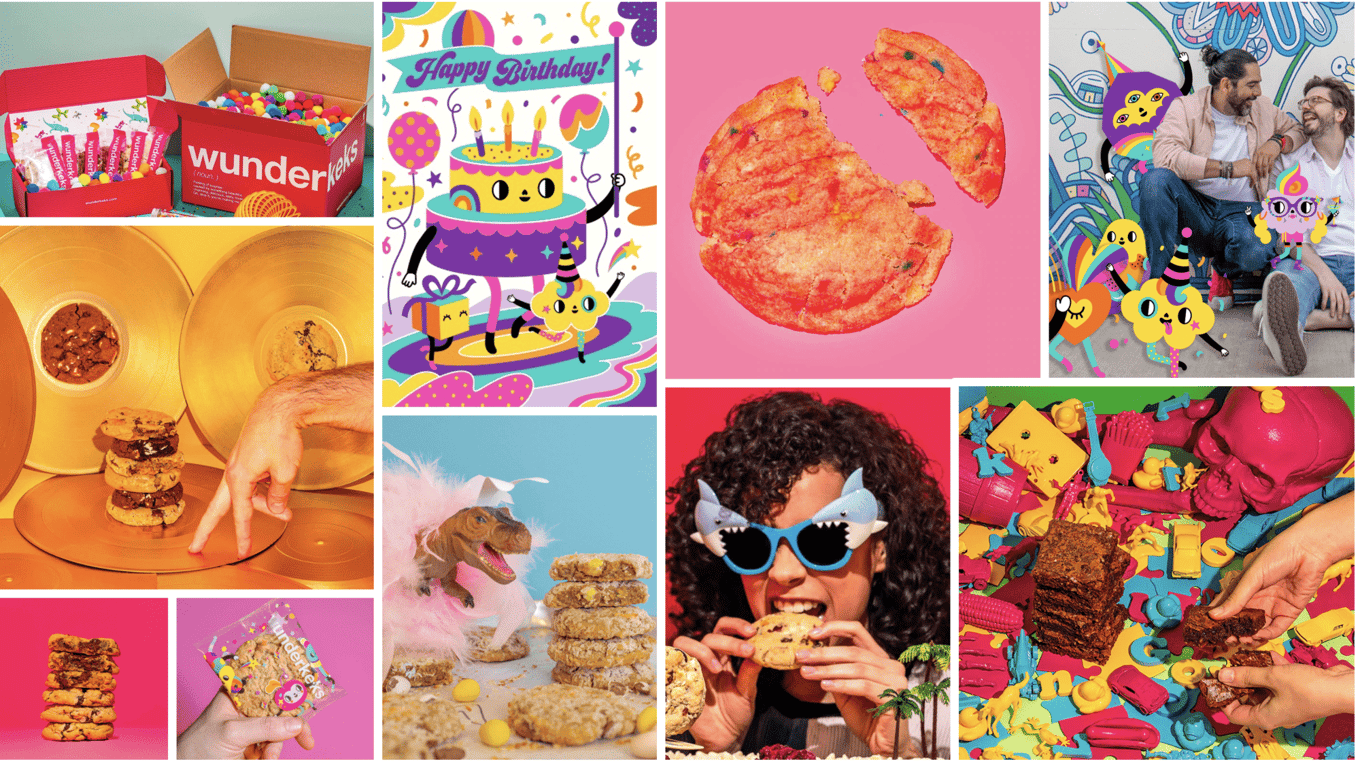 The next step is to bring this magic to supermarket shelves.
Currently in development...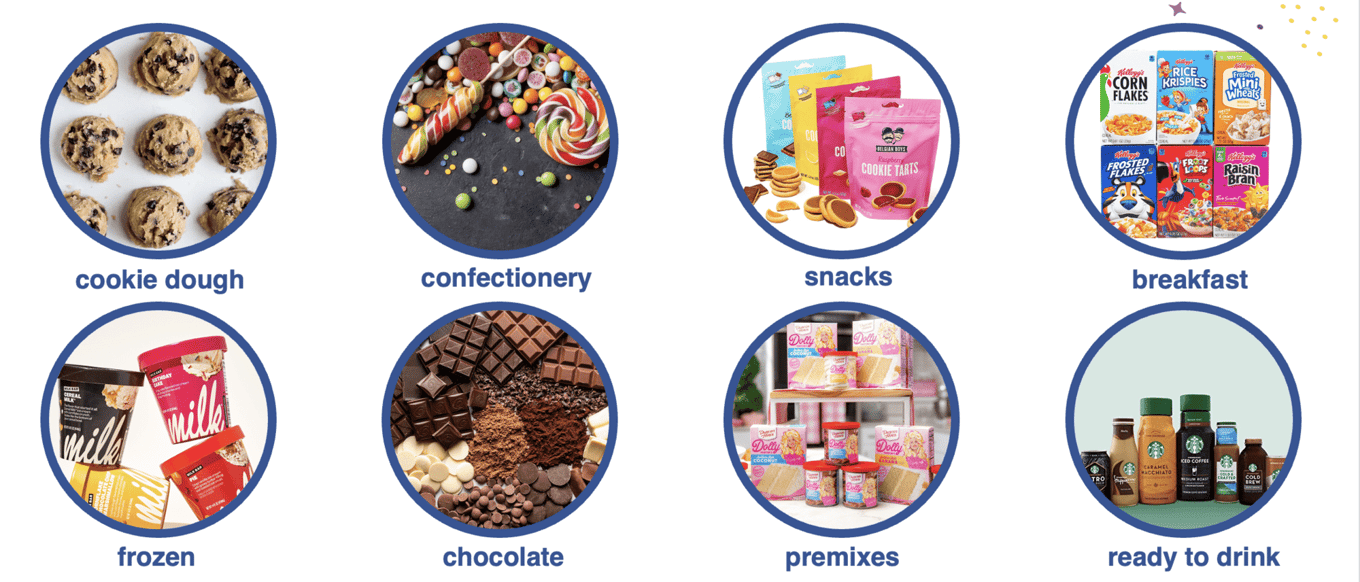 $5.1M+ sales in 2021
Edit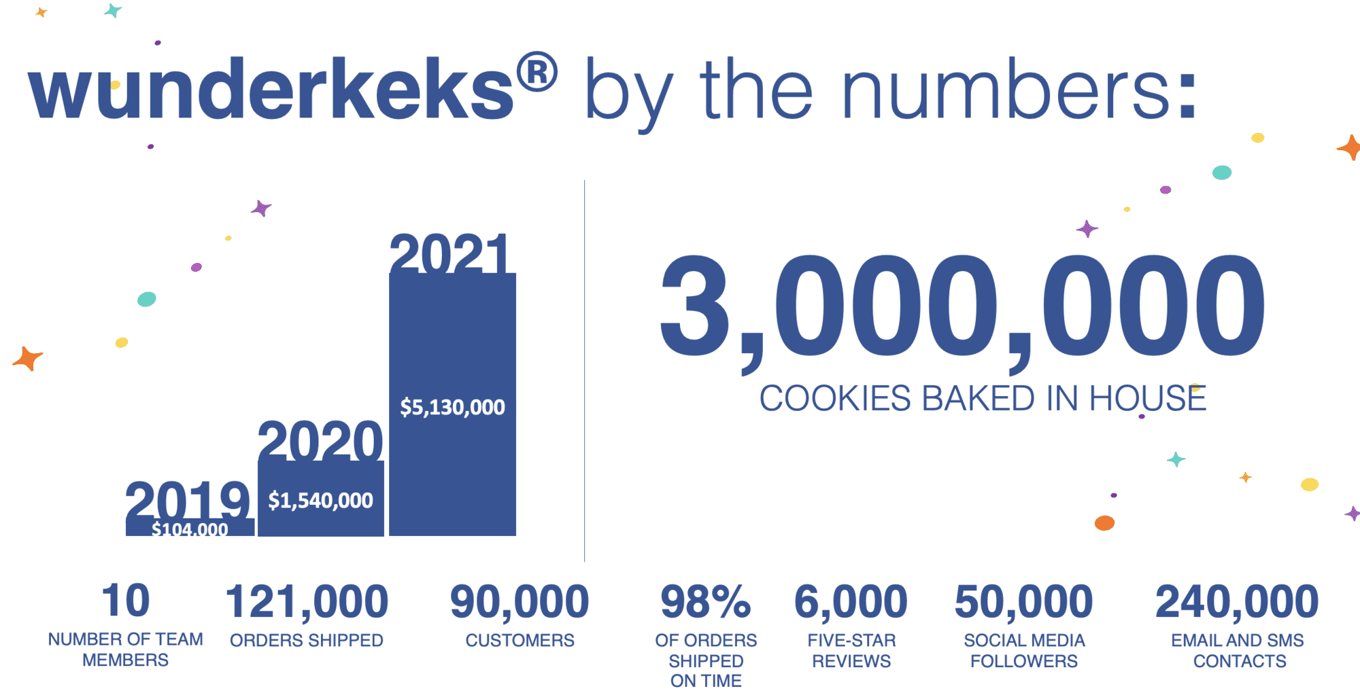 Customers
Edit
Millennials and GenZ are not brand loyal... until they find a brand that speaks to them and for them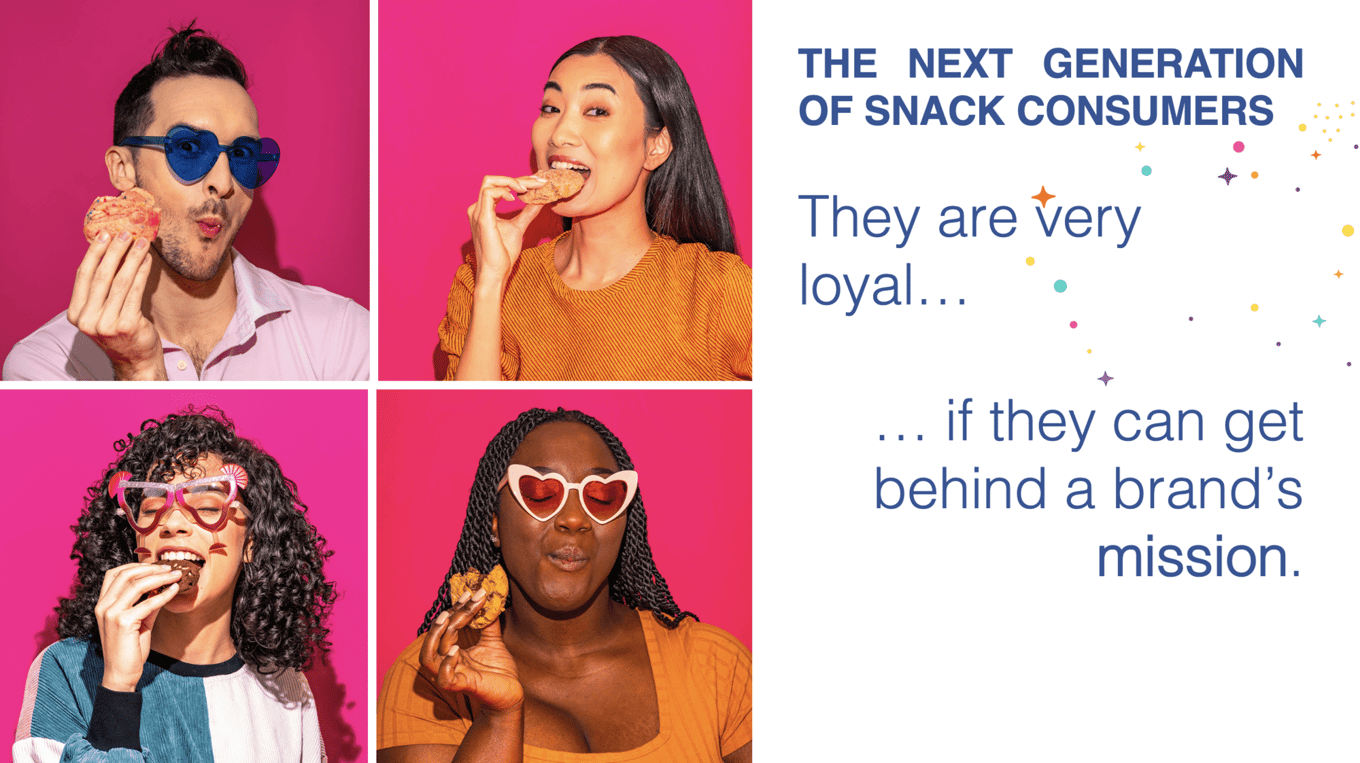 And this translates into a purpose-driven brand being good business.
Business model
Edit
An omni-channel approach to the category: DTC, retail, gifting
Edit
DTC is for superfans, while retail is for discovery. They need to feed each other.
DTC allows the brand to have direct contact with highly engaged customers and nurture them into brand evangelists—while getting all their data, allowing us to understand purchase patterns.
Retail customers are in discovery mode, and their purchases are influenced by their peers, their social media presence, and word of mouth.
Gifting platform customers become enamored of the product, have few price objections, and will repeatedly engage new people at a zero cost.

By 2025, 85% of our revenue will be from retail.
Sweet snacks is a 100+ billion dollar market
Edit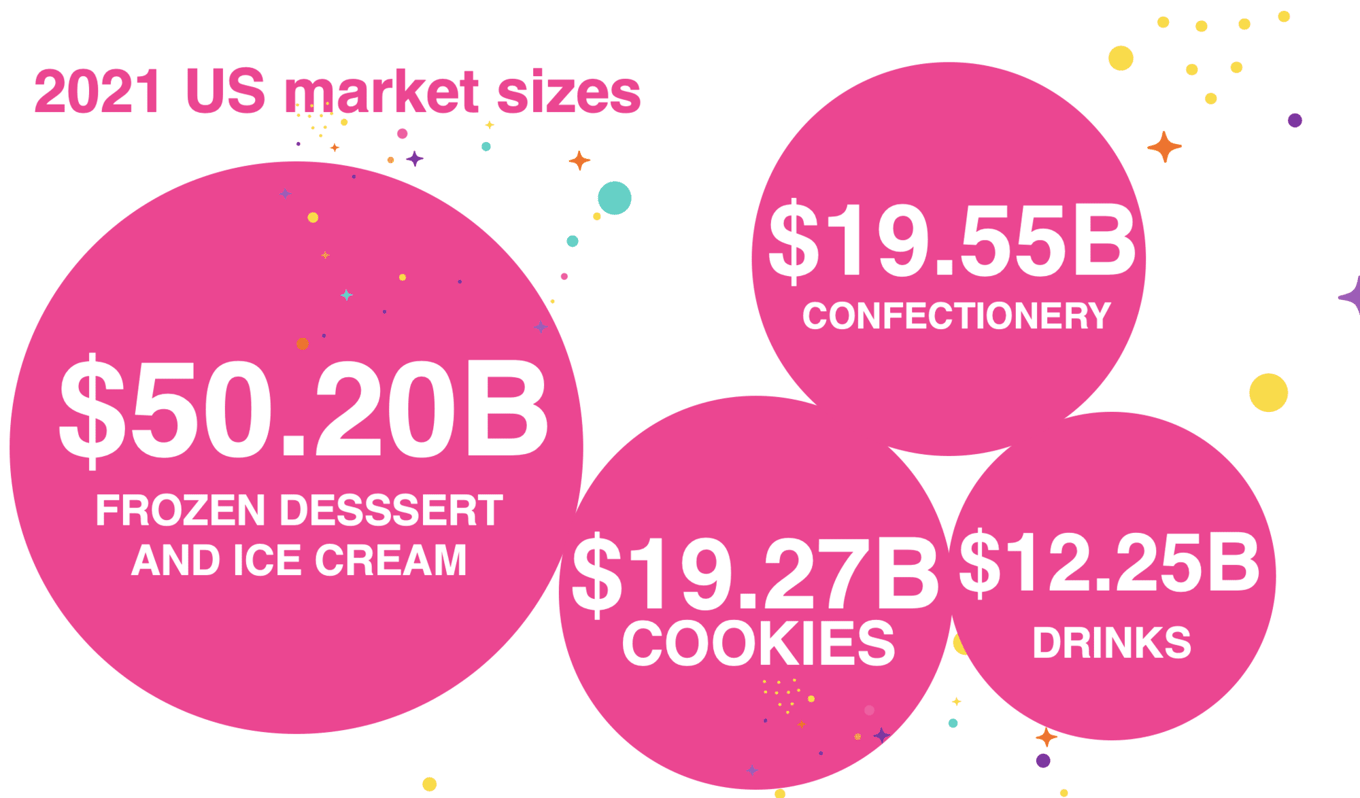 Current market trends indicate a huge opportunity:
Edit
The category is currently driven by legacy brands offering versioning as their main source of innovation. It is craving a disruptive positioning.
Brands that are successful elsewhere, specially in DTC, are moving into supermarket shelves.
So-called "better-for-you" offerings are on the decline, as customers reject the trade-offs in flavor and quality they require and are savvier about the minimal health benefits they actually offer.
Competition
Edit
The category is craving disruptive positioning from a brand that offers consumers something to latch onto.
The cookie aisle is absolutely dominated by legacy brands using versioning as the main form of innovation. Same is true of candy, snacks, frozen desserts and chocolate.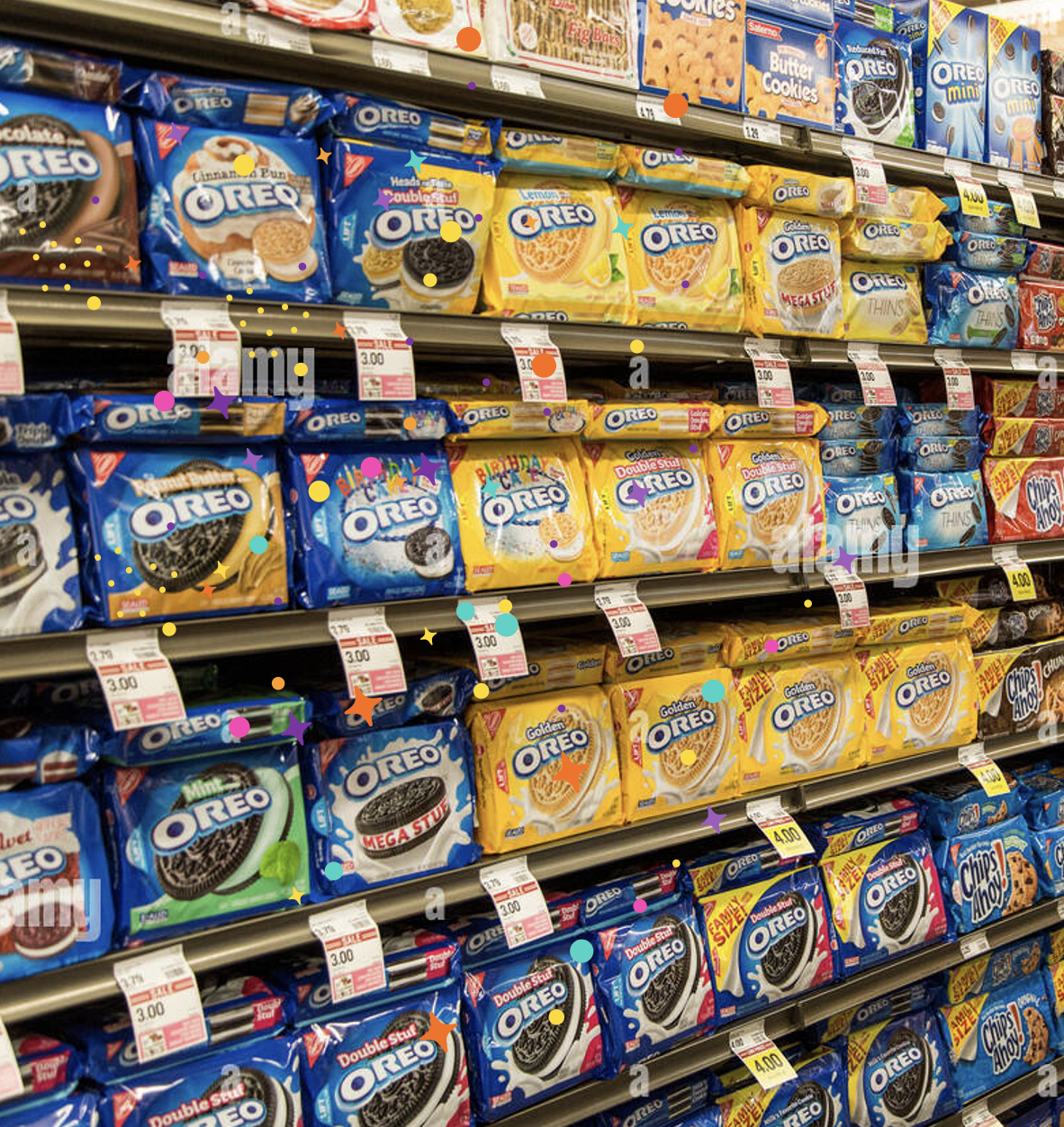 Vision and strategy
Edit
We win by leveraging our own data and customers from our DTC business to inform the path forward.
Direct-to-consumer is a great foundation to build:

...while scaling towards mass retail CPG.
Product roadmap
Edit

Easy thread to follow from cookies we're known from.
Dominated by legacy brands, there is little innovation in the category.
Ingredients: No major competitor boasts a clean label.
We prototype, test, and iterate fast on DTC in order to come to retailers with hard data and an an eager audience.
Building demand
Edit
We focus on building up one key national retailer to get a nationwide footprint as fast as possible

Door growth path
Edit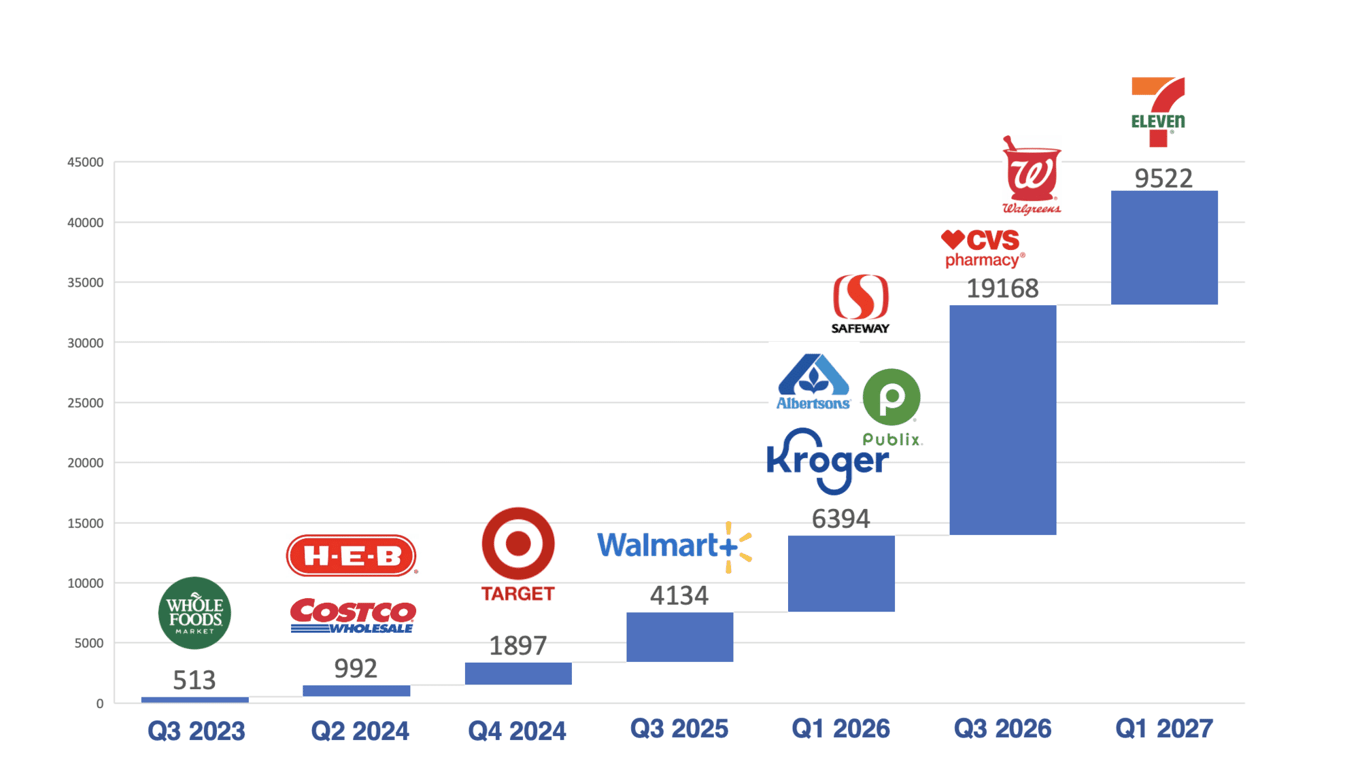 Growth projections
Edit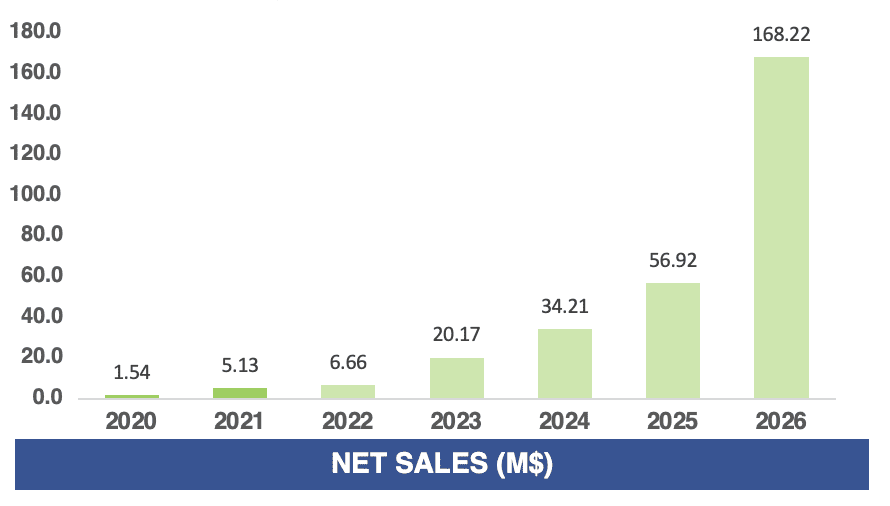 The net proceeds of this offering will be used to accelerate our growth on all channels by:
Hiring top talent to expand our team
Investing in brand an product developement
Find economies of scale by allocating proper working capital.
A journey for the ages...
Edit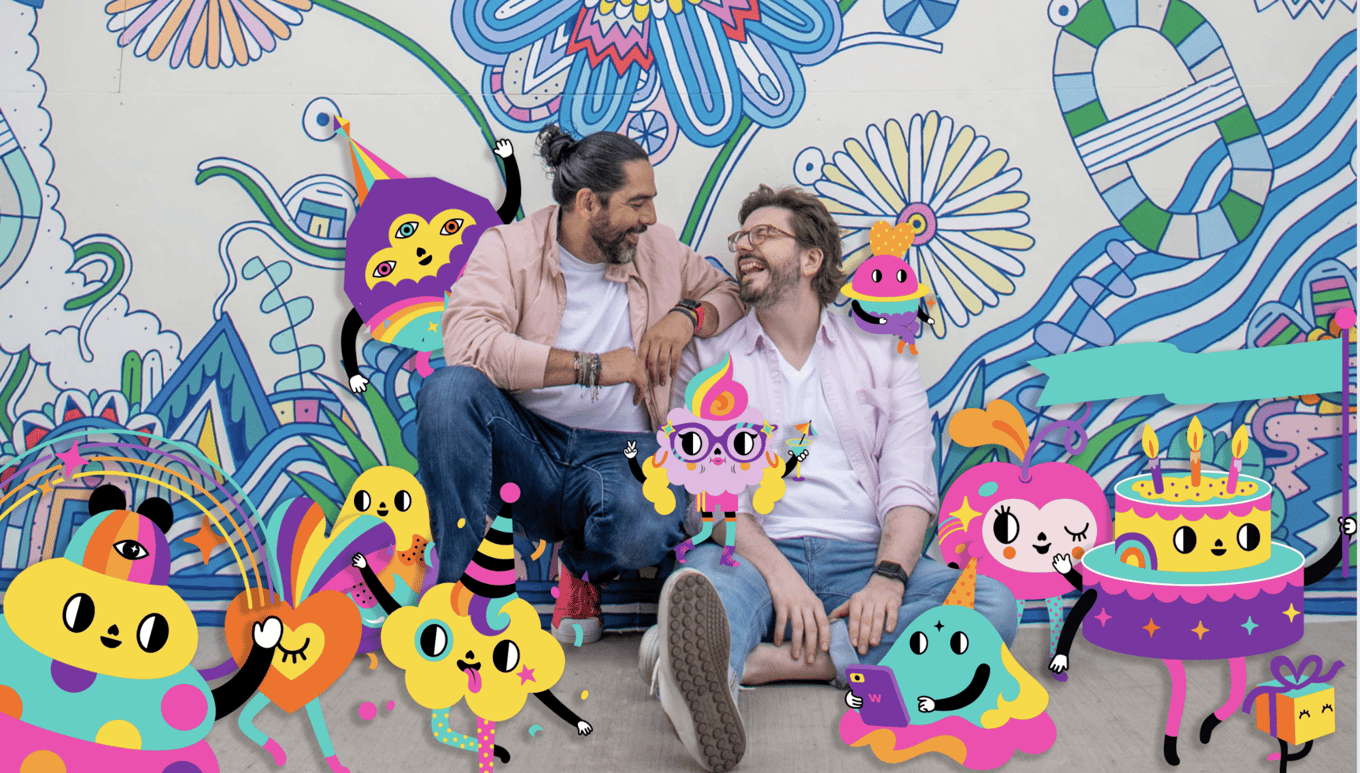 Hans and Luis packed two suitcases and four dogs and arrived in Austin three years ago. Making the decision to leave their home country of Guatemala was not easy; however, their drive and focus to live life on their own terms and build their dream was undeniable.
As soon as they arrived, they hit the ground running. They were very efficient in setting up their professional kitchen space, and started testing their cookies in Farmers Markets across Austin. They were thrilled that the feedback week after week was very positive and sales showed it. But then (yes in a great story there is always a but!) the pandemic hit, and their usual sales outlets were closed.
Again fast on their feet, they pivoted into e-commerce. Scaling a business is a thoughtful process as much as it is strategic. Their level of commitment to perform is beyond inspiring. They believe in their brand! They are the brand! They are not only bakers, but they are also makers!
LUIS GRAMAJO (he/him)
Luis has a background in CPG, running supermarket brands in the skincare and food industry across Central America. He has been the recipe developer extraordinaire and our people person. He also has implemented Wunderkeks media outreach plan into the massive success it has become. And it dos not end there as his talent for photography has been a major asset for the brand.
HANS SCHREI (he/him)
Hans has a background in CPG as well, running mass market brands in healthcare across Central America and the Caribbean. At Wunderkeks he is the DTC operator and marketer, and stretched his expertise with what the pandemic demanded of him. His charge is the brand's e-commerce operation, including fulfillment, acquisition and retention.
Wunderkeks Team
Edit
Hans Schrei
co-founder
Hans is our numbers person, in charge of brand execution. He's baking since the womb and is a retired master cake decorator.
Luis Gramajo
co-founder
Luis is our people's person and runs our operation and product developement.
Bernardo Puron
CX associate
Bernie is in charge of our customer service and most of the copy on our sites, you can thank him for all the puns.
Jeff Furman
Advisor
Jeff was part of the original team at Ben & Jerry's, and is, to date, president of the Ben & Jerry's foundation.